"I thought it was interesting that we got handed a Sony music business card, for sure! I was like, 'wait....what?,' laughs Red Death bassist/vocalist Chad Troncale about his initial contact with Century Media Records A&R executive Mike Gitter. "It totally took me by surprise. This was in 2016 when I wasn't even sure if we were liked and appreciated like that."
I'm speaking with Chad about Sickness Divine, Red Death's newly released album for the aforementioned legendary heavy metal indie powerhouse. But since the DC band's roots are based in the hardcore underground scene, I'm starting our conversation with the whole subject of signing with a record label known more for hugely popular metal acts like At the Gates and Marduk than they are with the kind of crossover thrash that Red Death specializes in.
"After researching Mike and his resume, I realized I was very familiar with Glenn Danzig interviews from xXx Fanzine and the such," continues Chad. "But then digging deeper and finding out that he's made a lot of life changing magic happen—you know, like Bad Religion and Megadeth and the such. Turning a young Rob Zombie onto the whole wide world of hardcore. Cool stuff like that.
"There's always going to be a little bit of weariness with a thing like this. Big business and the like. But everyone at Century Media seemed like genuine fans of the band and they are. I appreciate that fact. But coming from punk also made me totally be on board with this move from the start. I'm a huge Joe Strummer worshipper. What did he do? He said 'fuck it' and took the money. And he used that and the platform as a way to get his wisdom across as wide as possible. I'm also a huge Green Day fan and I think American Idiot is a extremely important and relevant record. All my heroes took it to the grandest stage and used it to say and do beneficial things for the people."
Chad definitely has a clear vision of what he wants to use the bigger platform his new record label affords him: "I've got things to say and I wanna make a positive change as much as possible. Preaching to hardcore/punk is preaching to the choir because we pretty much share similar thoughts and ideas. The average metal fan, though, can't say the same. And it's been metalheads lately who have been vibing on us pretty hard. Signing with a bigger metal label for me was a no brainer. I could express thoughts and views to a new audience who's willing to listen and perhaps learn. Again, it was a total no brainer."
I also invite Mike Gitter into the chat since we were discussing Century Media and I ask about his first encounter with Red Death. "It was around the release of Permanent Exile, the band's first full-length," the A&R guru and '80s Boston hardcore mover and shaker tells me. "It was DC hardcore with a crossover mentality that was right out of 1986. I didn't realize that [guitarist] Ace [Mendoza] was from North Carolina at the time, but it made sense when he told me. There are so many little Corrosion of Conformity circa Animosity moments all over that record! In fact, that was the thing I bonded with those guys over as I'm such a huge fan of COC from the No Labels days on up.
"There was also a ton of Discharge-y moments that I loved in their sound! Then, I saw Red Death play a show in Los Angeles with Power Trip and Harms Way and was genuinely impressed. Then, there was another show in Orange County at Programme that blew me away! I actually offered the band a deal early on but truthfully there were a lot of factors that didn't make sense for them at the time. They needed the space of a record on another label, which saw them putting out Formidable Darkness on Triple-B, and taking the space of a little over a year to tour and become the band they are now. It was time wisely spent!
"Did you know the name of the band came from the title of a song on the unreleased second Void album? How could I not want to work with these guys?
Working with a bigger budget than Red Death have in the past, I ask Chad if it opened things up for the band in terms of experimenting in the studio. "It was more of a business as usual sort of situation. We didn't operate much differently than before. I did bass on this record but thats like all that was new really. And I spent a tad bit longer on vocals than last time but not a crazy amount. Instead of knocking them out in 5 hours, I took my time and did a couple sessions. Just stuff like that really. I did the Formidable Darkness vocals in 5 hours and I wish I would have done them better. In retrospect, they sound like nails on a chalkboard to me [laughs]. Plus, I was sick and freezing my ass off. So, I had those working against me. This time I wasn't sick, stayed warm and took as much time as I needed."
Sickness Divine was recorded, mixed, and mastered by Arthur Rizk, an ultra-talented musician (Sumerlands, War Hungry) who has also been behind the boards for records from such bands as Sacred Reich and Power Trip. Gitter (yes, most folks who know Mike refer to him by his last name) is ecstatic with Arthur's production work on the new Red Death record: "Arthur's strength as a producer is helping a band realize their strengths and help refine their vision. I don't think he had to dig too deep into the actual songwriting with Sickness Divine. The Red Death guys know what they want and are strong personalities in their own right! He just helped them evolve a bit — the riffs got bigger, the performances became more defined, and the sounds became more of their own. He helped them stroke their inner-Ride the Lightning!"
What's the plan for 2020? Does Chad foresee touring the entire year, or do the guys in the band all have other projects that will take them away from time to time? "Well, we've got the full US tour starting in January with Enforced. We are currently locking stuff down for the spring and summer, so we will definitely be active. I'm only in Red Death right now, so I'm on board with everything. Other members have other bands, so there will be times were we lay back and let said bands do their thing. But we wont go inactive or anything like that.
"I love Genocide Pact [Red Death drummer Connor Donegan also plays in that band], so if like Morbid Angel wants to take them on a world tour, then I'm all for it. I will gladly sit back and smile for that. It's what I would want done for me if it was the case. I'm a team player, if you will. Because lets be real.... there's no 'DHD' in team."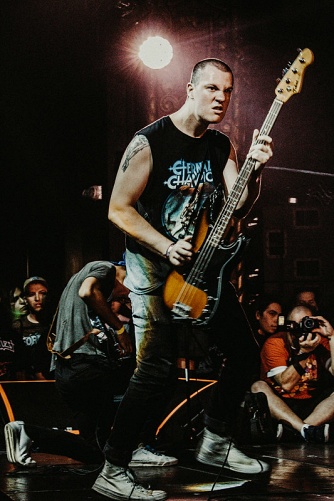 If Chad had to pick one track from Sickness Divine that he thinks best encapsulates the essence of Red Death today, which one would he pick and why? "The title track is my pick, for sure. It's a great heavy metal stomper but clearly written by and performed by punks. It starts off with classical music but it's evil sounding and very much in our spirit. You can mosh to it. You can head bang to it. You can get stoned to it. You can sip on some Sprite to it. The lyrics aren't idiotic but can easily be made out and even cause a sing-along or two depending on the crowd. I also think it's some of my strongest lyrics.
"'Sickness Divine' about the negative side of social media and the Internet without making a direct reference to it. So, it's simplistic yet it isn't. It causes you to think and decipher a little bit, which is what I look for in the music that I like. It perfectly represents Red Death right now as well as what the future may hold for us. Praise be to Ace Mendoza for cooking up a A+ ripper."
***
Sickness Divine is out now via Century Media.
Red Death and Enforced tour dates:
Jan 4th – Washington, DC – Songbyrd
Jan 6th – Pittsburgh, PA – Rock Room
Jan 7th – Cleveland, OH – Symposium
Jan 8th – Cincinnati, OH – Northside Yacht Club
Jan 9th – Nashville, TN – Drkmttr
Jan 10th – Memphis, TN – Hi-Tone
Jan 11th – Dallas, TX – The Evil Beat (no Enforced)
Jan 13th – Santa Fe, NM – The Cave
Jan 14th – Phoenix, AZ – Yucca Tap Room
Jan 15th – San Diego, CA – Che Cafe
Jan 16th – Los Angeles, CA – Hi-Hat
Jan 17th – Oakland, CA – Elbo Room Jack London
Jan 18th – Portland, OR – Highwater Mark
Jan 19th – Seattle, WA – Highline
Jan 21st – Boise, ID – TBA
Jan 22nd – Salt Lake City, UT – Gold Blood Collective
Jan 23rd – Denver, CO – Mutiny Info Cafe
Jan 24th – Kansas City, MO – 7th Heaven
Jan 25th – St. Louis, MO – The Sinkhole
Jan 26th – Chicago, IL – Cobra Lounge
Jan 27th – Detroit, MI – The Sanctuary
Jan 28th – Toronto, ON – Seescape
Jan 29th – Montreal, QC – Casa Del Popolo
Jan 30th – Worcester, MA – Ralph's Rock Diner
Jan 31st – Brooklyn, NY – Saint Vitus
Feb 1st – Philadelphia, PA – TBA
Tagged: red death