"In the latest entry to his I Hate Sports series, No Echo contributor Adam Lentz chats with Chris Wrenn, the founder of Bridge Nine Records. In addition to releasing records by the likes of Slapshot, Have Heart, and Sick of It All throughout the years, Chris has also built up Sully's Brand, a sports apparel business that has become closely associated with Boston since its start over 19 years ago." —Carlos Ramirez
It's pretty well known that Bridge Nine's early years are directly tied in to Boston sports, but please explain that to set some context.
Most of the early Bridge Nine releases, from our 7th through about our 70th, were underwritten in a large part by Red Sox fans. In our first 5 years, from 1995 till 1999, I released just 5 records, which was all that I could afford at the time. Over the next 5, after I started selling outspoken bumper stickers and t-shirts to Red Sox fans as they left the games, I was able to release 70 more. It was the financial kickstart that I needed and wasn't going to find anywhere else at the time. Banks were not giving out loans to people trying to release records for hardcore bands, especially when that person was working at a record store for eight dollars an hour.
How does this tie in to the name of the label?
It didn't at the time, I came up with the name in 1995 - the symbolism of a bridge uniting two places tied into what I hoped to accomplish with the label. I was two states away from my hometown scene at college and starting a label kept me connected and involved with my friends back home. It gained secondary meaning in those early years outside of Fenway Park, because our vending location was on the bridge over the Mass Pike (Route 90) which ran right next to the stadium. It's now officially known as "Big Papi Bridge," but I remember it as the spot where I earned most of the money to release American Nightmare's early singles. (Big Papi of course being celebrated Red Sox designated hitter David Ortiz).
At any time was what you were doing illegal? We can skip it if it'll get you in trouble!
No, our selling was legal, we would just end up doing it during restricted times, which wasn't a criminal offense, but could earn us a steep ticket. The city of Boston's hawker or pedler permits are only allowed to be used between 8PM and 8AM to lessen competition with brick and mortar stores, so we were technically only allowed to sell to the crowds leaving Fenway Park, since most games started at 7PM. In the early years the city's code enforcement officers were not yet a regular fixture at Fenway Park, so we'd take our chances during the more profitable day games. The risk was getting a $200 ticket, but we could make way more than that if we dared. We were also creating original merchandise that didn't tread on team trademarks. Every vendor before us was selling counterfeit items in the streets. We developed our own.
Were you the first to sell "Yankees Suck" merch?
I wasn't the first - or the second. Probably not even the third, but from what I remember, the first was a group of guys that we referred to as "The 21'ers". They sold navy blue t-shirts with "BOSTON" across the chest, and "YANKEES SUCK" over the number 21 on the back (21 had been worn by Roger Clemens, he had recently left Boston to play for the Yankees). The 21'ers had no competition and were selling their tees for $20, just crushing it. When Ten Yard Fight played their final show on 10/17/99, friends of the band made their own exclusive merch to commemorate it, and what would come to be known as "Edge Day." I made a Ten Yard Fight poster featuring 10.17.99 and the venue details spray paint stenciled across photos of the band (inspired by a Nike ad campaign for the Boston Marathon earlier that year). Another friend had seen the 21'ers raking it in, so he made a simpler "Yankees Suck" t-shirt with a design based on the old fanzine Boiling Point, and the 10/17 info on the back. It was a white tee, with the money phrase on the front in bold block navy blue letters.
The shirts sold out quickly, half to TYF fans and the rest to random Red Sox fans on the street, and after the season ended in yet another loss to the Yankees, he asked me to be his partner to sell the shirt at Fenway Park on a regular basis during the 2000 season. That lasted about a week, when he reneged and opted to partner with my roommate, who he'd started playing poker with. Realizing how much opportunity existed and not willing to miss out on it, I continued on with my own efforts, making bumper stickers, enamel pins, flags. He was going to make shirts so I figured I'd make everything else. We ended up selling side by side once the new baseball season started, recruiting help from the same pool of hardcore kids in the city.
Oh shit, Boiling Point fanzine reference! So, all the hundreds, maybe thousands of "Yankees Suck" shirts worn by civilian Sox fans over the years were influenced by a hardcore zine!
[Laughs] Yep! Boiling Point fanzine became an influential design element in sports apparel unwittingly.
I peeked at the Sully's Brand website real quick and didn't see any "Yankees Suck" shirts for sale.
No, so the "Yankees Suck" stock dropped pretty fast. First there was 9/11, and for a while it was understandably not cool to take any shots at New York, sports teams included. Then once Boston started winning, even less people cared. We kept it available for years because of the nostalgia of it, but we also started exploring other partnerships that necessitated losing some of our edgier early offerings. It wasn't making any money for us, and it was holding us back (and I started to realize that some of it wasn't all that cool), so we dropped it.
You employed a good amount of Boston's coremen at one time or another. Who are some notable dudes that have helped with Sully's Brand throughout the years?
Pretty much every Boston area hardcore band in the early 2000's had someone with a peddlers permit hawking stickers or t-shirts after Red Sox games. Wes Eisold (American Nightmare) was an early vendor. Azy (American Nightmare, Panic) as well. Kevin Baker from The Hope Conspiracy did for a minute. Tommy from Cops and Robbers, Nick Dube from Some Kind of Hate, Pat Flynn who sang for Have Heart, Mike from Perfect Victim Records, Sam from Triple-B Records, basically every B9 intern when we had the office next to Fenway Park. There was even talk of Bridge Nine releasing a "Yankees Suck" 7 inch compilation, featuring bands that had members who sold at Fenway, but it didn't happen.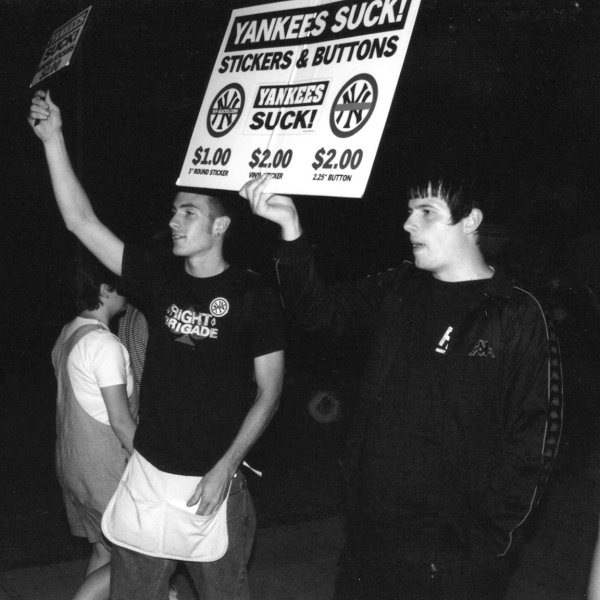 Was the label and selling clothes at Red Sox games your only source of income?
Not at first — I was working at Tower Records in their art department initially, and then took a job doing marketing at the Boston indie label Big Wheel Recreation for a year or so. The Big Wheel job wasn't really a paycheck, at the time I was getting credit towards manufacturing bills from their distributor Lumberjack each month. I was also doing freelance design jobs when I could, and selling random novelty bumper stickers that I'd design to stores like Hot Topic to help pay the bills.
Ah, Lumberjack. That's a totally different conversation for another day
[Laughs] No doubt. I was lucky — I got out a year or two before they imploded and took a lot of indie labels down with them.
At what point did the label and merch become self sustaining on their own and how did it get to that point?
Right around 2001. The label was able to grow organically through the money earned from Fenway sales — every dollar was invested into the label. Every week I'd use those earnings to pay for bands to record, to press and promote albums, it allowed the label to grow quickly and go from one 7 inch EP a year to upwards of a dozen or more.
But at some point they were able to operate independently?
Yeah. Initially, it was just a means to earn money for the label. After a few years, I formed a company called Sully's and made them separate entities. The money still mainly benefited the label for a few more years, but we branched out and started making shirts for fans of the other Boston teams as well. Back then when the Red Sox were ultimately eliminated before or just into the post season, the sales stopped. So, we started making merch for fans of the other sports to keep the money coming in year round. It was maybe 2006 when I started reinvesting the money Sully's earned back into itself instead of the label, by that point there was enough coming back in from album sales to cycle back into whatever was coming out next.
I was going to ask...how did things work in the baseball offseason?
It didn't at first. But it also didn't take long to figure out how to keep it going. I grew up a Red Sox fan (taking off a lot of years after finding skateboarding), but hadn't followed hockey. I remember trying to brainstorm shirt ideas and thinking, "hockey fans like fights and beer, how about a 'Drink Beer and Fight' shirt?." It became a huge hit and I, still straight edge, own the federal trademark for "Drink Beer and Fight."
Knowing what I know about Boston straight edge and confrontations outside bars on Landsdowne Street that's mighty ironic.
That was the idea, I was a huge fan of the irony of it.
Looking at sports in Boston, is it a Sox city over all other sports?
There's a lot of competition for sports, but overall it's a Sox city for sure.
How big was that first six World Series in 2004? What did it mean to the city?

It was huge. Absolutely crazy. They had lost big to the Yankees and Aaron Boone with his season ending homerun in 2003, and every game against them was an elimination game in 2004 — so to come back and not only beat the Yankees, but to win the World Series, to be around for that was unlike anything I had experienced until then.
And what did it mean to your brand?
It meant a lot of sales. Sully's had a solid website by that point, and some local store distribution, with a lot less competition for that sort of thing than we do now. We had vendors along the parade route where over a million fans turned out in the rain, and the sales were wild. It was sorely needed, because that was the year after we had left Lumberjack Distro and joined Caroline and Revelation — and Lumberjack was jerking us around with money. Every extra dollar that I earned elsewhere helped.
How can you reconcile funding numerous bands from New York with anti-Yankees merch sales?
The anti-Yankees gear was really just a means to an ends. I needed to earn the money to invest in albums, so I ran with it because it was selling so quickly! It wasn't personal. We didn't have too much overlap with NYC bands early on. I did a split with Kill Your Idols in 2002. I started working on the Project X / Schism fanzine reissue in 2002 and finally released it in 2005. Pressed a Sick of It All 7 inch and an album with On the Rise (produced by Roger Miret) in 2003. I remember laughing with bands about it back then, a lot of them thought it was hilarious.
When we shot H2O's music video for the song "What Happened" in 2008, Toby was talking on stage in between takes and busting my balls over their being on a label run by a Boston guy behind a lot of "Yankees Suck" merch. I happened to have a 3'x5' "Yankees Suck" banner folded up in my courier bag. When Toby started talking smack I tossed it from the balcony and he and Adam picked it up, not knowing what it was, and unfurled it on stage. Over the years, Bridge Nine went onto release records with Agnostic Front, Burn, Crown of Thornz, Crime In Stereo, Backtrack, and a bunch more bands that were a part of the NYHC. I've always loved the New York hardcore scene and most of those guys respected my hustle.
What makes Boston a unique sports city?

It has 5 major sports teams in the area and a ton of colleges, and they're usually pretty competitive. At least they have been since I started Sully's, with 11 championships in the past 16 or so years between the Red Sox, Celtics, Patriots and Bruins. The winning started in 2002 with the Patriots, the last big win in Boston prior to that was from the 1986 Celtics.
What else is important to note about the connection between the label and sports?
Both companies have been able to influence each other a bit, usually Sully's will take a chance on something, like making flags. I started making "Believe In Boston" 3'x5' flags in 2006. After two years of them selling well, I realized band logos and art could look cool on them. Growing up I had some old band tapestries, but they were for bands like Led Zeppelin. There wasn't anything for bands that weren't playing arenas. How cool would it have been to have a banner for a band like Sick Of It All when I was in high school? It didn't exist.
So, I started making them for Bridge Nine's bands. Then a ton of other bands wanted them, so I started brokering them for other labels. That actually helped kind of save the label in 2009-10, when CD sales really started crashing and we were getting stuck with crazy returns. It hurt us pretty bad, but I was able to cover a lot of those losses by brokering out tens of thousands of flags for a ton of bands. We've also had little crossovers like back in 2011 when Bridge Nine released a special Live at Fenway Park 7 inch picture disc for the Dropkick Murphys, and Sully's designed and licensed two t-shirts from them, so I was working with the band from both sides of the office.
So, there has been some crossover between the two?
With the opportunity that vending to Sox fans presented, I always appreciated how we had basically gotten sports fans to underwrite the label and the hardcore scene in general. The vendors who were in bands made money selling the tees, and bands like American Nightmare, No Warning, Carry On, Terror and even Have Heart, had their albums essentially paid for by Sox fans. I remember reading a quote from Dave Smalley (DYS, Dag Nasty, ALL, Down By Law), I think it was in the book All Ages, about how in the early 1980's Red Sox fans would beat up the punks hanging outside of the Rat, the club in between the subway station and Fenway Park. I feel like we flipped the script on them and it helped our scene grow. How do you think I managed to give Terror $5,000 to buy a van when I released their debut EP? Thank you Sox fans!
And in turn, those early B9 bands (American Nightmare, No Warning, Mental, Carry On, Shark Attack, then eventually Have Heart and Ceremony) were the biggest bands in hardcore and influenced everyone at one point. So, global hardcore was, in fact, subsidized and influenced by Sox fans.
It was a huge shot in the arm. And during a time that most of the bigger labels were not signing hardcore bands. Equal Vision Records passed on American Nightmare initially. Labels like Rev and Victory were not signing the more traditional hardcore bands that I dug by 2000, 2001. I think those labels were looking at the more metal-ish and indie bands. And I was able to come around and sign pretty much any band that I wanted, and give them a budget that rivaled those bigger labels. Which was good timing for me, because there was a real worldwide revival of the less is more kind of bands that I was looking to sign. I bought American Nightmare's plane tickets for their first European tour in 2001 and went with them. That tour was crazy, and AN's influence was apparent just before and long after they left.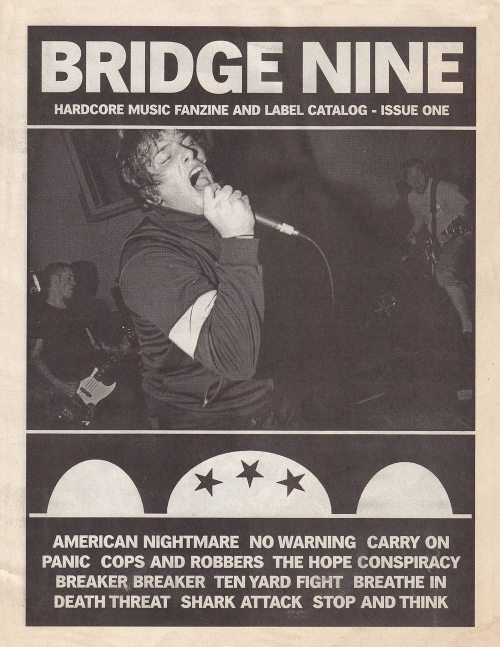 Like as far as pure hardcore it was B9 and Youngblood Records and a few others who aren't around.
Hardcore was definitely alive with labels like Youngblood, there were really solid labels, but they were mainly part time efforts with minimal budgets. I was able to come at bands and do things that most of the smaller labels couldn't, and that was just because of the opportunity selling to sports fans. It was like having a loan that I didn't have to pay back. Bands saw how hard I pushed American Nightmare, the first band to benefit from Fenway vending, and they wanted that same kind of treatment. I also left Big Wheel in 2001 and basically worked on Bridge Nine full time, because I was paying my rent through Fenway sales. So I was able to focus way harder than other labels.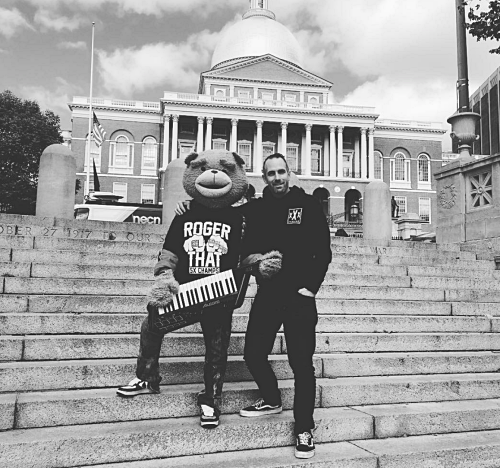 What's it like to have a relationship with Sox brass, meet the players, and make appearances on the field?
That has been really surreal. I'm still working on having a relationship with the brass, but we had an amazing collaboration this year with Red Sox relief pitcher Joe Kelly. He got in a bench clearing brawl with the Yankees this past April. I released a "Joe Kelly Fight Club" tee the next morning, and it became a huge hit. We got in touch with his wife and they worked it into promotion for the charity he was behind, and we helped them raise over $28,000 to fight human trafficking through an organization called Mission 108. He started wearing one of our "Believe In Boston" tees every day before games. It was cool working with Joe because coincidentally he and his wife Ashley are big New Found Glory fans! So, there was a mutual respect.
We've had a good team hookup over the past few years, mainly through our sponsorships of The Jimmy Fund and the Red Sox Foundation. It usually results in a few of our tees popping up here and there, my mind was blown though in October when almost the entire team, including Red Sox president Sam Kennedy, manager Alex Cora, everyone was photographed getting off the plane after having just won the World Series, and they were all wearing one of our matching Believe In Boston sweatshirts. We went from being chased by code enforcement officers around the park in the early days, selling out of backpacks with maps of escape routes to holes in chain link fences around the park, to outfitting the entire 2018 championship team, and having a 400 square foot showroom dedicated to the brand two blocks away at the Fenway Target store.
What have you been able to do for charities on your own and in conjuction with others?
Sully's had always done little things here and there, like donating to the Jimmy Fund during their annual telethon. In 2010, I made a five foot wide ceremonial check and presented $1,000 on the sidewalk outside of the park to the volunteers taking donations. Our earliest, most notable charitable effort was in 2004 when we teamed up with local radio station WFNX to raise money to symbolically pay the fines incurred by Red Sox outfielder Gabe Kapler, after he was in a bench clearing brawl with the Yankees earlier in the season. In 2013, after the marathon bombings, that's when I was really able to jump into getting charitable. I did a series of band tees for Bridge Nine and donated all of the profit, almost $13,000, to the One Fund, a charity set up to benefit those physically affected by the bombing.
Sully's made a ceremonial Believe In Boston tee and did the same, making an initial $50,000 donation, ultimately donating over $62,000 because our shirt sold so well. That has led to a few other fund raising tees, and we've donated over $130,000 to various causes in the last five years. In the past few years we've been a presenting sponsor of The Jimmy Fund and the Red Sox Foundation. I actually just had the organizational filing approved to start a charity in Massachusetts under the name "Believe In Boston," so I'm hoping to build off of that and do a lot more charitable work directly through it.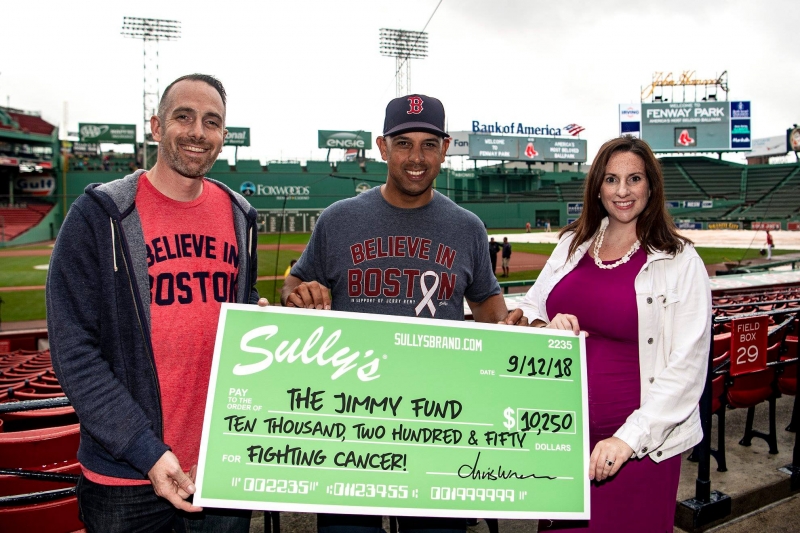 Are you still very involved in day to day operations at Bridge Nine?
100%.
Isn't too much to handle running that and Sully's Brand?
It can be. I split my day between both and I have great people helping run a lot of the day to day stuff for each, but I am just as involved in both companies as I have ever been.
Are they headquartered in the same space?
They are, within 20 feet of each other, so that makes it easier to bounce between them.
Any closing tibits?
Skateboarding and hardcore pulled me away from my interest in baseball and organized sports in middle school. It took needing money in my mid-20s to fund the label to bring me back. In 2000, it was a means to an ends. I'd head down to Fenway to sell stuff to Red Sox fans, and in the morning I'd mail payments to pressing plants and recording studios, and that evening I'd head back over to Fenway to do it again. Over time, I started listening to sports radio religiously to try and come up with new ideas. These days I love it and I'm emotionally connected, I've come full circle and I'm a sports fan once again. I love how with professional sports, you can connect with fans of all ages. Now that hardcore music has been around going on 40 years, I feel like there is a similar dynamic.
I can relate and connect to the 15-year-old kid on a skateboard and the 60-year-old guy who was talking with me about Black Flag in line at the post office. The larger moral of this story though, is where there's a will there's a way. Opportunity is all around you. You just have to recognize it and make the most of it.
When I started working on releasing records as a teenager, all I wanted to do was skateboard in my spare time. I never thought I'd end up releasing albums for bands that I had loved (and bands that a ton of other people would come to love). And I didn't think I was going to pay for it by selling t-shirts to sports fans. I certainly didn't realize I was planting the seed for another brand that would be as loved in the city of Boston as Sully's has become. We started out by telling people that the Yankees Suck, and now we're reminding everyone to always Believe In Boston. The ability to be a positive force in our community and to give back in the way that Sully's has, that will hopefully be a big part of the legacy of both brands.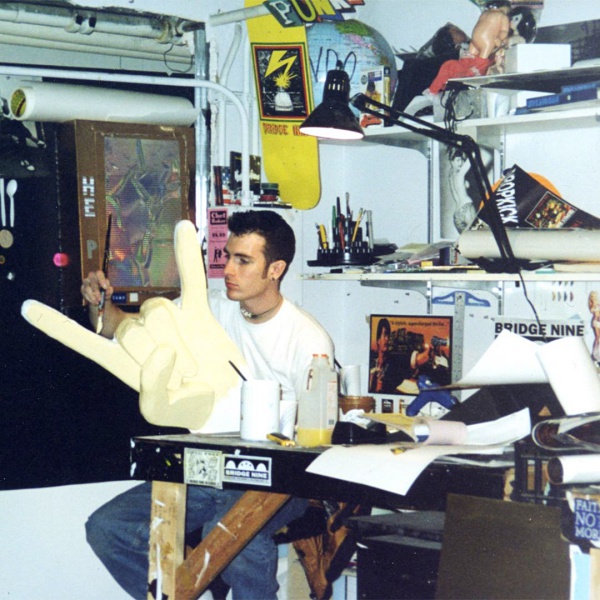 ***
Bridge Nine Records: official website | Facebook | Twitter | Instagram
Sully's Brand: official website | Facebook | Twitter | Instagram
Tagged: i hate sports