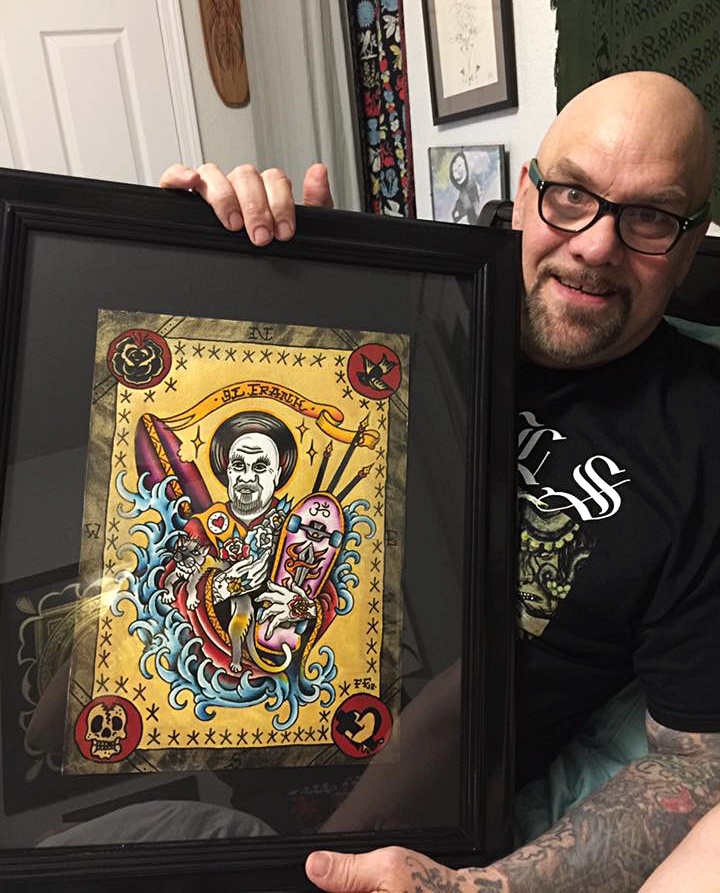 You would be hard-pressed to find more of a champion for the Southern California hardcore scene than Big Frank Harrison. Beginning in the early '80s, Frank was a staple of the movement, managing Zed Records, working for live promoters Goldenvoice, playing in the band Carry Nation, and most importantly, running Nemesis Records. Born in Las Vegas and raised in Southern California, he worked tirelessly for years, helping move the hardcore scene there forward, in front and behind the scenes. These days, he's living in Northern California where he's a tattoo artist.
In one of those "fuck this Universe" kind of moments, Frank has had a series of health issues in the last few years, including a heart attack that left him unable to work. Not surprisingly, the hardcore scene sprung to action, setting up benefits to help raise funds for the man. One of Frank's biggest supporters is Mike D'elia of Not Like You Records, who just dropped Benefit for Big Frank, a compilation featuring such heavyweights as Integrity, Terror, Disfear, and Nails.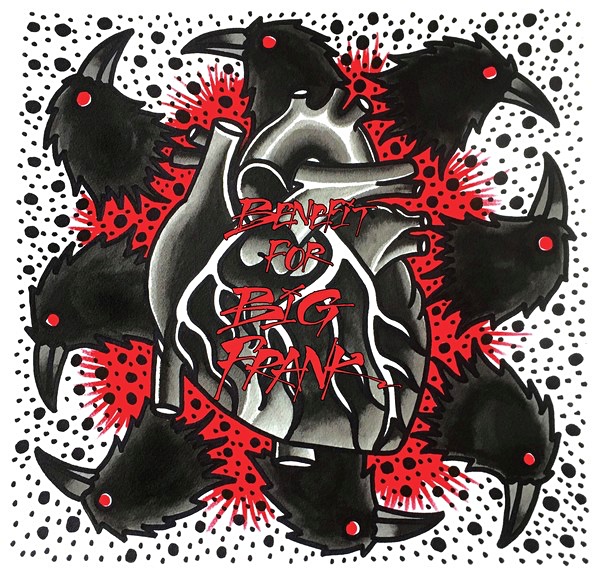 "To be totally honest, Frank and I have never met. He is someone who's presence I have been aware of in the scene since the '80s, and when I learned of his heart attack, I wanted to give something back to someone who has given so much to the scene for decades," Mike from Not Like You recently told me about the project. "Each band was handpicked by Big Frank and all donated their time and their music to this great cause."
Frank told me the following about working with Mike on the compilation:
"When I first had my heart attack over 2 years ago, many friends from both music, tattooing, and my animal business all came together and helped myself and my family in many ways that made my nearly year-long recovery possible and pleasant. I did not have to worry about anything other than getting well. There were some musical benefit shows and it was around this time that Mike reached out to me and offered to put out a benefit LP for me. We only knew each other from contact on Instagram, but I think he appreciated my contributions to hardcore music, and also a little bit for skateboarding culture."
As seen in the two images above, the artwork for the compilation is pretty snazzy. "The art for the comp was my concept and drawn and painted by me," said Frank during our conversation. "It represents my heart being protected from all sides by crows. I love crows. They are very loyal and smart birds who look out for their own. I thought it would make a very cool conceptual piece for the cover. The cover was done almost immediately as I had a lot of free time to put it together and I am quite happy with the final product."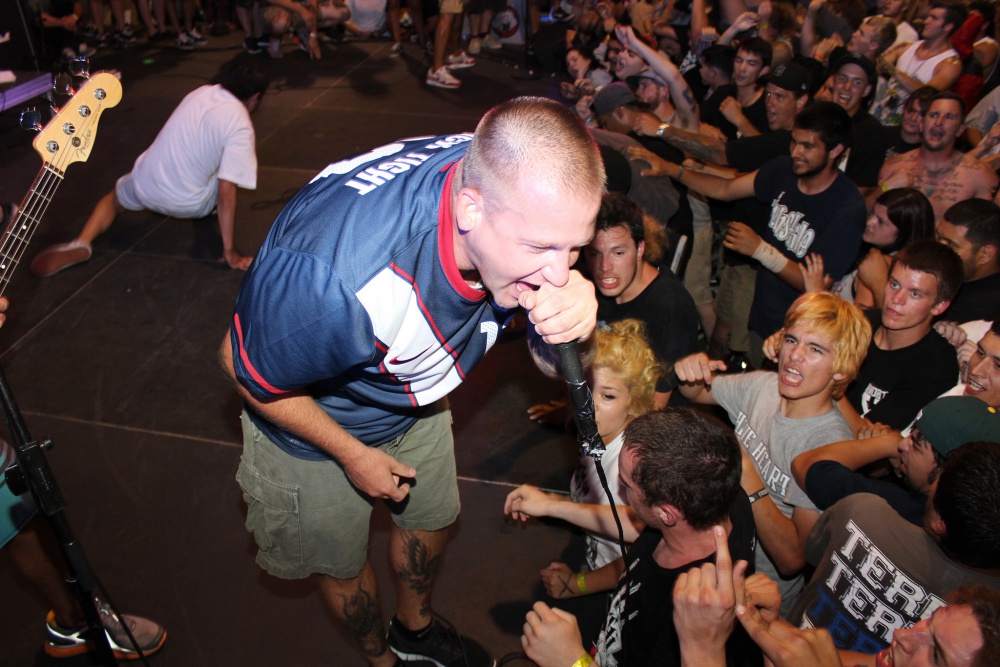 Compilation albums can be a real nightmare when it comes to logistics and dealing with so many different bands at the same time, a fact not lost on Mike from Not Like You. "Comps are indeed a hellish ordeal but this was smooth sailing. Of course, that may be because I let Frank compile the entire project from the bands to the artwork and all I received was the final pieces to put together. That's the easy part. So this may very well be the easiest comp from a label's end that was ever done. But really, I felt it was important to let Frank have the say on everything. These bands were all friends of his coming together for a great cause. I wanted the whole project to be Big Frank from start to finish."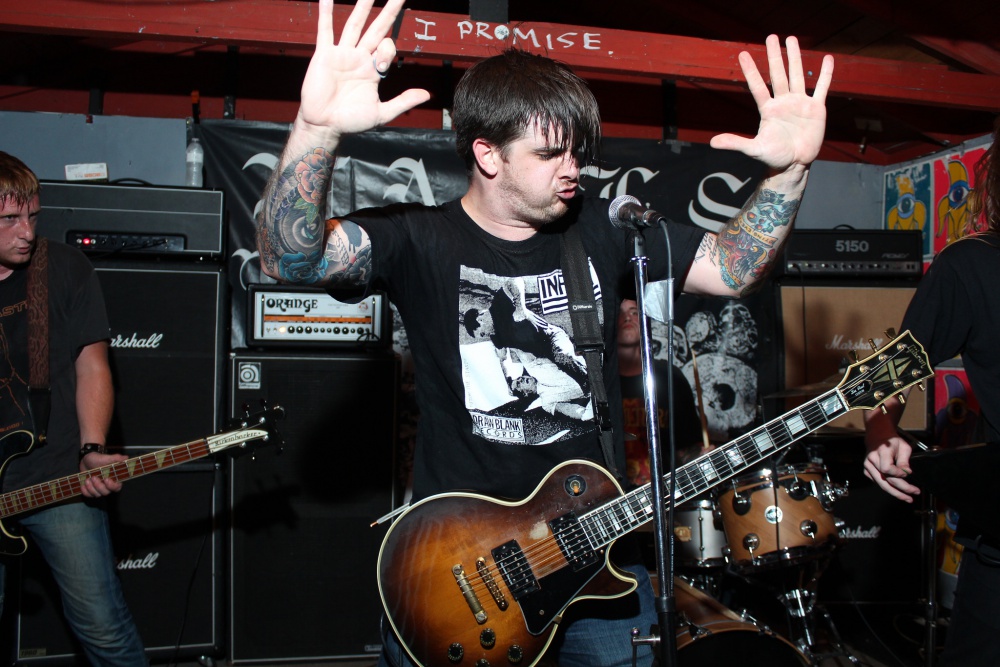 When Frank was still going full-force with Nemesis Records, he dropped releases from the likes of Insted, A Chorus of Disapproval, Reason to Believe, and Vision. Shit, he even released the first Offspring album. I asked Frank if he still keeps up with the underground music scene. "I like both old and new bands, I hope I always will. In putting this comp together, I felt it was important to represent old and new bands I liked and was friends with. In the end, it became more of a who's who of newer bands and I made some great new friends during the process.
"The comp is a pretty fair representation of what I would still be doing if my label was going full time. Bands like Nails, Terror, and All Pigs Must Die are still going strong, and are some of my favorite bands. Also, bands like Integrity and Leviathan represent some of my darker interests in music. All in all, I believe I still stay fairly active, even going to shows when I can, although with my busy schedule and my family, it tends to be less than older times."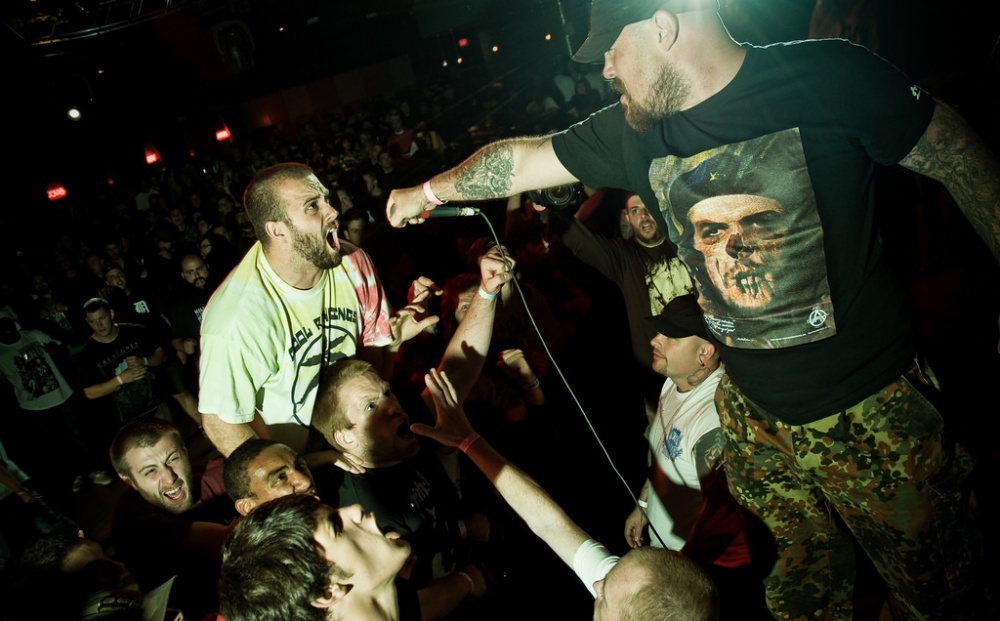 Before letting him go, I asked Frank what he's been up to as of late. "Staying healthy is a full-time job. I take lots of meds to keep my heart happy and healthy and exercise quite frequently, mainly cardio and yoga. I still tattoo by appointment on a regular basis and also have an animal care business where my wife, daughter, and I care, feed, walk, and stay with all kinds of animals on a full-time basis. As I speak to you today. I am helping a German Shepherd with a torn ACL to rehab his injured leg, and also take care of three horses and two cats... and that's just this morning [laughs].
"I tend to stay very busy and very happy. I'm always listening to music—new and old—and still reading comics all the time. I love my life and I am blessed to be where I am and have the friends I have. Like [H2O singer] Toby [Morse] once said: 'My friends look out for me like family.'"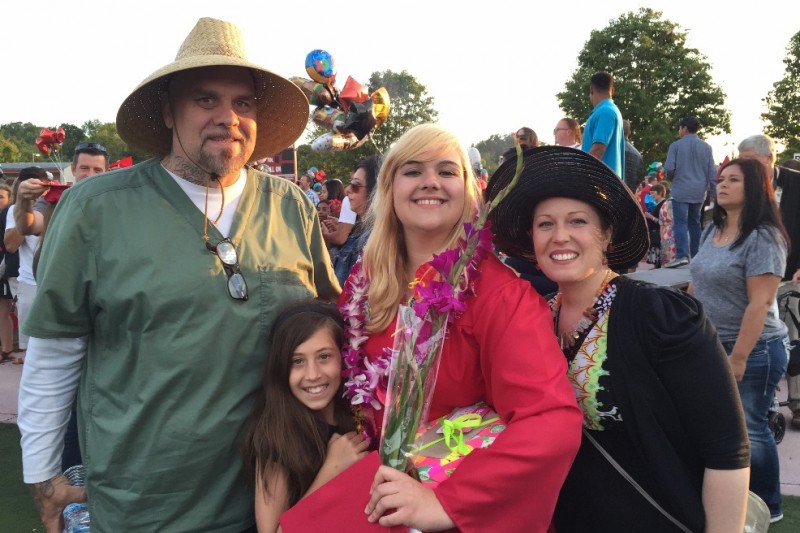 ***
Benefit for Big Frank is available now directly from Not Like You Records, and all proceeds will go to his family. Check out Big Frank's tattoo site to see his work and book an appointment with the man.
Tagged: big frank harrison, nemesis records