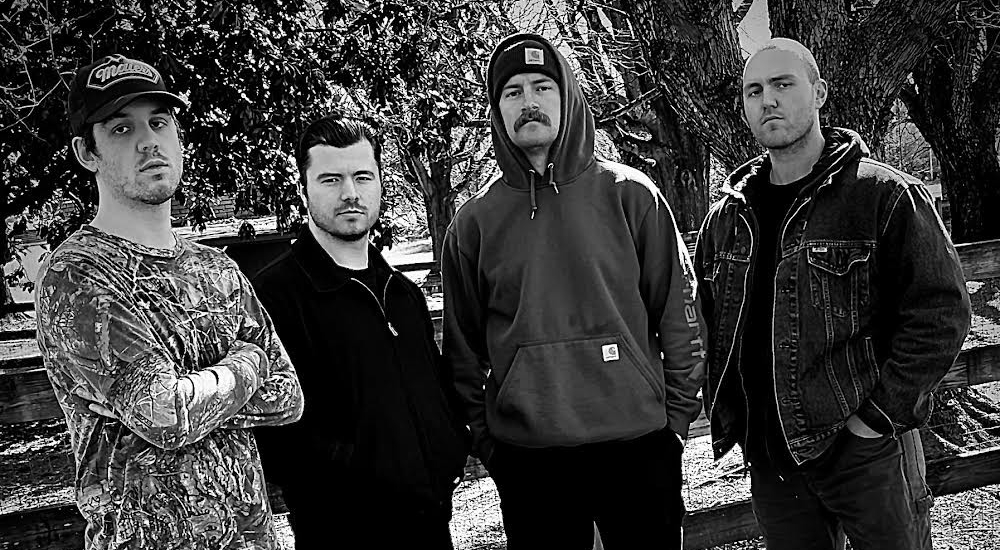 If there's any justice in the heavy music scene, The Mirror will become a popular band within the next couple of years. Taking sonic cues from groove-driven metal and hardcore, the 4-piece combo (featuring 4/5 of Heavens Die) will instantly hook in fans of Only Living Witness, Down, and Life of Agony.
"The idea for The Mirror has been something Sam and I had talked about on and off for years," guitarist Nathan tells me. "Originally, we wanted to do a riffy hardcore band in the vein of Build and Destroy, Dead End Path or Mother of Mercy. The idea really started to take shape in the summer/fall of 2019. The sound turned out more metallic, and we plotted to put demo out on April Fool's Day 2020. The real joke therein being the onset of the pandemic would keep us from touring or playing any shows in general.
Nate picks the story up: "The genesis of The Mirror came at the perfect time however as Heavens Die played our last tour in 2019. We decided to go on an indefinite hiatus due to grinding so hard on the road for the past four years, and ultimately feeling we had closed the book on the sound we were going for and wanted to retire it at the height of our powers.
"Heavens Die isn't dead and gone forever, but think of The Mirror as dark and doomy metal sound that HD had always planned on evolving into. You can hear it looking all the way back to the song 'The River' from the HD Demo. It's a song that embodies a vision I have for this band.
The Mirror recently dropped the follow-up to their aformentioned 2020 Sinful & Original demo via a 2-song EP called Chance in Hell. I think this shit effin' rules:
"We constantly refer back to bands like Crowbar, Corrosion of Confirmity, Danzig, and Life of Agony when riffing out parts," says Nate about The Mirror's writing style. "Crowbar's heavy downtuned rhythm, COC's sludgy head banging groove, Danzig's eerie dark rock sensibility, and Life of Agony's bitter and aggressive swagger are all elements I want this band to encapsulate. We all love Only Living Witness, and there is definitely aspects of that in Sam's timbre and delivery and even Danny's riff style."
Sam offers his thoughts on his contribution to The Mirror sound: "As far as vocals, I definitely naturally gravitate toward the bluesy and flexible melodies of Peter Steele and Glenn Danzig. My favorite place is right between that kind of gothic theatricality and the more utilitarian, blocky style of Hetfield and thrash hooks. There is an art to the perfect singing vocal—you have to fit it perfectly into the riffs or it's a futile exercise," waxes Sam.
"Musically, just imagine you're standing on a Cro-Mags diving-board over a giant blackhole of Southern doom and sludge, Crowbar, Down, and then the specter of Peter Steele rises up and pulls you down into the darkness."
Listening to what they're doing, it's not hard to picture The Mirror playing alongside bigger metal bands in the future, where Heavens Die felt more in the metallic hardcore lane. How does Nate see it? "I think we'd all agree we'd like to be a band that could play to any audience. Where that might sound cliché nowadays, I know Sam and I are huge marks for Every Time I Die and their tenacity in how they relayed and marketed themselves to a variety of audiences.
"Whether it be metal, punk, hardcore, metalcore, doom, rock, etc., I could see a bill or tour with us having plenty of room for opportunity. Heavens Die was definitely a dark and heavy band that was very serious. With The Mirror, we'd like to take a loosened up, let the music/performance speak for itself approach, and kick some ass."

The Mirror will be announcing live dates soon, and the band will be releasing more new music later this year on LDB Records. In the meantime, Sam wants to get the following out into the world: "Whenever Ghost wants to take us on tour, I'll sign the papers."
Chance in Hell is out now digitally on all streaming outlets. You can also get it on cassette and 7-inch lathe picture disc through Bitter Melody Records.
***
Help Support What No Echo Does via Patreon:
***
Tagged: heavens die, the mirror