In his latest piece for his I Hate Sports series, contributor Adam Lentz chats with Ryan Kennedy, the Associate Senior Writer and prospect expert for The Hockey News, and an avid hardcore fan and musician. -Carlos Ramirez
I want to start with music since I'm doing this for a music site. Talk about your connections with the scene.
I started going to shows in the Toronto suburb of Mississauga when I was 15 and soon after began playing drums in a band, Eliot Rosewater, that straddled the indie and hardcore scenes. From there, I started putting on shows at local halls and churches, plus my parents' basement. I started another band later that was basically grindcore, where I screamed and played guitar. The scene was my entire life from 15 until midway through university. I've been straight edge since I was 16 and I'm almost 40 now.
Side note: as I typed the first question I got news of the Erik Karlsson trade.
[Laughs] Yes! I think the Sens could have done a little better.
Growing up in and around the Toronto hardcore scene, who were/are the bands you grew up looking up to?
When I first got into the scene, New Day Rising was the big band for me. Acrid was also huge and I was never personally a Grade fan, but they were big headliners. As for out of towners, Locust, Shotmaker, Charles Bronson, Blood Brothers, Rye Coalition, His Hero Is Gone, and pretty much anyone from Quebec (Born Dead Icons, Ire, etc.).
His Hero Is Gone is my all-time favorite band.
Nice! My favorite memory ever is them playing "Anthem of the Undesirables" at the More Than Music Fest in Columbus, OH and the whole crowd yelling the "I…fight…every…daaaay!" part.
I think I have a VHS of that. Did Charles Bronson and Spazz play that year?
No, Charles Bronson was one of my favorite bands that I never got to see live.
Do you discuss your wacky music taste with other people on the The Hockey News crew?
Yeah, it's a running gag. We're a tight office, so that's one of the things I get chirped for. I'll play Pig Destroyer or Slight Slappers for one of the senior writers just to make him half-jokingly shake his head [laughs].
I know, because I've had a subscription in the past, but what is your niche at The Hockey News?
My specialty is the draft and prospects. I do NHL features too, but I'm best known for writing about the next generation coming up.
How did you go from playing shows with Los Crudos to writing for the world's biggest hockey publication?
During the lockout, The Hockey News needed editing help and I went to university with a couple guys affiliated with the paper, so I was brought in on a freelance basis. When the lockout ended, I was hired full-time and now I've been there for about 13 years.
Do you have an educational background in something that would help you along with that?

Yes, I have a Bachelor of Journalism degree from Ryerson University. But honestly, I've met plenty of writers who didn't go to J-school and they're great at what they do. Writing is all about repetition, in my opinion: do as much as you can to improve.
Ryerson plays hockey in what was Maple Leaf Gardens, right?
They do. It's a great facility. I saw the basketball team play wake forest there and the OHL cup final is held there now.
I'm going to fly my LA Kings fan flag real quick, but when the team drafted Gabriel Vilardi, we all heard about his heart and skills and comparisons to Mike Richards but he hasn't seemed to stay healthy enough to come to rookie camp or make an impression during the CHL season. Can you share your thoughts on him?
I think he'll be a pretty good Center. It all comes down to skating. He's improving in that area but he'll need some AHL time before he can make an impact with the Kings.
What do you do during the offseason? Hopefully some shows and a boat are involved.
We're actually pretty busy in the summer—yearbook, poolbook, the draft, free agency. As for me personally, I'm pretty boring right now, but I'll get out to a metal show here and there. I saw Power Trip for the first time recently and even saw an old hardcore friend there.
Power Trip get played at the arena in Calgary and a few places.
Pittsburgh's DJ is a good guy: he's been playing Mastodon for years.
I just asked Riley Gale from Power Trip. He said they get played in Calgary, Colorado, Dallas, and Anaheim. Do you think there are any NHL players who are hardcore heads?
The closest I've found is Drew Stafford. He's friends with Mastodon and was even in an Every Time I Die video when he played for the Sabres. Some of the European guys like metal, but in general, hockey players listen to country or Metallica. I chastise them for liking newer Metallica [laughs].
Anything after the black album is unforgivable, and I don't even fuck with the black album!
Exactly, but that's lost on them.
Did you ever hear about the ambient label [retired hockey player] Boyd Devereaux did (Elevation Recordings)?
Yeah, Boyd's a great guy. When he played for Toronto, he used to hang out with [Canadian indie rock band] The Constantines.
In the record biz we've experienced a huge shift from physical music to digital. How much has the print magazine world experienced that change?
It's been huge. We're a bit of an outlier because people still want certain physical issues in their hands — Yearbook, Future Watch, Draft Preview — but that evolution definitely has us thinking in new ways.
Every time I get word that the Yearbook and Future Watch issues are out I go to the bookstore every day until I find it! What's great about those is revisiting them five years later and looking at how all the prospects ended up and where all those stars are now.
That's awesome! The hardest is the kids that are three years away from the draft, which makes it fun for me when, say, Darnell Nurse turns into an NHLer.
(note from Adam: Darnell Nurse is the nephew of former NFL quarterback Donovan McNabb)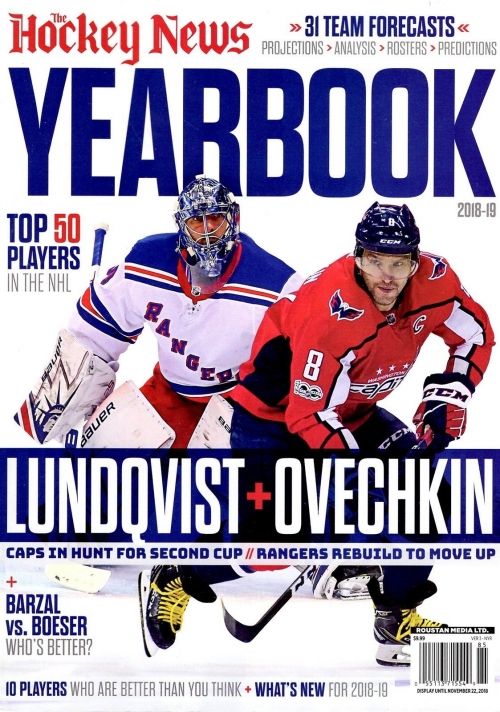 Who was your biggest bust? What player did you predict would be a star that flopped?
Hmm…I'd have to go digging through the archives for that. I know I had Nicholas Roy really high in Draft Preview and he'll likely be a third-line center for the Canes-—but he did get drafted.
That's about all I got. Thanks for putting up with such an unprofessional interview.
[Laughs] No problem! It was fun.
***
Follow Ryan Kennedy on Twitter.
Tagged: i hate sports