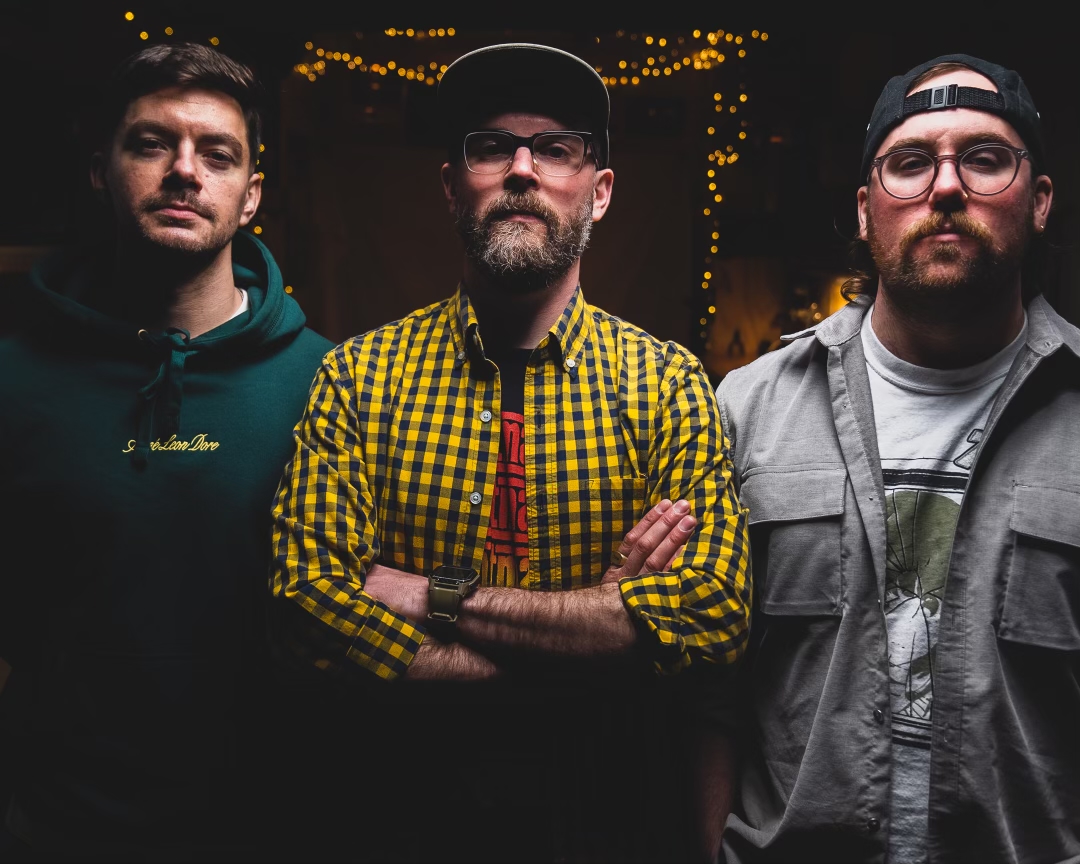 Nervous Laugh is a new melodic rock trio from Long Island, NY with a connection to the hardcore scene. "This band is the culmination of a multitude of other worldly forces coming together at the perfect moment and dropping this opportunity in our laps," guitarist/vocalist Dan Yllanes tells No Echo.
"Chris and I had played together many years ago and wrote a 10 song, super progressive hardcore record. We recorded it and looked for a vocalist but were unable to complete the puzzle. In the interim I had my first kid and Chris took a job out in LA, both of those events effectively ended the project.
After Chris' company closed its office, he moved back to Long Island, and reconnected with Dan to get the ball rolling again. "We needed a bass player and I knew Chris's best friend, Cj, was a musician so I asked if he thought he would be interested in joining. Thankfully he was and we all got together, took things out for a spin and we just clicked."
So far, Nervous Laugh have dropped a couple of tracks, with "1986" going from a shimmery verse section before bursting out with big hooks during the chorus:
"We definitely come from a background of hardcore music," says Dan. "That was always the gateway to any sort of success for bands around here. It's kind of hard to get away from honestly. I specifically sold all my old gear and bought new instruments and amps with hopes of altering my style of writing and overall sound. I think with this band we're extremely focused on writing songs that are fun as hell to play and have some sort of emotional impact when people listen to them.
"We definitely retain some of those punk/hardcore roots but have a nice blend of alternative/grungy/pop mixed in with it. Our influences are wildly expansive. Saves the Day, Coldplay, Truffle Butter, Every Time I Die, Naughty By Nature, Silent Majority... [Laughs] The list goes on."
Nervous Laugh will be releasing their debut EP, Sink Up, in June. "We went and worked with the boys at Vudu Studios here on Long Island. Mike Watts has been a longtime friend and someone I've worked with on many of my musical endeavors for nearly 20 years. He has a fantastic engineer/producer, Frank Mitaritonna, working there.
"Frank offered just what we needed in order to nail what we were looking for with these songs: A raw, live feel that let the 3-piece arrangements shine and honed in on highlighting the overall song."
Another track Nervous Laugh have released is "Divine Hammer," a cover of The Breeders' 1993 single from their Last Splash album:
Sink Up will be out on in June, and the band promised a vinyl version also in the works.
Nervous Laugh on social media: Instagram | YouTube
***
Help Support What No Echo Does via Patreon:
***
Tagged: nervous laugh