Earlier this year, singer-songwriter Jeff Caudill (also of Gameface) released an EP entitled Waves of Conversation: The Songs of R.E.M., digitally via Bandcamp, with all proceeds going towards cancer research. R.E.M. are my favorite band of all time and have been since I was 10-years-old in 1991. I have also loved Gameface since I first heard their Cupcakes EP, so naturally, I was very excited about this collection of songs. I decided to reach out to Jeff this past month to get his thoughts on each of the songs he recorded, as well as other R.E.M.-related questions and he more than obliged.
How did this project come to be?
R.E.M. is my favorite band. I discovered them right when I really needed them. I was in middle school — listening to metal and flirting with punk. They were neither of those things and that's what first drew them to me. I saw the video for "So. Central Rain" and it blew my mind. I didn't know how to describe their music. I didn't know what the singer was really singing about but it somehow all made sense to me. They made music that was in their hearts despite what the current trends were doing and they approached every aspect of their band as an art project and not a product. This is a model that I've tried to emulate with every one of my bands and musical endeavors.

So I was asked to be involved with the charity called Musicians Vs Cancer and cover an influential band. The choice of the band was easy. The choice of which songs to record was not.
I started with a list of about 30 songs. I learned most of of them on guitar. I would just pick a few each night, moving down the list, strumming through them and see which ones felt right. I landed on these 6 songs — not because they are my favorites, mostly because I felt like these are the songs I could do justice and maybe bring something new to. Certainly some of my all time favorites didn't even make the list because I knew I wasn't going to be able to pull them off just recording them by myself.
You mentioned that you had a list of songs that you wanted to record. Are there any songs that you wish you recorded that you didn't get a chance to?
Here's a list of some of the songs I wish I could have recorded: "Camera," "These Days," "Cuyahoga," "I Believe," "Feeling Gravity's Pull," "Harborcoat," "Gardening at Night," "Strange Currencies," "Find the River," "Half a World Away," "New Test Leper," "Sitting Still," "What If We Give It Away..."
Were there any songs you attempted to record that were left off of the EP?
Nothing that I actually started to put to tape. I was pretty set on what was going to work before I started recording. But close runner ups were "Harborcoat" and "Camera." Some of decisions I made were based on how firmly I knew the lyrics. As you know there is some speculation on what [Michael] Stipe is really saying. I didn't want to choose a song and get the lyrics wrong. I've been listening to these songs for most of my life and kind of learned the words phonetically. There's a chance that my version of some of the lyrics aren't quite right.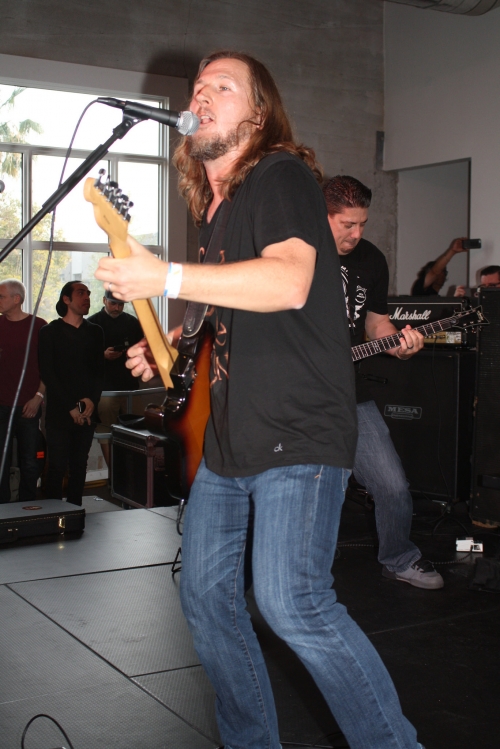 Let's talk a little bit about the songs that you did record now. First up is "Try Not to Breathe" from Automatic for te People.
I have to admit that I'm a bigger fan of the IRS years but there are a few songs on the later albums that really shine. "Try Not to Breathe" is a beautiful punch to the insides. I love the vocal melody and all of the lyrical imagery. It's delicate and bold. This was a song that I sort of rediscovered with this project. I knew I liked the song, I just didn't know how much until I started singing it and putting myself in the position of the main character in song. I used a couple different acoustic guitars — and my Telecaster played through an amp made out of a cigarette carton.
Next up is "Driver 8" from Fables of the Reconstruction.
This is definitely one song that I knew I was going to record. I've played this song for as long as I've known how to play guitar. It could be the perfect jangle-rock song. All I had to do was not ruin it. And old friend and bandmate of mine, Michael "Night Train" Bains from March plays his Rickenbacker on this one. Bains was heavy into R.E.M. when I met him in high school. He was the first guy I knew that played mandolin.
After that we move to 1988's Green album with your rendition of the fan favorite "You Are the Everything."
Here's a song that I imagine would be played at my funeral. I love everything about this song. It takes me back to when I first met my wife. It makes me think of summer nights in my house with all the doors and windows open. It the kind of song that sounds best when you're laying on the floor. The first idea for this was to do a straight version on mandolin. I even tried it with Mike Bains playing but it just felt like I was doing R.E.M. karaoke. So I played it on guitar and omnichord.
The next track is the only post-Bill Berry selection on the EP, "The Great Beyond," which was released as a single from the Andy Kaufman biopic, Man on the Moon.
This is me trying to stretch out in the catalog. Not everyone remembers this song. I was fascinated by the movie and the story of Andy Kaufman. I liked the song but it was one of the tunes that felt more right for me the more I played and sang it. I got my daughter and God daughter to sing the harmonies on the choruses.
How cool was it to have your daughter on a track?
That's happening more lately. She's turning into quite the musician herself. She's been writing songs and they're pretty sophisticated for her age. I'm loving watching her discover all this music.
Is she an R.E.M. fan?
She's not necessarily a fan but she appreciates their role in music. In addition to all of the new indie bands she's into, she's in an Elliott Smith phase right now and I couldn't be more proud.
How did you feel when Bill Berry left R.E.M. in the fall of 1997?
At the time I felt like it was probably the right time to end the band. I felt terrible for Bill and I couldn't really imagine the band without him. But also being in a band that has lost founding members, I know how difficult it is to stop.
What do you think of their post-Bill Berry output?

Those records are spotty. Still a few gems on each album but I feel like they became something different when he left.
OK, back to your record. Next up is "Good Advices" from Fables of the Reconstruction.
Now we get to the deep cuts. This song reminds me of being on tour with Gameface in the early 90s. I would make a mix tape every year for the van with all my favorite songs about traveling. This was always on it.
The EP then closes with another song from Green, "Hairshirt," which includes the lyric that gave your record its namesake.
I've always been intrigued by this song. It's vulnerable, it's creepy, it's confessional. On some of the early Gameface tours I would insert lyrics from this song and 'King Of Birds' into our songs. This is probably the most unexpected choice on the EP and it's likely the one I'm most proud of.
Have you ever seen them live? If so, how many times and were there any moments that stuck out to you at the show(s)?
I've seen them only three times. Once in the late '80s at a small outdoor amphitheater. I think the Psychedelic Furs opened. Stipe has hair. He used the bullhorn. It was an awesome rock show. Then I saw them at a huge place about 10 years later. All the hits. Super polished. Then I saw them with Wilco at the Hollywood Bowl. Stipe was bald, wearing makeup. I felt a little disconnected but they still delivered the hits and I remembered why I love them so much.
Being someone who's toured and played with a lot of bands over your career, are there any big R.E.M. fans out there in other bands that would surprise us?
Jon Bunch (Sense Field, Reason to Believe, etc) was a huge R.E.M. fan. I remember a long conversation about Automatic for the People in the balcony of my apartment. I wasn't sold on the album when it came out and Jon came to its defense. I specifically remember him talking about how moving "Sweetness Follows" was to him. Thinking about that is even more significant now.
Listen to Jeff's cover of Sense Field's "Voice" below:
Any chance you'll ever record another EP of R.E.M. covers, even if it's just a digital only release?
I'd record their entire catalog if I thought people would want to listen to it. Recording covers is kind of tricky. It's self indulgent. The fact that this was a charity made it completely ok to pursue it. I'd love to do a tribute show or something like that — have a bunch of musicians come and play their favorites.
R.E.M. called it quits in September of 2011, after releasing 15 full-length studio albums from 1983-2011. How did you feel when they broke up? Did you think it was the right time for them to end or do you feel they could've gone on creating relevant music?
I think sometimes it takes a band breaking up to truly appreciate it. Had they not broken up, I'd bet we wouldn't be talking about them right now. I think they reached a creative peak albums ago, but who am I to say that a band should call it quits?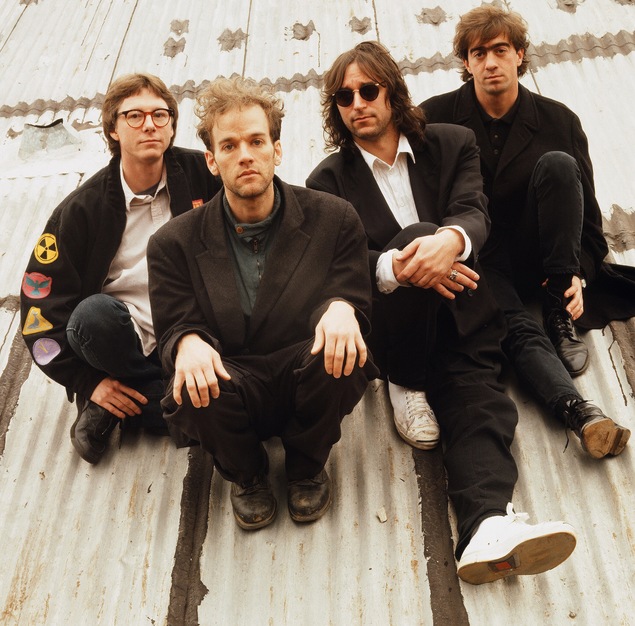 Finally, can you name a favorite R.E.M. album and song, and why?
If I had to choose one, "These Days" (from Lifes Rich Pageant). That song is everything I love about music. The hopefulness and energy of that song is something that I chase in my own songs. It makes me feel 18 years old and invincible everytime I hear it. Picking a favorite album is tougher. It's a three way tie between Reckoning, Fables, and Lifes Rich Pageant.
***
Head to Bandcamp to download Waves of Conversation: The Songs of R​.​E​.​M., and help support a great cause.
Tagged: gameface, jeff caudill