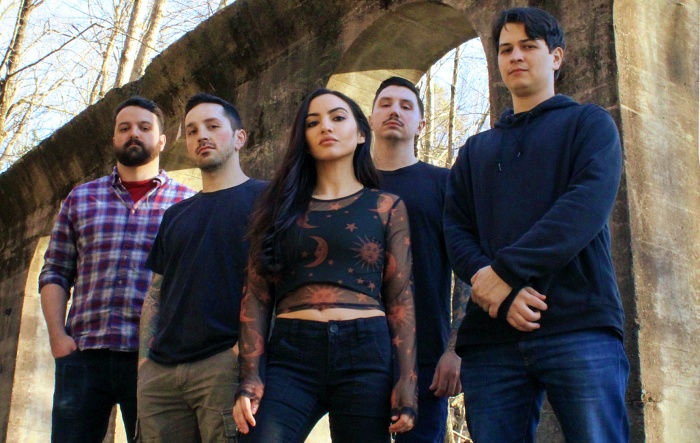 First appearing on No Echo back in 2018, God Program was firing on all cylinders when the Connecticut/New York band—like countless others—had to close shop for a while.
"In early 2019, we went on a short tour down the East Coast with Wristmeetrazor and Heavens Die, played Hope for Shelter fest in San Antonio, TX, a couple local shows here and there, and then began writing what became our latest EP," vocalist Marla tells No Echo.
"We actually began the recording process in winter '19, but had to change directions a bit and then of course COVID hit. We sort of put everything band-related on pause for most of 2020, then kicked into gear and reworked the material we had and recorded with Nick Bellmore here in Connecticut at Dexter's Lab.
"In theory, I think we all would have liked to get a bit more content/media out during the time that live shows have not been a thing, but this past year was immensely stressful and somehow still busy for everyone involved."
The aforementioned EP is entitled Forever Lasts Another Year and follows their 2018 release, Fragments of Illusion:
Marla clues us in on some of the lyrical directions God Program explored on the new release. "There are definite ongoing themes of introspection, reflections on mental health—or lack thereof— and past traumas present in all of our material, or at least my songs, and this EP is no exception.
"I use this band as an outlet for all that so my writing tends to be a fairly candid expression of inner turmoil and processing of past events. '26' in particular is a track I wrote at that age, in a time when I was feeling a profound sense of the passing of time; life going from bad to worse, the notion that things never necessarily 'get better,' and the eventual self-embodiment of trauma."
While the closest genre affiliation No Echo would tag God Program with would be "metalcore," guitarist Sean weighs in with his thoughts on the matter:
"With so many wild genre labels flying around these days, I think we're all pretty reluctant to call ourselves any one particular thing unironically. When I asked the band their thoughts on this question, there was a consensus that between the instruments and vocals, our sound is pretty unique.
"Certainly, there's some metalcore riffage with the guitars, but given the drums, vocals, and occasional keyboard part, we're pretty all over the place. Jokingly, I'd call us 'emocore,' but really we just have no idea what we're doing."
Forever Lasts Another Year will be released on vinyl and CD via a co-release from Bitter Melody Records and Dropping Bombs, so hit the pre-order link. The EP is already available digitally on Bandcamp.
***
Help Support What No Echo Does via Patreon:
***
Tagged: god program