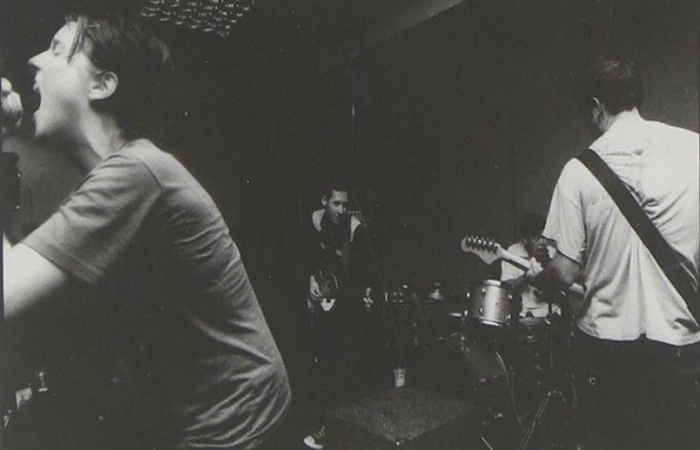 No musician's story begins and ends with their discography or their time as active artists. These releases and their lives are links within a continuous chain that have helped shape music and DIY culture as we know it. Past Forward will spotlight a treasured record in my personal collection and through new artist interviews, I will connect their past to our present day. These lesser known stories are vital to our music history and I am thrilled to bring new context to these audio treasures.
This is the first installment of my series exclusive to No Echo: The Fisticuffs Bluff - Self Titled LP

My introduction to the Fisticuffs Bluff was via their split single with Angel Hair in 1994. I heard elements of hardcore and jazz (my introduction to free jazz) performed with obscenely technical rage but, it was the voice of Summer Mastous that confounded me. She didn't try to conquer this complicated, beautiful noise, she engaged with it. She had the impossible task of putting a voice to runaway train time signatures and did so masterfully. Their songs never hit my ears like a mathematical exercise but rather a demon being exorcised with calculated, evangelical passion. The familiar rock song staples of predictable verse / chorus patterns were replaced with hyper dead ends and red herrings. I had no idea what I was listening to but I loved it. I still love it.
The Fisticuffs Bluff had two distinct time periods in the band's line up. Both versions includes Summer Mastous on vocals (Miranda July, The Need, Love as Laughter, and currently in Datachoir with her wife, as well as co-composing a score for a film coming out this year) and Drew Gilbert on guitar (CAMPAIgN, Floodgate). The rhythm section of phase 1 included Dave Louie on bass and Jay Con-ui on drums and phase 2 of the band it changed to Paul Costuros (Total Shutdown, Murder Murder) on bass with Yoshi Nakamoto (Poastal, The Aislers Set) on drums.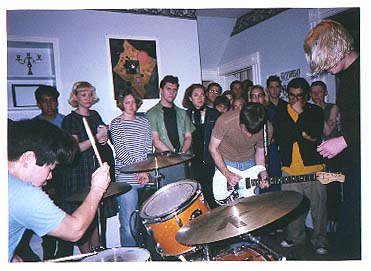 The Fisticuffs only long player was posthumously released in 1999 on Troubleman Unlimited. The record opens with a ghostly caterwaul that rushes towards you like an unstoppable force. Within seconds the dam cracks wide open and you are swept into a fevered tidal wave. This is the kind of mysterious horror found on a Nordic black metal record— the exact opposite of what to East Coast listeners like me grew up associating with coastal California bands. Sun drenched cheer from beach boys and Gidgets it was not. It is a challenging, edge of the seat experience from beginning to end nearly twenty years later.
The Fisticuffs Bluff story begins in the central California beach resort community of Santa Cruz. I can think of no location more suitable to incubate such a curious hybrid of creative forces. The Praying Mantis Brigade, a feminist activist group helped to push out the Miss CA pageant from their city in 1985, arguing the objectification of women perpetuates violence against them. This same city that houses UC Santa Cruz, one of the top research universities in the world, is also a leader in the organic agriculture movement, has a marine sanctuary, and were early adopters to approve the use of medical marijuana. It is also home to the Resource Center for Nonviolence, a peace and justice organization that promotes the practice of nonviolent social change.
College towns like Santa Cruz are by nature also cultural melting pots nourished by a stable academic foundation. It is no surprise that these were fertile grounds for forward thinking musicians to grow out of in the early nineties.
Post-hardcore in America was building momentum by 1993. The seeds that bands like Rites of Spring and Embrace planted in the mid-'80s had firmly taken root. A dynamic second wave of emo bands spread like wildfire. New micro scenes bloomed in nearly every state. Fanzines, pen pal friendships, college radio shows, record stores, and a constant flow of touring bands helped to grow this underground network. The Fisticuffs Bluff were a groundbreaking band, but equally as important, they were tastemakers. They helped to develop a vital destination along a west coast touring corridor for their musical peers. Thanks to bands like them, music scenes like theirs could more easily cross pollinate with others from all across the globe.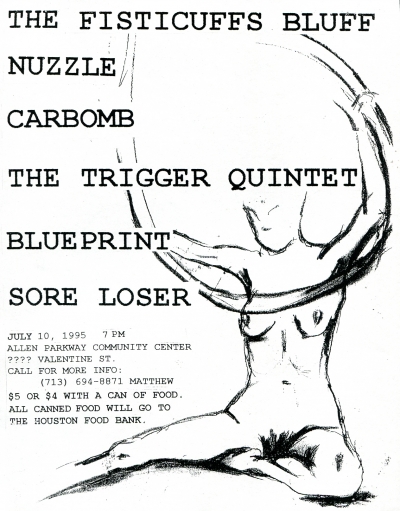 These are musical dominoes extending in a long line. As one tips over, it connects to the next. It was impossible to imagine then that a barely visible music scene tucked away in basements (or living rooms) and VFW Halls would have a remarkable trajectory. Eventually it would lead to a future generation of post-harcore bands finding mainstream success. Enter major label record deals, commercial radio play, glossy magazine covers, MTV attention, and late night talk show performances. Emotional music has become an unrecognizable circus mirror reflection of the original source, but to understand how we got here, I needed to return back to one of the key moments in time.
I couldn't fathom how a band of teenagers had a writing style as advanced as notable avant-garde composers while helping to build an iconic west coast music scene. How does a band leave such a unique imprint on DIY music's history when they existed for just a handful of years? I have spent decades living with an empty coloring book of this band's story and I am thankful to have their entire second/final band line up step in to color in the details.
This is their first interview in over two decades.
How old were you when the band formed?

Drew Gilbert: I think I was just shy of 20-years-old when I started playing with Jay and Dave. My guess is that Dave and Jay were about the same age, and Summer was a bit younger, maybe 17 or 18.

Tell me about the band's formation in 1993.

Drew Gilbert: The band's formation was similar to many others at that time in one's life: many of us leave home to go to college or university, end up meeting people and playing music with them. Dave and Jay (bassist and drummer) were friends or already knew each other and had been playing together for a while when I arrived in Santa Cruz to attend the university in the Fall of 1993. I was active in the music scene in Southern California: played in bands (CAMPAIgN, Floodgate), had a small record label (Youth Strike Chord), organized shows, had a punk/hardcore radio show with the occasional live band, etc. When I moved to Santa Cruz, I tried to keep some of that going: I started a new radio show, began organizing shows with some new acquaintances, kept the label growing — and I wanted to keep playing music. But I did not really know anyone. After a few months in town, I heard about Dave and Jay who were looking for a guitarist and had already written 4-5 songs and so it was pretty easy to jump in.
Once we decided to make a go of it, we needed a singer and advertised for one in local record shops, etc. The one or two respondents we got were dismal — dudes who were probably more influenced by the local hard/punk scene like Bl'ast!, which was fine, but not the kind of music we were playing. I knew Summer from university. She was a fan of indie and hardcore plus had the right artistic spirit. I thought she might be game to give vocals a try. She tried out and it seemed right (although I think the first time I actually heard her vocals clearly was after a number of shows!). We started playing shows in early 1994 through the summer of 1994 — mostly in the area around Santa Cruz, San Jose, Oakland, and San Francisco, although there was one memorable show in LA with Pegboy. We then recorded six songs (I think) that came out on two split 7" (one with Angel Hair, the other with CarBomb) and two songs on the HeartAttack 12" comp.
We separated to do other things in the summer of 1994 (I toured the US with Floodgate), and when we were all back together in the Fall of 1994 in Santa Cruz, Summer and I discovered that Jay and Dave were no longer interested in doing the band. I remember being really bummed because with records coming out, I thought we had a nice momentum going. Sometime in the late fall or early winter (end of 1994), I was in Los Angeles and met up with some friends of friends who were living in San Francisco. They were fans of Fisticuffs and offered to try out. That is how Yoshi and Paul joined on drums and bass. We practiced and started playing shows in early 1995, including one memorable show in LA with Pegboy. We only ever played two songs from the original set of songs we had, and otherwise wrote a whole new set, most of which were eventually recorded for the 12". That band lasted through a summer tour in 1995, we recorded at the very end of that tour, and have never been all together since.

Yoshi Nakamoto: It was very intimidating to play drums in The Fisticuffs Bluff because Jay was incredible — inventive, fast, clean, controlled and propulsive. I had never been as challenged to develop a new feel for drumming; I had to recreate myself. It still is the biggest challenge I've had as a drummer, and I don't think I always succeeded as well as I would have liked but it did push me forward. I felt like I had won the band lottery when Paul and I were asked to become the rhythm section. Summer and Drew were such cool people and talented artists. The Fisticuffs Bluff were making incredible music and were already well-regarded. Not only did Paul and I get to join a band where the creative atmosphere rained down but we also were welcomed into not only the Santa Cruz music scene, but as we saw later on tour, a more than less like-minded community that was spread out across United States.

Paul Costuros: Yoshi and I lived in Huntington Beach when we first became fans of The Fisticuffs Bluff when we bought the split with Angel Hair. Our good friend, Rachel Shaw, who was from Huntington Beach, moved up to Santa Cruz to go to school. She had told us about the scene there and said she knew the Fisties and when we went to visit one time, we met and all became good friends. We also met the folks in Nuzzle who have become lifelong friends as well. Yoshi and I had already made plans to move up to San Francisco when we heard the Fisties were looking for a new rhythm section. Neither of us thought we had the chops but heard that they were interested in us trying out. We were so excited!
I had never played bass, only guitar, but was encouraged by Drew that I could do it. I bought my Hofner copy violin bass just before moving up for like $150 and was ready to go. I couldn't believe how many parts Drew would write for each song. Each even cooler sounding than the last. I remember Yoshi jokingly said after the first song we learned he was already out of all the drum beats he knew how to play (we were used to verse chorus bridge done). Summer's vocal style just floored me. I had never experienced anything as raw, emotional, real, pure, scary, sweet, innocent, sincere, I could go on and on, but it was just in a different world than any other vocalist I have seen before or since. I remember reading a live review of the band once and they said watching Summer was like watching your friend's parents in a fight, so uncomfortable but you could tear yourself away from watching or listening to it.

Yoshi and I would commute from SF to SC regularly for practices and pretty quickly played our first show (3-16-1995 at Jabberjaw in LA). Following Dave Louie on bass was just impossible. Everything I barely managed to do with a pick he seemed to do with ease with his fingers. The show went well and soon after we played in SC at Bixby House. Everyone was there including former members of Fisties which made us very nervous. They were so friendly nice and supportive which was really helpful and we seemed to get through our set without any major mistakes and people were into it. This was how cool and supportive the community was.
Is there are a story behind choosing the name The Fisticuffs Bluff?

Drew Gilbert: My sense is that the alliterative quality of the words themselves were attractive, and the meaning or intention probably had to do with the way in which someone might threaten to fight, but that it would be a fake, or bluff. Later we sometimes liked to play around with the name and tell people it referred to an actual place overlooking the ocean where people used to fight (The Fisticuffs Bluff).

Summer Mastous: We came up with the name democratically and crowd sourced it from within ourselves. Our lead at the time, Drew, was recruiting members and holding auditions. Once the group was totally determined, we gathered in our practice space at UCSC and had three names each to contribute. This was the one that resonated with us most as a group. We liked the fact that it rhymed and also this thought of nonviolently psyching a dark force out, maybe with our wits instead of our fists. Hence the 'bluff' part.
Who were your local / regional peers?

Drew Gilbert: I suppose I'd have to split my "local music community" three ways: the community in and around Southern California, the community in and around Santa Cruz, and then those up and down the West Coast of the US because so many bands played shows up and down what was called by us at the time the "West Coast Drag."

I was fortunate to have grown up in Claremont, CA, in part because it was the location of a number of colleges, which nurtured a lively music scene. We had a great record shop in town and the local college radio station that had a number of great shows, and there were a couple of venues on and off campus that did shows. Within an hour's drive there were tons of places to see shows. My first exposure to local bands were in the straightedge and punk scene: Justice League, Chain of Strength, End to End, PHC (Pissed Happy Children), and Neanderthal. They all had people who lived in or very near Claremont.
By the time I started playing music around 1990/91, Man is the Bastard was just taking shape and I worked with some of those band members at a local bakery. The local music scene was also diverse; it included a then unknown John Darnielle (Mountain Goats) and Ben Harper. People drove all over the place all the time in Southern California then. We would not blink twice to go to shows in San Diego, in Los Angeles, or Santa Barbara. In these places there were great scenes built up around venues or labels (Che Café and Gravity in San Diego; Jabberjaw and the Macondo in LA, Cell 63 in the San Fernando Valley, of course Ebullition in Santa Barbara, just to name some of the bigger centers). That was my milieu up until moving to Santa Cruz.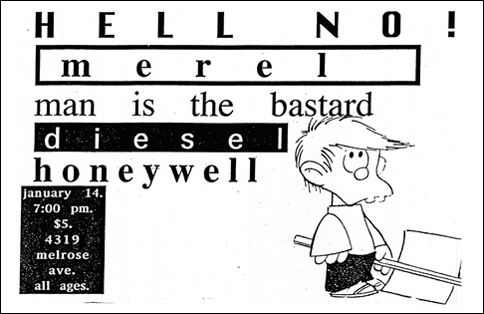 At that time, Santa Cruz had a punk or hardcore scene that was separate from the university (like Bl'ast!), but a number of us from elsewhere in California converged at the university and created a fantastically rich micro music scene, organizing shows mostly in living rooms, vet's halls, and occasionally on campus. The bands that emerged in this era in Santa Cruz were Fisticuffs Bluff, Nuzzle, and a few other indie bands…and we hosted bands from very close by in San Jose area (like Mohinder) and the Bay Area. This is also why it's worth mentioning the "West Coast Drag," because we made Santa Cruz a place to stop for bands from up and down the West Coast. Many of them were on Gravity or Kill Rock Stars but the list includes KARP, Unwound, Kicking Giant, Antioch Arrow, Man is the Bastard, Capitalist Casualties, Heavens to Betsy, Yahmos, Cars Get Crushed, Evergreen, Lync, Jawbreaker, Portraits of Past, and etc. We also did shows for some bands from further afield like Cupid Car Club.

Summer Mastous: When you are in the middle of a Renaissance you don't necessarily know it but just roll with it. That's how I kind of see how rare and special that time was, because it was just filled to the brim with artists and musicians doing original work. My immediate local peers were Nuzzle and Miranda July. I knew and loved those two artists/groups and totally imprinted it on my own art.
Do you feel like you were a part of a bigger movement happening regionally or nationally?

Drew Gilbert: I never felt part of a "movement." We were just building on what was already happening, although what we were doing did feel distinctive. I think we just really thrived on the DIY spirit to create our own scene.

Summer Mastous: Broadly speaking, we lived in a time when Nation of Ulysses kind of bit punk like a bloodsucking vampire, spawning a stylized generation of emo hardcore kids. We were north of San Diego, south of Olympia, WA, where everything cool was happening. Somewhere between DC, San Diego, and Olympia, a trifecta of raucous music, our rock and roll, was born.
We were the beneficiaries of the touring itinerary of these hardcore, emo, punk, indie bands, precisely because we built up our little scene, reached out to bands, and showed them by word of mouth (prior to cell phones) that we were a town worth visiting. Drew was a huge part of this because he had been doing this kind of production, organizing, songwriting, and original creating for years out of Claremont, CA, with Floodgate.
It was total DIY and controlling the means of production in an ethical way. Drew really gave Santa Cruz all of his connections and built on that more and more. Every local band in Santa Cruz was the beneficiary of Drew's connections, and then ad infinitum with each other. It is a corny term I am about to say, but there was a lot of cross-pollination going on between Santa Cruz, Oakland, San Diego, and then Olympia, and DC.
Paul Costuros: Absolutely! The scene became such an interesting thing. I hear it basically started after Nation of Ulysses did their first tour and completely changed the vibe of the hardcore scene. Many hated them, but those that liked them became obsessed. Looking cool, acting cool while still being punk, hardcore, vegan, anarchist, riot grrrl was now ok. You could be into art, poetry, jazz, beat culture. Was it pretentious? Yes, in fact I feel like people played up on that. The more it pissed off the old guard, the more we pushed it. You don't like my high water pegged pants? Well guess what, my next pair will be even higher and tighter! Music became more about expression than screaming "smash the state" x 100.
It was a backlash against the macho Youth Crew, mosh, meathead hardcore culture that we never truly connected with. All the sudden, all the bands that were from the older scene were no longer of interest to me. It was all my peers that were making the most fresh and interesting music. In SoCal we had Antioch Arrow, Evergreen, Honeywell, Jackbarber, Red Light Runners, Seesaw, Clikatat Ikatowi, The Fucking Angels, One Eye Richard, and the Goddamn Liars (soon to be Los Cincos), Nuzzle (originally from LA), Lowercase, Second Story Window, Heroin, Man is the Bastard, Loomis Slovak, Floodgate, Cambria, and many others.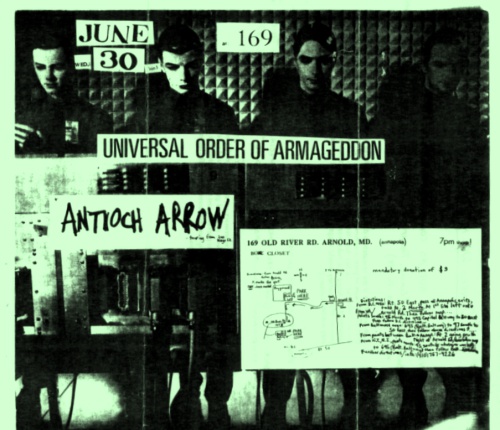 When on tour, we'd always look for the folks that looked like us, the punks within the punks. Black bowl cuts, tight clothes, of course the white belt, '50s/'60s sweaters, dresses, cat eye sunglasses, not to mention the patches and buttons of all our favorite bands as identifiers. It was a pretty special time. Emo was used as a slur from the other hardcore bands, "whats up emo" was often said. We never really called it anything aside from hardcore. Maybe Gravity Records style, emotive hardcore… maybe.

Yoshi Nakamoto: We were fortunate enough to play with amazing bands at their peak powers — Nuzzle, Second Story Window, Clikatat Ikatowi, Braid, Rye Coalition, and in iconic places like Gilman, Epicenter, Jabberjaw, and Jon Hiltz's (Born Against, Greyhouse) basement. These are some amazing canons to have in your storytelling arsenal.
Santa Cruz is famously liberal, a hub for progressive activism, and historically has welcomed diverse alternative communities. How, if at all, does this seemingly picturesque cultural foundation and beach community shape a DIY band?

Drew Gilbert: I think we were able to form such a vibrant scene because of the more diverse and welcoming community that already existed, but also because the local music scene was at a lull, leaving an opening for those of us with a connection to the university to make something new (particularly at all of the house shows). Prior to our arrival in Santa Cruz, in late 1989, the suffered extensive damage from a huge earthquake and was still recovering from that in terms of buildings and venues, etc. In my memory, the early-to-mid 1990s were still a time when rent was still relatively cheap in Santa Cruz, which made DIY more possible. Just a few years later that began to change and it is pricey as hell to live there now.

The other thing was that we were all a bunch of young kids taken with a DIY spirit of artistic experimentation — all sorts of people were trying their hand at music, forming bands for a few months, playing a few house parties and breaking up; zines popped up and disappeared; what we would today call "pop-up" art shows happened here and there, and numerous parties/happenings lent a do-anything spirit to the times.

Summer Mastous: My memories of the characters in the pre-eminent SC music punk house, Bixby, and my house up the street are pretty profound. It was like our own little Andy Warhol factory. Bands all over Santa Cruz did house shows and other venues like the Vet's Hall. This was punk, hardcore, riot grrrl, and stripped low indie. Men were supportive of feminism there and that was my total experience. It had already been established that sexism was injustice and complete garbage. Bixby had a lot of house shows. Bands from the trifecta of San Diego-DC-Olympia would swing through town and play in our living rooms. Fisties made its debut in Bixby's basement. There was no stage, just one concrete slab of a floor with a few perches on the side also made out of concrete that kids could sit on.
There were about 20 people in that tiny basement. There weren't a lot of local pretenses or boundaries that I can remember. The touring bands were the backdrop, they really just brought their art into town, parked it in our living room, plugged in their instruments, and acted like an audience wasn't even there. They just did their thing. Can you imagine, having someone you adored scream into a microphone right in front of you? Imagine Kurt Cobain doing that. That was what it was like for me; it was very freeing. One band that we eventually toured with, and was a huge inspiration for us, Nuzzle, they had a singer that would put his hand in the back of his pants like some invisible mother was pulling him back from the fray. He'd shut his eyes while singing about losing the innocence of youth and finding love in ancient authors and the dream state while his brother would shred on guitar right by him and do backing vocals. This is the stuff that cracked your heart open. It was a wild, wild time at Bixby — beautiful.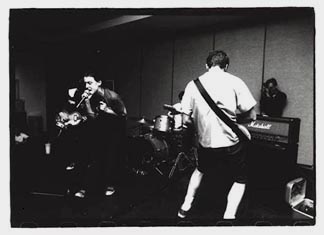 Yoshi Nakamoto: One thing that was so remarkable about the atmosphere that the Fisticuffs Bluff took part in creating in Santa Cruz was how inclusive it felt — women, people of all ethnicities and sexualities were in the bands, were organizing the shows, were attending the shows. As a person of color who had been playing music and going to shows, there were many times where I'd be one of the few if not the only person like that at the gig, so it was amazing to become part of a world that was so colorful and acceptable.

A front person is often perceived by fans as just as a singer versus the reality of their role in songwriting. What was Summer's role in the writing process, and did she play instruments in the band?

Drew Gilbert: Summer was almost 100% in charge of lyrics and the songwriting lay with the rest of us. Dave and Jay had about 4-5 songs already mostly written that I added guitar to, and I think I might have written one or two songs for that configuration. For the second configuration, we wrote more together (i.e. myself, the bassist and drummer). Certainly, Summer participated in the writing of songs insofar as we tried out different ways of putting things together and we all discussed what worked and what did not. But her musical talents lay with the piano and that is not something that came into the Fisticuffs Bluff except in the studio at the end of one of the songs on the LP. (Later her collaborations with others in Portland and Seattle (like Sam Jayne of Lync and Love Is Laughter) saw her return to the piano/keys).
Summer Mastous: I did not play a single instrument or write a single note in this band, even though I was really productive at this time on my own piano compositions. I did not want to because Drew was brilliant, and I wanted to do his songs. I did the best job I could on vocals. Drew, Paul, and Yoshi gave me total artistic freedom. Not once, ever, ever, did I have to ask them for any kind of permission to be totally uninhibited. Drew encouraged me to write my lyrics out on a mini-pamphlet to circulate at our shows. Watching people read those words and say something back to me about it really gave me the confidence to eventually tour. If you don't know this already about Drew Gilbert, his thing is that he is a highly organized, efficient, genius. He just had so many different song structures in his head and was able to totally organize and execute them all through electric guitar.
He had such a signature sound prior to Fisticuffs, and then released an even more-hard edged sound with us. That sound had a lot ensconced in it from my understanding — a lot of majesty, a lot of realism, a lot of pure conceptual sound art, really his guitar told stories to me about going through the forest, seeing a clearing, breathing in an intention, sending and setting it out. I wrote lyrics to those stories his guitar was telling. I was his fan prior to actually meeting him, due to his work with Floodgate, so I had been studying his guitar and sound for a while. It was way fresh, and a departure from even our collective influences. Paul and Yoshi totally put our band in the fourth dimension. They were such a strong rhythm section. Yoshi was brilliant at interpreting all the different sounds, and Paul flipped between hardcore, jazz, and avant garde — for breakfast. Paul heard a song once, actually not even once, just halfway through, and he had the key signature down and the baseline written. He was also so structurally oriented which gives you freedom by the second or third practice on a song to put your expression in. They codified and put everything in this new wrapper that made me so confident, proud, and happy.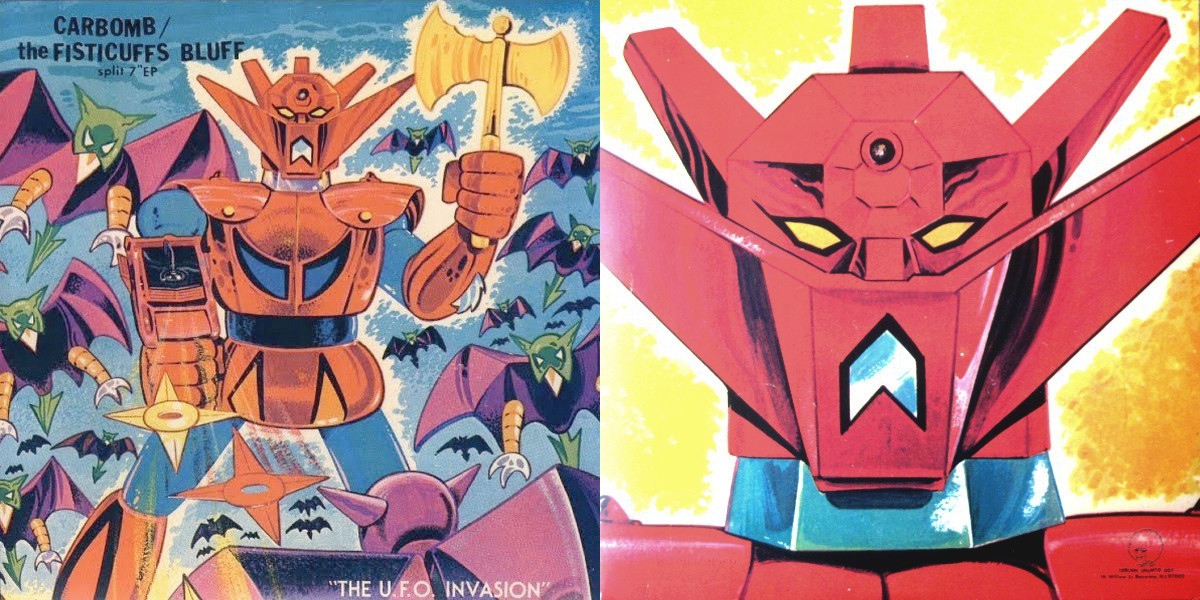 Paul Costuros: Summer was left to do what she wanted lyrically and vocally. She needed no guidance. She was perfect. She did play improv piano on the recording of the one song I wrote the structure of a song called "Leap Year Myths." Her and I overdubbed our parts during the impov part on the end. We did one take which was awesome. You can actually hear Summer say "I don't know!?" as she wasn't sure about her performance but we kept it as is and is one of my favorite moments of the album. I remember when I brought the song to Drew I was really nervous. He took it home and wrote guitar parts over my skeleton of a song. When he played his parts for me I was so blown away, I couldn't believe it was the same song. Then Yoshi and Summer came along and just put it through the roof. I was so happy!
Fisticuff Bluffs' lyrics are often tough to decipher by just listening to the music which in a way builds its mystery and mythology. While you don't sound like the Cocteau Twins or Voivod, those are examples of bands who have created one of a kind musical landscapes and is impossible for others to replicate. Can you tell me about the lyrics and the general approach to how one puts a voice to such complex and unusually constructed songs that don't lend themselves to the usual pop verse/chorus writing?

Summer Mastous: I was obsessed with telling stories, this is what all my lyrics aimed to do, and it was all to have a conversation with my influences, the ones I mentioned above. I was driven blindly to have that conversation and didn't think it was weird at all, thank god, otherwise, I would have folded inertly and retreated. I was driven by something outside of myself and the band was so, so supportive. Growing up, from the age of 12, I would get a pencil and loose-leaf notebook, and REM cassettes, and try to decipher Michael Stipe's lyrics—all of them—every song, from every EP and every record, and read them back to myself. He was a real spiritual father to me. He observed and noticed things that were unsaid, drew connections between things to show the life between them - I loved that and wanted to find out more and more about it. So, I dug up every interview I could find on him and discovered that Patti Smith was his biggest influence. I was in awe. This woman was talking to the angels. I really liked 4AD too and noticed how a few bands on that label spoke in tongues. I was not aware yet of any evangelical bent to do that - so I just thought it was a really amazing idea to speak in a larger vernacular outside of the confines of any set language.
Later on in life I studied phonetics so now I understand that appeal. The art form we were in was hardcore, so I was screaming to express something. I was really convinced about what I was saying and singing. I dug deep. Sometimes with art when we are in it we have no idea how much we are cleaning house. That point in my life I was really moving past a high pressure conformity mindset and some deep, deep family tree generational processes. You know, like how your great grandparents were hurt in this way and didn't mean to but passed it on to their children in that way, and then they passed it on to your parents, and then your parents passed it on to you. I was trying to make sense of that as an 18-year-old in America in the Fisticuffs. Because when you are a kid, and you are born to this world, you don't know any of that or those words yet — just the way people speak to one another in their own lingua franca or even just look at each other. The band gave me an amazing opportunity to craft that. It was so, so exciting.

Yoshi Nakamoto: I was such a big fan of their song "Catholic Dance," it's 2 minutes and 40 seconds of blistering movement with Jay and Dave punching left while Summer and Drew kick right, deconstructing themselves in the middle until they roar out the ending together ... and Summer's lyrics, "make your own noise, build your own noise" — that should be the rallying cry for the youth of any generation — past, present and future.
The band has a lot of genres channeled into your overall body of work as a band. I hear screamo, emo, and math rock but I also hear elements of free jazz and technical metal. What genre(s) would you personally like to see the band tagged with and what was everyone influenced by to write such non-traditional songs that are less about melody but more about rhythm and unpredictable, sometimes unsettling twists and turns?

Drew Gilbert: The musical style that most influenced the songs written by Jay and Dave was the Nation of Ulysses (which was more than fine with me), which itself had an interest in jazz. I was more interested in trying something that was different than what I was doing with Floodgate or the more hardcore bands before that. The more free jazz and unpredictable elements of the song-writing came with the second iteration of the band, with Yoshi and Paul. Our bassist Paul was a big fan of free jazz, and Yoshi had never played in a punk or hardcore band (he was more of a ska drummer before us) — and I think at that time there was a premium in the scene being put on individual artistic energy, doing something new when it came to rhythm and timing, etc.
So what came out of all of that was an experimental approach, within the bounds of what we could do (none of us were terribly good musicians, certainly not good enough to do the math rock that came later) in which I felt sometimes like the songs barely held together and we barely held on from the beginning to the end of our shows — but the energy and the spirit were there. The Fisticuffs Bluff was really a burst of creative energy that burned brightly but briefly.

Summer Mastous: Patti Smith, Michael Stipe, Frank Black (Surfer Rosa era), Miranda July, Fugazi, Heroin, Ornette Coleman (Om era), Miles Davis, This Mortal Coil.

Paul Costuros: I was personally really becoming obsessed with free jazz, improv, avant garde, classical music, and trying to avoid anything predictable. On our tour, I had brought Ornette Coleman's biography, Stockhausen, and John Cage books to read. By mid-tour I had gotten the songs down so comfortably that I was finding pockets here and there where I could make small improvisations to make it different each performance. Our songs and parts were so fast that it would literally be like a 5 second portion of a song where I improv before jumping back into the structure.

What led to the end of the band in 1995?

Drew Gilbert: The band would have been hard to sustain beyond the summer of 1995. I had finished my university degree in spring 1995; Yoshi and Paul were living in San Francisco and commuting down to Santa Cruz to rehearse (75 miles, or 1.5 hours by car) once a week…and Summer had dropped out of university at the beginning of 1995 and had plans to move to Portland with a boyfriend after our summer 1995 tour ended. So, even if I had stayed in Santa Cruz, or even in California, our singer was leaving the state. I supposed had we been sufficiently dedicated to the band we all might have tried to stay together, but Paul and Yoshi were too rooted to San Francisco. My plans took me to live in Germany for about a year. So in some ways, the band was really the product of what turned out to be short-lived circumstances — none of us were from Santa Cruz, and many of us had reasons to leave it once we were done with the university.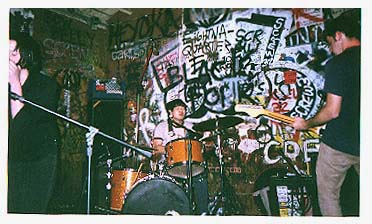 What do you hear in your own music listening back to it now?

Drew Gilbert: I love listening to our music now. The various pieces and parts of the songs stand out as beautiful and improbable. From such a distance in time, I can hardly believe that I participated in writing those songs. Although I am not the closest observer of underground/punk/hardcore/indie music these days, I have not come across anything that sounds quite like we did then, which makes it all the more pleasurable to listen to. Of course, I wish that we'd done a better job recording our LP – the quality does stand out as uneven.

Summer Mastous: Jazz, hardcore, Black Sabbath, emo, math. We went out of algebra I think and more onto calculus, because some things we did were not linear. I loved that about us. It was truly new. I get just as excited now listening to it.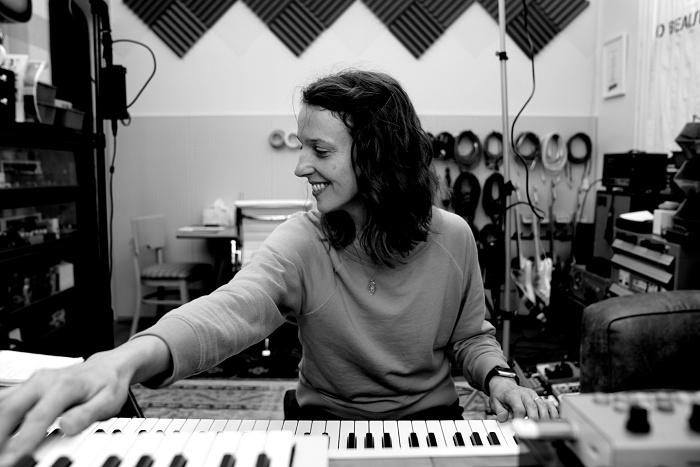 Yoshi Nakamoto: I feel grateful to have had this window lifted open to me by Drew and Summer, I'm really so proud to have been a part of the Fisticuffs Bluff — even though it was only for 9 months, the band has had a lasting and profound effect on my life. I've known Paul 30 years now and to be able to share something special between us like the Fisticuffs Bluff, just really adds another dimension to our relationship that only the two of us share.

Paul Costuros: I love listening to Fisticuffs and do often; the material before I joined and after. Very proud of it and all fond memories.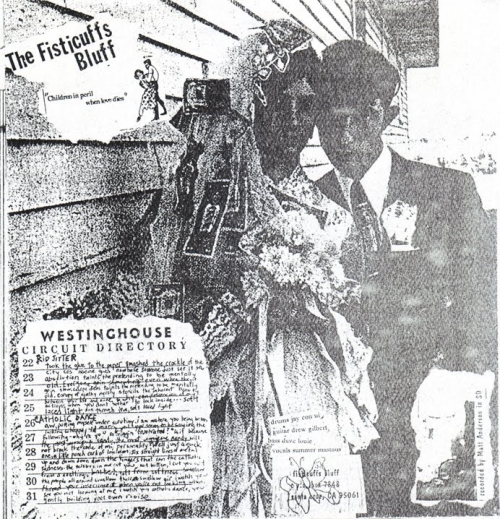 Have there been any current musicians that have reached out to any of you to say they were influenced by the band?

Yoshi Nakamoto: A year after we had stopped playing I met a man named Wyatt at a party who started a conversation with me because he had seen the Fisticuffs play in San Francisco and really enjoyed the band. We became friends and about 2 years after that, he asked me to come over one night to drum because he was starting a new band with some friends. And with that band, the Aislers Set, I was able to put out records and tour for the next 5 years and many, many years later I met my wife because of having been in the Aislers, which I would have never probably been asked to join had Wyatt not seen me play drums with the Fisticuffs Bluff at Epicenter in 1995. Drew, Summer, Paul and the Fisticuffs Bluff, whether they know it or not, started me on the path to reach the place I am in my life today living with my wife and daughter in Berlin and I'm really thankful.
***
My takeaway from the Fisticuffs Bluff is a deeper appreciation of the small, fleeting moments. A brief burst of lightning in music can leave an indelible mark on a creative community. As life unfolds, you can't predict what will stick with you or touch other people's lives. It is never what you have been conditioned to expect. It isn't the hallmark celebrated life events. It is these sneaky, blinks in time that can carry the emotional weight of marble and influence history in surprising ways.
Tagged: past forward, the fisticuffs bluff