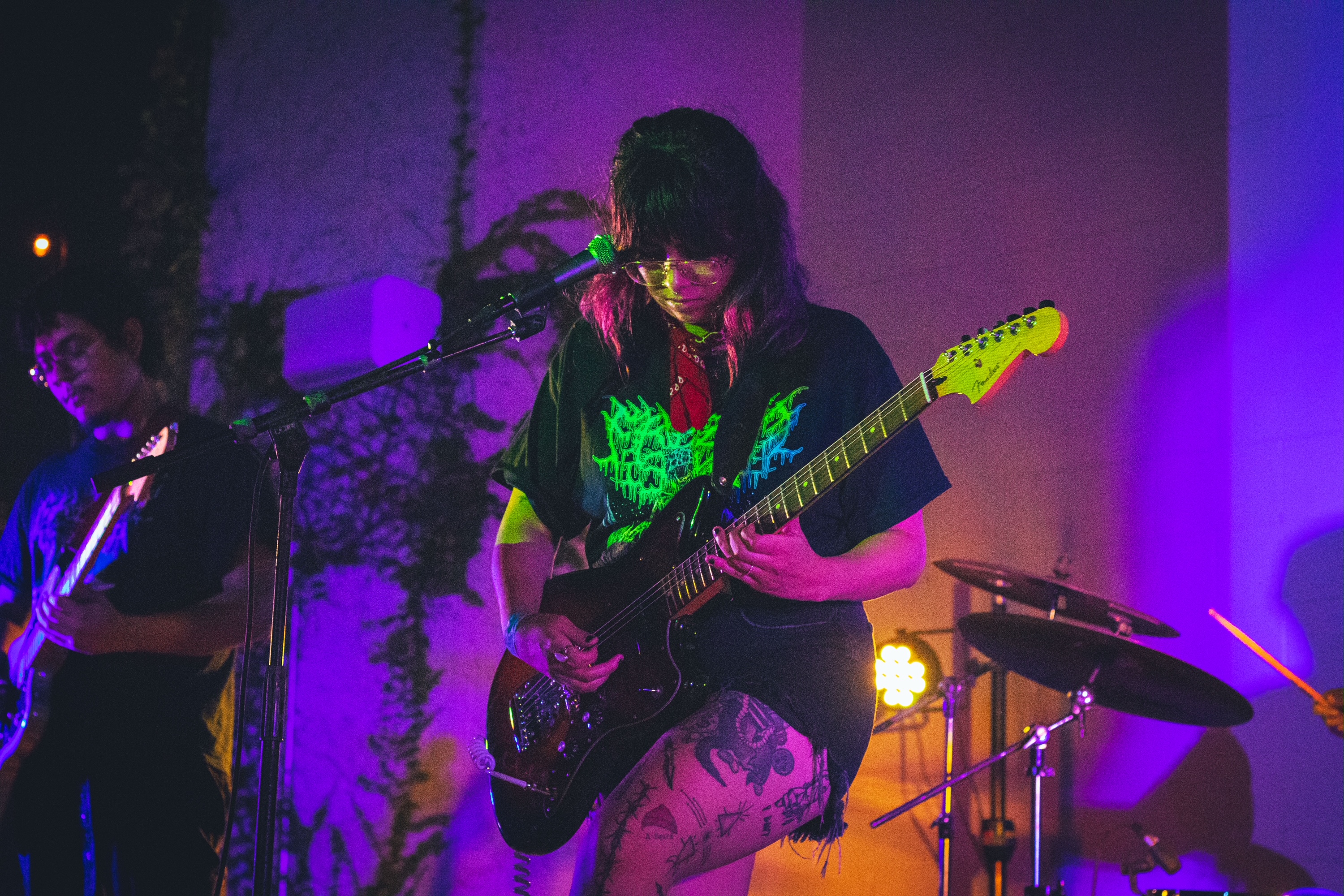 One of the coolest things about music is the ease in making friendships. Discussing music is one of the most enjoyable forms of conversation in my opinion. You can instantly bond, have debates, get heated, and learn from each other. Without my friends that I made through music, I'd have missed out on so many incredible bands and many of the positive experiences wouldn't have happened.
I always get really jazzed when a friend starts a band and starts doing all that bullshit. I think it's important to support your friends and if you can help them in their endeavors whether it's putting on for them, going to their shows, buying their merch/music, etc. All of that shit is important and can have a positive impact.
With all of that being said, I wanted to sit down with my friend Nikki from the band DA/ZE and discuss her musical chops, Houston, and more, so let's rock!
First and foremost, for anyone who isn't familiar with you or your band, let's get an introduction.
I'm Nikki Isabelle, I play guitar and do vocals in my band DA/ZE. We're an alternative rock/shoegaze band from Houston, Texas.
Although DA/ZE isn't a hardcore band..it's pretty standard at this point that a lot of people involved in hardcore really like shoegaze, rock, alt, post-hardcore; just a lot of adjacent stuff that has some sort of roots in hardcore or punk. Do you have any roots in hardcore or do your bandmates?
I do! I've listened to hardcore and I've been a part of the Houston hardcore community since I was like 17, when I moved to Texas! I have a lot of musical genres I enjoy but hardcore was super important in my teenage/young adult life and I'm still straight edge to this day.
Nowadays, I have branched out to many other genres and subgenres! My bandmates listen to a little bit of everything but we support the Houston music community in any way that we can.
How did DA?ZE come about? Gimme the deets, when, where, why, who, all that juicy gossip.
Back in 2017, I wanted to start a band because I didn't know any other women who played guitar and I was super dead set on having a girl band. After I couldn't find a single female drummer I gave up and complained on twitter and found our og drummer thru old friends and forced my brother to play bass with me [laughs]. Now it's evolved to playing music with my homies Abe (since 2018) , Zach and Corin (2020 lockdown they joined) . This lineup has been solid since summer of 2020.
How is the Houston music scene? Texas has a long history of producing some very cool bands and I'll be honest, I'm much more familiar with the hardcore and punk side of things. How is the more alt rock/shoegaze side of things out there?
Texas is super on top right now with the alternative music scene. The words "grunge gaze" comes to mind. Texas is so underrated and we bring the riffs and the vibes [laughs]. Pre COVID, we used to have a shoegaze fest called Dreamgaze put on by DKFM Radio (shout-out to Greg and Trish of the Nothing song) in Austin, Texas and it was so much fun. We also had a shoegaze fest in North Texas called Starshine Fest and everyone just gets along so well and we have good wholesome fun. It's a small community but it's strong and growing.
You hear a lot of people talk specifically about Austin but at least in my experience, Houston doesn't seem to be talked about quite as often, gimme the lowdown
Houston is always looked over I feel because we are so far away from everything but it's a tight community. It has gone through its phases but as of late the new young kids are so DIY and so supportive of each other. Most bills are mixed and it's so cool to see a hc band alongside a rapper alongside a band like us.
We don't have many venues and I think that scarcity is what's made everyone appreciate when a show comes down here and we go hard. I'm glad I have been able to help book some shows although stressful as hell you gotta put on for your city as much as you can.
Is there a lot of crossover between hardcore/punk and the gazers?
Absolutely, I feel like people just want to feel, as corny as that is, and hearing a wall of sound is captivating. The same punks and hc kids have shoegaze or gazey style projects here on the side, it's totally a natural progression at this point. We grow up and get emotional [laughs].
DA/ZE has done some very cool tours; or mini tours? Whatever vernacular we wanna use with bands like Modern Color and Trauma Ray. How did those come about?
We've done only Texas tours, Texas is big as hell! We did our first Texas tour in the summer of 2019 for my birthday and I organized it and it was so wild and a mess [laughs]. It was fun but definitely everything you'd expect from a first tour like breaking our van rental window the day before my birthday haha. The last mini run we did was in December 2021 with Trauma Ray and Cursetheknife, and Bedlocked.
We did 3 cities but it was fun as hell. Parade of Flesh, here in Texas, helped us book it and we've been homies with Trauma Ray for a while. It was great to open up for them and see people show up in cold ass weather for an outdoor show.
Modern Color was also so much fun opening for them again, we did the time they previously came and it was so great to see that the venue was packed to the brim. I feel like every show is just getting better and better. It was almost as wild as opening for Quicksand with Narrow Head, which is always fun to play with them.
Sonically speaking, who are your big influences and have they changed over the course of the band at all?
I'm all over the place [laughs], and so are the boys. Lately, though, we've been listening to alot of Deftones. When I first started the band, I was listening to Slowdive, My Bloody Valentine, and Best Coast and over time I've been trying to open my ears to new music constantly. As of lately, I can't stop listening to Choir Boy, Hum, and Whirr.
From a lyrical stand point, who/what inspires the lyrics?
Both me and Abe write lyrics for the songs and do vocals together. Most of our lyrics are about depression and bad memories. The two new songs coming out this June were written during January 2021 after going through such a hard time in the COVID shutdown. About isolation and feeling totally defeated by the world around us. I like to write about suffering cuz it makes me validated in how I feel. Especially from growing up in a very emotionally cold Mexican household.
Being that you're a little older and have roots in the hardcore scene, being a woman of color, have you noticed any differences in the gaze scene compared to the hardcore scene?

Honestly, I feel supported in this scene most of the time, I am glad people enjoy and truly connect to our music. In 2009, hardcore was very different than it is now for women but i'm so glad it's so inclusive now to all peoples. It makes me happy.
Playing guitar/singing seems like it would be pretty difficult, when y'all started did you always plan on being both the singer/guitarist or was it just a roll that kinda happened naturally?
I always wanted to sing and play guitar, but to be honest, ima say I do vocals cuz I just turn that delay and reverb to 100 [laughs]. It was always my goal. I like tap dancing with the pedalboard and trying to not fall while performing at the same time [laughs].
So, you're about to put out a new tape and last we talked, y'all are going to be venturing out on your first non Texas tour. Can you tell us more about that or is that still in the works?
The tour is still in the works because I have to put some health stuff first but we are totally gonna get it done this year even if it's just 10 days or something on the west or east coast. We do have some physical copies of the two new singles coming out and merch from our great and dear friend Jordan (Bad Cats Alley.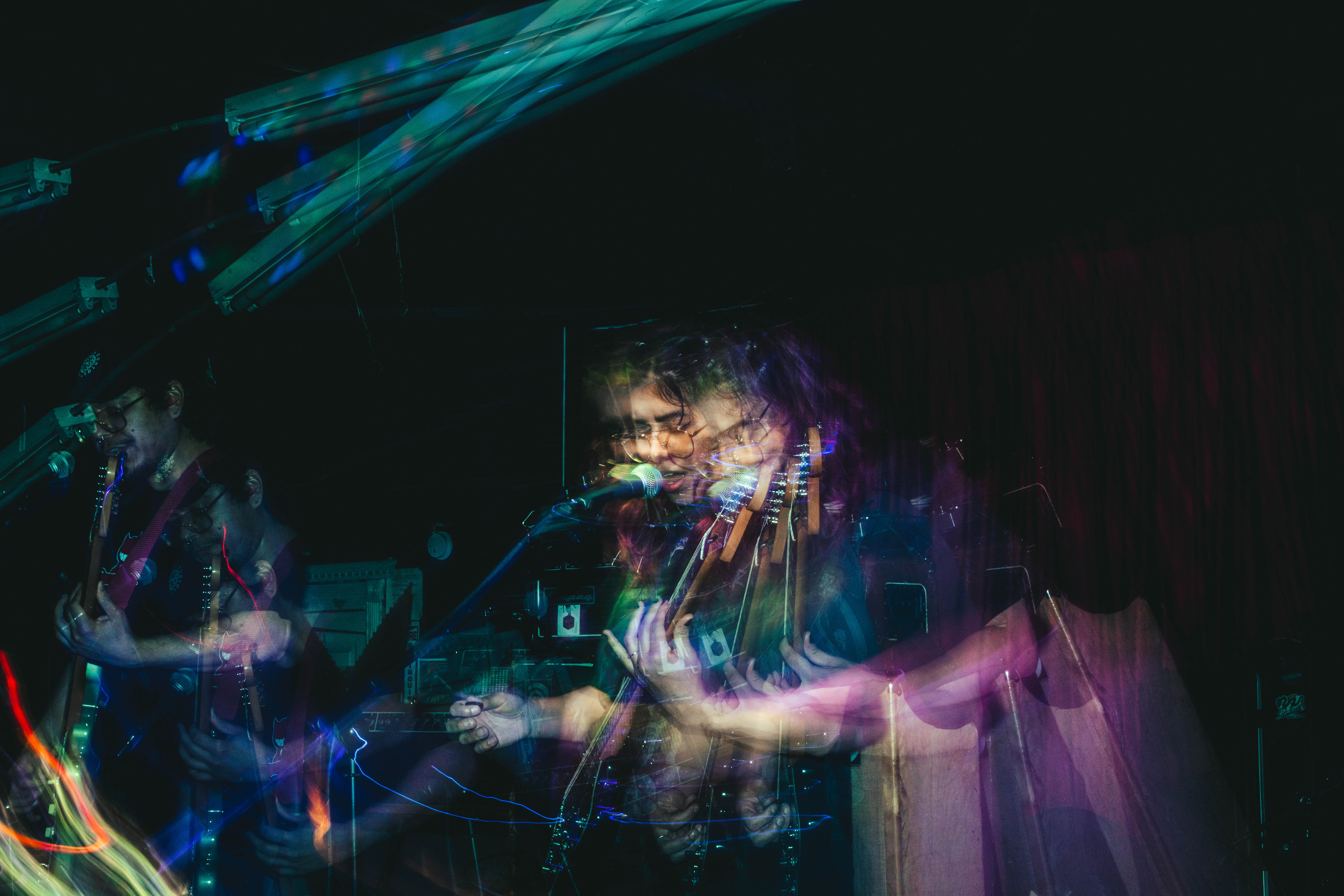 Does DA/ZE have any sort of musical goal or purpose outside of just rocking and rolling?
We'd love to get help from a label one day for distribution of some vinyl or even start touring more in the US with larger bands. Plus rocking 'n' rolling. We are not like "stereotypical" shoegaze and I feel like we're a little more digestible to lots of listeners and just want people to enjoy our stuff!
Now more than ever it seems like fans of one specific genre are crossing the lines and the blending of genres/scenes is becoming more and more of the norm. I feel like DA/ZE is one of those bands that has that cross genre/scene appeal. What do you think?
I'd like to think that for sure. I love seeing new faces and OG homies at shows supporting us. Friends who bring new people and I just love to see all types of fans.
I love that I have so many friends in the LGBTQ+ community who come and feel safe, and people of color and old heads and teens coming cuz we played with a local punk or math rock band. It's wholesome to me.
Who did you record these new songs with? How was the recording process for these new songs? When did yall write them? Spill the tea!

We recorded the new singles with Mario at Wonky Power here in Houston. It was mastered by Zac Montez who actually worked with our friends in Trauma Ray as well. During January, 2021 we locked ourselves in a cabin in Louisiana in the middle of nowhere for five days with barely any phone signal and a house full of food.
We basically played loud music all day and had bonfires every night and got to enjoy Toledo Bend Lake. This was the first time we had ever written music together and it was awesome. My ears still hurt thinking about it [laughs].
Also the new songs feel a little more stripped down/less guitar petal heavy. Is this a new direction?
I think it's just more tight and clean since we found our tones that we enjoy. It's not as noisy [laughs]. But I think since the songs are super emotional it goes with the vibes. It was kinda unintentional but yeah it be like that [laughs].
What are your plans with DA/ZE in the upcoming months/year or anything you can speak to?

The singles are going to be released this summer, we'll drop some new merch, we're constantly trying to write and go to shows and promote ourselves. All and all were just ready to get on the road and feel normalcy this year and just rock out in other states soon.
Any last words/shoutouts/plugs all that good shit?
S/O to tony chachere's cajun seasoning for letting us use the family cabin and all our homies in texas who keep playing shows and keep the htx scene going.
Thank you to Parade of Flesh, House of J, Warstories, Blushing + gizmo the pug, homies in Narrow Head, Provoker, Ben White—the badass photographer whose been working overtime promoting every show, and my hematologist for keeping me alive for the time being.
***
DA/ZE will be releasing two new tracks on June 3rd called "Marigold" and "Liminal" via their Bandcamp page. The songs will appear on all other streaming outlets that following Monday.
***
Help Support What No Echo Does via Patreon:
***
Tagged: daze