Great art transcends distance and time. Leaving Room, the debut full-length album from Swallow the Rat does both with relative ease.
Released via Austin's Shifting Sounds Records, the quartet splits the map between Auckland, New Zealand and the aforementioned home of one SXSW. On the strength of a litany of singles since their 2017 inception, the post-punk psych band found themselves flirting with disaster on a recent Stateside run. Narrowly missing the COVID-19 shutdown, the silver lining is that their superlative long player, released back in April, is a keeper.
Swallow the Rat pull from any number of subgenres, it's the unique duality of their membership that most knowingly tips its cap to a wide range of sonic influences. There are dashes of swirling psychedelia deeply indebted to Austin's long lauded scene and heavy doses of the icier and isolationist post-punk traditionalism.
The group, though, manages to incorporate lessons from their own yard. This collection shows a reverence for the Dunedin Sound, a fruitful scene which yielded some of New Zealand's finest musical exports.
Additionally, they seem keenly aware of '90s college rock. As likely to please fans of Murder Capital or Fontaines D.C. as they are loyalists of the legacy of Chapel Hill, the band's expansive palette isn't an easy one to pin down.
At its zenith, the album's heights are as lofty as their hometown's Sky Tower. The guitar work embodies the super "chunky" vibes of everyone's favorite slack motherfuckers. Most notably, however, they recall the tightly wound jams of Sonic Youth. At certain times the approach feels direct and barebones and, at others, a dense wall of peeling guitar noise. Regardless of various touchstones, the band's years help stitch together a supremely singular sound. On to it, y'all.
The album hits from the opening moments. "New Cross" conjures the matter of fact of a young Frank Black with woozy bending guitar rhythms. They excel beneath a swirling layer of distortion that often comes in without warning. Subtlety, though, is one of their biggest assets, escewing the whirlpool distorted sound in lieu of using it as but an accent.
"Hey Yeah" wears its web in front, and the band is all the more exciting for pillaging the downtuned, fun-bummer vibes best heard in Archers of Loaf. "Bird of Ill" embraces their hyper melodic sensibility, as they go with '80s post-punk jangle to assist the cold poetics of lyrics like "got a bad luck charm, wear it round my arm… keeping you away."
Across the LP, lyrics are deceptively spare and simple, but they pair perfectly with the swell and bloom of impeccable instrumentation. The words are as much an instrument as they are minimalist mantras. Whether improvised or painstakingly assembled, it gives a sense of peeking into an extended jam that magically works a la Daydream Nation.
For an album with plenty of competition, "Cold Moon" is a strong front runner for the LP's best track. The first half feels like a forcibly bleak and bass heavy stab at Cold War-era post-punk. A ringing riff eventually works itself into a morass of Floor/Torche low end groove that courts Isis or even Red Sparowes.
The vocal performance is a hypnotic masterclass on the "less is more" ideology which is again employed to dizzying effect on the preceding track "Chromos." Though it lives in a similar world, feel-wise, it marks the first appearance of backing vocals. Echoey and droning, they're the perfect counterbalance to the more ambitious end of '90s radio rock from which they seem to be pulling from. There are fleeting bits of post-rock, if only in the way they build and deconstruct worlds with their unique atmosphere.
Elsewhere, "Echoes of a Tide" and "Billy" thrill from opposite ends. The former begins with a taut, propulsive riff not unlike something of Sonic Youth's late career masterstroke, Sonic Nurse. At once distant and intimate, there are moments not altogether unlike Interpol and the legions of Ian Curtis' drab admirers. The latter is a thrilling ride that nods to a more melodic and slinky take on NYC's noise-rock scene.
Jumping off with a disorienting rhythm and a strangely warped western riff, they again refuse to stand still. Lyrically, they revel in ambiguity and depressive couplets like "I've passed the point where life has no end…" and "as my spirit slowly descends, which soars majestically into the netherrealm. I'm reminded of another uncategorizable act with Austin roots and one that also seemed look at genre restrictions with disdain: ...And You Will Know Us by the Trail of Dead. Much like that act, Swallow the Rat recklessly dive as deeply into psych and punk as they do indie, prog, and post punk.
"First World," another slab of grungy post-hardcore, is birthed by a pulsing and thick synth heartbeat that conjures the most recent Daughters masterpiece. Fittingly, the lyrics almost seem to mirror the band's breadth of influence from decades of outsider art. "Into the future, I see the past…" embraces a glut of bands past and present equally invested in off-center guitar music.
By the time "Shifting Sand'' and the subsequent title track closer, "Leaving Room," hit, the surprise isn't that they run the genre gamut, it's that it continues to work as effectively in its final moments as it did in its first. Over the course of the title track, the song continues to excite despite its sprawling Mogwai runtime, devolving into an increasingly synthetic and uncomfortable sound.
It's quite the feat to capture my attention for longer than it takes to microwave popcorn and, perhaps, it's a sign of a band crafting a singular sound. Much like the oft-referenced Kim Gordon and Thurston Moore led group, Swallow the Rat makes music in a vacuum that could only result from the collective hive mind of its players.
It's not often that I'm completely sideswiped by a band I'd never heard of, so I naturally had to pester them for more! Swallow the Rat's guitarist and vocalist Sam Vercoe was kind enough to talk on all things from their masterful new record, escaping the lockdown, international chemistry, and recording with the same dude as Robert Plant.
Hey, Sam. Thanks for hanging, albeit virtually. Tell me a bit about the way Swallow the Rat came together.
Hayden, Stephen, and I have all played in various post-punk/noise/alt bands in the Auckland scene for a number of years and shared the stage with each other. I started jamming with Brian when he moved over from Austin, Texas with his New Zealand wife in 2017 and the band formed from there.
While your 2018 S/T EP is well worth the dig, your latest full-length, Leaving Room, is a huge leap forward in both ambition and cohesion. How'd the album come together?
Certain aspects are repeated in our songs so when writing new material, we'll mess with the tempo, structure or key in an attempt to separate it from the last track. We really enjoyed working with Nick Abbott (Foals, Robert Plant, Robyn) on the EP and were keen to work with him again for the album. We waited until we felt confident with the structure and live performance of the songs before heading to his studio Northwestern.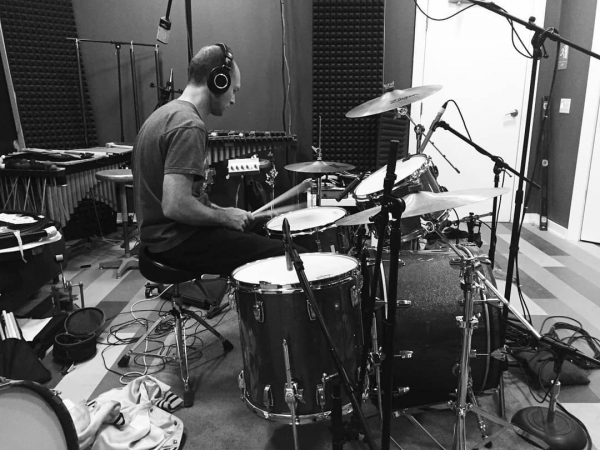 Is the band still spread between New Zealand and, uhhhh, Texas?! How's the commute to band practice work? Jokes aside, the chemistry on this album is astounding.
Thanks! Austin, Texas could be considered our second home, for sure! Though luckily we are all based in Auckland, New Zealand so the commute is relatively short.
Give us the skinny on signing to Shifting Sounds Records, which is absolutely a label to watch. If I'm correct (a rare occurrence), it shares its home with one of your members, right?
Label owner, Brandon Tucker, said he really liked the EP. After hearing that we were heading to SXSW last year, he invited us to play the Shifting Sounds showcase. We had already completed the recording of the album and Brandon was keen to put it out. He's very enthusiastic and a top guy to work with.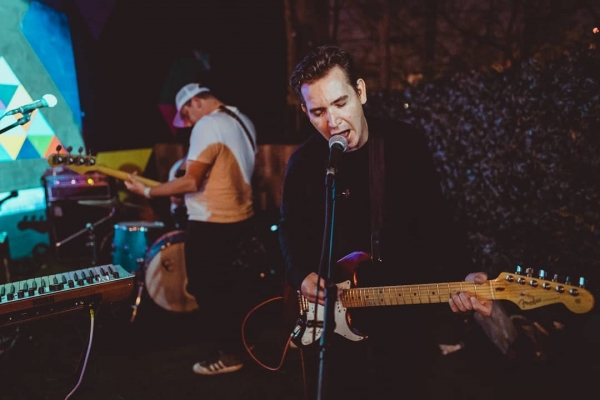 Your recent US tour seems like a dystopian pandemic version of Escape From New York. Assuming all's now well with the band, dish on what must have been a surreal trip. You were in the States right at the tipping point, yeah?
You're exactly right! In fact, when we were driving out of NYC I turned to Hayden and said, "wasn't there a movie called Escape From New York". By the time we arrived in the city the wheels were definitely falling off as far as the tour was concerned. Planned shows were being cancelled including SXSW. We were lucky though in the sense that we had already played eight shows across the Midwest leading up to the New Colossus festival.
In all we still managed to play four shows in New York before we had to get out of town. After an epic twenty-5-hour nonstop drive from Richmond, Virginia we were finally back in Austin ready to fly home.
I've seen the band tagged with "post punk" and, while not altogether inaccurate, that leaves out a lot. I hear bits of Sonic Youth, Pixies, a ton of Chapel Hill bands from the '90s, and heavy doses of psychedelia. That said, you don't sound like anyone. What's the recipe?
Certainly all the bands you mentioned are influences, plus NZ bands such as Baltier Space, Skeptics, 3Ds, The Subliminals, and The Pin Group. With Brian on second guitar, it opens things up, he brings in a shoegaze/psychedelic layer to the songs. Steve switches from bass to keys midway through some of the tracks which adds an unexpected element. Hayden incorporates his drum parts into the structure of the song opposed to just playing along which adds to the cohesion.
Having such a unique sound has enabled you to share the stage with some greats like Gang of Four and Sebadoh. Is there a freedom in that flexibility? Alternately, is it difficult finding a "place" or scene to call home?
Hayden, Steve, and myself have all played in bands off and on for years so we feel pretty connected to the local scene. Stylistically the music isn't influenced by what is popular, it's a development of everything we've done leading up to our current sound. Also, Brian's connection to Austin feels like our scene has been extended. When we played SXSW last year the locals embraced us which was a great feeling.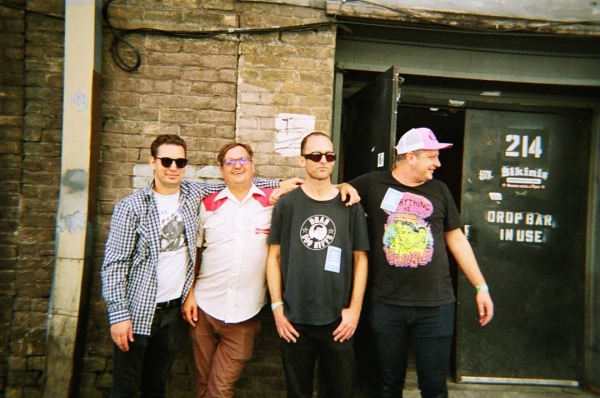 2020 has been a shitshow thus far and it's certainly a tough time to release an album. That said, what's the future shaping up to be for Swallow the Rat?
We have a couple of shows still booked for the end of June which we are looking forward to. Plus, during the tour we managed to squeeze in a night of recording at Apocalypse the Apocalypse in Pennsylvania with the talented Fred Weaver. That session resulted in the basic tracks of four new songs. Finishing the recording of those songs should keep us busy for now.
I can't pretend to know much about the scene in Auckland. Who're some fellow bands we need to keep an eye out for?
Repairs, Dead Little Penny, Nuggiez, Rope, and Tooms are from Auckland, but there are some pretty sick bands coming out of other parts of the country: Threat.Meet.Protocol, Landlords, Bitter Defeat, First Move, Flogging a Dead One Horse Town, and many more I've probably forgotten to mention.
No one escapes my lists! As difficult as this might be, what're you're top five albums of all time? What albums have been getting you through this madness?
Here's a selection from the whole band:
The Cure, Seventeen Seconds
PJ Harvey, Stories from the City, Stories from the Sea, PJ Harvey
Military Genius, Deep Web
My Bloody Valentine, Loveless
Public Image Ltd, The Flowers of Romance
***
Leaving Room is available now via Shifting Sounds.
Swallow the Rat on social media: Facebook | Instagram | Bandcamp
***
Donate a few bucks to help with No Echo's operating costs:
***
Tagged: swallow the rat