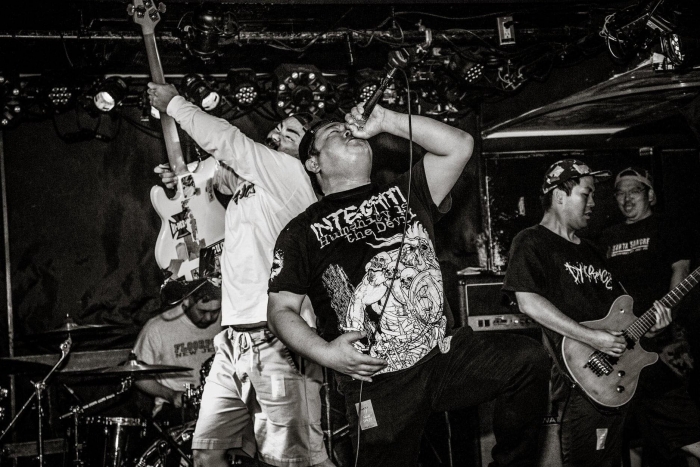 Japanese dark hardcore outfit Creepout will be releasing Svvines and Heretics, their third album, later this month. The follow-up to 2017's Nekropolis full-length, the new record was recorded by Mr.Takahashi at Rinky Dink Kichijoji, mixed by Akira Inada at m4II Studio, and mastered by Arthur Rizk (Sumerlands, Cold World).
In anticipation of Svvines and Heretics being unleashed unto the world, Creepout have released "Lilith," a track from the collection featuring vocals from Dwid Hellion and guitar solos by Dom Romeo, both from the mighty Integrity:
"Our old friends Creepout invited Dom and I to contribute on their latest ritual," Dwid told No Echo via email. "With 'Lilith,' Qunihyde has taken their band down a darkened spiral to evoke their most sinister creation yet Dom has reached deep into his bag of solis to raise the hair on your arms."
By the way, Dwid also informed me "solis" is how Dom refers to his guitar solos. Speaking of which, Dom also checked in with No Echo: "It was awesome to put together a song with friends in Japan and Belgium while all working remotely under lockdown.
"It took me a minute to figure out the right solis but in the end I love the way the song turned out and think people will really dig the new Creepout album. It's definitely their best one yet!"
Svvines and Heretics will be out on August 31 via Dead Sky Recordings.
***
Donate a few bucks to help with No Echo's operating costs:
***