Originally consisting of former members of such bands as Culture, Shai Hulud, and Morning Again, As Friends Rust blazed their own musical path, creating a sound that married the intensity of the hardcore scene they grew up in with a melancholic melodic flair. The potent combination quickly brought the Gainesville, FL-based outfit attention and along with such like-minded bands as Strike Anywhere and Hot Water Music became popular throughout the worldwide underground.
During As Friends Rust's time together, the group released music with the likes of Doghouse Records, Equal Vision Records, and Good Life Recordings, including their critically acclaimed Won album in 2001. Though the band broke up a year after the release of the aforementioned Won LP, it always felt like they left way too early. But as it's been proven time and time again, good things sometimes have a way of finding life again...
"We've played sporadic reunion shows and festivals over the years — Gainesville, Brooklyn, the Fest, Groezrock — and even a couple of tours in Europe and Japan, but yeah... this is the first real action we've taken toward amassing new material for a recording," As Friends Rust vocalist Damien Moyal tells No Echo in an exclusive interview about the group's return. "We've been quietly and steadily writing, demoing and working through songs, and now feel like we're sitting on some really, really good stuff. So, it's time. We fucking love this band, and since it seems like we're gonna keep playing shows, we may as well get some new music out there."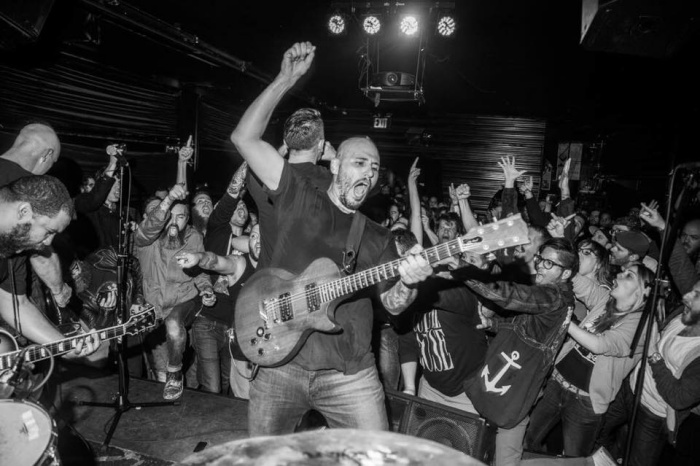 Reunion shows are one thing, but did Damien just mention new As Friends Rust music? "Yep, we're pretty close to having the writing for a new album completed, and starting to look into recording two songs for a precursor EP within the next couple of months.
"We're currently shopping labels and having a few conversations, but not yet settled on who we'll be partnering up with."
Being the nosy bastard I am, I prod Damien for some more info on the new As Friends Rust material. "The songs are a pretty perfect blend of the raw, energetic melodic hardcore of 'Coffee Black'-era AFR and the slightly darker, gallows humor, snarlier, more polished rock 'n' roll of the band's later days from the Won LP or A Young Trophy Band EP. All of the traits that defined AFR's sound and spirit are alive and well, and I really think these songs will be fresh and new while still striking a nostalgic, familiar chord."
Before our chat ends, I ask Damien why he thinks it's the right time for As Friends Rust to come back. "I don't think any of us ever really left this band, and since our first reunion in 2008, we've been writing and tinkering with new songs. But we've finally got new material that we're proud enough of and happy enough with to want to record. Also, we keep fielding offers for shows and festivals, and it feels silly to be ten years into reunion shows without anything new."
Tagged: as friends rust, culture, damien done, morning again, shai hulud