Yinz like D-beat? Pittsburgh's Möwer does. Their freshly released 4-song EP, Grand Punk, is dizzyingly good, so much so that I'm willing to set aside my ravenous Ravens loyalty and cross the picket lines into Steel City once and for all.
This horde clearly worships at the altar of both Stoke-on-Trent's finest and the blokes responsible for penning Orgasmatron. Self tagged as "Rock 'n' Roll Wasteland Hardcore," the band has found themselves in the perfect stable with Audacious Madness Records, an absolute must for anyone inclined to crusty pursuits.
Though the EP is in and out the door in less than an unlucky thirteen minutes, the Song of the Day is the second track "Hell Ride."
In the grand tradition of other Mötorcharged greats, the scuzzy bass tone and treble heavy guitar work gives the proceedings a beer-soaked, bacchanalian air. There's a wildly unhinged flare unique to the band that feels like the Venn diagram midpoint between Skitkids and Inepsy.
They're unbothered with setting the landspeed record like the aforementioned Swedes, but also don't live in the mid-paced, rock 'n' roll Babylon of the Québécois legends.
Instead, Möwer cut you down with absolutely savage, blown-out vocals and an off-the-rails sonic attack that makes it feel dangerous and desperate.
The manner in which they employ gang vocals is a rad touch, tacking them onto the tail end of a few lines in a bruising way. As brutal and acidic though Möwer's sound might be, they subvert conventions with, uhhhh, fun.
The back end of the song features an enthralling ripper of a guitar solo that plays like a near fatal careen on the "Grand Punk Railroad." The whole thing is a putrid blast, potent enough to poison all three of their hometown's three rivers.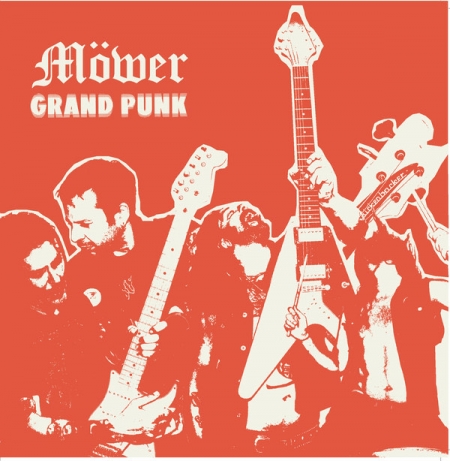 They have none of the austere presentation of their forebears apocalyptic concerns. They eschew the black and white, scorched Earth vibes in favor of red album art. Instruments raised triumphantly, the band seems to embrace the inherent celebration in resignation.
Yeah, it's the end of the world… so what? Let's fucking party on the ashes.
Möwer should absolutely thrill fans of Children of Technology, Speedwolf, the criminally underrated Auktion, Born Dead Icons, and the recently revamped Oütlaw Bästards out of Tijuana. If this is a hell ride, sign me up for the South of Heaven package...
***
Grand Punk is available on vinyl at the Audacious Madness Records online store.
***
No Echo has launched a Patreon with 3 tiers offering all kinds of hardcore-related goodies to help support the site:
***
Tagged: mower