Though they haven't released a proper studio album since 2008's 4:13 Dream, there has still been a lot to be excited about for fans of the Cure. Just in the last year, the hugely influential British band went out on a run of summer festival dates and commenced work on their 14th album at Rockfield Studio in Wales. Just this past March, the group was inducted into the Rock and Roll Hall of Fame.
In keeping with the celebratory spirit, the Cure just released 40 LIVE - CURÆTION-25 + ANNIVERSARY, a box set release featuring two concert films recorded while the band were celebrating their 40th anniversary last year.
The set opens with CURÆTION-25: From There to Here | From Here to There, a gorgeously shot (HD with 5.1 surround sound) concert that was captured the final performance of a 10-night of the 25th Meltdown Festival (curated by lead singer/guitarist Robert Smith) at London's Royal Festival Hall in June 2018. As impressive as it looked and massive as it sounded on my TV/stereo set up at home, it's the setlist that made the film this Cure geek go absolutely giddy. The Cure took the opportunity at the special event to perform a song from each of their 13 studio records in chronological order. The film also features the UK icons playing a new song called "It Can Never Be the Same," whetting the crowd's appetite for the next full-length.
I've been lucky enough to see Smith and company in concert going back to 1989, but having a beautifully shot document of the Cure's sonic evolution is a true treat. Oh, and Simon Gallup's bass tone has never sounded as glorious as did that night.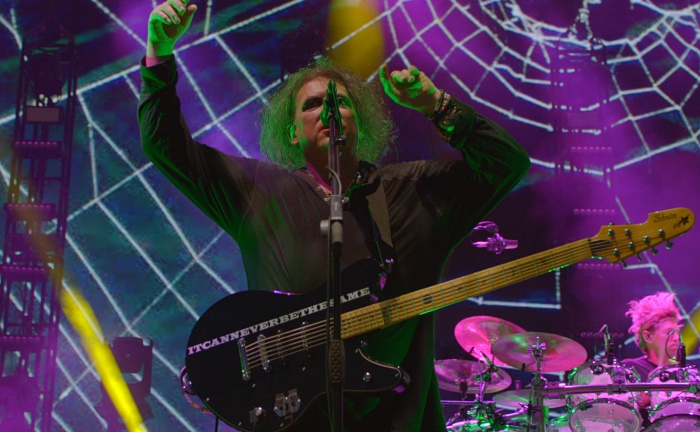 The next part of the box set is ANNIVERSARY: 1978-2018 Live In Hyde Park London, an epic performance that went down on July 7, 2018 in front of 65,000 fans. Directed by longtime Cure collaborator Tim Pope, the 135-minute set features such tunes as "A Night Like This," "Play for Today," and "Fascination Street," a song so important to me that I named my company after it.
Kudos to whoever handled the stage production for the Hyde Park show as the visual component supporting the Cure during the evening marries perfectly with each song and moment created by the musicians. It's one of those films where you're thanking the hi-fi gods that HD was created while you're soaking it all in the comfort of your living room. Yes, I would have loved to been at the show, but seeing/hearing it the way it's presented by Pope and the studio engineers behind the box set more than makes up for it.
Get It
Tagged: the cure