Mike Walsh is a record collector from Long Island, NY. I've known him for a few years through the local record shows and stores in our area. Mike has a great collection and we bonded over punk records.
He is the kind of guy that will always help you find something you're looking for, which is admirable in this community. We need more people like Mike in the record collecting scene.
How did you get into collecting records?
Firstly, I just wanted to say thanks for having me. It's fun to get to talk about this stuff and unfortunately with everything going on I haven't been to a record show in well over a year which has been bumming me out [laughs].
From a young age, I was always into music. I grew up during the era of '90s alt and hip-hop, so those were some of my early favorites. Around the early '00s, I used to frequent Record Stop in Ronkonkoma (Long Island). I'd go in and mostly buy CDs.
The owner, Bruce [Berg], was a cool guy and he suggested that I buy some records and I would always take his advice and it kinda took off from there.
What was the first record you bought with your own money?
That shop (which, by the way, the current incarnation is run by Bruce's son and in Patchogue, Long Island) specialized in getting alot of European imports. I think the first record I actually bought there was a Euro import of Bob Dylan's Highway 61 Revisited on red vinyl. Not the coolest record in the world to me now, but certainly a classic.
What is your collecting philosophy? What do you collect and why?
My collection is a bit all over the place. I sometimes wish I could streamline it a bit more but i like so many different types of music that's tough. I'd say my main collecting focus currently is '70-'80s KBD (Killed by Death) punk/new wave and power pop, and '60s garage on 7 inch and some '60-'70s psych stuff on LP.
We all have one record that we sold that we completely regret, what is yours?
[Laughs] Oh man, this a heartbreaker. Some years back, I was collecting but I had never really sold anything. I lucked into an incredible collection of mostly hardcore from a local lady who was selling her ex-husband's stuff. He had all the classics of the genre: Negative Approach, Antidote, Minor Threat, and Agnostic Front United Blood, just to name a few.
I decided I was gonna sell a few of the records to finance a family trip. I sold a copy of United Blood with the blank B-side as opposed to the "Skinhead" B-side for an insanely low price. It actually went to someone we both are friends with which makes it a little more digestible now [laughs].
At the time, there was no listing on Discogs for the blank label version so i was kinda just winging it. You live and learn, I guess.
Where do you find your records for the most part?
Oh man, I am all over. It probably consumes an amount of my time which isn't exactly "healthy." Luckily, my wife is very tolerant! (I find stuff at) record stores, online, thrift shops, friends, and yard/estate sales, just to name a few. I'm always hunting!
What do think about the values of rare punk records skyrocketing? Do you think the bubble will burst?
That whole thing has been pretty crazy. The Misfits stuff comes to mind, some of those prices are staggering! But if you stop and think about it like this...a lot of these records were self released in small numbers with handmade art by the bands. Some or most weren't widely distributed.
So, it's almost like buying a rare piece of art. I've heard people complain that the prices aren't very "punk" and I get what they mean. I don't know if the bubble will burst, per se. Record collecting seems to be bigger than I've ever seen. I joke around and say everyone is a half-ass record dealer now.
What's the most you ever shelled out for a record?
Probably not as much as you think. A few years ago, I found a promo of the Beat Brothers My Bonnie 45 on the pink Decca label locally for $1. It's essentially the first Beatles record, as far as I know.
I traded it for another rare record and ended up selling that to purchase the first Joy Division 7 inch for $1500 from another collector. It was steep at the time but because of my Beatles find I wasn't actually out anything.
Name a record or records you can't live without?
My Misfits 7 inches are pretty important to me, Joy Division An Ideal for Living.... 2 more that come to mind are the Sinatras and Spittin Teeth 7 inches. I also really love the first Radio Birdman 7 inch.
What's your best score or trade?
A couple years ago, me and my pal John got to dig thru a storage unit of records that belonged to an old timer from Brooklyn who was closing his record store after many years. He had 1000s of 45s! Very little punk. In there a found a sleeveless copy of The Sinatras 45 which was my top want at the time.
It became a whole thing because I knew someone who had an empty sleeve. He didn't really wanna part with the sleeve and wanted my record. We ultimately worked a trade that we were both happy with and I completed my copy.
I really love that record. It's kind of a Johnny Thunders/Heartbreakers sound. I'm actually in touch with the drummer from the band, and he's a big music fan, so we chat via email from time to time.
No, the band members do not have any spare copies to sell [laughs]. It's a rare one that almost never pops up.
Currently, my top want aside from Cough/Cool—which I've all but given up on—is an LP by a band called The Plague. It was recorded on Long Island in a basement by a couple college students. From the tracks I've heard, it's really great! I failed to mention that I also collect local records.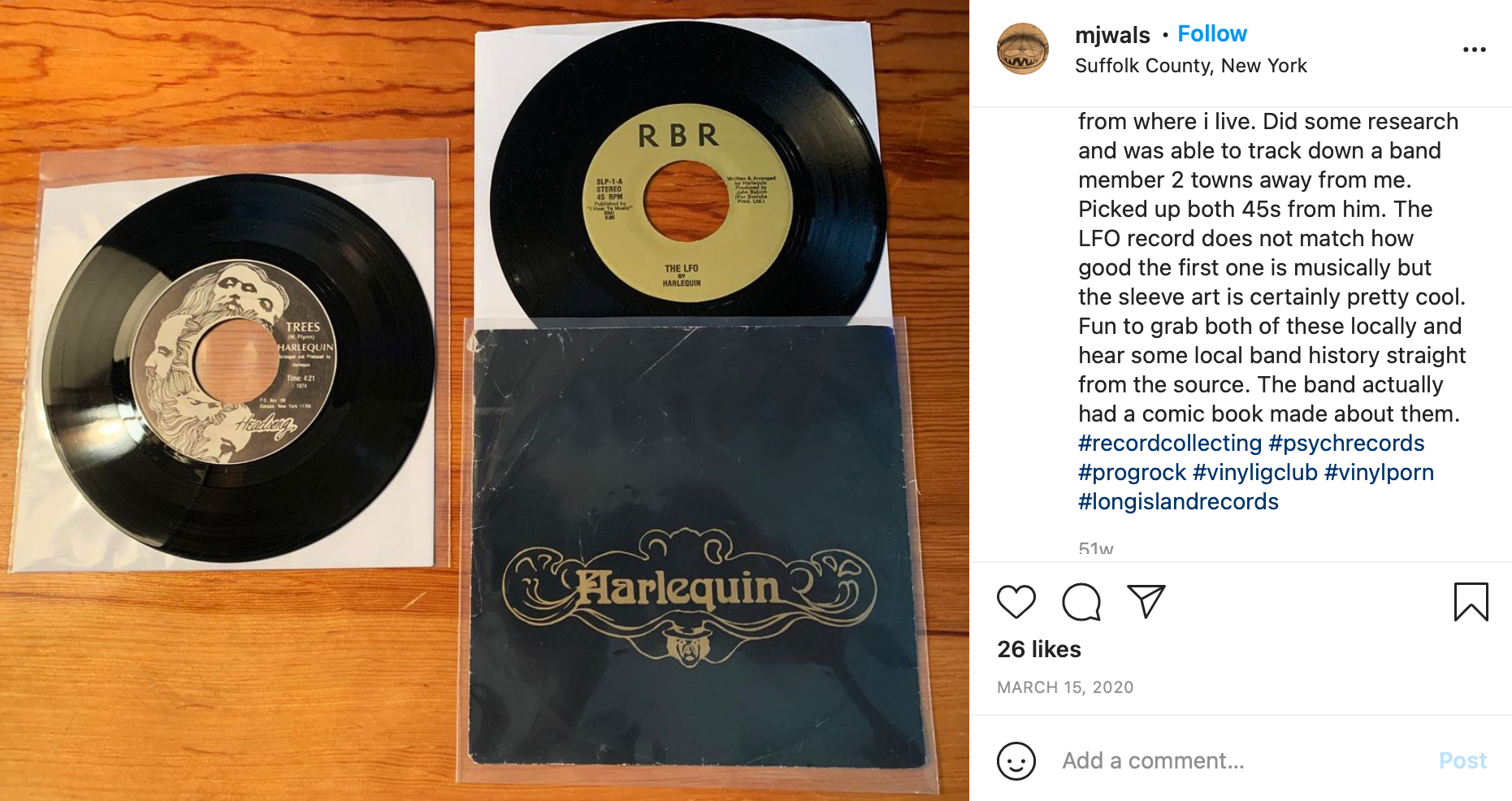 Is there anything that really bothers you about the collecting scene?
Not too much, sometimes the competition is annoying but then again most of the people I deal with are very cool and it's a small community. I'm in touch with collectors from all over the world, which helps when trying to locate a rare record. I know you've given me a heads up about a record i was looking for, and vice versa.
What do you foresee for the future of vinyl and collecting?
It's hard to say. A lot of people seem to think its a fad but I don't buy it. It seems to be bigger than ever. Hopefully it continues without getting too silly.
Do you plan on growing old with your records or do you have an exit strategy?
There are definitely some I'll never part with, but I could see downsizing one day. I've already done a large downsize once a few years back.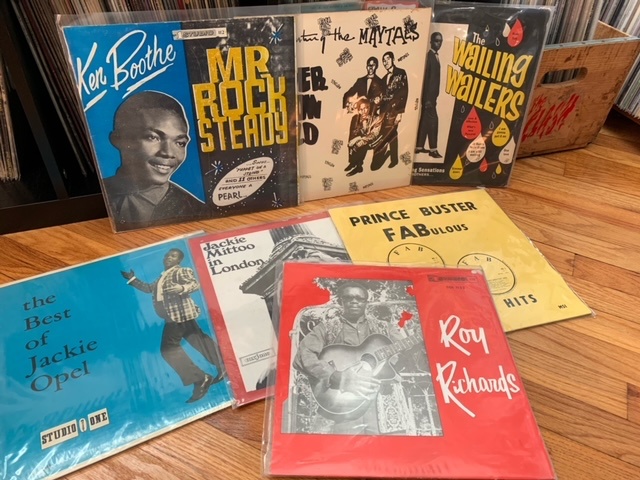 What's a record or genre in your collection that might surprise the readers?
I don't know how surprising it is but i have a small collection of reggae on the Studio One and Coxsone labels. I love the '60s and early '70s stuff. It had an incredible amount of soul.
***
Follow Mike on Instagram.
***
No Echo has launched a Patreon with 3 tiers offering all kinds of hardcore-related goodies to help support the site:
***
Tagged: record collector