Henk de Vries is a musician who has played in the bands Spirit 84, Coldblooded, Icepick, The Dead Scene Stars (aka DSS), and Reckoning Force. Born and bred in Holland, Henk is also well known in vinyl circles for his collection of hardcore and metal records. Ladies and gents, I welcome Henk to the Record Collector series.
How long have you been collecting records?
At the age of 14 my love for music really started to develop. I believe it was '91 when AC/DC had their major hit "Thunderstruck" and it was love at first listen. My Mom was always playing music at home, or in the car. She definitely was the biggest influence creating an interest in music. She was really into bands like Creedence Clearwater Revival, Buddy Holly, Fleetwood Mac, Elvis Presley, Black Sabbath, and lots of other 60's and 70's rock. So, I guess I got my taste in good music from her.
When I was 14, I got my first guitar and it really started snowballing from there. I became friends with a guy in high school and he had an older brother that was into metal, so he got me so many different mixtapes back then featuring bands like Venom, Sacred Reich, Metallica, and Sepultura, to name a few. In the early '90s, the vinyl format seemed to be slowly replaced by CDs, so the first things I got myself were on CD, unfortunately. However, the local store I went to, still had a small vinyl discount section in the back, so I did grab a small share of vinyl back then. My Dad got me a very old cheap record player, so I was able to play some records in my room. Of course, I took my mom's vinyl as well, and that's when I really fell in love with Creedence Clearwater Revival. For some reason, I really felt attracted to vinyl, and I just did not have the same feeling with CDs. So when I went to flea markets and thrift stores, I always kept an eye open for secondhand vinyl bins, and that's when I came home with the DRI Dealing With It LP. I didn't have a clue about the music, but I just happened to like the cover. Little did I know it opened a huge door for me. Things would never be the same after that.
Where/how do you usually find your records?
It really depends. Lately I got some from Discogs, because it is so damn easy to find a record you really want. Every now and then I go to record fairs, as well, like my favorite one in Utrecht. It's the biggest record fair in Europe, and it's twice a year. If you have luck, you can find a nice record for a fair price, but honestly most of the stuff there is overpriced. Usually I go to record stores or secondhand stores, and often I run into something unexpected. I have a very broad taste, so I hardly ever come home empty handed.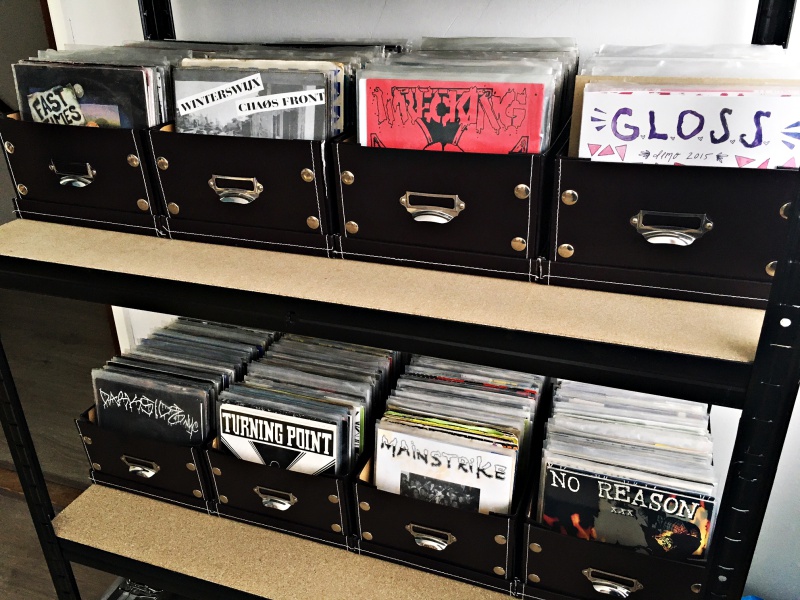 What is the most you paid for a single album, where/how did you obtain it, and what was it?
That's either my Judge Bringin' It Down LP on green vinyl (712 pressed), or my Gorilla Biscuits Start Today LP on purple vinyl (1015 pressed). I actually got both at once from a German guy I met at one of my bands' shows and we stayed in touch afterwards. We emailed back and forth, and one time he asked me if I was interested in some of his records because he wanted to sell his stuff. Since both bands are two of my all-time favorites, I just could not resist. It's been a while but I got both records for way less than what to go for these days. For a diehard collector that are not really extreme prices, but I have never been about shelling out lots of money for records. I guess you could say I am not a typical record collector. And while others need every single version of one record that's out there, I'm fine with just one nice copy, or I buy it when I come across it. I much rather buy an other record I don't have yet. My opinion is that it's much more fun trying to find expensive records for low prices, although it seems almost impossible these days. The best feeling however is running into that record you have been searching for ever since for nice price. However, I do prefer a beat up secondhand record over a new pressing, because the old one has a story and is from that time and place.
What is your most prized record and why?
My most priced possession are my kids, as you can see in the picture I sent you. But when it comes to vinyl; I don't think in terms of "prices." I am really an emotional collector. Music can contain memories and that's way more important to me. I can grab a record and tell you a story, like the first time I heard Lucifuge by Danzig, or Collection II by The Misfits. I even leave price tags on records, so I can see how much I got it for and where I got it. Most of those price tags are hard to remove anyway, so without risking damaging the cover, I'll just leave it on. Some of the records that mean the most to me are the ones I got first or as a gift from friends.
However, recently I got a record I am really happy with. It's the first LP by death metal band Altar from Holland. I was on the lookout for that record for quite a while and it just never popped up. I finally came across one about a month ago, and the price was pretty decent, so I jumped on it. The main reason I got it is because I think it is one of the best Dutch death metal records ever. But the story goes that at the time this came out, there were only 150 pressed on vinyl, because cd's were taking over and people weren't buying vinyl records anymore. The band got like 50 from the label, but used them as frisbees or coasters, instead of selling them. The other 100 were just given away and a handful sold. So you can imagine I am happy to own one myself finally. Two other honorable mentionings are my Chain of Strength True Til Death 7" on green vinyl, and the Together compilation 7", both on Revelation Records. I was looking for both for quite a while, and somehow my Dad found out and he managed to get both from a guy and he gave me those for my birthday. One of the best gifts ever, and again a great story.
Is there anything that frustrates you about the whole record collecting scene?
I can't be really bothered by what's going on in the record collecting scene. I guess something that really bums me out is when people buy more than one copy of a limited record, just to sell for a high price again. But what can you do?
Which albums are still on your want list that you've had a tough time tracking down through the years?
The list goes on and on… I have the Discogs app on my cellphone and every time a certain record comes to mind that I really would love to own on vinyl, I put it in my want list. The thing is I am adding more to my wantlist than my collection list. I love so many bands and music styles, the journey just never ends, and that's what I love about collecting vinyl; There's always something new to discover.
Some of my main wants are not even super-rare or expensive. I just don't care about the value. I appreciate a $1 record just as much as a $100 record. Anyway, here's a small selection of stuff I hope to run into someday:
The Abused, Loud and Clear
Antidote, Thou Shalt Not Kill
Artillery, By Inheritance LP
Asphyx, Last One on Earth LP
B.G.K., White Male Dumbinance 7"
Bad Religion, Into the Unknown LP
Believer, Sanity Obscure LP
The Beltones, On Deaf Ears LP
The Bruisers, Intimidation 7"
The County Medical Examiners, Olidous Operettas LP
Disastrous Murmur, Rhapsodies In Red LP
Dissection, Storm of the Light's Bane LP
Elixir, The Son of Odin LP
Gepøpel, Paracide 7"
Gorefest, The Eindhoven Insanity clear LP
In Cold Blood, Hell on Earth LP
Insight, Standing Strong 7" (Soul Force Records, preferably on orange)
Integrity, Systems Overload clear LP
Killing Time, Brightside LP
Monstrosity, In Dark Purity LP
Mysto Dysto, The Rules Have Been Disturbed LP
Nog Watt, Fear 7"
Paw, Death to Traitors LP
The Peepshows, Mondo Deluxe LP
Pennywise, Full Circle LP
Release, The Pain Inside 7"
Resurrection, Embalmed Existence clear LP
Sheer Terror, Just Can't Hate Enough LP (Staring Missile Records)
Straight Ahead, Breakaway 12"
Turbonegro, Retox LP
Turnpike Troubadours, Diamonds & Gasoline clear LP
Turning Point, It's Always Darkest… clear LP
***
Say hi to Henk on Instagram (especially if you have one of the records he listed above).
Tagged: hardcore, henk de vries, record collector