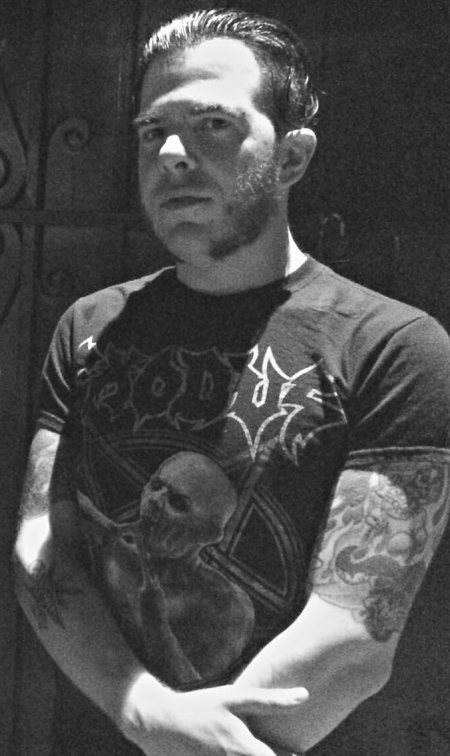 A Massachusetts native, David Gein moved to Los Angeles a few years ago, where he's currently playing guitar with crossover/thrashers, Septik Onslaught. If you're a Misfits/Samhain/Danzig fan and use Instagram, you might already be familiar with David via his profile page where he posts photos from his extensive collection of Glenn Danzig-related records. He's also a big comic book and Star Wars collector. Seriously, some of the stuff in his stash will make you jealous.
The Record Collector club welcomes David (and his Danzig library) to the fold!
How long have you been collecting records?
I started collecting seriously in 1994.
Where/how do you usually find your records these days?
Usually at local record stores like Amoeba, Dark Realm, and Headline Records.
What is the most you paid for a single record, where/how did you obtain it, and what was it?
The most I ever paid for a single record was $400 for the Misfits Cough/Cool 7". Considering what it goes for nowadays, that turned out to be a pretty great deal! I bought it from someone on Misfits Central in 1996 or '97.
Of everything in your current collection, what is your most prized record and why?
That would probably be my Misfits Horror Business 7" with the alternate back sleeve. To me that record is where the Misfits became The Misfits. Full-on horror imagery and the first use of the Crimson Ghost on a sleeve. Also, I love the yellow vinyl. The alternate back sleeve is a cool bit of Misfits lore that really adds to the specialness of the record for me.
Is there anything that frustrates you about the current record collecting scene?
The main thing that frustrates me in record collecting today is that it has mostly moved out of the independent record stores and shifted to eBay. Since eBay, prices have skyrocketed. Also, it was just more fun searching for records in stores, record conventions, etc. rather than online. It seemed like there were a lot more independent record stores before the Internet boom.
Which records are still on your want list that you've had a tough time tracking down through the years?
The "third" press of the Misfits Bullet 7" (black vinyl, with the second press sleeve), and Samhain Unholy Passion on white vinyl.
***
Follow David on Instagram, and make sure you check out the Septik Onslaught Bandcamp page for maximum thrash mayhem.
Tagged: record collector