Tyler Andrew is an East Coast-based photographer who you might have seen putting his life in danger capturing some of the best hardcore shows in the NJ/NY area in the last few years. Since we're mutual fans of what each of us doing in the hardcore scene, it was easy to get Tyler to answer my annoying questions for the Photographer Spotlight series.
Where were you born and raised, and were your parents into the arts?
I was born and raised at the Jersey Shore in Brick and a small town outside Long Beach Island. My mom wasn't into the arts but she supports my passion for photography for sure.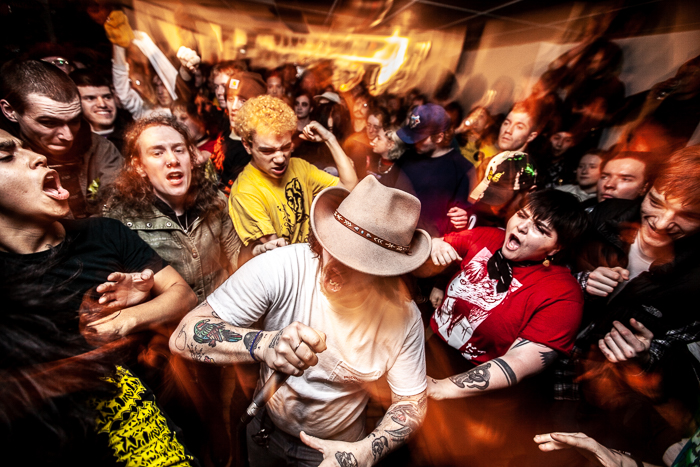 What came first, your love for music, or your love for photography?
Definitely my love for music. I dabbled with photography in high school but I ended up dropping it for some reason. I wish I never stopped and think about it often… I wish I took more advantage of having a free darkroom and unlimited film at my fingertips. I didn't pick up a camera seriously until I was 21.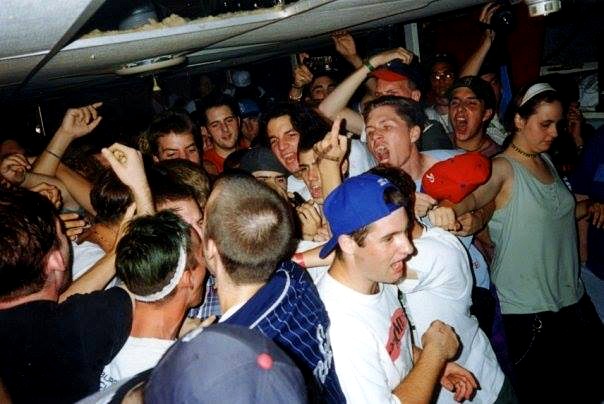 What was your first musical love?
When I young and just started skateboarding, I found a bunch of punk bands like Misfits and Casualties because of my friends I was hangin with. I didn't really listen to anything meaningfully and process what bands had to say until I was 16 and my cousin had told me about Have Heart, Cold World, and Title Fight. He kept telling me how much he loved those bands. He passed away and I would just constantly listen to these bands over and over again. I think Songs to Scream at the Sun had just came out and I really connected with it for whatever reason.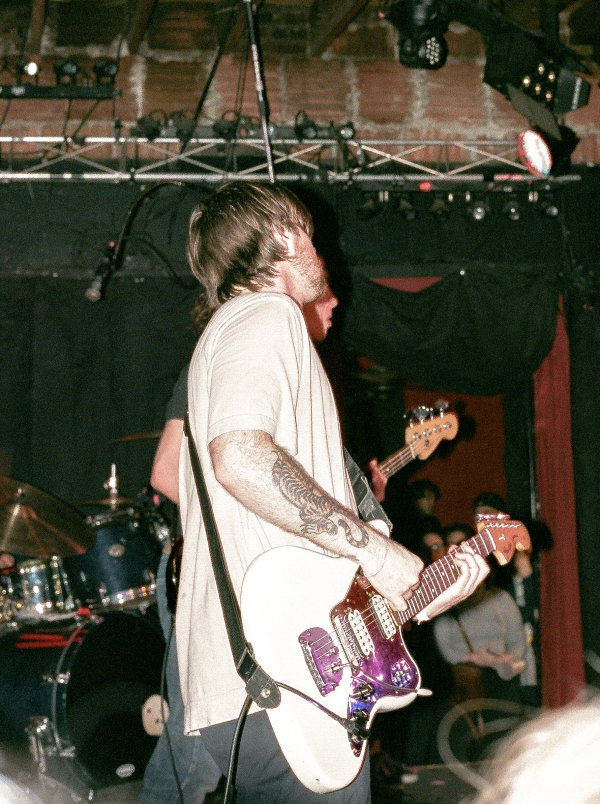 Who were some of the photographers you looked up to during your formative years?
When I first started getting involved with shooting hardcore this local gallery in Surf City was doing a show with Ken Salerno. I think he is most popular from his work at this venue that used to exist in Trenton, New Jersey called City Gardens. Seeing that really opened my eyes about researching photographers from the past who were shooting hardcore. After I got home that night I looked up the rest of his work and found other photographers like Glen E. Friedman and Edward Colver. Glen being able to transition from skateboarding and punk to hip hop literally blew my mind. Along with seeing the people he's worked with. It's completely insane to think about!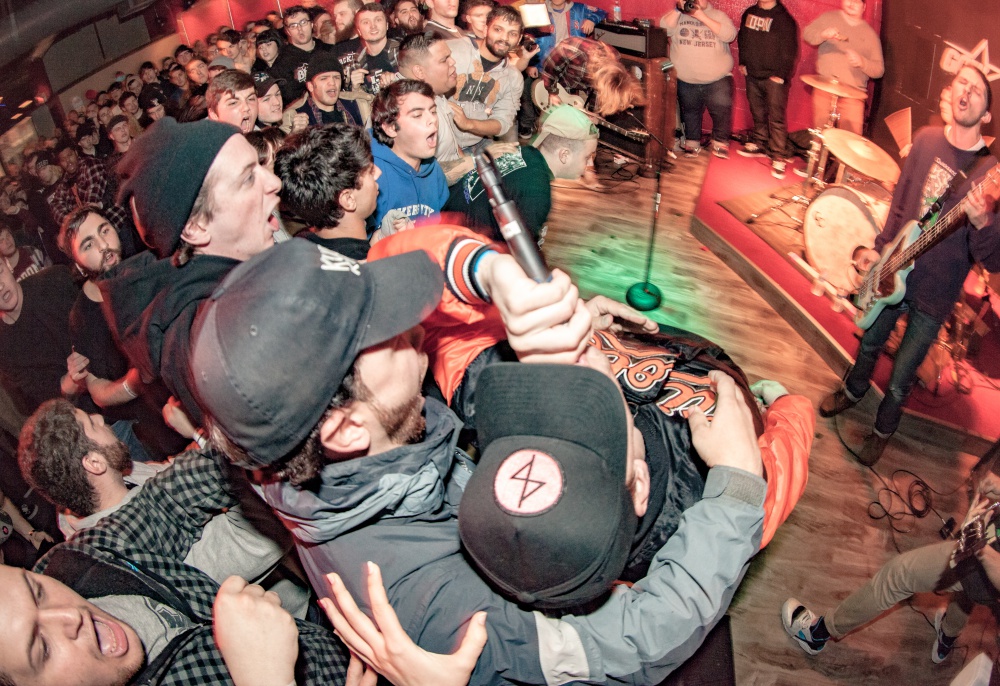 What is your camera and post set up?
I use a Contax g2. After I get my film developed and scanned, I'll make corrections in Lightroom or Photoshop. I'm about to purchase a new digital camera after shooting nothing but film for two years, which I'm very excited about.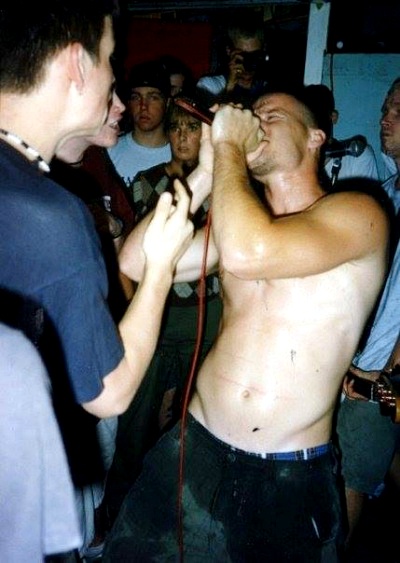 In terms of your non-musical photo work, what kind of stuff do you do?
[Laughs] Not much other than of my friends and I living life. I used to tour pretty often so I would always be taking lifestyle photos and documenting traveling around the country. As of the last year I've been wanting to get a foot in the door with assisting someone in a studio in any field of photography but I'm not having any luck so far. I'll get there one day.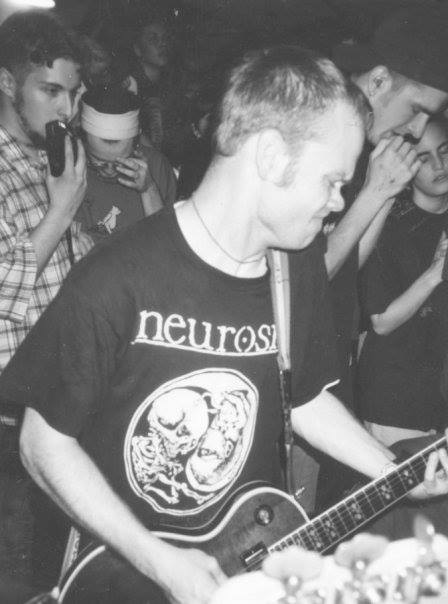 Who are some of your favorite bands to shoot?
Foundation (RIP), Jesus Piece, Turnstile, Title Fight... all four have explosive stage presence, in my opinion.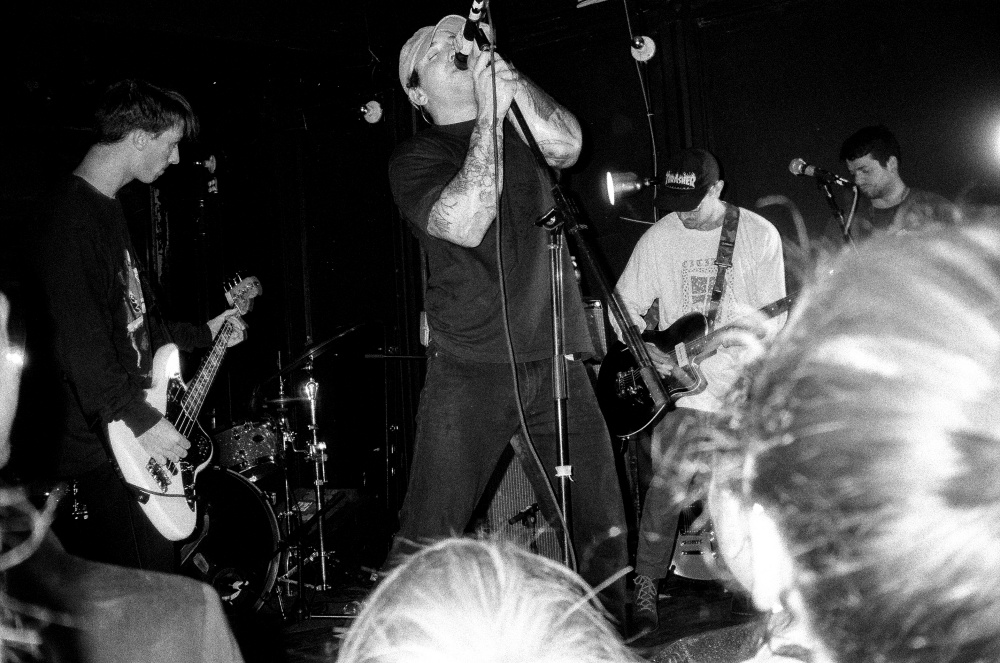 If you could go back in time, who are some bands that you would have loved to shoot?
Minor Threat, Black Flag (Rollins-era), Sonic Youth, Bad Brains, Ramones, and Nirvana. I don't like them as much as I used to, but every time I see a live photo of them, the shows looked wild and I would have loved to been there to document it.
Quick story: I actually went and saw a Henry Rollins photo show over the winter. The past year I've been diving deep into '80s and '90s hardcore punk, which is what sparked my interested in seeing his photo show to begin with. After sitting through the photos of his world travels and hearing him talk for 3 hours at the end he showed a few of Minor Threat and of him and Ian skating. I was absolutely floored seeing those photos.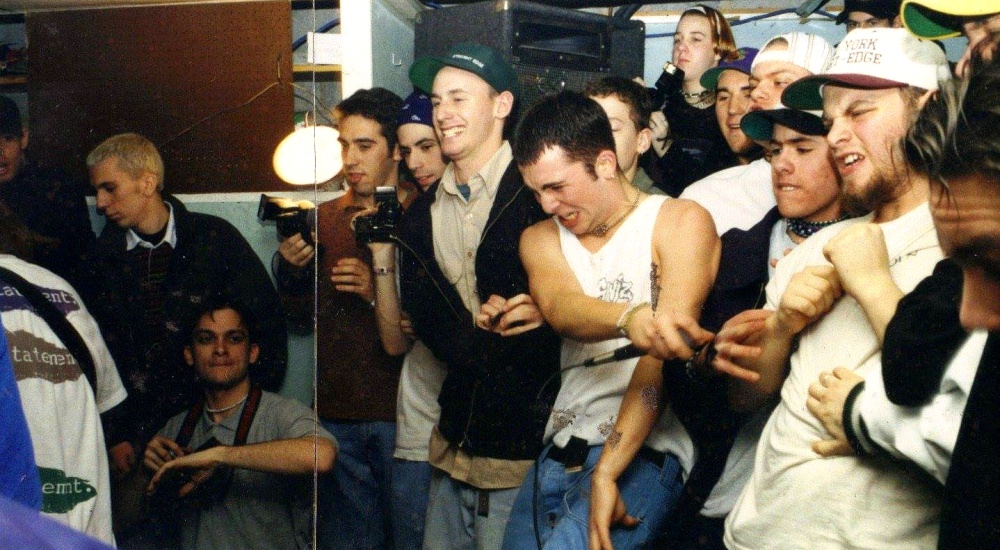 What are the toughest aspects to shooting live shows?
I think the toughest part is how many people are shooting now. It's hard to stay out of the way of bands when there are already a million people doing the same thing on stage…some people (photographers) are straight up rude about it too..such as standing right in the middle of the stage, or literally standing centimeters away from people performing. If I can't stand in a respectable spot on the stage or in the crowd, I won't bother trying to shoot instead of feeling like I'm in the way. It is what it is though, I'm glad there are so many people shooting these days. It might be the toughest aspect of shooting live but it definitely pushes people to be better at the same time which is a great thing.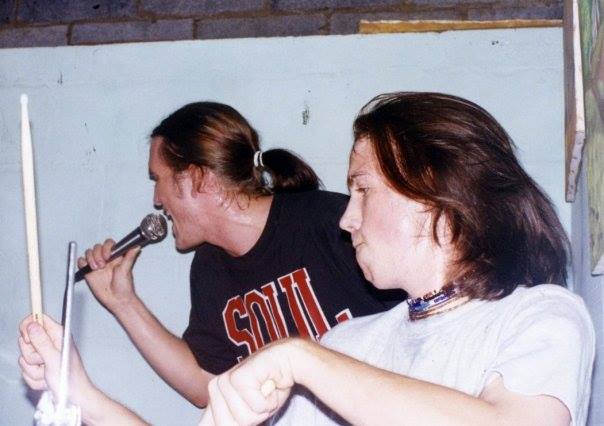 Tell me about some newer bands that we should all be on the lookout for.
Nosebleed is one of my current favorite bands. I wish I had a photo of them to use for this, I took a few of them during United Blood but probably won't get the scans of the film back for awhile. Their set blew me away for sure. Punk from Richmond.
No Option are young kids doing pretty straight-forward hardcore from Delaware. Not necessarily new, but Year of the Knife. If you haven't listened to them before, think Kickback. Heavy metallic hardcore from Delaware.
Not a new band but Krimewatch just put out an LP on Lockin' Out that everyone should check out. Not only are they an amazing band they were one of the first bands to ever use my photos for anything, so I'll always put on for them.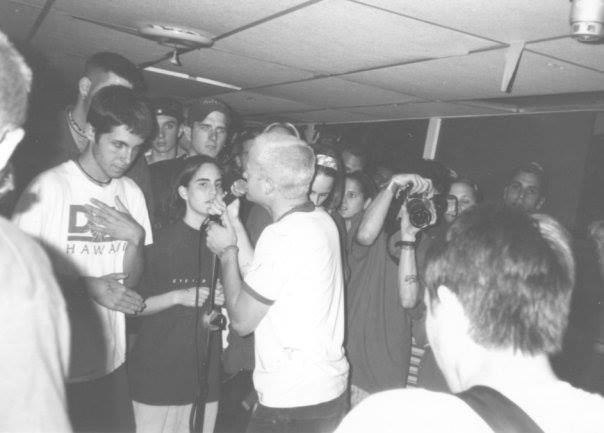 Who are some modern-day photographers that you admire?
There are so so so many that I admire and have been heavily influenced by not only their work but by their work ethic. Stephanie Mill since day one has been a huge impact on me and inspiring me to ditch digital and shoot film. I learned more about photography than I can ever explain from strictly shooting film. Others I admire would be Alvin Carrillo, Julian Berman, Dakota Gordon, Mimi Hong, Kiabad Meza, Atiba Jefferson, Nicole Busch, Marco Soto, Tracy Nguyen, Gabe Becerra, Nick DiNatale, Brett Sweeney, and Leighton Hoey. All of them have something captivating about their work and everyone should check them all out for sure and this is just the tip of the iceberg of people that inspire me.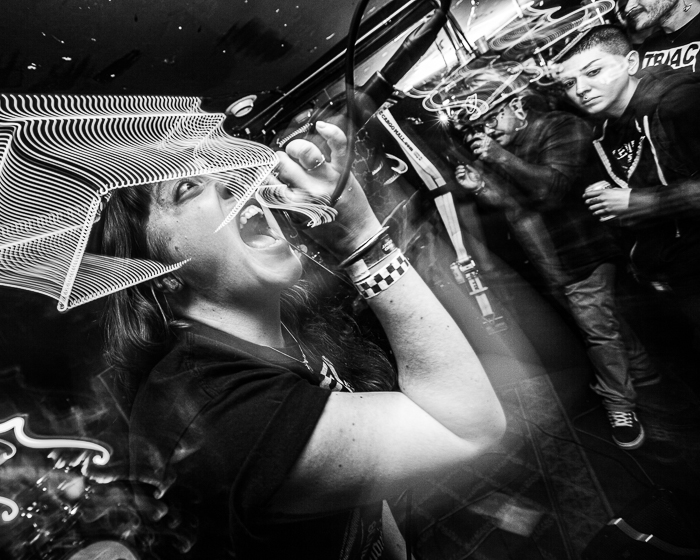 If you had to pick one of your photos that best encapsulates why you love shooting bands/artists, which one would it by and why?
It would be this photo of Foundation at the last show they played in Wilkes Barre, PA. I think the photo speaks for itself. It's what hardcore is all about in my eyes.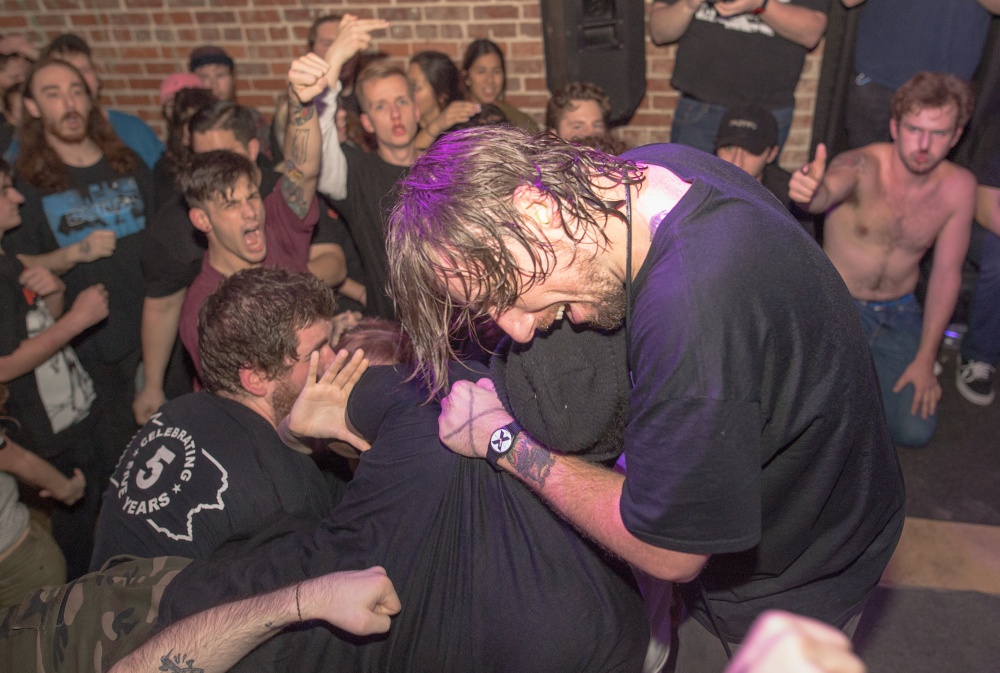 ***
See more of Tyler's work on his Instagram page.
Tagged: photographer spotlight