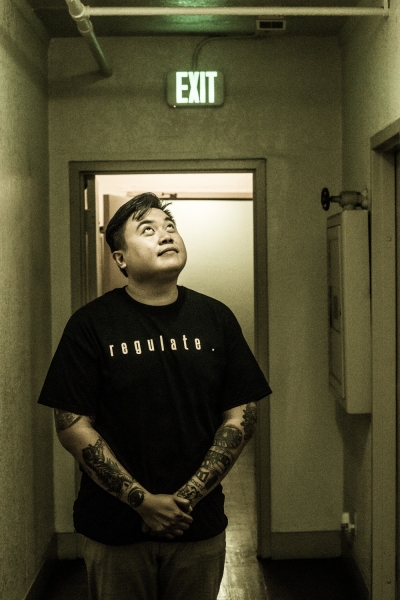 Joe Calixto is a 31-year-old photographer based out of the Koreatown section of Los Angeles. You've probably seen many of his amazing live band shots on Instagram, Twitter, and Tumblr, but in this new Photographer Spotlight we learn more about the guy behind the lens.
Where were you born and raised, and were your parents into the arts?
I was born and raised in the Philippines then moved to the US in 2005. My parents weren't too into art. My dad loved the outdoors and basketball, and my mom is a fantastic baker and cook, she also is a badass ballroom dancer. My grandpa on my father's side was apparently into photography and I ended up with his old film camera.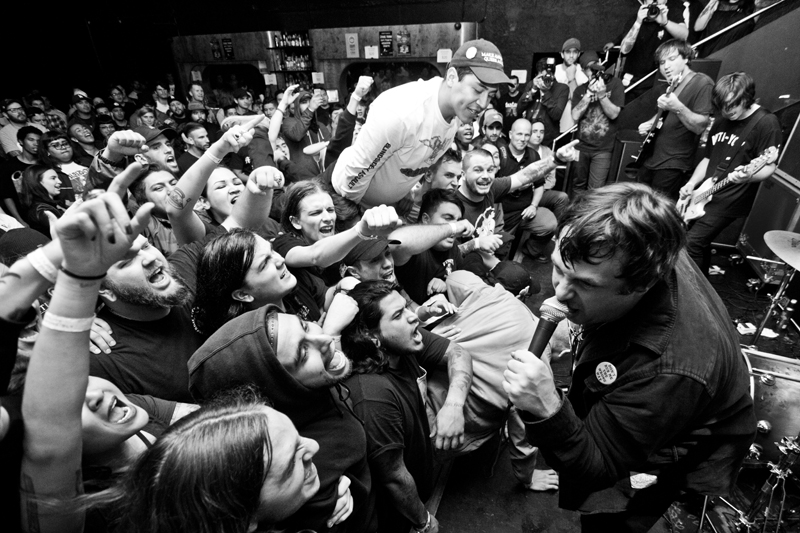 What came first, your love for music, or your love for photography?
Definitely my love for music. I was in bands as far as I could remember, and I was also in our school choir as a little kid. Photography came later because of skateboarding. I was just naturally comfortable having a camera in my hand.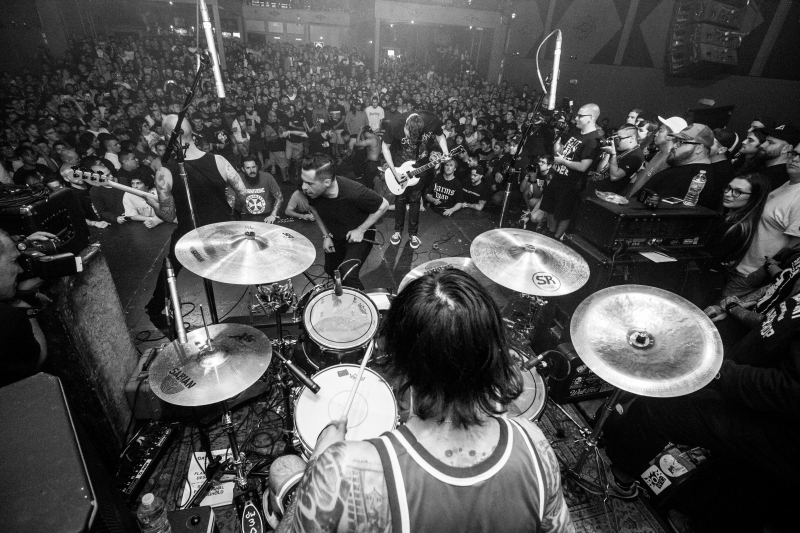 How did you discover hardcore/punk?
Growing up, I was very into Green Day, and I think one day I was looking at the "Rock" section at the local record store, and in the bottom shelf there were Victory Style comps and a bunch of other Victory Records releases and that just changed my life. Also, I was very into skateboarding, so I would hear it on the soundtracks of 411 vids, and Transworld videos and read about bands in Thrasher. I guess you can say it was a good thing I looked at the bottom shelf.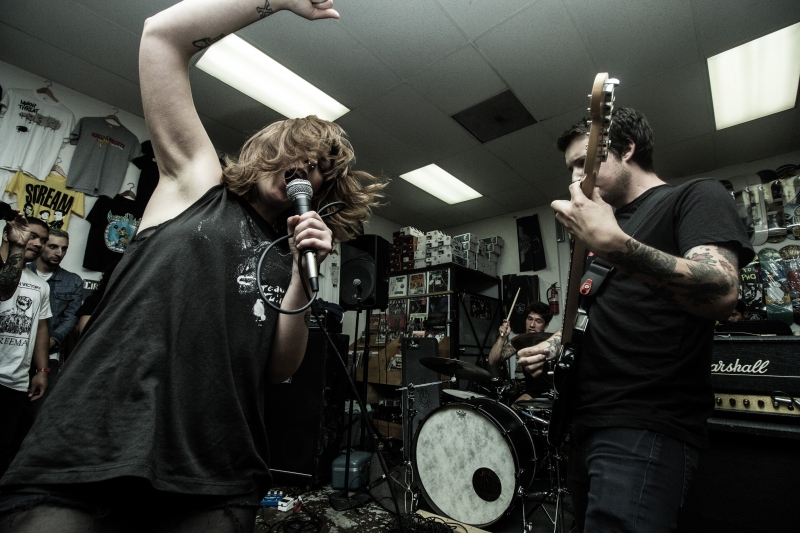 Who were some of the photographers you looked up to during your formative years? Were there any music-related photographers you followed?
I looked up to a lot of skate photographers growing up. Atiba Jefferson, for sure. Giovanni Reda. I also had a schoolmate in high school who had a DSLR (probably the first one I've ever seen) and she was amazing with that camera. She took my band's very first promos later on. I think she lives in Italy now with her husband and kid and I'm sure she will still kick my ass with a camera any day. As for music-related photographers, Ryan Russell was a huge influence, like I wanted to be just like him level [laughs]. Also, there was this photographer lady from the Philippines, Grace Guino, she shot a lot of my favorite Filipino bands. Also, my friend, Mords Saligumba, from back home. We pretty much started shooting around the same time and you know he had that special something. Last time I heard, he won like awards and shit for his photographs.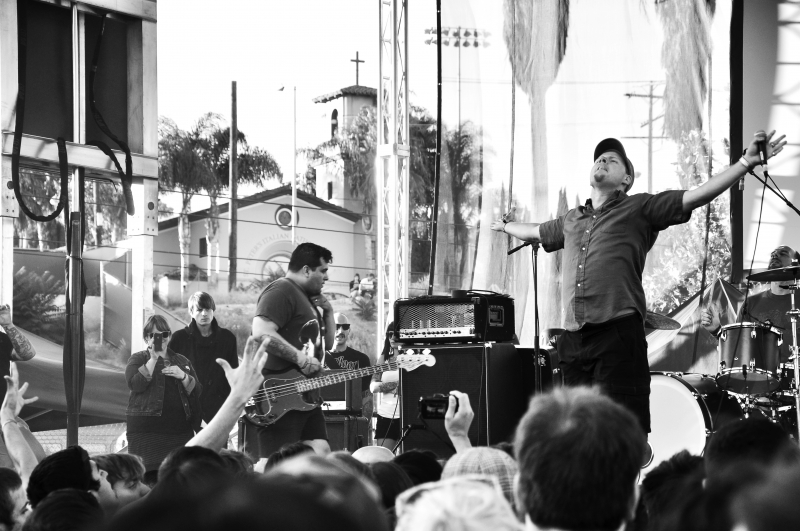 What is your camera and post set up?
I currently shoot with a Canon 60D, Canon 10-18mm f/4.6-5.6, 24mm f/2.8, 24-105mm f/4. Aside from that I usually rent gear if needed. As for post, I got Adobe Lightroom and Photoshop and if I feel like a quick phone edit, theres Afterlight.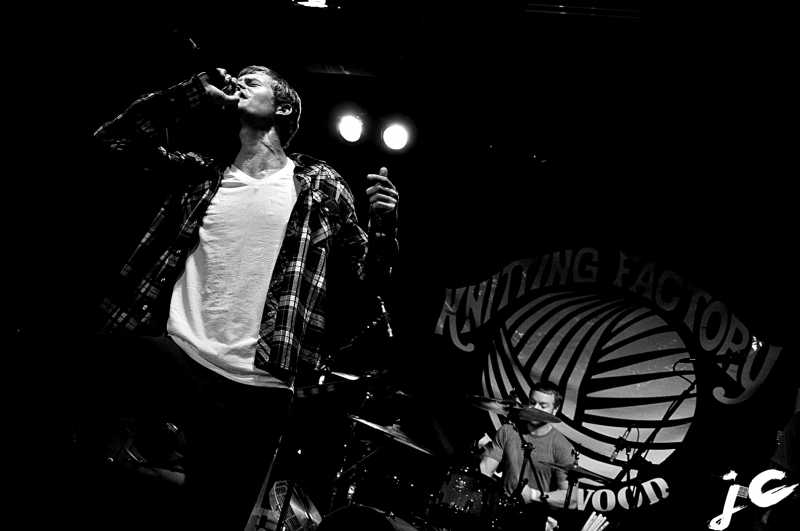 Who are some of your favorite bands to shoot?
Favorite bands to shoot..hmm.. I love shooting Touché Amoré, I've shot that band so many times from the smallest house shows to the biggest venues. Bane definitely high on the list. Trapped Under Ice, fer sure. Hell, I really just love shooting any band [laughs].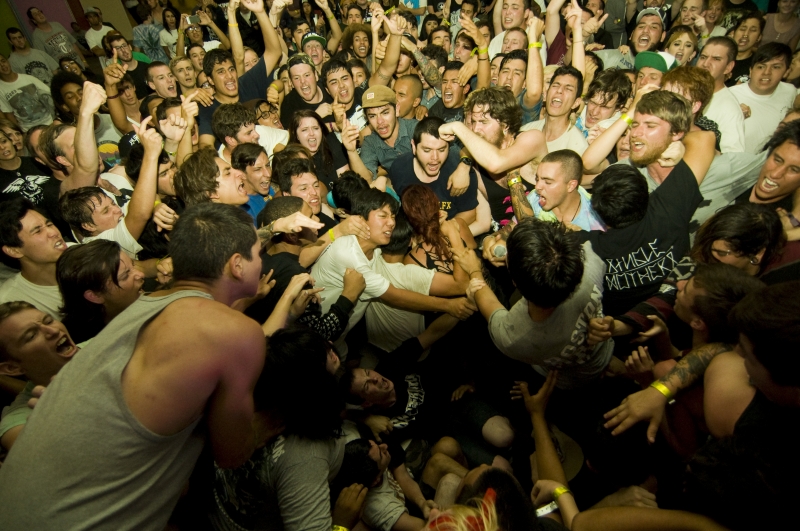 If you could go back in time, who are some bands that you would have loved to shoot?
Hopesfall...and...Hopesfall.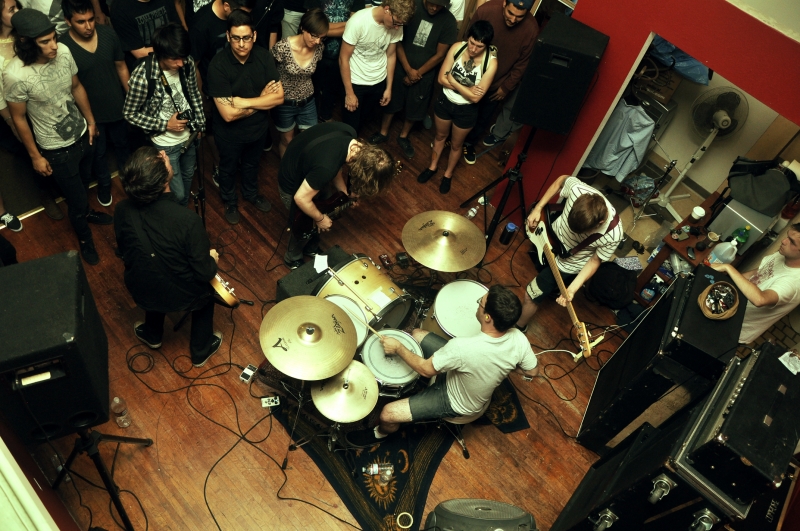 What are the toughest aspects to shooting hardcore/punk shows?
Making sure you and your gear are intact after each song/set. Sometimes it gets too wild but we know what we signed up for right?! Shout out to the folks who are mindful when they go hard in the pit and on stage.. ya'll are real MVPs.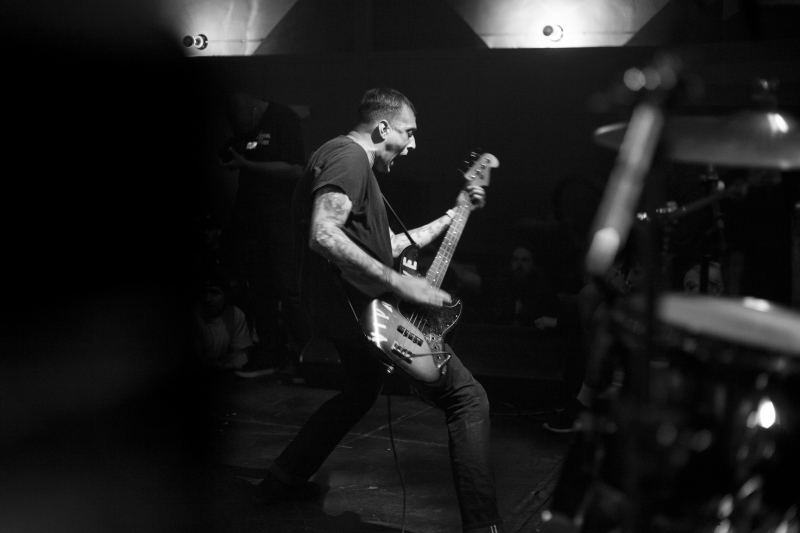 Tell me about some newer bands that we should all be on the lookout for.
HAARM, Sheer, Slow Bloom, Diztort, Step For Change, Regulate, Malice at the Palace, Jesus Piece, Entry, Bind, I'm Glad It's You, Mom Jeans, Mizery, Phoebe Bridgers.... Obviously my music selection is all over the place but fuck it! Go listen to these people!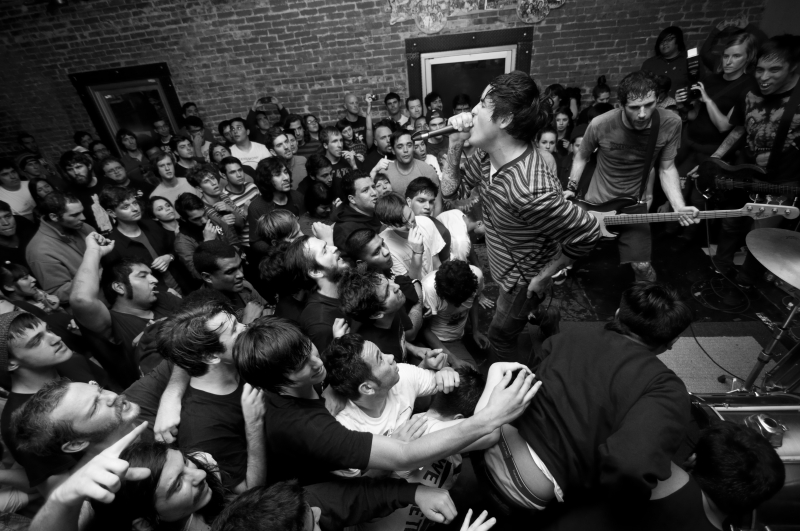 Who are some modern-day photographers that you admire?
This is really tough coz theres like 50 bajillion people I wanna write here but I definitely Wayne (Ballard), Furn, Kiabad, Alvin (Carrillo), Gabe the Pigeon, Babiidanii (Danielle Parsons), Lupe (Bustos), Jonathan Turner, Nate Zoeller, Courtney Coles, Erica Lauren, Tyler Ross, Senny Mau, Matt Gill, Sam Jameson... fuck theres still so many names but these people inspire me almost on a daily basis to go out there and try and kick photo ass.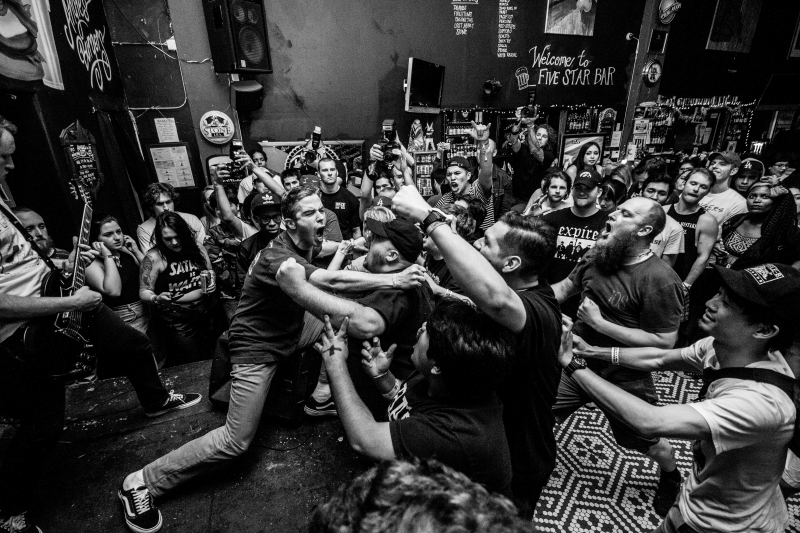 Also, Chris Avis. He may not be a photographer, but his incredible work in video, and just being an incredible human being, is inspiring. Rest in Power, my friend.
If you had to pick one of your photos that best encapsulates why you love shooting hardcore bands, which one would it by and why?
It would be this photo of Bane at 924 Gilman during their final tour. Just the energy of the band is there, the energy of the crowd, the venue is legendary and it's Bane's final bay area show. Capturing shows like that makes every single mile driven, every single cut, bruise or injury, every single call in from work, WORTH IT.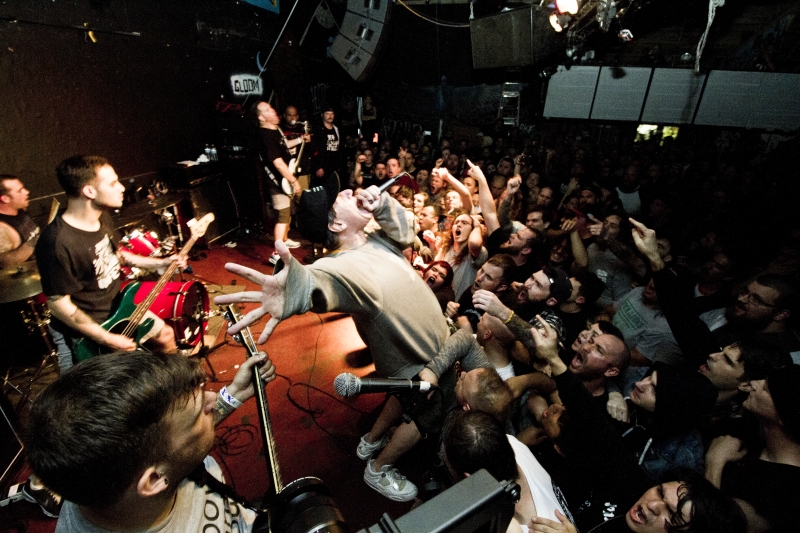 ***
See more of Joe's excellent work on both his Instagram and Flickr pages.
Tagged: joe calixto, photographer spotlight