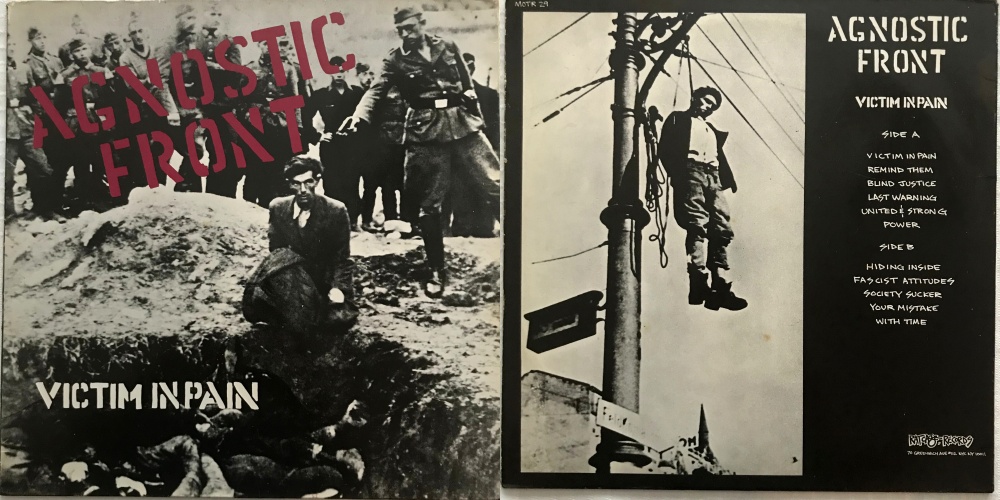 For my the second installment of my interview with Roger Miret of Agnostic Front (read Part 1 here), we delve deep into all aspects of the legendary NYHC album, Victim in Pain. This is appropriate timing because it's the 35th Anniversary of the original release. To coincide with the album's birthday, AF are releasing a new pressing of Victim in Pain on vinyl, as well as embarking on an upcoming US tour. Don't miss out!
What was the NYHC scene like after United Blood came out?
The NYHC scene was awesome because it was just about exploding although the bands of that first wave into the second wave it was something new and fresh. It was very unified and together; almost everyone was in a band. Or, if they weren't in a band they had a part with either fanzines or just getting involved, everyone wanted to do something or say something or be a part of something that was new and refreshing. The older NY punk scene (which I love and still adore) had the stigma of the "live fast die young" type of thing, like a lot of drugs and fuck the world but we just came in with a different attitude of we know shit is fucked up and there are a lot of governmental issues but instead of drugging out and forgetting about it, let's do something a make a change in the scene.
So that was our whole outlook on that. Agnostic Front formed in 1982 and I consider them part of the first wave kind of thing, it took us later to record because of lineup changes and by the time I came in a year later, we were ready to roll. From United Blood into Victim in Pain we had gotten Todd Youth on bass and that really helped me with my creativity, because I had someone to jam with and be super creative with. There's footage in film of Todd playing bass for us in the A7 club at the end of 1983 and we were playing Victim in Pain songs, which by the end of '83 we had most of Victim in Pain songs done we just had to wait to record it. Then we switched members again with Rob Kabula on bass and Dave Jones on drums. We just had some growing pains up to that point.
Was Victim in Pain an answer to things going on in NYC, circa 1984?
It was basically an answer to what was going on in the scene at the time. Lyrically, socially and political stuff I saw around me on a day-to-day basis, we were just dealing with life on a one to one. We were living in the moment and that moment was living in a squat on 7th Street, that's what my lyrics are about, those kinds of moments. And musically was the same way, you know, here's a fucking song right now and this is it.
Were you guys intentionally writing an album?
No, we were not intentionally writing an album, just songs as we had them and if you look at the whole Victim in Pain record it's like 15 minutes long, which by today's standards is far from an album length. But if you look back, most of the great records back then are short and there's a lot. Everyone wanted to get their message across and whatever it was, it was.
How did recording the album with Don Fury happen?
Don Fury did United Blood and we had a great time working with him. He approached us about recording United Blood at Great Gildersleeves, I believe. After seeing us he said he wanted to record us. We had recorded demos uptown but Don really wanted to do United Blood. Bt the time Victim in Pain came around, we approached Don about doing it he said, "Why don't we get this 16-track machine," because he really wanted to experiment himself and also do some recordings with his band at the time called, Balls. So that's when set up the benefit show at CBGB's and that whole show and all the funds went to renting the 16-track machine.
We carried it down the steps of the studio and he hooked it all up, next thing you know we're in there recording. We didn't know what the fuck we were doing and it was all live recording and it didn't feel any different recording Victim in Pain than United Blood. Don was experimenting with more sounds, I remember how he mic'd up Vinnie, it was three microphones, one very close to the amp, one in the middle of the room, and one very far back. He was just having fun with it. What should have happened and more important than the whole damn record is someone should have had a damn tuner! At that time NYC was definitely out of tune! That's the only thing missing from Victim in Pain.
Other than that, it was all recorded live and there were two songs added later: "Fascist Attitudes" and "With Time." I remember doing "Fascist Attitudes" at the end after coming up with the song while were recording. I remember being in the control room with Don Fury while the others were being recorded and I was just screaming right next to him, it was pretty cool.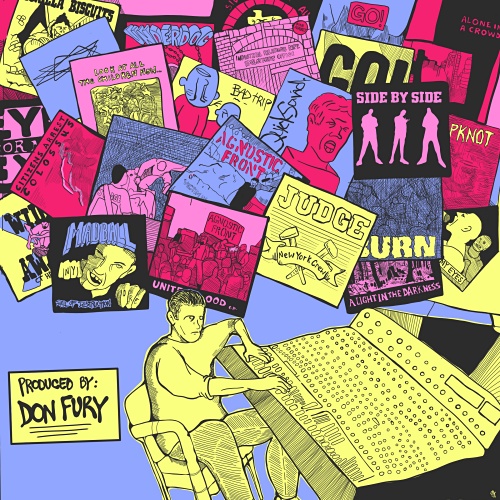 Did you know once Victim in Pain was recorded that it was special?
No, not really to be honest.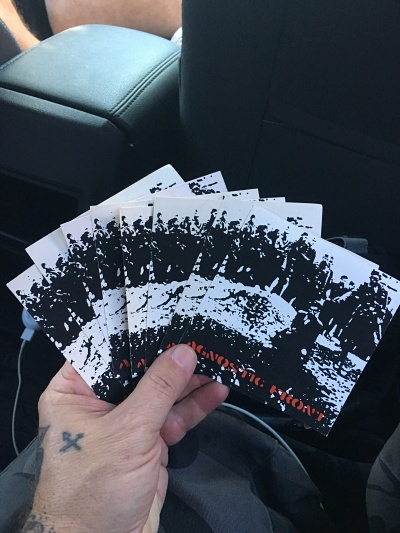 How did the release of Victim in Pain come together? On Ratcage?
Dave Parsons from Ratcage Records approached us about doing it and we were happy we didn't have to pay any money to do the record. He had struck a deal with John Loder in Europe, and to be honest, everything was done in Europe and imported to America. John Loder in Europe wanted to put our record out but he kind of approached with caution, I'm not sure why. Dave Parsons stuck up for us and said, "No, these guys are cool and good dudes so don't worry about it." Ratcage was kind of the sub label and Important was the distributor and manufacturer. As far as deals go, there were no deals back then, we were just like any other band trying to put out a record. We didn't know anything; we just got records and guessed at the pressing amounts. I got an original Victim in Pain test pressing, I don't know too much how many are out there. Maybe a handful.
What was it like getting a test press and hearing the record on vinyl for the first time?
It was all normal sounding to me until the day I bought it. I have this thing to this day that I go out and buy a copy of the vinyl only of our new record for good luck but it hasn't worked, ha-ha. I remember hearing that the record was at Bleecker Bob's and I went there and bought it. I remember looking at everything finalized and once I saw the finished product it reminded me of Dave was putting the layout all together and everything was in pieces. Dave's influence was huge into that record visually. It was supposed to have a different cover originally but last minute we switched it. Dave actually did the Bad Brains logo with the lightning hitting the Capitol building. He was very much into visual arts. But, it was awesome when I finally opened and played it. It was a very proud moment for me.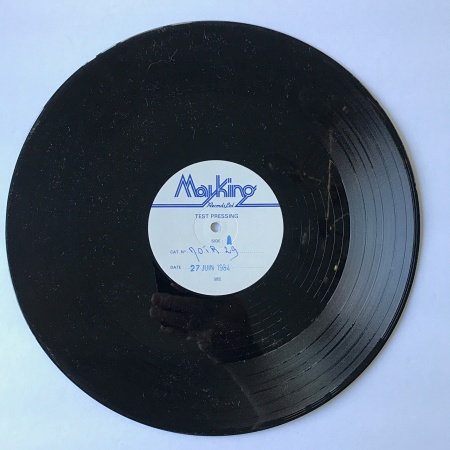 What was the deal with Important Distribution for the second press?
To be honest, from the band's point of view, we had no idea what was going on. And I guess wheat had happened, which I found out years later, everything was made in the UK and brought over to the US and the deal was to have the Important logo on that press, it's the same exact record except for that logo actually. They wanted to have their logo on there due to the popularity of it, I guess. That led to us signing to Combat Core eventually because they were under Important.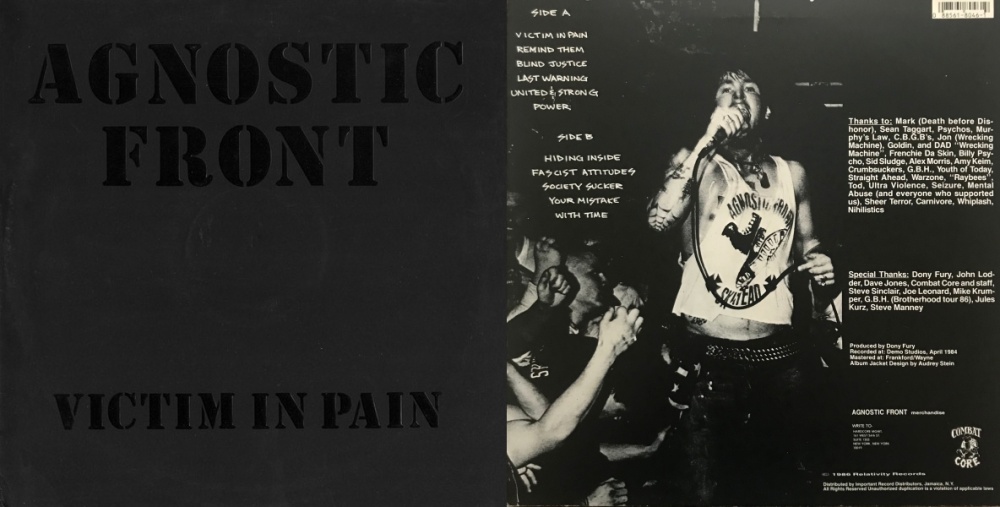 Are there any misprint versions?
There is one misprint where the B-side label is black and white with no oxblood color. And there aren't many of those because the pressing plant stopped it right away.
What were the reviews like and reaction overall to Victim in Pain?
The reactions were awesome. I remember the reviews of United Blood were tough because Maximum Rocknroll got a hold of it and at the time they were like the Internet of the scene. It was like the Bible. They were very biased, opinionated and very one-sided. Their view only came from one area; all the writers from the NYC scene area would tell them that they didn't know what they were talking about. I remember Dave from AOD happened to get that interview I did with [Maximum Rocknroll founder] Tim Yohannon and he told Tim, "These guys in AF are cool, I remember Roger from NJ before he even joined Agnostic Front."
When Victim in Pain came out, I remember playing one show right after and overnight going from playing to 40 or 50 people at CBGB's to it being packed. We were shocked with all the people going crazy. Locally, it was a huge impact.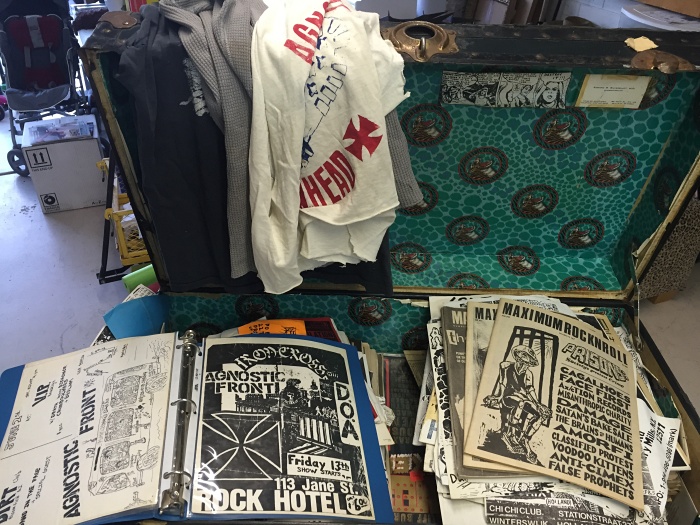 How did the Combat Core press of Victim in Pain come about?
That was interesting because we were recording Cause for Alarm ad getting ready to go on a national tour with GBH. We had no money and I was trying to figure out how to get money for a van and support for the tour. At the time Connie Barrett managed us and she went into Combat and struck a deal with them to license Victim in Pain. They gave us an advance of funds. So that was the deal, they went and re-mastered it also. The sleeve of course is different, and they came up with the black embossed cover and used one of my favorite photos from Amy Keim for the back cover. As a record collector, I wanted something different for this pressing so the people who had the original had something special. So, we rolled with that. It came out to help as tour support and it turned out to be a big seller. I remember when the CD era started it was combined on one CD with Cause for Alarm.
Do you think changing the artwork gave the band a wider audience?
Now that I think about it, probably was their intention to do that with the cover. At the time I didn't think so but my original intention was for the record collector angle. But to me, it looked cool and was different. They probably wanted to get it out there without anything to freak anybody out over the cover.
Was the reaction to Victim in Pain similar overseas?
Yeah, it was a big reaction but we never knew. We had some fanzines and people writing to us. We actually never got to Europe early on due to certain issues. I wasn't even a citizen of the country and couldn't get a damn passport not to mention the legal issues. There was no way I was getting out [laughs].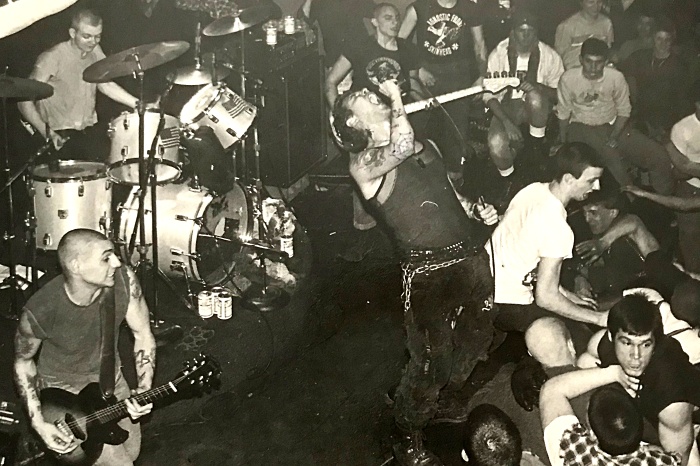 What was the US tour like for Victim in Pain?
It was awesome and that tour was a lot of fun. One thing I always remember to this day was building a double loft in the van for sleeping. We didn't realize we would hit nightmare heat in Arizona and Texas; it was like a million degrees in the loft area. What we didn't realize was we had all the records in the storage area by the beds and they were all getting warped! We had no idea. They were original first press ones too. It's the rare warped summer tour variant! Another funny thing was seeing people adopt the NY style of dress as we went along.
That tour was all booked by word of mouth, taking a lot of chances. We were out there and out two biggest paying shows were a Goldenvoice show with UK Subs and Exploited for $500. Prior to that we got paid $500 for another show but it was a Bar Mitzvah, which was bugged out! We only had Victim in Pain and United Blood to play so we would just play everything twice.
Any funny Stigma stories regarding that Victim in Pain tour?
There's a bunch but he's always been funny. I kind of remember more Kabula stories from that tour because at the time he was wild and more uncontrollable. Stigma was more laid back and he was older than all of us so he always watched out for us because we were all crazy. Everything has reversed though, as he got older he turned younger and now I'm watching out for him! Kabula was a guy you really had to watch out for on the road, he a little wild.
Also for that tour we had Jimmy Colletti on drums and for whatever reason Dave Jones decided to leave the band because he didn't want to tour and he was done with all the Maximum Rocknroll garbage so we decided to part ways. We always move forward and don't really have any bad breakups with anybody. We just wanted to keep going so, Dave respectfully bowed out and we got Jimmy on drums
Why was Victim in Pain out of print until the 2009 Bridge Nine release?
I don't know [laughs]. We had good relationship with Chris Wren from Bridge Nine and still do; he had done a single for us and approached us about reissuing Victim in Pain and United Blood. He knew that Victim in Pain was one of the records that were an unsigned release and just a licensing deal. We said why not, Chris is a good guy and people want these records again, why not? It was fun to put them all together.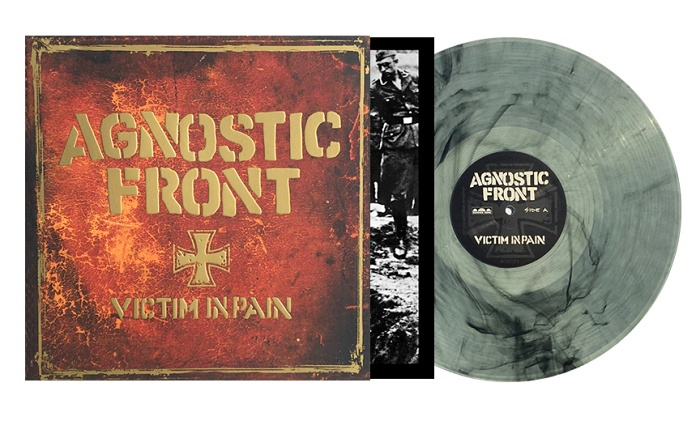 Tell me about the 35th Anniversary reissue version of Victim in Pain?
It all started with United Blood and wanting to do something special. I wanted to see what United Blood would do because I was out of this for a long time all in the back of my mind thinking about doing this for Victim in Pain. It was really awesome to see people go crazy for it again; I did it in a cool way where people could collect different variants. I made special gold limited sets that are numbered with only 15 made, which each has a special message from me.
Next 3 images are the United Blood + Victim in Pain 35th Anniversary test presses: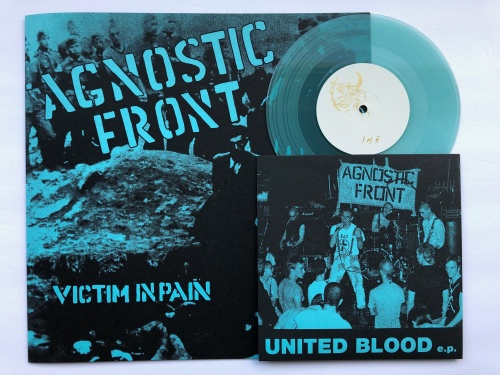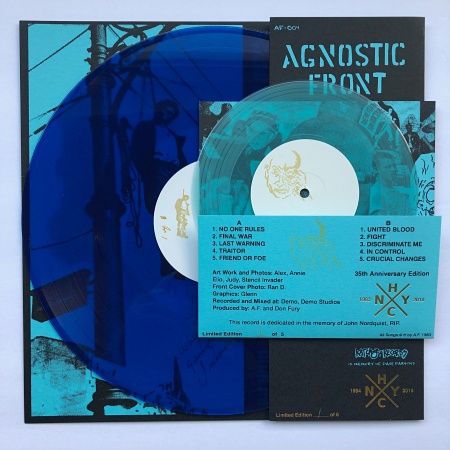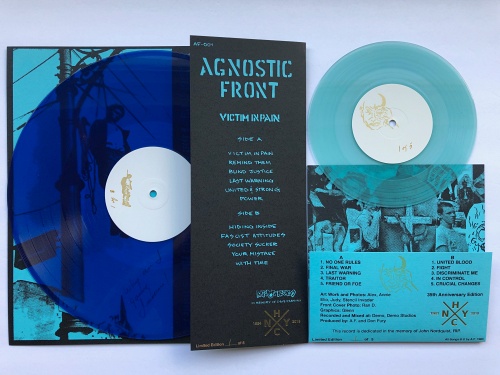 Those were incredibly special and being a collector myself, I've taken some of the ideas for these from certain bands. For example, the Misfits Evilive 3-pack set, and I combined that with Necros Sex Drive 7". Those are two of my favorite 7"'s so I kind of borrowed their little packaging style and put my own spin on it.
Next 2 images are United Blood + Victim in Pain 35th Anniversary gold-stamped "three packs":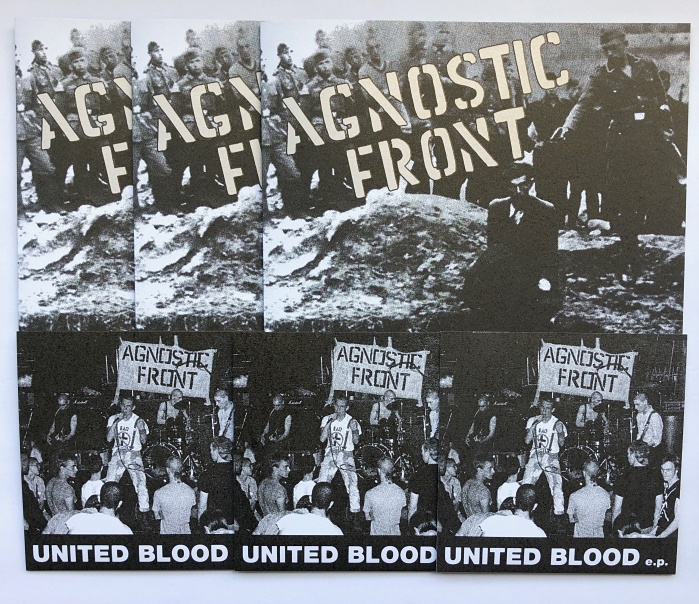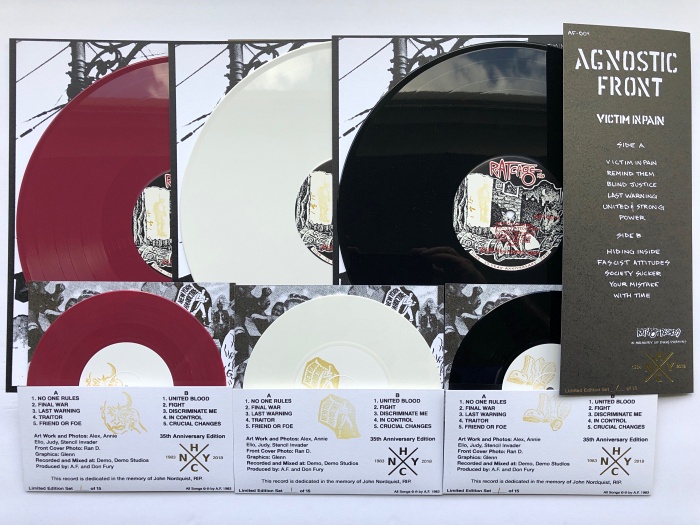 At the same time, there were special vinyl pressings from two stores that have always been really great to Agnostic Front that have done a lot for us so we though it was fitting for them to each have their own special variant.
CoreTex Records in Germany and Generation Records in NYC, of course. Those went off really well so when it came time to do Victim in Pain, it was a great blueprint. But, what I did differently with Victim in Pain was that I made fewer copies to make the demand stronger.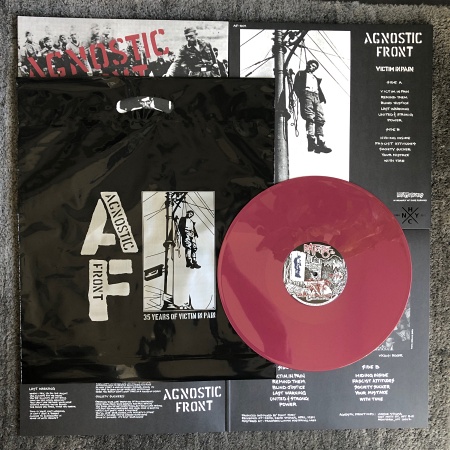 You also have a special in-store planned around the anniversary.
The Generation in-store will be the same day as our NYC show on this upcoming tour, which will be the oxblood vinyl. At the show, we will have the black vinyl the same as we had at This Is Hardcore because we need to drop thin on NYC properly! So, you need to go to two places in one day to get both variants.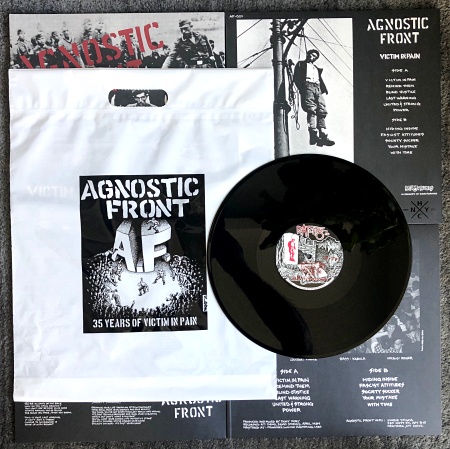 We also have plans to get some to the West Coast. There is also another special press coming out after the Generation one and that will be a small limited to 30 copies with a silver stamp for a show with Lecky from Vorhees at his club in Leeds (UK) Temple of Boom, we'll have a special silver stamped United Blood for that show as well. We hope this gets people to come out and say hello, meet the band, enjoy a great hardcore show for a change, the people who show up have a chance to get something special. Maybe you'll enjoy the show too!
I feel the Victim in Pain set the stage for the second wave of NYHC, what do you say?
Victim in Pain wasn't the first NYHC record but it was different, powerful and raw. It was game-changer in 1984 for New York. From that time on there was a huge influx, especially in 1986 for NYHC and crossover. That was a phenomenal year for releases in NY and Victim in Pain pre-dates all that by two years so it was definitely a boiler fueling what was happening in the following few years. And don't get me wrong; I love all the NYHC bands and records that came out at that time. If it weren't for those bands it wouldn't have shaped me into who I am today.
I'm a huge fan of all the NYHC, punk; thrash bands that came before us and after. But, with Victim in Pain, it made a huge impact worldwide, it brought scenes together and it really bridged NYHC to the world.
***
Agnostic Front w/ Prong North American tour dates:
Sep. 18 - Fubar - St. Louis, MO
Sep. 19 - Reggie's - Chicago, IL
Sep. 20 - Small's - Detroit, MI
Sep. 21 - Northside Yacht Club - Cincinnati, OH
Sep. 22 - Grog Shop - Cleveland, OH
Sep. 24 - Crafthouse - Pittsburgh, PA
Sep. 25 - Mohawk Place - Buffalo, NY
Sep. 26 - Call The Office - London, ON CANADA
Sep. 27 - Hard Luck - Toronto, ON CANADA
Sep. 28 - Foufounes - Montreal, QB CANADA
Sep. 29 - Chrome - Albany, NY
Oct. 01 - Brighton Music Hall - Boston, MA
Oct. 02 - TBD
Oct. 03 - Cafe 611 - Frederick, MD
Oct. 04 - Underground Arts - Philadelphia, PA
Oct. 05 - Asbury Lanes - Asbury Park, NJ
Oct. 06 - The Knock Down Center - New York, NY (PRONG IS NOT ON THIS ONE)
Tagged: agnostic front