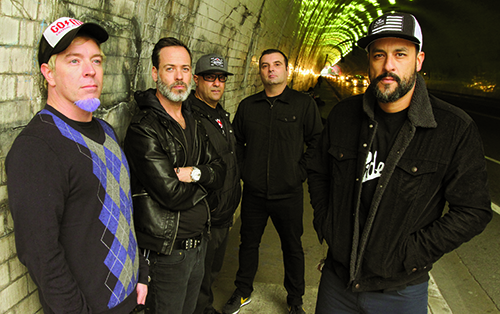 Ever since first appearing in record stores in the mid-'90s, Strung Out has been one of the most consistently exciting bands on the melodic punk scene. One of Fat Wreck Chords' flagship acts, the Southern California-based quintet have set themselves apart from their peers by lacing their songwriting with the kind of high-flying twin guitar work usually reserved for thrash metal.
With Strung Out getting ready to release their eighth studio album, Transmission.Alpha.Delta, later this month, I caught up with guitarist Jake Kiley to talk about the band's discography, their heavy metal leanings, and his earliest musical influences.
How old were you when you first got heavily into music?
Well, the first cassette I ever bought was Michael Jackson's Thriller, I must have been about 9. I just listened to all the stuff on the radio back then. My cousin got me into Twisted Sister and Bon Jovi after that, and between him and Hit Parader and Circus magazines, I became a full-on metalhead. I think I was 13 when I got my first guitar and started taking lessons.
You started playing guitar during the heyday of the shredders. Did players like Paul Gilbert and Tony MacAlpine have an impact on you?
Oh, big time. But, actually, more recently. At first, I was all about Eddie Van Halen, Jimmy Page, mostly guys my teacher exposed me to. I got really into the thrash metal scene after that and became obsessed with Metallica, Anthrax, you know, all the good shit. Then I got into the more musical punk bands like Descendents and Bad Religion, so my roots are a mix of all that.
SEE ALSO: 2014 interview with Jon Bunch (Sense Field, Reason to Believe, Further Seems Forever, War Generation).
Was Strung Out the first band you ever played in?
No, I was in bands with my friends all through Junior High and early High School. We would do covers of Van Halen and shit like [Living Coloür's] "Cult of Personality," some Zeppelin, you know, all the shit happening in the late '80s.
Let's talk about Strung Out's early days. When you first decided to form the band, did you have a clear idea of where you wanted to head musically?
Well, Strung Out had been a band for about a year before I joined. I saw them play a backyard party and was stoked to see them play both Slayer and Descendents covers. Their own songs were rad, too. It pretty much was exactly the stuff I wanted to be playing. As luck would have it, a good friend of mine became their new drummer a few months later and got me in as the second guitar player next to Rob [Ramos].
Strung Out formed in 1989, but the band's first release, a three-song 7", didn't come out 'til 1993. Was that a matter of the band wanting to wait 'til you got better, or did you have trouble finding someone to release the material?
Just to clear this up, they actually didn't become a band until mid-1991. They recorded what would later become The Skinny Years around April of '92 and the three songs on that 7" we took from that. I think they recorded that to be released as an album, but by the time I joined it was just a demo Jim [Cherry] had made a few hundred copies of to pass out to other bands and labels. Then Megalomania Records released that 7", and a few years later Fat Mike put the whole demo out as The Skinny Years.
Oh, wow, I didn't know that! How did you first connect with Fat Mike and the folks at Fat Wreck Chords?
We got a spot opening up for NOFX when they came out to Simi Valley. Mike liked us and said to keep in touch and send him any new demos we got together. So, that's pretty much what we did for the second half of '92 and into '93. We just kept writing and demoing until we had enough songs that Mike liked. Then we went in to record Another Day in Paradise in December of '93.
SEE ALSO: Top 5 All-Time Fat Wreck Chords Albums
Another Day in Paradise was released a year later. It's a good debut album, but it pales in comparison to where the band would take the later material. What's your take on that album now?
I really like that record and I think we got a really good production for the time. If you remember at that time, you didn't find many punk bands with guitar solos and pinch harmonics, so that album definitely set us apart and laid the groundwork for everything we have done since.
I first got into the band around the time Suburban Teenage Wasteland Blues came out in 1996. Max Norman, a guy known for working on big heavy metal records by artists like Ozzy Osbourne and Megadeth, mixed those sessions.
Yeah, working with Max was awesome! He was a super cool guy and he smoked as much weed as me [laughs]. I just couldn't stop asking him what it was like to work with Randy Rhoads, who is one of my biggest heroes, and I also got a bunch of Megadeth dirt [laughs].
Okay, I don't want to get you in trouble with Dave Mustaine, so I'll move on! Ryan Greene produced Suburban Teenage Wasteland. How did the tracking sessions go?
Ryan Greene is a great guy to work with also. We pushed ourselves hard, but, to be honest, I was very unhappy with the sound of that album. It was a crazy session. We bounced around between studios and I feel at the end we just rushed a bunch of shit through. Fans love it, though. So, that's all that really matters.
Strung Out's third album, 1998's Twisted by Design, is where I think the band truly locked in your signature sound.
Twisted by Design was our response to how unsatisfied we were with the production on Suburban Teenage Wasteland Blues. We were also looking to separate ourselves from what we saw as the new standard of punk production everyone was getting. Being the closet metalheads we were, I reached out to Terry Date (Pantera, Metal Church) to see if he would be interested in working with us. He actually got back to us and recommended Ulrich Wild, who encouraged us to push ourselves and not worry about staying within the comfort zone of what we had done before.
Yeah, Strung Out stood out from the rest of the bands in your scene back then when it came to the level of musicianship.
At the time in the '90s, there really were not many bands mixing punk and metal. This was a few years before Avenged Sevenfold and Thrice came about and became such hype. They really are such compatible styles, though. At the time, Twisted by Design was by far the most original and varied album we had made, and it gave us the confidence to go further.
I know you did quite a bit of touring during that time.
Things had been steadily picking up for us year by year, and around that time it did seem like everything was coming together. We started to play bigger places in LA and Canada and stuff, and we began going to Australia around then, which has remained our capital territory since.
SEE ALSO: 2015 interview with Mike Clark (Suicidal Tendencies, No Mercy, Waking the Dead).
You released the next album, An American Paradox, four years later. Did you feel any pressure following up the success of Twisted by Design?
We should have. We should have taken that album much more serious as a whole. We were all partying too hard around that time and we had a lot of distractions. Plus, I kind of felt like our scene and Fat Wreck Chords were invincible, that we were set to be the next NOFX and the '00s were going to be ours. This was right before the whole whiney emo screamer scene hit and the next thing we knew all these new labels and bands came out and were getting all this hype. You also had the mass commercialization of the SoCal punk sound, so the whole thing got diluted. An American Paradox did well and I feel we did break some new ground with it, but, to me, it was a disappointment and I've never taken things for granted since.
An American Paradox, and the next album, 2004's Exile in Oblivion, had a lot more darker material than previous records. A song like "Analog" is almost like a thrash metal song in certain parts. But Jason's vocals anchor the punch of the guitars and drums with a ton of melody.
Honestly, Jason is probably the reason we never became a full-on thrash metal band [laughs]. He has always been the counterbalance to the four of us, and we've needed that. After Jim Cherry and the band parted ways, we had no restrictions anymore. Jim was always very concerned with being too metal and us not following the punk rock rule book. After that, we just let it all out. Also, like I said, it was a transitional time for the whole underground scene, and we knew we couldn't just keep putting out the same stuff. We've always had that harder edge, so we rallied around that as a way to separate ourselves from the awful "pop-punk" stuff that seemed to carry over from the '90s. Even so, you will still find people that categorize us as that.
2007's Blackhawks Over Los Angeles continues the metal-leaning guitar and drum stuff on tracks like "Calling" and "Orchid." As a metalhead, first and foremost, I appreciate that about Strung Out's more recent albums.
Well, thank you! Yeah, it has always been there and always will be. Blackhawks was a bit of an experiment for us. I'd say it's our most "rock" record. I'd also say that the best thing to come out of the '00s avenged-emo-screamo-core was the return of the guitar riff and solos, and you also had shit like Dragonforce coming out. All of that got us up on our playing and on that record Matt Hyde just let us go for it. To me, metal and punk are like step brothers. Sometimes they gel, sometimes they don't. To me, they are both extreme forms of music with very compatible elements. Blackhawks is not my favorite album to listen back to because it seems to drag, but I do think it was our best sounding up until this new one.
Your seventh studio album, Agents of the Underground, arrived in 2009. I think it's such a great record, but I feel like that one got a bit overlooked.
Yeah, I think we started to become predictable. We would put out an album every 2.5 years and it became too expected, and I feel that one might have been lost in the shuffle. That's why you saw so many bands from our era disband or go on hiatus or actually break up around that time. I gotta say, it was a strange time where it felt like everyone was kind of over it—the fans, the other bands, our label. I mean, no matter what "-core" of punk, metal, screamcore pop you were into, no one was putting out their best stuff right then. I think it's what allowed the DJ dance party boys to actually be considered relevant.
Your new album, Transmission.Alpha.Delta, is a ripper! I know Kyle Black (New Found Glory, Comeback Kid) produced the sessions.
It was quite an adventure working with Kyle. The guy is relentless. There were things we thought were fine that he would keep calling us back in to change or redevelop, and at the time it seemed crazy. But he got stuff out of us that we would have never gotten without that. He was completely driven to make this our best album, or at least something special within our catalog. We had to start and stop due to Kyle's other projects and things he had going, which was frustrating at the time, but it allowed us to stop and live with the work we had done, examine it, and come back in with better ideas and options. We've never spent six months on an album or anything close to that, but the attention to detail was obsessive. That being said, it does not feel overproduced or overworked. It has energy and intensity that fans of our first albums will love.
It's been five years since your last album came out. What took you guys so long this time out?
We needed to recharge and rediscover what we love about this band and what makes us different. Since Agents of the Underground we have put out a best-of album, a B-sides album, and a box set. So, we weren't just sitting around. Touring for those albums and seeing the response those songs got from our fans, it really gave us a second wind! Plus, I love the fact that our type of music is underground again. We need that to thrive.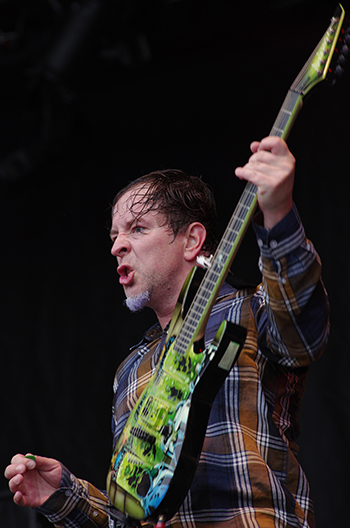 SEE ALSO: Transmission.Alpha.Delta album review.
You've been signed to Fat Wreck Chords for decades now. It's such a rare thing for a band to stay on one label for their entire career. What's the secret to your collaborative success?
I think it's rare. It comes down to respect for them and their respect for us. They've always given us complete control and been very fair. I'm proud to have not had to jump from label to label.
What's your life like outside of Strung Out?
I have hobbies, but this band is my life. I will be sad if that ever changes.
***
Transmission.Alpha.Delta arrives in stores on March 24 and is available for pre-order via Fat Wreck Chords.