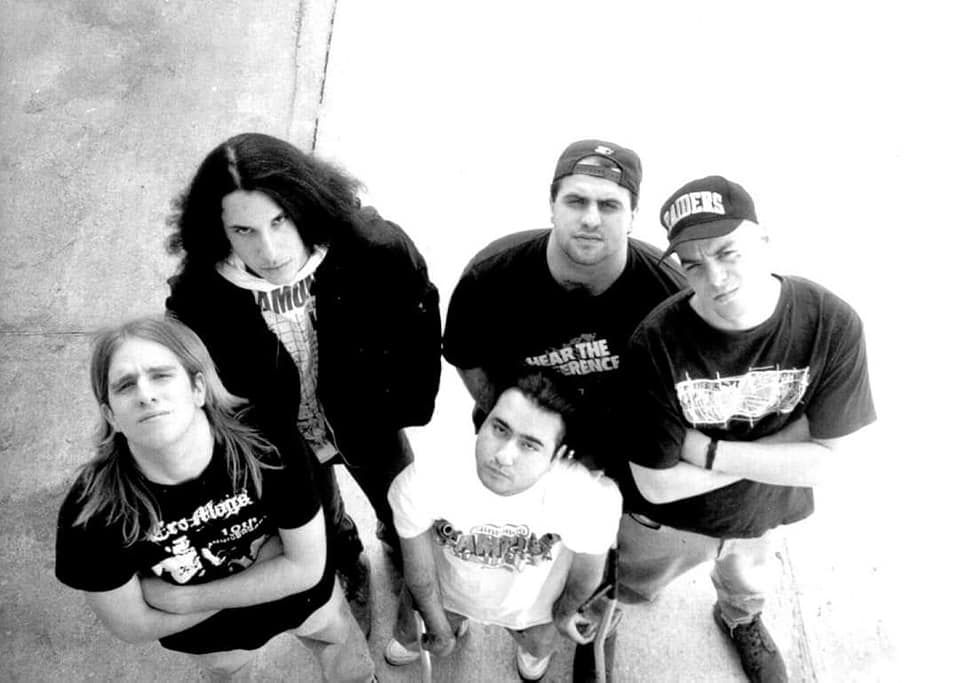 Throughout the early '90s, Confusion was a staple on both the hardcore and death metal scenes in the NYC region. Blending both musical styles in their songwriting, the Brooklyn band played shows alongside the likes of Life of Agony, Merauder, and Starkweather during that era.
Confusion never released a proper full-length album in their time together, but they did manage to drop a 7-inch and a couple of demos. As they developed their stylistic point of view, it was obvious that the members of the group were leaning into the death metal aspects of their approach. Fittingly, Confusion's last gig was in front of a packed hometown crowd at Brooklyn's legendary club, L'Amour, opening for Deicide.
The year was 1994.
That takes us to the present, where Generation Records (vinyl) and DAZE (CD & digital) have partnered to drop Storm the Walls: 1990-1994, the first proper Confusion discography. The discography features liner notes from Mike Score (All Out War, End Reign), Tom Sheehan (Indecision, Most Precious Blood), JR Glass (Next Step Up), Rennie Resmini (Starkweather), and Rich O'Brien (Darkside NYC).
I spoke with my old friend Mike Scondotto, bassist of Confusion, to get his thoughts on the band, their place in '90s hardcore/death metal, and the discography.
How long have you been trying to put together a discography? I think I remember you mentioning it to me years ago.
Truthfully, this began over two years ago, nearly three years! In the back of my head I had always wanted to see this come out at some point, but it had to be done the right way and with the right label, etc. I also needed to talk to all of the members of the band, one at a time via phone calls, to get their OK.
Thankfully all of those calls went well despite not having talked to Mike Fried (vocals), Mike Price (guitar), and Ralph Canovic (drums) in a long time. Our other guitarist Pete Melucci I kept more in touch with over the years. I was expecting some apprehension and got none, thus the ball really began to roll at the beginning of 2021. There was a long, long issue with who was supposed to do the layout and art, but that got sorted. This all would have happened much sooner despite that glitch.
How did you hook up with Lumpy/DAZE for the project and what was the process like putting it all together? Also, how did Generation Records get involved with the vinyl part of the release?
A few years back someone sold their demo collection to Generation Records in NYC, which included both the 1990 Four the Force demo, the 1991 Distorted Vision demo, and a very rare pre-release cassette of the Taste of Hate 7-inch with the songs in a different order, something I myself didn't even have. Needless to say, all of these sold for a lot of money via Ebay, more than I certainly would have thought.
Mark Yoshitomi from Generation Records is a very good friend of mine, we go back to the mid-late '90s. He asked me if I would be interested in doing a vinyl discography of all of the Confusion works, and I was totally up for it as Mark knows his vinyl to say the least and I had a good feeling about doing it with him.
DAZE came into play later on via Instagram, of all places. Lumpy is a Confusion fan and one day after I had made a post on IG, he messaged me and inquired about a discography. I told him we had Generation doing the vinyl but no CD or digital release. He immediately expressed interest and I was actually quite flattered.
DAZE is a young, hot label with a buzz, putting out some great stuff like Stand Still, Koyo, and Pain of Truth. They appeal to the young hardcore generation. I attribute the interest in Confusion largely to younger hardcore kids who found the band via YouTube and grey market downloads over the years. The pairing of DAZE and Generation makes a lot of sense for Confusion and I am excited to see where the music reaches once this comes out.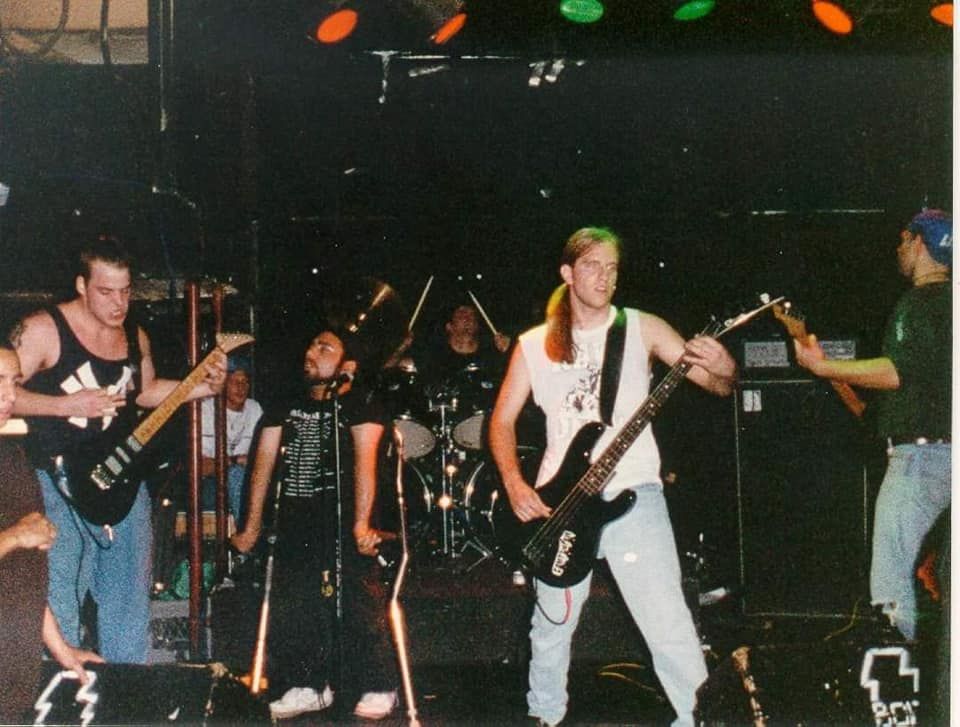 What can people expect within this discography release?
It is all of our officially recorded works. The 1990 Four the Force demo, the 1991 Distorted Vision demo, the 1992 Taste of Hate EP in its entirety, as on the original 7-inch the song "early Frost" cuts off due to the time limitations of a 7-inch. And lastly "Storm the Walls," remixed and remastered.
All of the songs have been remastered and sound killer, they were done by Mark Dann, who did great job with first generation cassettes and old DAT tapes. The cover art was drawn ages ago by a friend of the band Wynn Cicalo, who was in Wrench, Skism, and American Eagle back in the day and is now the Mad Mulligans. We used it on the back of a shirt in 1993 initially and always felt it fit the song.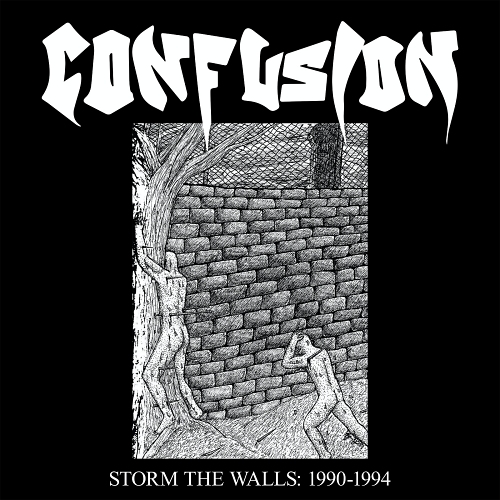 Why did you choose to go with "Storm the Wall" as the lead track to introduce the discography?
It's the title track and a great representation of what the band was about, a mix of metallic hardcore and death metal that was in hindsight, ahead of its time. The band had several songs that were never recorded, but were in the set list for the last near two years of the band, namely "Half Dead," "Seeds of Greed," "Gasping for Air," and "The Fire Burns All." Most of these songs are on another un-official release, Live at City Gardens.
I am happy to say that the City Gardens set will at some point receive an official digital release from DAZE as well, which I am really looking forward to.
Tell me a bit about the Confusion fans. I don't believe you toured outside of the NYC region back in the day, but people still found the music throughout the years.
In the early days, our fans were our maniac Brooklyn friends who liked to drink, smoke weed, and fight, a lot. As time went on, we reached the rest of NYC, playing Staten Island, Manhattan, and several shows on Long Island, gathering the hardcore fans of the day in the early 1990s. Then the death metal kids found us as we were getting on straight death metal shows with bands like Cannibal Corpse, Deicide, Cancer, and Unleashed.
In the end, we may have even had more death metal fans than hardcore kids, which was great. But over the last decade, the younger hardcore generation certainly found us and newer bands have cited us as an influence.
Our logo has been copied, shirts have been bootlegged, and I think its fucking cool as hell. A lot of newer hardcore is more metal, so I can see why some kids like us now. Death metal is bigger than ever now and there are hardcore kids supporting death metal and vice versa more now than in the 1990s. I guess despite our breakup nearly 30 years ago, this is the best time ever for our discography.
***
Storm the Walls: 1990-1994 will be coming out this summer via Generation Records (vinyl) and DAZE (CD & digital).
***
Help Support What No Echo Does via Patreon:
***
Tagged: confusion