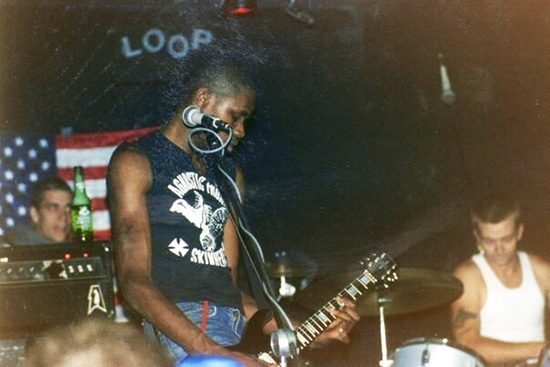 With musicians jumping from one band to another, there has always been a symbiotic relationship between the New York and New Jersey hardcore scenes. Case in point is Jersey's Clenched Fist. The band's members also played in such vaunted NYHC outfits as Agnostic Front, Life's Blood, Breakdown, Born Against, and Krieg Kopf.
I spoke with founding Clenched Fist guitarist Chris Fist about those '80s halcyon hardcore days, playing in various outfits, and his current band, The Wilding Incident.
Chris, man! Tell me, where did you grow up?
Peace, the God rallies in Mecca and Medina. I grew up in CB's, on that bench in Tompkins Square Park, Montclair, New Jersey, 48th Street, and both my Old Grand Earths' kitchens in the Bronx. I'm still growing, knowledge is infinite.
Did you start going to hardcore shows in Jersey or NYC?
I got to see The Clash at Bonds. That counts, huh? I met Doug at that show, Doug Holland [Kraut, Cro-Mags].
SEE ALSO: 2016 interview with Don Fury (Producer: Judge, Agnostic Front, Gorilla Biscuits, Burn).
When did you start playing guitar, and what were some of the first bands you played in?
I started playing when I got my first Gibson SG and a serious band at 13. The band was called Jackhammer, then Level 17, or was it 13, Level 13? I played drums with Niblick Henbane at a couple rehearsals, when they were between drummers, and I might have filled in on guitar for a show.
When did Clenched Fist start and were you a founding member?
Yes, in 1985, after it seemed Mental Abuse had called it quits, I brought [drummer] Dave [Jones] a demo of an old Jackhammer song I rearranged called "Rat Trap," and he dug it. I asked him would he help me out. Dave knew [bassist] Neil [Burke], and I had known [vocalist] Perry [Pelonero] was looking for a band.
I heard Syd Sludge (Mental Abuse) originally sang for Clenched Fist?
He did, we also recorded some rehearsals. I think there are still some demos floating around on the 'net.
How did Dave Jones (Agnostic Front/Mental Abuse) end up in Clenched Fist?
I remember being at Dave's and Maryanne was like, "Just ask him." For years he was like a big brother, all the guys in Mental Abuse. But I was a little closer to [bassist] Mike [Lucas]. He was always teaching me about gear and shit. To this day it's because of him I rock a Rickenbacker bass. Subliminal Slaughter played with Mental Abuse at an ice cream parlor in Montclair, and that's when I met all of them.
I remember seeing you with Life's Blood at the Anthrax club in 1988. How did you join them?
They needed a bass player and I had less then a few days to learn the songs. It was cool, Absolution!
Born Against used the Clenched Fist song "Inner Strength" as a template for their own song, "Eulogy." How did that come about?
Template? That was a vic.
You were down with the original SHARP crew and appeared with them on an episode of The Morton Downey, Jr. Show in '87 talking about skinheads.
To them, it was about ratings. To us, it was Trojan, the New York and New Jersey hardcore and punk scenes, Northern soul, and scabbed knuckles.
When did you join Breakdown, and did you play on any of their records, or just live?
1988, just live.
SEE ALSO: On Suffering Remembered: Rorschach's Needlepack 25th Anniversary
I believe you were in the Marine Corps during the '90s. Did you bump into any other hardcore types while in the service?
I had one in my company in Okinawa, a skin from DC.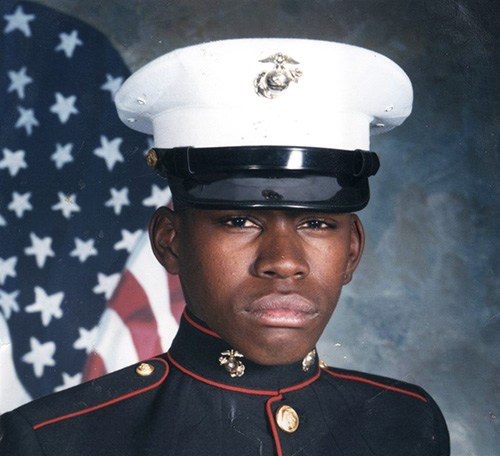 What about Mental Abuse, when did you play with them?
I played with them in 1985, and last year I did the Radio Raheem record release party for The High and The Mighty and The Abused at Niagara bar. It's good to see [vocalist] Syd [Sludge] doing music again.
Weren't you also playing with Citizens Arrest briefly a couple of years ago?
We had a weekend of practices for some, I think, Euro gigs, but it didn't happen.
Any chance of a proper Clenched Fist recording to see the light of day?
Yes, we're working on it right now. The new lineup is true self on guitars, Sean Dixon on vocals, Andre from Step Too Far and American Noise on drums, and Paulie Pisano on bass.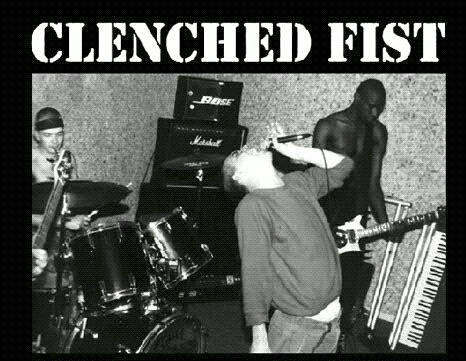 I caught you last year with The Wilding Incident. Are you still playing with them?
Thank you, yes, our four song EP, Prey for the Wolfpack, is out on Reaper Records.
What are you up to musically or otherwise these days?
NYCCF (New York City Clenched Fist). I'm also doing this rock project called Medicine Black, plus I'm publishing and producing a band with Heather Heart fronting.
Anything else you want to add? Feel free, brother!
Welcome home, Scott Ebanks. I also want to once again thank you for always repping the scene, and all the best with the New Breed tape compilation documentary. Peace.
***
For info on The Wilding Incident, head to their Facebook page.