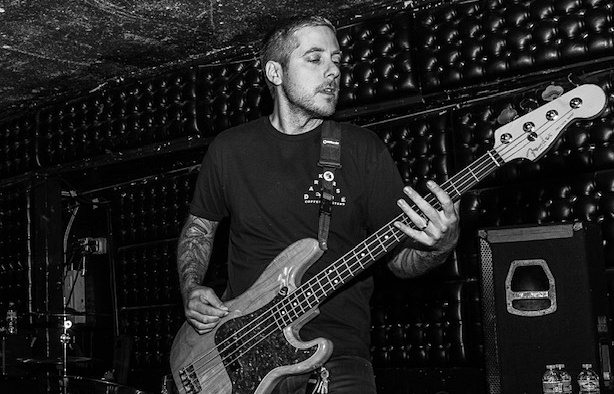 I have been a big fan of Adam Marino and his bands for a long time. I can't remember the year but Errortype:11 came through Louisville late '90s, and they crashed at my house after the show. I loved their music and the guys. So this is a really fun interview for me, and a chance to talk to Adam again some 20 years later.
Introduce yourself to everyone.
Hi! My name is Adam Marino and I play bass in Errortype:11.
How did you get into playing the bass guitar?
When I was about 11 or 12 years old my older brother gave me my first bass. We were hanging out at his friend's house and he had this bass sitting in the living room. I remember picking it up and immediately trying to play along to the music that was on. My brother was impressed that I was able to pick a few of the notes out, so he asked his friend if he could buy it off of him. Apparently his friend never played the thing and next thing I know I'm leaving with a bass.
Does your family support your music?
They have always been super supportive and my biggest fans. My mom was at the very first Saetia show in the basement of ABC No Rio in 1997. In 2006, when I decided to take a break from being in a band, my mom actually got mad at me. I was like "But I'm going to go to school and start a new career." She was like "You're giving up." She eventually got over it, but I thought it was hilarious that she was giving me shit about trying to have more stability in my life.
Do you play other instruments, and can you play and sing at the same time?
I also play guitar. Even though bass was my first instrument, I played guitar in Saetia which was my first real band. As far as singing goes, I can't sing to save my life, but I can scream and play at the same time. Does that count?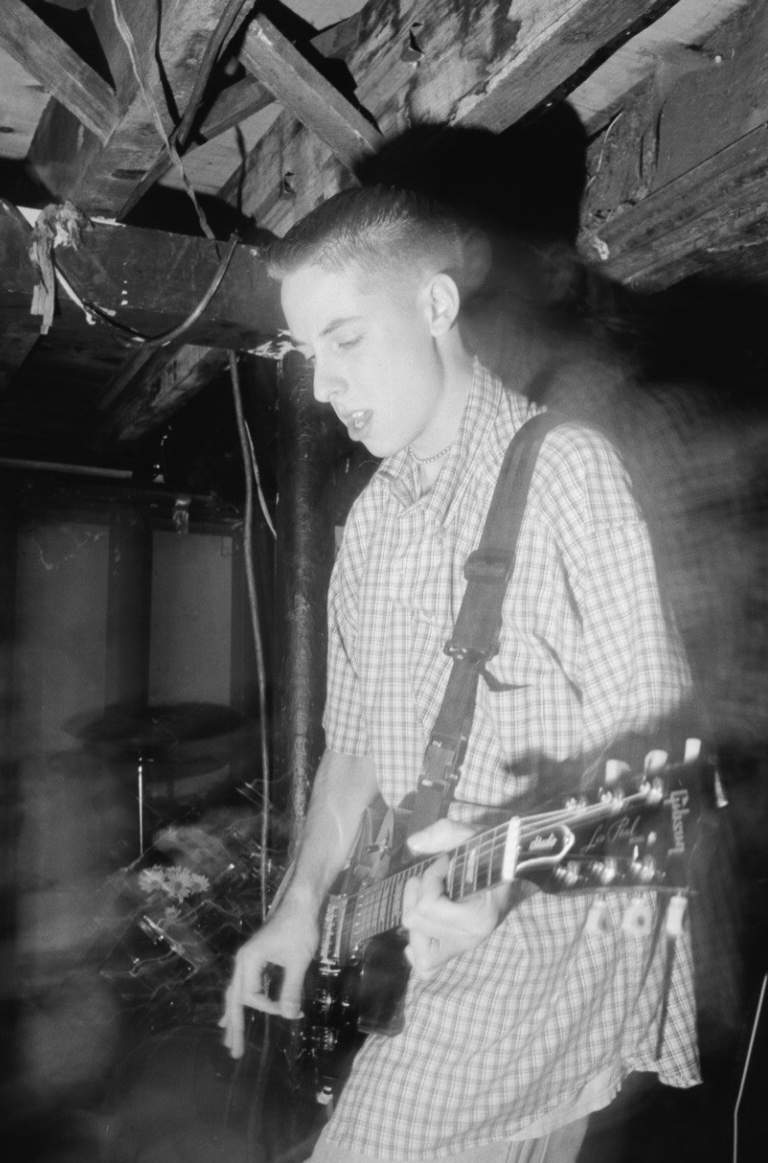 Typically, how did/do you write your parts for your bands?
Usually, I start by playing the most basic thing and focusing more on the structure of the song. For me, the real writing starts when I'm on my own and have time to listen to the shitty practice recordings or GarageBand demos. I always try to listen to what everyone is playing, especially the vocals and write bass lines that stand out within the song, but don't step all over what everyone else is doing.
I'm always super curious about how people are picking. I have evolved into doing as many downstrokes as humanly possible during my live sets, and recordings. What are you doing more of upstrokes or downstrokes?
I think I play a pretty even mix of both on most songs, but there are definitely a few songs I can think of that are mostly downstrokes.
You've played bass in a lot of crazy bands. Can you tell everyone what other bands you've been involved in?
I currently play bass in Errortype:11, and I've played bass in Instruction and Fires, which we eventually changed the name to God Fires Man. All three bands were me playing bass and Arty Shepherd singing/playing guitar with various other drummers and guitar players.
Fires (God Fires Man) is definitely my favorite band that I've ever been part of. We wrote and recorded so much music in such a short amount of time and to this day it's the stuff I'm most proud of. It's also kind of ironic that it's also the band I walked away from in order to go to Cosmetology school.
Instruction was my probably my least favorite band, but a crazy experience for a couple of reasons. 1) I got to play in a band with Tom Capone (Beyond, BOLD, Quicksand), which was kind of crazy for me being that Quicksand is one of my favorite bands ever. 2) I got to experience what it was like being on a major label. There were definitely some fun/positive aspects to it like getting to play arena shows and not having to work, but looking back there were a lot of things I wish we would have done differently.
Are there any specific bass players that have influenced your style of playing?
There are four bass players that made a huge impact on me and definitely influenced my playing:
Eric Avery - Jane's Addiction was the band that changed my life and the band that really made me want to play in a band. For that reason and all of the classic bass lines, Eric Avery is my number one.
Manuel Carrero - Manny plays in Stillsuit and has played in Glassjaw, Die 116, Burn, Saves the Day, Beyond, and The Jiant. He's another huge influence. Do yourself a favor and check out the album Dyna-Cool by Die 116. That record came out in 1995 and I'm still blown away by the bass playing to this day. I'm also still trying to figure out how to play most of those songs. Unmatched creativity.
David Sims - Listening to David Sims of the Jesus Lizard play was the first time I thought "I want my bass to sound like that." His tone, attack, and stage presence was always inspiring to me.
Nate Mendel - Last but not least is Nate Mendel of Sunny Day Real Estate and Foo Fighters. I was a huge fan since Diary, but I really connected with his playing when LP2 came out.
I have noticed I play differently with every drummer I've played with. Are there any drummers who've changed the way you play?
I totally agree! I've been super lucky to play with some incredible drummers, and all of them have that thing that makes them unique. Sammy Siegler filled in for a bunch of shows when Errortype:11 was between drummers around 2000-2001. He added this bounce to songs that I had never experienced before. I also played with Drew Thomas (BOLD, Into Another) who probably has the most laid back style of any drummer I've played with. Steve Sanderson, who has been playing with Errortype:11 steady since 2009 (and also plays in Gameface), is a machine. One of the hardest-hitting, most solid drummers I've ever played with. All of these guys are great and changed the way I approached the songs.
Is there a song in your discography that kick your ass to play?
"Fra P." and "Ticket to Listen to Ride" always makes my right hand cramp for some reason.
You have toured a lot in your life. Are there any other cities you would like to live in?
I've always wanted to live in Seattle and Austin. I love both of those cities.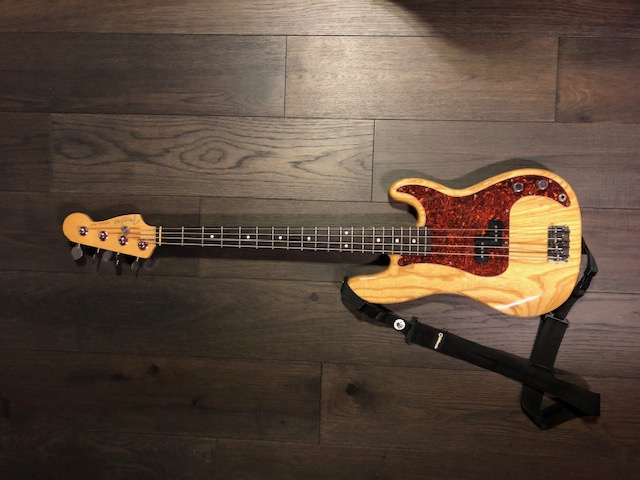 Is there anything going on in your personal life you'd like to talk about?
I've been living in San Diego for the past 6 1/2 years now, which still feels like a bit of a cultural shock after living in Queens and Brooklyn for 37 years. About 4 years ago me and two friends opened a barbershop called Gold Comb in the North Park neighborhood. Other than that, my wife and I are just doing our best to raise our two kids to be good people.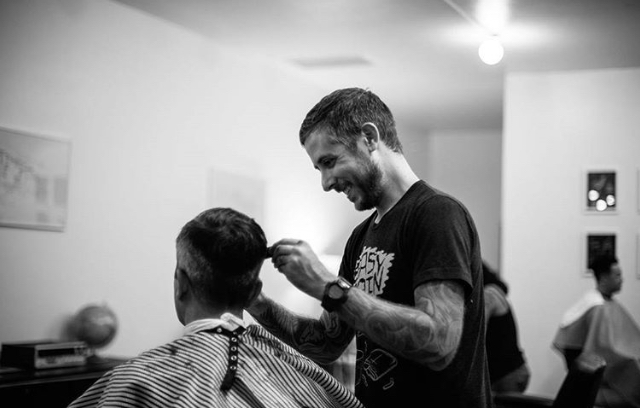 As far as music goes, Errortype:11 just recorded two new songs which will hopefully be coming out soon, and we will be opening for Taking Back Sunday at Terminal 5 mid-November. Amplified to Rock turns 20 years old in 2020. We are working on trying to do some shows in Europe and Japan.
Do you have any new musical projects?
I've been working on some new music for the past few years with friends that live all over the country. I'm playing guitar on this project and all of the songs are very different from each other. Between all of us living in different cities, playing in other bands, and life in general, things have been moving slow. I'm hoping to pick things up again in the new year.
If you could play bass for any band past, present or future, which one would it be?
I think playing bass in Quicksand would be pretty amazing. Next to Jane's Addiction, Quicksand is another band that really changed my life. To be able to play alongside Alan Cage would be sick.
Finally, can you give any words of wisdom to someone picking up a bass guitar for the first time?
Have fun!
***
Donate a few bucks to help with No Echo's operating costs:
Tagged: bassist spotlight, errortype eleven, instruction, saetia