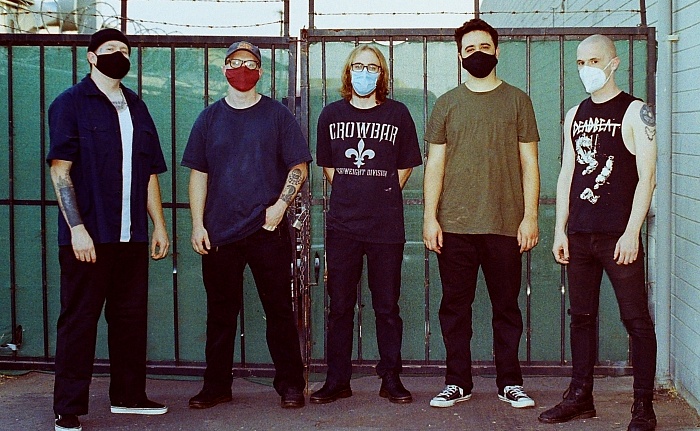 Arizona makes some of the best music the US has to offer, no argument to be had about it. If you live here, you'd know it, but if you don't you should certainly know by now. If you still have your head buried in our desert sand, then surface for the state's best band doing it right now, the vicious, relentless Skin Ticket.
Their first outing, Pure Fucking Chaos, released in fall 2019, was a heavy as fuck delight of uber-ignorant sludgy hardcore, with Skin Ticket supporting it with equally violent live shows. In that time they have expanded from 3 to 5 members, adding another layer of bruising heft in doing so.
Skin Ticket's debut album, the perfectly titled Homicidal Ideations, drops today like a population-melting nuke. It's easily among 2021's already excellent catalog of new heavy music, while standing tall among the best Arizona has ever offered.
As primal as their debut, Skin Ticket have flavored their bloodlust with a stylistic edge; this is caveman music that's started painting on walls:
"These are the Homicidal Ideations of a broken mind seeking vengeance on those who harm, abuse, and torment the true innocent," said vocalist Josh Mata on the album proper. "Eradicating these racists, rapists, and pedophiles once and for all"
Homicidal Ideations is crude in the best way, a spiteful 9 songs of mid-tempo hardcore of the nastiest order. It's tone is elemental, a rabid creature born of the turbulence this decade has already brought.
This is raw, emotive hardcore, its expected heaviness paired with a teeth-gritting delivery you feel in your bones. Skin Ticket spares no venom here, brace yourself or be torn apart.
Engineered, mixed, and mastered by Zachary Rippy at Sound Signal Audio, with artwork by Tyler Flanagan, Homicidal Ideations is available today from Skin Ticket's Big Cartel.
Skin Ticket on social media: Facebook | Instagram | Bandcamp

***
No Echo has launched a Patreon with 3 tiers offering all kinds of hardcore-related goodies to help support the site:
***
Tagged: skin ticket