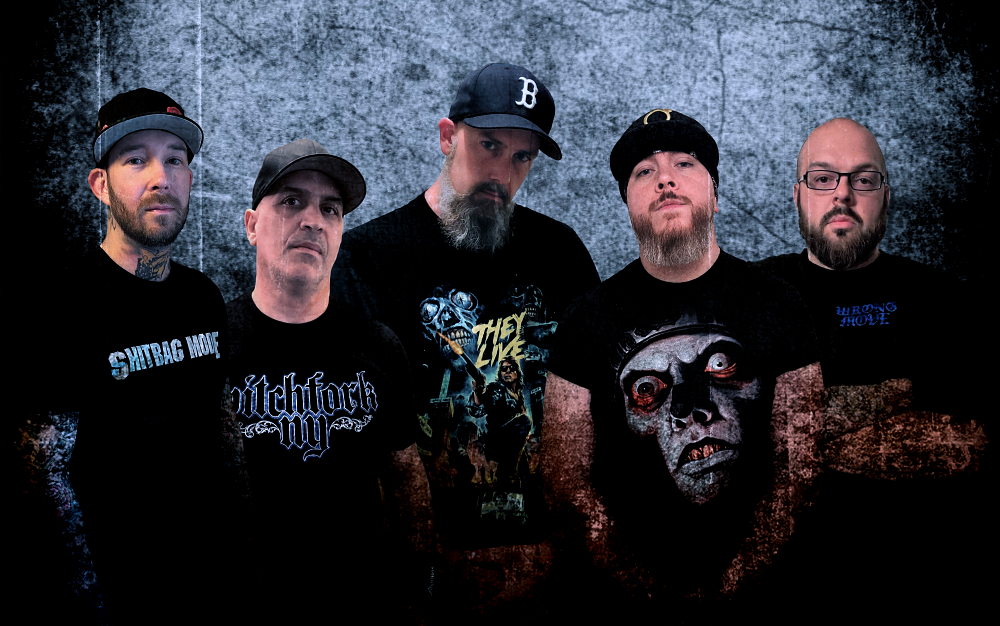 Originally formed during the COVID lockdowns under the name Mask Up, the quintet using the See Through You moniker is comprised by musicians from the US and UK.
Here is the See Through You lineup for some clarity:

Chris Rafalowich - vocals (Shattered Realm, Suffer the Living)
Jeff Facci - drums (Full Blown Chaos, Concrete Ties)
Joe Kenney - guitars (First Blood, Pay No Respect)
Mike Puch - bass (Sworn Enemy)
Brandon Voorhees - guitar (Merauder, Graveyard Smash)
See Through You bring forth a strain of metallic hardcore that doesn't waste time getting to its point. The emphasis is on meaty guitar riffs, mosh-baiting breakdowns, and machine gun-like double bass drum parts.
Written as a "virtual collaboration" across two continents, Hollowed Out is See Through You's forthcoming debut record. Mixed and mastered by Chris Wood and Scott Gross at the Bombshelter in York, Pennsylvania, the collection features the group's original three tracks from the Mask Up period, plus five new cuts.
No Echo has partnered with the band to bring you the premiere of "Hope," a song that also features guest vocals from Marcy Johnson and All Out War's Mike Score:
See Through You vocalist Chris Rafolowich says the following about the track:
"'You'll find your hope at the bottom of a hole.' This song is about the falsity of religious belief, and that no matter what you believe you end up in the ground at the end. There is no paradise. You're only gonna see paradise down in a hole."
The "Hope" single will be available digitally on July 22nd everywhere through Upstate Records/Bloodblast Distribution. Hollowed Out will be out this fall.
Find out more information at this link.
Tagged: all out war, see through you