Being from Pittsburgh, I've had quite a checkered relationship with the state of Ohio. The NFL rivalry between the Steelers, Bengals, and Browns has certainly made for interesting opinions of our western neighbors.
But as a fan of hardcore, I'll be damned if Ohio hasn't been home to some of the best bands to do it, as well as some great friends I've made from going to shows over the border. On top of having a healthy scene of great bands, many great labels have come out of Ohio, including Head2Wall Records and Delayed Gratification Records.
Founded by Vladimir Necovski in 2013, Delayed Gratification was launched at his parents' home outside of Columbus, quickly building an impressive discography of limited CDs and cassettes.
Fast forward to 2021, the label now finds its home in Lakewood, OH and is releasing some incredible material by some of the best new bands the Buckeye State has to offer like Slug, Circus, Ten High, and Cue Ball.
"I started DGR as a way to be involved in music while all my friends were playing in bands," Necovski said via email. "I never really got the chance to be in a band when I was younger, so I started this instead. Around the same time, I was also really getting into buying physical music, specifically records and cassettes, so being able to start releasing stuff sounded like fun to me."
Following the templates of successful labels like Run for Cover Records, No Sleep Records, and React! Records, Necovski has worked with a large swath of bands falling under many subgenres of underground music.
"I was so into Run for Cover I even wrote a college paper on the label for a marketing class."
Furthermore, he's a big supporter of other small DIY labels with similar vibes to Delayed Gratification.
"Currently, there are so many labels in underground music that are killing it, it's impossible not to get inspired. Labels like New Morality Zine, Sore Ear Collective, Head2Wall Records, Convulse Records, Sunday Drive Records, The Coming Strife, Twelve Gauge Records, and Safe Inside Records. I'm sure I'm missing a bunch, but it's so sick to see."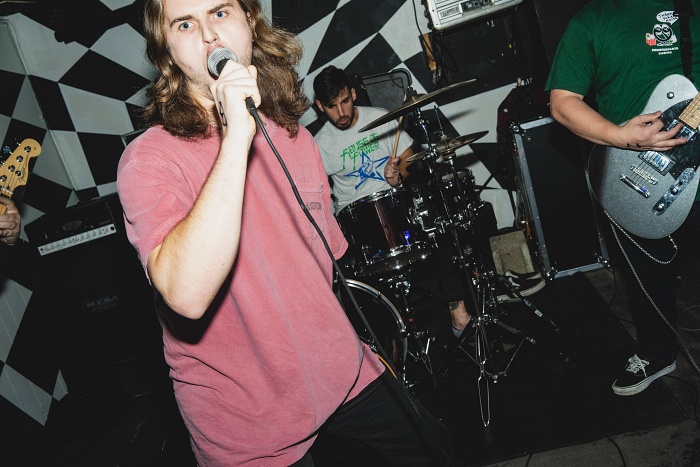 As far as Necovski's entry into underground music, his origin story is similar to many that I've heard over the years.
"The first instance of hearing any sort of underground music would probably have been through playing Tony Hawk Pro Skater 1 and 2," Necovski said. "I specifically remember enjoying the Dead Kennedys and Rage Against the Machine tracks, but that was it for a while.
"A few years after playing THPS1 and THPS2, I caught a Taking Back Sunday music video on either MTV or VH1, probably 'MakeDamnSure.' While I think the Tony Hawk games sparked an interest, I think it was really the TBS video that captured my attention."
Delayed Gratification's discography is made up mostly of Ohio-based bands, with nearly a year and a half passing since the label's most recent non-Ohio release: Nashville's Sicko and their self-titled EP in March of 2020:
"I love the scenes I've gotten to be a part of over the years, but sometimes it feels like Columbus and Cleveland get overlooked," Necovski said. "Both cities have some crazy talented people in their hardcore scenes and because of the down time COVID created for a lot of them, they were finally able to record projects they had been wanting to do."
Many of the new bands that popped up during the pandemic played their first shows at the Delayed Gratification showcase, which took place at Now That's Class in Cleveland at the end of July. Of the 6 bands that played the show, 5 of them played their first set in front of a packed crowd: Cleveland bands Last Gasp, Slug, and Ten High, Circus from Columbus, and S.M.I.L.E. from Akron.
"I think the Ohio focus is partly due to COVID, but also partly due to having a chip on my shoulder."
With nearly a half dozen releases so far this year, Delayed Gratification shows no signs of slowing down and has released some great material so far. As for Necovski's parting words, they're short, succinct and to the point for a DIY label looking to grow a community.
"Buy copies of music. Bands, come to Cleveland."
Delayed Gratification Records links: Online store | Bandcamp | Twitter | Facebook
***
Help Support What No Echo Does via Patreon:
***
Tagged: circus, en love, last gasp, record label profile, rejoice, slug