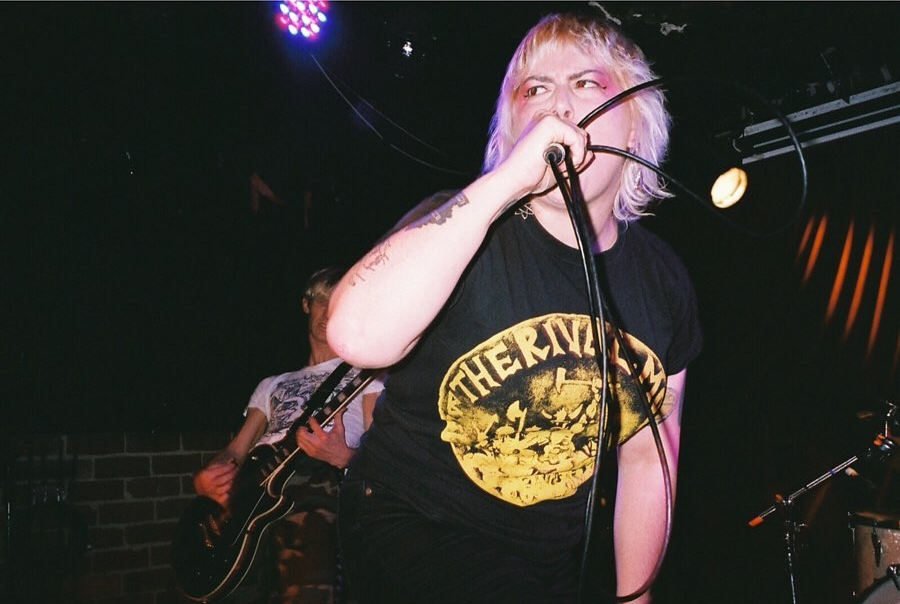 Hacker crashed into my radar back in 2019, when I wrote about them on this very site when their demo dropped. The Melbourne, Australia-based outfit brings to mind the rawest of '80s hardcore, staying away from the heavy metal leanings that also found its way into that scene during the era.
"All of us, as a collective, are part of both the punk and hardcore scene," Hacker drummer Charlie Ickeringill tells me. "At around July 2018, our guitarist, Moose, told me he had a full band lined up and asked me if I wanted to join. As I loved all of his bands beforehand, I knew it was an offer I simply couldn't refuse. And we've been at it ever since."
Some of the other bands the folks in Hacker have played in include Masstrauma, Ubik, Soakie, Infinite Void, and Sick Machine.
Charlie describes the Hacker sonic blueprint: "We were all initially influenced by what bands like Warthog, Game, and Exit Order were doing at the time, and we just kind of evolved our sound from there and wanted to make some hard beats and fast riffs.
"Nellie, our singer, lyrically speaking, takes influence from the usual punk and hardcore genre's problems with the world, albeit through a sci-fi lens."
That lyrical approach can be found on Pick a Path, Hacker's recently released absolute ripper of an EP:
In addition to his drum duties in Hacker (and the excellent Crush the Demoniac), Charlie works as a graphic designer. Since Hacker's horror-meets-sci-fi concept is their visual identity, I'm curious about his graphical process. Also, is he way more critical about it since he's in the band?
"I'm a massive anime geek, so I took a lot of influence from the golden era of '80s/'90s classics like Berserk, Akira, Neon Genesis Evangelion, Ghost in the Shell,
etc. I loved how weird, experimental and deep they all got artistically and thought they looked so tough back then. So, I guess, I wanted everyone else to feel
that same way I felt when I watched anime for the first time [laughs].
"And yeah, absolutely I was more critical. I didn't want to let my band down [laughs]. I originally had a previous idea I was committed to using at the time but I had this gut instinct that something about it wasn't quite right. Like, you know, when you make something but can't put it into words what's wrong with it [laughs]. So I came up with a totally new idea all together which is what we see today. And I'm pretty proud of what I did with it."
What's up with Charlie's local hardcore scene right now? "We have a lot of young faces popping up now, a lot of new bands coming out, and once COVID is done and dusted, it's gonna be a massive boom for punk and hardcore in Melbourne/Naarm, I reckon.
"We all play in other bands like The Uglies, Ubik, Crush the Demoniac, and TOL, but definitely check out other awesome bands like Punter, Vampire, Geld, Gravitate, Persecutor, Heat, and Circle of Blood. There are plenty more and don't want to leave anyone out but I guess we're very fortunate to have many musically-minded people here."
Oh, Charlie is not only a talented musician and graphic designer, he's also a very nice bloke. "Thank you very much for checking us out. I'm a huge fan of the site and I've discovered a lot of bands here. Punk/hardcore is a community and not a competition."
Pick up a copy of Hacker's Pick a Path EP on vinyl through Sorry State Records in the US, and Hardcore Victim in Australia, or digitally on Bandcamp.
***
Help Support What No Echo Does via Patreon:
***
Tagged: hacker, international hardcore bands