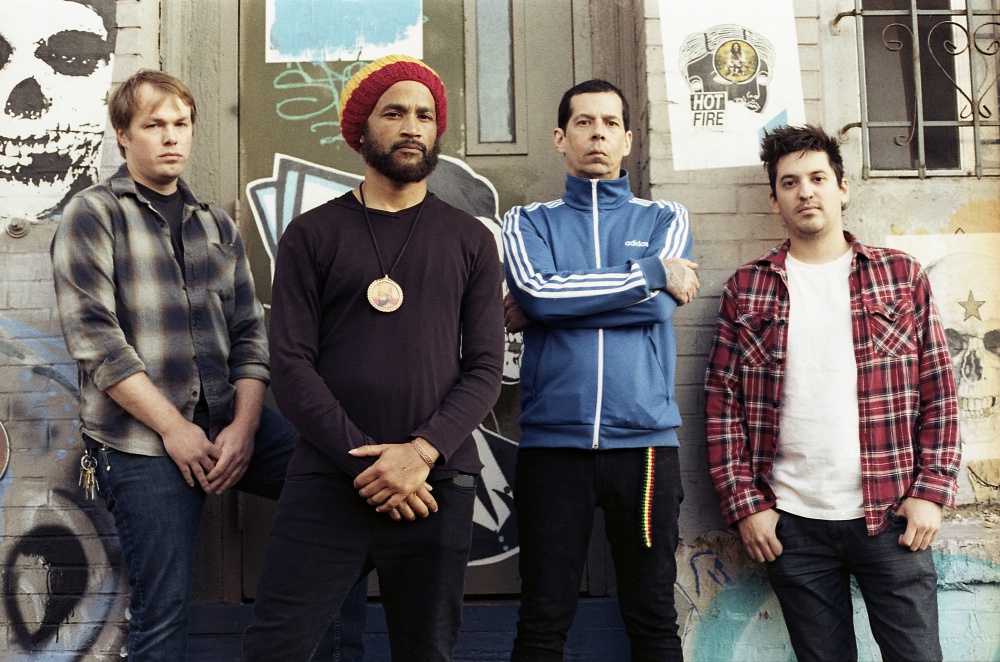 Although it seemingly came from out of nowhere, FireBurn's Don't Stop the Youth was my Hardcore EP of 2017. I love how this Los Angeles-based combo do things. They aren't about hype. They let their music and live show do the talking.
Now, FireBurn is back with a 2-track 7" for Closed Casket Activities. Available for pre-order starting today, and limited to 2000 copies, the record is being released in anticipation of the band's upcoming spring 2018 US tour dates with American Nightmare, GBH, and Kill Your Idols, including appearances at Punk Rock Bowling and United Blood Fest.
"Shine" is a driven forth by a frenzied rhythm that never lets up during its entire first half. Drummer Nick Townsend even throws in some double bass into the song's chorus. After the second chorus reaches its conclusion, FireBurn break things down to a head-bopping groove that then heads back into the fast-paced attack.
On "The Controller," vocalist Ras Israel Joseph I rips into the verse like a man who become unhinged. The guitar riff beneath the vocals echo that same kind of energy. Like on "Shine," "The Controller" also has an infectious breakdown section that opens itself up for a guitar run that lends the proceedings a potent bite of melodicism.
I've been impressed with FireBurn's strong songwriting and these two new songs not only further cement that sentiment, they also should help convince more people that they're the real deal. In other words, this isn't some one-off "hardcore supergroup" project.
FireBurn tour dates:
3/2 - Ventura, CA @ The Garage w/ Good Riddance
3/9 - San Diego, CA at Brick By Brick w/ American Nightmare
3/10 - Los Angeles, CA at The Echoplex w/ American Nightmare
3/11 - Berkeley, CA at Gilman St. w/ American Nightmare
4/5 - Cambridge, MA at HC Stadium w/ Kill Your Idols
4/6 - Brooklyn, NY at Brooklyn Bazaar w/ Kill Your Idols
4/7 - Richmond VA at United Blood Festival
4/8 - Philadelphia, PA at Underground Arts w/ Kill Your Idols
5/24 - San Diego, CA at Observatory w/ GBH
5/25 - Las Vegas, NV at Punk Rock Bowling
5/30 - Berkeley, CA at The Independent w/ GBH
5/31 - Eugene, OR - TBA w/ GBH
6/1 - Portland, OR at Hawthorne Theatre w/ GBH
6/2 - Vancouver, BC at Rickshaw Theatre w/ GBH
6/3 - Seattle, WA at El Corazon w/ GBH
6/4 - Boise, ID - TBA w/ GBH
6/5 - Salt Lake City, UT at Kilby Court *No GBH*
6/6 - Denver, CO at Oriental Theatre w/ GBH
6/7 - Omaha, NE at Lookout Lounge w/ GBH
6/8 - St Paul, MN at Turf Club w/ GBH
6/9 - Milwaukee, WI at Shank Hall w/ GBH
6/10 - Chicago, IL at Cobra Lounge w/ GBH
6/11 - Chincinatti, OH - TBA w/ GBH
6/12 - Ferndale, MI at Loving Touch w/ GBH
Tagged: fireburn