I'd like to introduce you all to Destroy the Machine, a new metallic hardcore band signed to Irish Voodoo Records (Done Dying, Juggernaut). Based in Canada, the quintet features former members of A Perfect Murder, a group many of you might remember from their run on Victory Records in the '00s. Vocalist Frank Pellerin fills me in on the Destroy the Machine formation story: "Kevin [Lemire] and Carl [Bouch] from A Perfect Murder wanted to take a break, so, I asked Luc [Verville] and Yan [Chaussé] if they wanted to start something new.
"I really wanted to do something violent and in your face. Both were stoked on the project. Yan met Chris [Foy] at a show and thought he was a good fit for the band. Chris said yes right away, so finding the first guitar player was that easy. Pat [Bouchard] is an old friend and was playing in bands on and off with Yan for more than 20 years. He just came to a jam one day and was super stoked on the project and said, 'I'm playing in the band' Everybody was down for that!"
With the dream lineup in place, Destroy the Machine entered the hallowed halls of Trax East recording studios in New Jersey and got busy with producer Eric Rachel (Every Time I Die, Zao). The result is Parasites, Destroy the Machine's forthcoming EP. No Echo has partnered with the band to present the premiere of the title track's music video.
Frank gives me the lowdown on the "Parasites" video and its lyrics. "The lyrics were written by our friend, Ben Fournier, a couple years ago when we recorded Demonize with A Perfect Murder. We didn't used them at the time but the lyrics were really awesome and we always wanted to use them. The music was a perfect fit for the lyrics. Ben had the inspiration after watching a short movie about how we're all slowly killing our planet."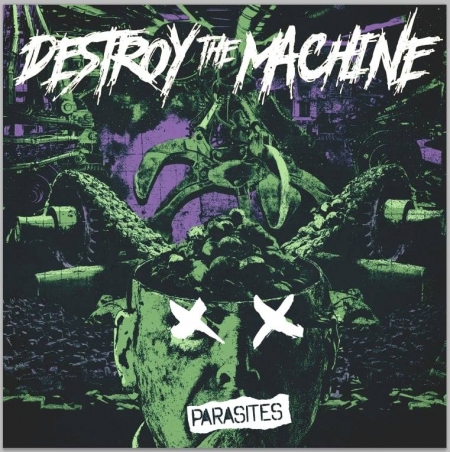 I ask Frank how he hooked up with Irish Voodoo Records. "We heard good words about Irish Voodoo froom Chris Logan (Chokehold, Longest War). Chris released A Perfect Murder's Cease to Suffer album in 2003. We just sent the songs and the video to Joey and everything went fast. We are all stoked about this project!"
It sounds like now that the EP is coming out, Destroy the Machine will find a way to hit the road, come hell or highwater. "The goal is to play as much as possible. We all have crazy schedules but hopefully we'll be able to do a small tour later this year."
The CD version of Parasites will arrive in stores on May 10, while the vinyl will be coming soon, via Irish Voodoo Records. Follow Destroy the Machine on Facebook and Instagram.
Tagged: destroy the machine