"I would bury you if I could"
The lyrical through line that brings us to Symptoms of Survival, the latest LP from Dying Wish.
I'm consistently surprised when I encounter fans of hardcore who don't take time with the lyrics. I understand we all approach music differently, but the catharsis to behold is worth your time.
Dying Wish has quickly become one of my favorite current bands and I'm confident they will continue to take stages by storm.
As I prepared to write this review, I remembered my first live review included Dying Wish in the lineup and I made a note that I saw great potential in them. Considering they're on their first headline tour throughout the US after taking part in the first-ever Headbanger's Boat festival alongside bands like Lamb of God, Shadows Fall, and Hatebreed, to name a few; they have surpassed any expectation I could have imagined, and deserve every opportunity that has come their way.
Similar to their debut record. Fragments of a Bitter Memory, they recorded with Randy LeBoeuf. This partnership is a great match as the band has only become more furious and clear in their songwriting.
The chemistry of the band is only become more precise as time goes on with this record being the first with bassist Jonathan Mackey. They also brought stunning visuals with multiple music videos leading up to the release and cover artwork by Paul Romano.
As I mentioned at the beginning of this review, the lyrical tie-in from Fragments of a Bitter Memory is found in the song "Path to Your Grave."
To paraphrase a bit from what singer Emma Boster had shared in the press release of the video, "Path to Your Grave" is an active step forward in grief from an abusive parental relationship involving her stepfather. The horror-inspired visuals of the video convey a strength amid pain and choosing to face difficulty rather than trying to hide or allowing it to imprison you.
An early favorite for me is the next song on the record "Paved in Sorrow." Emma's harsh vocals are on display all over this record, but her clean singing abilities soar and shine in new ways on this song.
I'd go as far as saying "Paved in Sorrow' is as close to a metalcore ballad as you could ask for, but don't be misled by the description. There is plenty of heft on display and the various breakdowns throughout this record are sure to stir crowds into a frenzy for years to come:
The dueling guitars as well as backing vocals provided by Pedro Carrillo and Sam Reynolds couldn't hit harder. Never overplaying and using every second to its fullest potential.
This is equally true in the incredible drumming on display by Jeff Yambra. The rhythmic shifts, breaking down in order to charge ahead even harder; Symptoms of Survival is a high-level endurance test in the best way possible.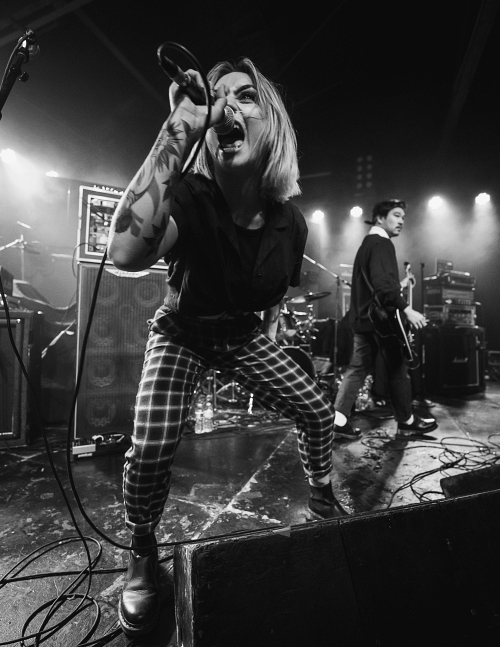 Other than buying the record, the best way to experience these songs is by making it out to one of Dying Wish's upcoming shows if the tickets are still available. At the time of writing, they're set to play in Tampa, Florida at the Orpheum with Boundaries, Foreign Hands, and Roman Candle.
Make sure to check social media for more date and venue info. They also have a tour of Australia kicking off in January of 2024 with The Acacia Strain from the 11th to the 20th and UK dates with August Burns in March.
Get It
Tagged: dying wish