If you're part of the hardcore music algorithm on Instagram, there's a big chance you've come across some of Jeff Lasich's photography work.
Under the starttodayzine handle, the Pittsburgh-based photographer has been shooting shows for many years now, risking his neck to get the kinds of pics that make you jealous you missed the action in person.
I reached out to Jeff to get his story and thoughts about photography within the hardcore community.
Where were you born and raised, and were your parents into the arts?
I was born and raised about 45 minutes south of Pittsburgh. I lived here until around 1997 when I moved near Syracuse for a few years. After that, I moved to Philadelphia around 2000-2001. That's when I really started getting into shooting bands. It started as a way to get some content and interviews for the zine I was doing (Start Today).
Over time, it progressed from just getting a few quick shots for a layout, to really trying to capture what I was seeing in my head. Sorry I'm already off track. My parents were not into the arts. They were just normal people who went to work and watched TV at night. I liked art class when I was little, and always liked to draw and paint. I can copy stuff, but coming up with something from my head, I just can't seem to do.
When I started skateboarding, I spent most of my time reading Thrasher, Transworld, Poweredge. and Big Brother. I would study the photos in those magazines, even before I really picked up a camera. I think that has helped me with composition.
What was your first musical love?
My mom listened to a lot of Carpenters and Motown groups, so I liked that when I was really young. When I was in 3rd or 4th grade, I started getting into my own music. Weird Al had just come out with "Eat It," and I thought it was the funniest thing at the time.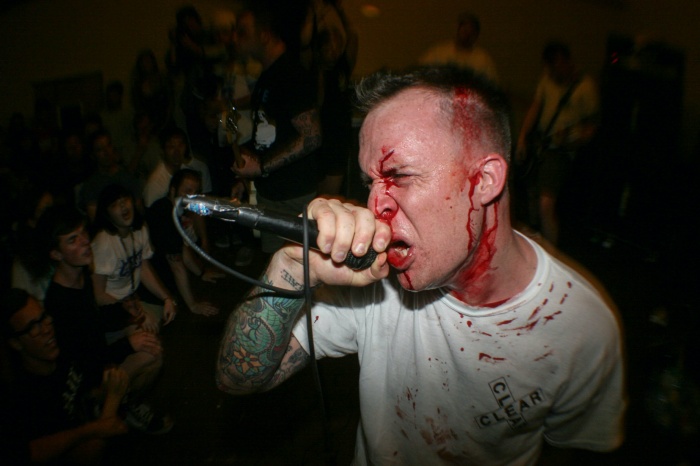 I was also really intrigued by Twisted Sister's Stay Hungry. The cover of that record, Dee Snider in his full outfit, mouth wide open ready to chomp that bone. It sucked me in. There are other photos on the back cover and insert that captivated me.
As a kid you would hear stories of haunted abandoned houses and people stealing kids. I was the perfect age for those kind of tales, and the pictures really captured all the ideas I had in my head. Every now and then, I still pull that record out just to study them.
A few years later I found Metallica and the Misfits and I never looked back. At 13 years old, my life was blasting punk and hardcore on a jam box while having a launch ramp session.
I'm not sure if I found punk/hardcore or skating first, but they went hand in hand. Columns and interviews in Thrasher helped me find out about a ton of bands.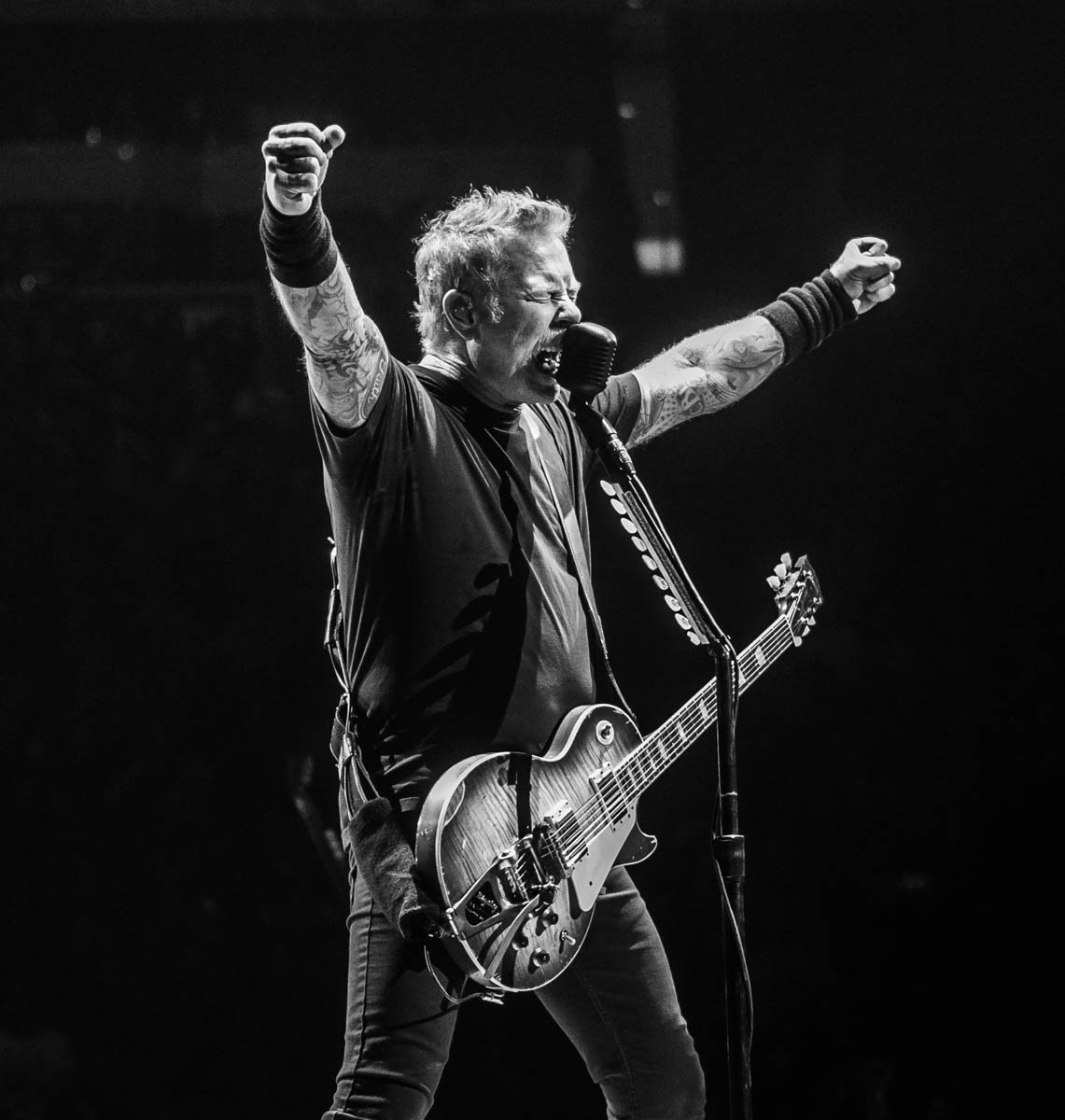 What is your camera and post set up?
I shot with a crop sensor up until last year. I was using a Nikon D500, but for some reason felt like I needed to get a full frame camera. As luck had it, Danielle Dombrowski was selling her Nikon 750. I got to mess around with it a little at FYA in Tampa last year and bought it around a month later. I shot one or two shows with it and then the world shut down. I've shot some stuff with it since, but no shows. I like it so far.
I have a Nikkor 24-70 for that camera and a Nikkor 85mm. I really like that lens. I got to it a lot if I need a little distance and it works like a champ in low light. For my D500, I primarily use a Sigma 17-50 lens. I have a Nikkor 10-20 and a fisheye.
I try not to overuse the fisheye unless the situation kinda forces it (small stage, tight spot with a lot of people for example.) I used it at the Youth of Today shows in Brooklyn and it made for good photos.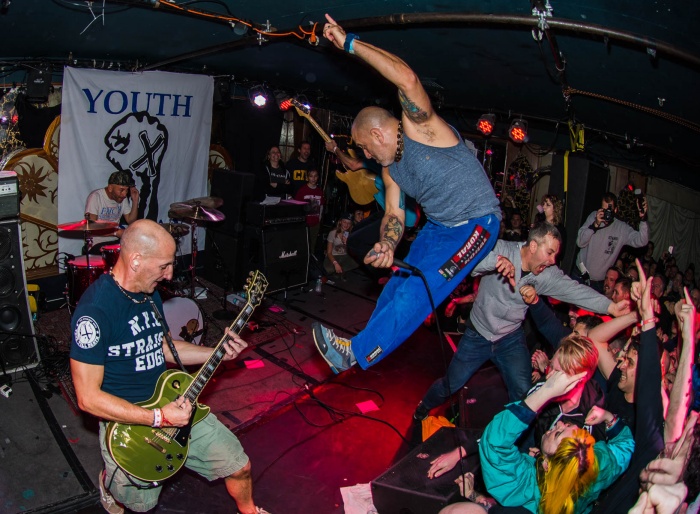 I have a Speedlight SB-700. I managed to break two of them in 2019, which I am not too happy about. But that comes with the territory. I also have a Sony RX100 III. It's a nice pocket size point and shoot that I'll take into bigger venues when I can't get my gear in (like those Misfits shows.) It does a really good job for what it is.
Post, I use Lightroom. I shoot everything raw and like to use LR to tweak the photos. I don't over process them. A little exposure adjustment, some cropping. I'll adjust the white balance to get everything to my liking. But none of that can be done without a good base photo.
Who are some of your favorite bands to shoot?
Youth of Today, Watain, Incendiary, Magnitude, Line of Sight, and Jesus Piece.
If you could go back in time, who are some bands that you would have loved to shoot?
One of my dream shows would be the Misfits Halloween show in 1979 at Irving Plaza. That was the night they released the Night of the Living Dead 7 inch. Joseph Szkodzinski shot some amazing photos that night. n that time period, I would have loved to have shot Minor Threat. I don't think I've ever seen a bad pic of them.
The Shutdown show at CBs would have been good, but I imagine it would just be a mob of people on the stage. I didn't get to go to any of the Have Heart reunion shows here in the states. All those pics have been incredible.
What are the toughest aspects to shooting live shows?
You need to keep your head on a swivel. There is a lot more to it then just holding a camera and pushing a button. Of course, you want to make sure you aren't in the band's way, not tripping over cords or plugs. You need to be able to change settings in an instant. Lighting is never consistent.
I'm usually cool shooting something like This is Hardcore, but there are other shows that I've shot where I get super-nervous and anxious because I don't want to screw it up.
Stage moshing. If you are shooting from the side of the stage, you got the people who think you are there to grab onto the get on the stage, or they grab onto you while diving for some reason. And there is always the occasional dive from behind/side which takes us out like bowling pins. There is a lot going on, but it is fun.
Is it getting tougher to carve a space out at venues since there are so many people shooting these days? How do you feel about that?
Everyone is a "photographer" now, so it definitely makes things harder. I'm always down to help someone out and give tips. I'm a little shy, so I can come off as standoffish at first, but get me talking and we'll be good! Sometimes it can get a little tight trying to find a spot.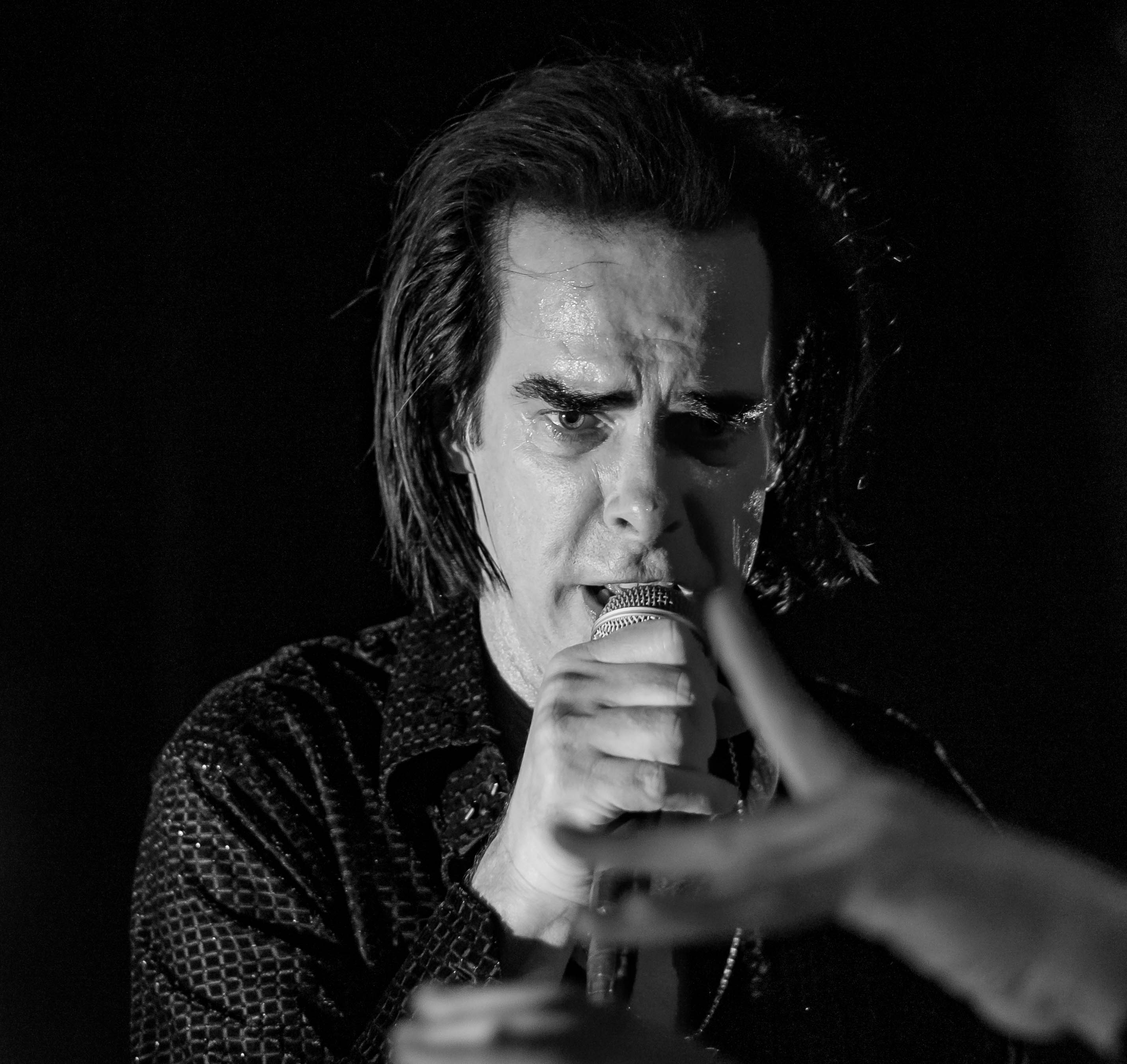 I guess the good thing is after doing it for so long, I know what angles I like to shoot from. If I've never shot a band, sometimes I will watch some live video and start planning my attack.
Words of wisdom: Get there early. Don't skip the line. Shoot opening bands. I try not to get in the way, and I know sometimes I do, but I'm still a fan of the music and bands and I can get caught up in the moment as well.
Tell me about some newer bands that we should all be on the lookout for.
Vanguard, Change, Burning Strong, The Dividing Line, and Incentive.
Who are some modern-day photographers that you admire?
I love the whole This is Hardcore photo team. I like that we can all be shooting the same show, and yet all our photos look different. That weekend is always a good learning experience as well. That crew would be Todd Pollack, Anne Spina, Catherine Carrozza, and Danielle Dombrowski. JC Carey shoots it too, usually from the middle of the pit, which is crazy to me.
I was really bummed not getting to hang out with them at TIHC this year, or any other Philly shows to be honest. Danielle has become a really good friend who is always willing to help me with an issue during the show, or answer a text. I will say this about her though, she responds with talk to text so sometimes it's like trying to translate another language.
I'm a big fan of Pete Gregory too. He also usually shoots right in the middle of the action, and his photos are tack sharp.
If you had to pick one of your photos that best encapsulates why you love shooting bands/artists, which one would it by and why?
This pic of Mouthpiece I took at the New Age Records 30th Anniversary showcase in Garden Grove, CA in 2018. There is just so much stuff going on in the photo, hitting on different levels. I feel like it really captures the intensity of a hardcore show, the risk, the chaos, the energy.
***
See more of Jeff's work on Instagram.
***
Help Support What No Echo Does via Patreon:
***
Tagged: photographer spotlight