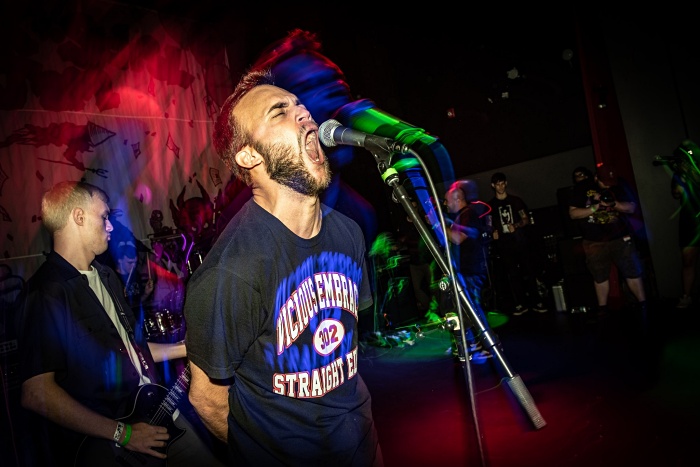 Among the unrest of 2020, Tyler Mullen sees the world for what it really is.
The Year of the Knife vocalist's seething world view is heard throughout Internal Incarceration, the band's fantastic new LP that arrived last week to roaring response. Speaking to No Echo at Newark, Delaware mainstay Little Goat Coffee one week before the record's release, Mullen explains that while he's optimistic about the emotional development people are feeling with where the world is at, it's hard to feel hopeful for the state of humanity's affairs, as people continue to fight for their civil rights.
"I could probably write about it in a more positive manner, but I feel there's more of an emotional impact to writing pessimistically," Mullen says. "Our country is run by evil, evil things."
Mullen has never been one to shy away from the political, or the personal, in Year of the Knife's catalogue. On Internal Incarceration, these themes are seen through a further nuanced lens. This perspective is clear from the ruminations on loneliness and dangers of isolation ("I live in a skull no different from a cell/Sick of a body that I can't leave behind") on its title track, and first single "Virtual Narcotic," a song that reckons with the concept of social media addiction ("Fucking your brain with dopamine/Oversaturate to control and divide/Clouding our minds to market our lives"). Mullen believes that with people isolated in quarantine during COVID-19, it could become a more serious issue.
"I want to believe it's been a positive time, but people are lost; they get lost within one another. If that's all your Instagram feed is all the time, you're a mess. You can't focus on yourself. A lot of people are lost in hate and fear," Mullen says.
And, in line with the straight edge ethos espoused by Year of the Knife since their inception, much of Internal Incarceration reflects on America's failed efforts at combatting the opioid epidemic, specifically "Sick Statistic," a song teased on last summer's Pure Noise Records Tour sampler, and album highlight "Through the Eyes." Mullen himself puts it bluntly: "I don't think this country cares about addicts."
"There's money being put into organizations to help people with addiction, but in the bigger scheme of things, the funding to get people help isn't really helping. People are getting worse. They're sick and not conscious of what pills and painkillers can do to a person. It basically leads to heroin because they can't afford these things.
"I try not to get too government conspiracist about it, but a lot of it, to me, is Big Pharma and our government preying on people for population control. That sounds pretty radical and militant, but who trusts our government? Not many people."
Throughout our discussion, Mullen appears to be soft-spoken, with not much to say. It's as though he truly gave his all to Internal Incarceration, and through that labour, the music can sincerely speak for itself; a feat often spoken about in press cycles for bands hardcore and otherwise. In this case, Mullen affirms it.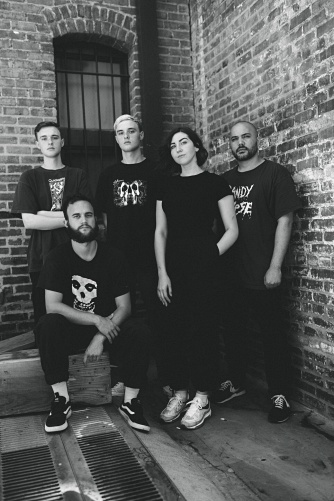 After his first day of recording, four songs deep, Mullen says he "fucked" his body up.
"It was the sickest I'd ever felt in my life … I had strained muscles in my neck, things I'd never felt before up my side and shoulder to my neck and temple. Being sick made me angry and upset, to the point where I just wanted to push harder and harder," Mullen says. "I'd be upstairs at the studio in the apartment alone, while the band was downstairs recording, and I was fucking losing it. I was by myself most of the time, eating away at myself.
"I had these really bad, strange nightmares. I'll always remember it. I don't know whether it was because I took Nyquil or it was my body fighting in my sleep while I was sick, because it causes mental stress on your brain. I literally thought I was being controlled by insects. That sounds so crazy to say now, but it was this restless thing where a bug would keep telling me to move something around the room and to keep moving it.
"I was pretty much going at war with myself. It was wild. It took about a week for (the band) to finish instrumentals, and then I went downstairs to do my parts and felt so pent up."
While renowned producer Kurt Ballou (of Converge) certainly challenged Year of the Knife and their methods, the band also put him to the task of meeting their own set of sinister standards. The end result is a Year of the Knife who didn't make the same project twice, planting their feet firmly into death metal riffage and expanding on the Euro edge metal their older releases leaned on.
A long-awaited recording of "DDM (Delaware Death March)" had Ballou record the song with three different snare tones, Mullen says, with a vision of drummer Andrew Kisielewski sounding "like a marching band, like a gatling gun."
"It just sounds like fucking death war."
***
Internal Incarceration is available now via Pure Noise Records.
Year of the Knife on social media: Facebook | Twitter | Instagram
***
Donate a few bucks to help with No Echo's operating costs:
**
Tagged: year of the knife