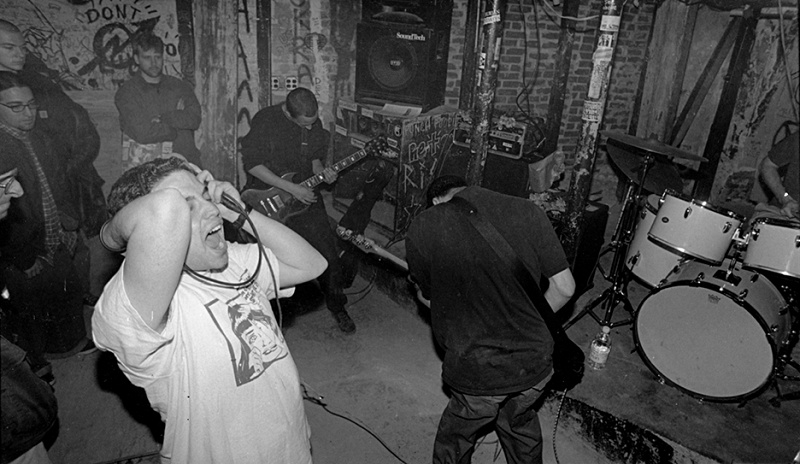 No Echo readers know how much I use the term "lifer" when discussing many of the people I cover on the site and their connection to hardcore and/or metal. Billy Werner is one of those kinds of individuals. Back in the '90s, he fronted Saetia, a group many refered to as "screamo," but I'm hesitant to use that term as it might conjur up some stuff that definitely wasn't what Billy and his band mates were about. Following Saetia's break up, he sang for Hot Cross, releasing a grip of records before bowing out in 2007.
The "lifer" thing applies to Billy because not only is he still an avid punk fan, but he also continues to create music, albeit electronic-based, under the name M//R. With all this in mind, it was inevitable that I would end up chatting with Billy about his life and music for No Echo.
Since we're both Queens natives, I'm curious, where were you born and what neighborhood did you live in growing up?
Queens is the boro! I was born in 1977, my parent's only child, and lived in Bayside in an apartment building that overlooked Clearview Park Golf Course on one side and faced the Throgs Neck Bridge on another. I'm pretty sure the building is still there and looks exactly the same. My grandfather died in 1985 and at that point, we moved into the second floor of my grandmother's house in Whitestone so that my mother could look after her.
What was your family like back then and what kind of kid were you ?
I was lucky to have a tightknit family during those early years. I was an outgoing kid obsessed with music from an early age. Family life got complicated around '92, when my grandmother became ill with cancer and my mother also became ill with the same disease shortly after. We lost them both in '93. '92-'93 is around the time I really started going to hardcore shows and getting more involved with the subculture.
We were lucky to grow up in NYC during that era of music. What kind of music did you gravitate towards as a kid? Did you have any older mentors that would introduce you to cool music?
My mother had two brothers and a sister and all of them have musical talent and were generous with their knowledge and record collections. My parents constantly played music at home — all of the Baby Boomer classics — the Beatles, Beach Boys, Motown, James Brown — you name it, it had a presence in the household. I started to develop my own tastes at a really young age. Experiencing the city in the mid-'80s meant you had some exposure to hip-hop, breakdancing and graffiti. I started saving my allowance to buy rap tapes and spent hours recording Chuck Chillout and DJ Red Alert radio shows on Friday and Saturday night on Kiss FM and WBLS. I distinctly remember watching the Mets in the '86 World Series with my parents while I had headphones plugged into a boombox that I was using to record the mix shows.
When we moved to Whitestone, I befriended an older kid who lived across the street from my grandmother. He was deep into metal and made me two cassettes that really blew my mind — one cassette had Maiden's Piece of Mind on one side and Killers on the other. The other had Ride the Lightning on one side and Blizzard of Oz on the other. I quickly went down the rabbit hole, making my parents tape Headbanger's Ball for me (pre-Riki Rachtman, when they only had guest hosts) and recording entire afternoons of metal off of WSOU (Seton Hall's radio station that was all metal at the time).
Yeah, WSOU was huge for me as well. I learned about so many different styles of hard rock and metal in the late '80s through that station.
I am trying really hard not to be "that guy" but younger folks have no idea how important college radio was pre-internet. WSOU, WNYU — if these stations didn't exist, I don't know where I would have ended up. I heard Bad Brains for the first time on WNYU's Crucial Chaos right when Quickness came out and it scrambled my brain in the best way. I started listening to and taping Crucial Chaos on Thursday nights. Spermicide was the hostess at this time, and in combination with NYHC people making appearances on daytime TV talk shows and the mainstream media's skinhead hysteria of the late '80s, it felt like I was peaking in on a secret, dangerous world.
It would still be a few years before I attended my first show (late '92/early '93) but I was aware of NYHC at a very young age thanks to college radio. I got my own turntable and CD player in my room at 13 or 14 and that's when I really started accumulating music — a habit that still hasn't died. Once I got to high school, I met a guy named Alex Nakos and his circle of friends who were all into hardcore and skating. They were a year older than me and that's when I got really serious about punk, skating, going to shows, and all that
Before I went to see show at places like L'Amour and the Ritz, my first metal/hardcore/punk show experiences happened at Our Lady of Lourdes in Queens Village. What were some of your early show experiences?
There was nothing on my radar close to Whitestone or Bayside. Though I am sure there were shows happening somewhere in Flushing or College Point back then. My first CB's show was in late '92 or early '93, I think? Agnostic Front, Sheer Terror, and Merauder I think it was? I believe Darkside NYC opened. I just remember standing way back and taking it all in. It was just as exhilarating as it was scary. My home life was a wreck because of my grandmother's illness and we had our little hardcore skate crew in high school, who I went to shows with. I was going to Bond Street Café every week, as well as Wetlands, the Grand, CB's, the Ritz/Webster Hall, ABC No Rio, Irving Plaza… basically wherever the music was and wherever I could learn more. At that point, you had to be reading the Village Voice or attending shows to get flyers to know what was happening and where. Everything was still word of mouth at that time.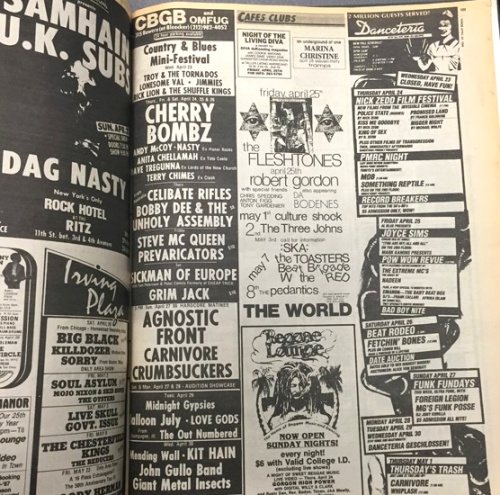 Were there any bands you played in before Saetia?
Yes, I played drums in a band called Surrounded with Alex (bass), a classmate from the Bronx named Angel (vocals), and a friend of his named Dave (guitar) that he knew from his neighborhood. We all went to shows together, skated, etc. We played one show at Bond Street Café, opening up for Dog Eat Dog and the Icemen. I also rehearsed a couple of times in a band with Lenny from Fear of Life but nothing ever materialized from that.
We have something in common in that we both played with future members of Interpol! I grew up with Carlos Dengler and played with him in our first bands. Anyway, tell me how Saetia came to be.
I miss Carlos! I always liked him and found him to be a genuinely nice and interesting guy. Once I started attending NYU in 1995, it didn't take long for me to go to the radio station and start hanging out at Crucial Chaos on Thursday nights. At that time Dave Fischer and Rachel Rosen (Indecision, Most Precious Blood, Milhouse) were the hosts and there was a revolving but regular cast of kids that would just hang out and/or help out during the show. That's where I met Jamie Behar who played guitar in Saetia, as well as Alex Madara who was our first bass player. I knew Adam Marino (second guitar player) from Queens. One of my first jobs was at the Fresh Meadows Boston Chicken. Adam worked across the street at a Häagen-Dazs and we would regularly trade food for ice cream and hang out at each other's shops. Adam probably saw me wearing some band shirt, or vice versa, and that's how we started talking about music.
I met Greg Drudy, our drummer who also played in Interpol, in an elevator in an NYU building. I had a brief period in the mid-'90s when I flirted with Krsna Consciousness (like many at that time) and I saw he was wearing Tulasi beads around his neck. I handed him a flyer for the temple at 26 Second Avenue and that's basically how we met. We got to be better friends in classes together. One day we all decided to book some rehearsal studio time and that was how it started. There were personnel changes as we went along. Alex Madara passed away suddenly and Colin Bartoldus joined the band. Adam Marino left to join Errortype:11 and Steve Roche joined in his place. Both Colin and Steve were hardcore kids we knew from NYU through Alex.
Did you guys have a specific sound/vibe you were going for when you started the band? In other words, what were the musical touchtones for you guys?
The ABC No Rio scene was really pivotal for us. Born Against, Rorschach, Merel, 1.6 Band –— these were all local heroes to us. Nationally, you had bands like Frail, Angel Hair, Heroin, Antioch Arrow, Current, Los Crudos, etc.… the world of Gravity Records and Ebullition Records. We thought these bands were really pushing the boundaries of punk and hardcore and provided a sonic blueprint for us at the time.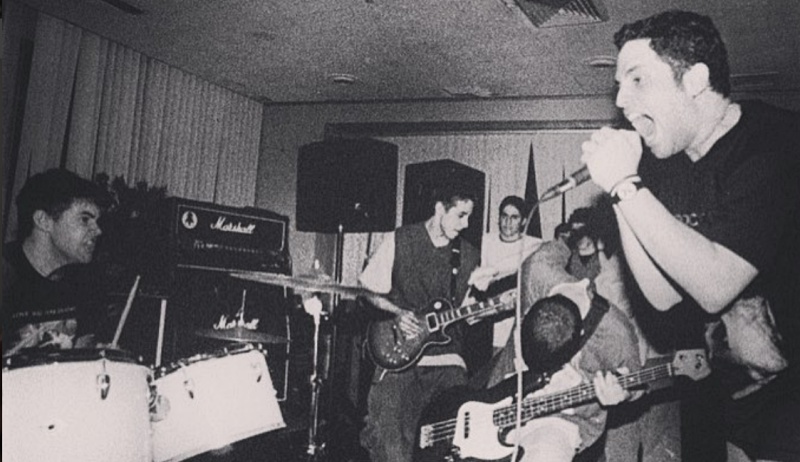 While I was obviously aware and into some of the bands you guys played with, I feel that I wasn't as versed with the larger community Saetia was part of. Thinking back to that period, who do you see as Saetia's peers?
There were a handful of bands in the Tri-state area that we played with all the time that shared a similar ethos and approach to punk. Chris Jensen's Mountain Records label was a center of this activity, and Chris eventually released our album. Closure, the State Secedes, You and I, Judas Iscariot, Devola, Murdoch — these were the bands we often played with locally. We operated in a tiny micro-scene of punk, which in and of itself felt like it was 1/8 the size it is now. I think folks have a tendency to view this particular micro-scene as a big deal back then, but, both locally and out of town, Saetia typically played to no more than 50 people, many of whom were in the other bands we were playing with.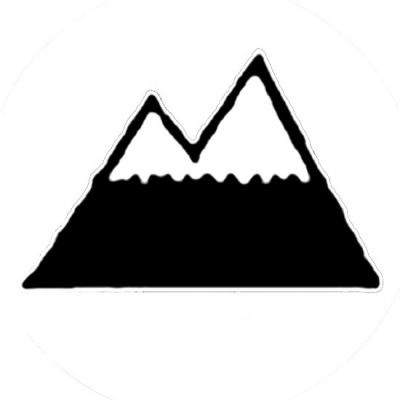 Most people reading this probably don't know about the Saetia—Guns N' Roses connection, but Ron "Bumblefoot" Thal recorded the band in the beginning.
Recording that demo was awesome. Justin Brannan from Indecision (now a NYC Councilman) directed us to Ron, who was recording demos out of his basement in south Brooklyn. We booked the time and got to work. I remember the first time Ron heard me screech he wasn't sure if I meant to do it or not. Ron was a polite guy and put up with us and made the experience really fun. When his name popped up later as a touring member of GnR we all had a good laugh and it makes for a good story.
Did it take a while for people to get where Saetia was coming from?
We had a bit of a home field advantage at ABC No Rio as everyone in the band was a regular there, with Jamie and I having been involved with the space for a long time (I started going/volunteering in 94-95). Jamie also booked some shows, which helped us. We had a similar experience in Long Island, thanks to the Mountain Records connection, but otherwise no one cared or wanted to hear, really. We didn't fit into NYHC and we operated around the edges of the ABC No Rio world, so I am not sure most people knew what to do with us if they even liked us at all.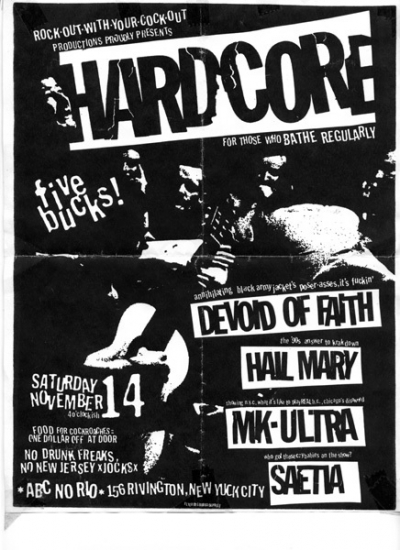 Tell me a bit about the Saetia LP that Mountain Collective released in 1998. I know that you tracked it at WGNS Studios, which instantly brings Garden Variety to mind because they also worked there during their time together.
That was an interesting experience. Closure had recorded with Geoff Turner at WGNS and had nothing but gushing things to say about the experience. Since they were also on Mountain, we figured we should go there as well — their record did sound really good and the label had a history there, so it seemed to be the right move. We didn't have a bad experience, but Geoff made it pretty clear he just wanted to get the project over with, so it wasn't this crazy, fulfilling recording experience. We just wanted to leave with a record we liked and we did. I can't remember Geoff's assistant's name, but I do remember getting a lift to the studio with him in the morning and that dude loved Outkast. Good dude — a lot friendlier than Geoff from what I remember.
How much touring did Saetia do? Again, I'm curious to find out what the circuit was like for you guys.
Because we were all in college, the only time we could do extended tours was during breaks or over the summer. We typically did regional things — up and down the East Coast, or New England or a trip through the Midwest. We booked, but had to cancel a US tour in the summer of '98. From what I remember, our vehicle fell through and we couldn't afford a long term rental. I ended up taking a bus trip out to San Diego to visit a girl I was dating. We finally got our shit together for a US tour in '99 with Usurp Synapse and it ended up being one of the last things we did.
If readers want some insight into '90s DIY touring, I used to book out of town shows from a job I had at NYU. I somehow managed to get a long distance phone code from my job and used it to call promoters around the country that were listed in a resource called Book Your Own Fucking Life that Maximum Rocknroll would publish each year. E-mail was just starting to be a regular way for people to communicate, but at that time, trying to book a full tour via E-mail would have taken years.
Were you playing on mixed bills along with more traditional hardcore and metalcore bands, or was it more of a post-hardcore/screamo kind of thing?
We got booked with all kinds of bands. We played with Jesuit and Catharsis at CBGBs. At another show we played with a to-remain-nameless mosh band and they stole Colin's food. Really no one knew what to do with us so we just played wherever and whenever we could with whoever would have us.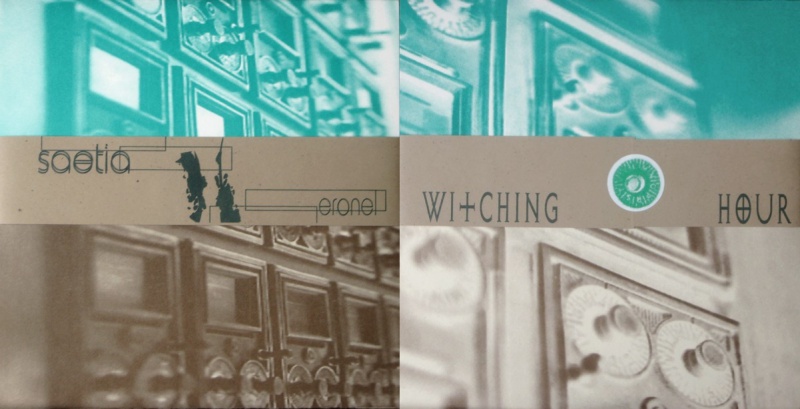 On the songwriting front, Saetia's lyrics often had a timelessness to them. They were poetic and ornate yet they could turn on a dime. Were you mining from a very specific era of literature, or did your lyrical inspiration come from somewhere else?
A lot of those early lyrics were written in high school and I didn't do anything with them until Saetia started. I always had an interest in creative writing and I knew I would be an English or Art History major in college and was already reading "the classics," focusing on late 19th and early 20th Century type of stuff. So, a lot of that made its way into those lyrics. I was trying to find a voice that made sense to me and I took school really seriously. It made sense to use some of the ideas I was exposed to in those works and think about how they applied to my own thinking. When you're that young, you sometimes need a broader frame of reference to understand your own life experiences. I found a way to do that with the books I was reading and the art I was studying.
Why did Saetia end up breaking up? Was it a gradual kind of thing, or was the writing on the wall long before the official split?

I think we just understood that the band had run its course. Most of us were graduating from NYU with no idea what we were going to do or where we would be. There wasn't infighting, per se, but folks in the band were getting on each other's nerves more often than was productive. We had released an album and actually managed a US tour, so it just seemed like the right time. Also, to us, it seemed like no one gave a shit whether we lived or died, so there wasn't some external incentive to keep it together. It felt like we caught some personal lightning in a bottle and it was just time to move on.
What inspired your move to Philadelphia and how did Hot Cross form?
Both of these events are intertwined. Saetia broke up officially in 1999. I decided to try my hand at grad school and had an opportunity to move abroad, so I enrolled in an English grad program at University College London and moved there in late summer, 2000. While I was away, Greg formed a new band with Casey Boland from You and I, Matt Smith, who was also playing with Jamie Behar and Steve Roche in Off Minor and Josh Jakubowski from a New Jersey band called Neil Perry. I received an E-mail from Greg telling me about the band and asking me to sing when I got back. He knew me very well and his sales pitch was something like "just a hobby sort of thing! Maybe record, maybe not, definitely no touring.".. We all know how that ended up.
I started writing lyrics while I was still in the UK and was ready to rehearse when I returned. As it happened, I returned in time to play a show with the band in Philly a couple days later. I was supposed to meet Greg and Matt at Penn Station to travel to Philly by train to meet Casey and Josh. Somehow I missed that meetup, but decided to travel to Philly by myself and just show up. When I got into 30th Street Station, I asked a cab driver to take me to the Tower Records on South Street because I knew I'd find a show flyer there — I had no idea where the show was (it was at 4040 on Penn's campus). The cab driver waited until I grabbed a flyer and I then told him where to drive me. He probably thought I was insane. I pulled up right as the other guys were loading our gear in. That first show was with Pg. 99 and City of Caterpillar, I think? I can't remember. Anyway, we ended up playing the show — my first time playing with the band with no real rehearsal.
That's wild!
My path to permanent residence in Philly was just a matter of logistics and making life easier for myself. Hot Cross was rehearsing at Josh's dad's house in Central Jersey until he left the band and we eventually rented a rehearsal space in the Philly area. I was already commuting down constantly and was in a relationship with someone in Philly, plus NYC housing prices were already absolutely mental and I didn't want to live at home. Philly was still crazy cheap, and I just needed a job that would pay bills between recording and touring so it just made sense. I moved there in early 2006 and honestly haven't looked back. I love Philly.
Did you feel that Hot Cross had a lot of buzz right from the start due to where each member of the band had come from? Also, what were the early shows like?

There was a little bit of a buzz. Towards the end of Saetia, Greg started Level Plane Records, which became the label du jour for "screamo" and kids started to get more interested in late '90s bands and tracking down their records. That's when Saetia started to get this sort of status as a "cult band." The early shows weren't these crazy packed events, but there was more of an audience for Hot Cross when it started than there was for Saetia — that's for sure.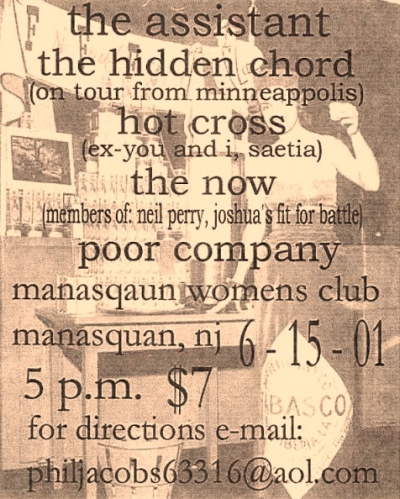 Like you mentioned, both Saetia and Hot Cross issued releases through Level-Plane Records, Greg Drudy's label. Did that arrangement ever get tough or were you guys always on the same page? Also, did you help Greg with the label at all during its run?
It was never tough for us. Greg was basically my best friend and was also in the band. I trusted him unconditionally with our music. I had no financial stake in the label and the amount of "shitwork" I did was minimal at best. I was always around the label because I spoke to Greg multiple times a day almost everyday so I knew everything that was going on, but I wouldn't say I had any significant part in releasing or selling any records for Level-Plane.
What do you remember about making Hot Cross' Cryonics album? How do you feel about the material from the LP today?
Similar to our decision to record the Saetia LP at WGNS, we decided to record with Eric Kvortek at Trax East because we had anecdotal stories about what a great experience it was to record there and the records coming out of there at the time were really heavy. We were really excited with the result at the time and I think the record stands up well today. We really enjoyed the experience of working with Eric and we were all sad to learn of his recent passing.
From what I remember, Hot Cross toured extensively, especially during that time period. Was that a rewarding experience? How were the turnouts and did you have a lot of difficulty juggling adult life with the touring musician thing?
We toured a lot. During the time I was still living in NYC, I was determined to find a job that could support the touring lifestyle. I settled in at a company called Unimax, which sells tattoo supplies out of one of those sketchy buildings on Canal St. I was lucky enough to be able to take time off to tour and return to the job, which is essentially why I stayed there. When I moved to Philly, I got temp work at the University of Pennsylvania. That sort of work was plentiful at the time in Philly and my living expenses were so low that I could work, save, go on tour, come back and get another temp assignment. I was lucky to find ways to make it work.
"Turnouts varied from place to place. For example, we played to 2 people in Lawrence, Kansas, but a couple hundred in Odessa, TX of all places."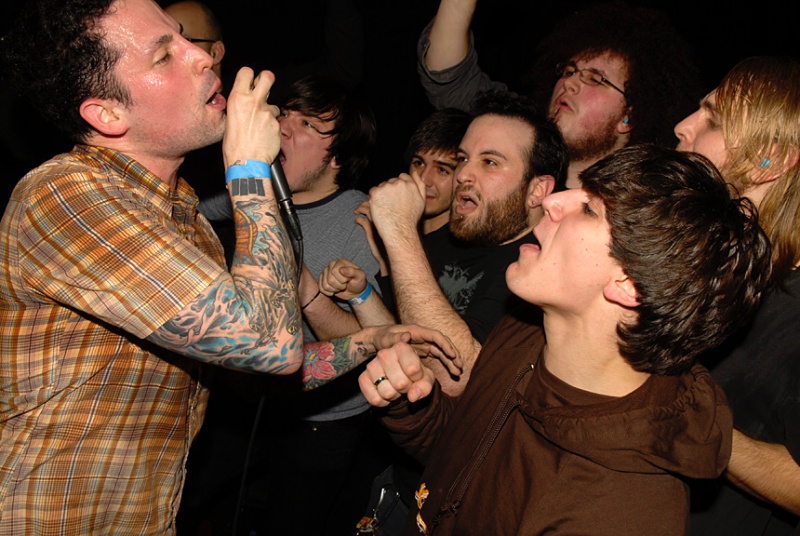 Been there, man. Been there. Moving on, for the Risk Revival album, Saetia signed on with Equal Vision, what many people would refer to as a "major indie" label. Was that a tough decision? Did anyone in the band have to be convinced to make that move?
We were all on board, but it was a tough decision. With Level-Plane and Greg being in the band we were basically releasing our own music. I think Greg liked an opportunity to be outside of that framework and let someone else worry about pressing records, paying for recording, etc. We could be an idiosyncratic bunch and Dan and Equal Vision were really accommodating and treated us really well.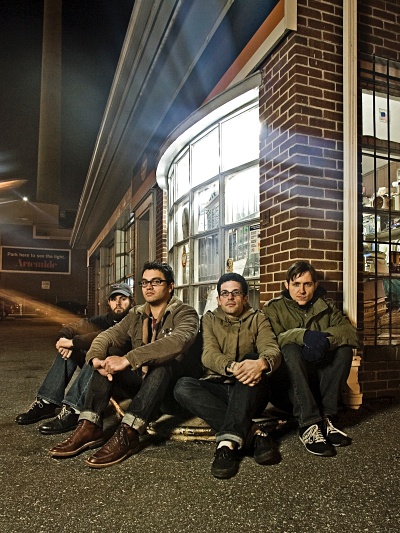 I guess we could do a piece around the making of Risk Revival and all its delays, but what is the Readers Digest story for No Echo readers?
We originally recorded with Mike Hill (Tombs, Anodyne) who, to this day, I consider a good friend and an even better human being. After the album was done, it didn't really feel like "us." However, we also thought our ears might need a rest so we asked the label to weigh in and they suggested we may want to re-record. We hit up Josh, who had left our band, but also knew us best and had started his own recording business. We ended up re-recording Risk Revival with him and using that recording for the release. It was a painful experience for us personally, because we had a really enjoyable experience with Mike and had endless respect for him. The decision and communication of that decision was one of the lower points I've had in a band.
Once Risk Revival finally came out, were you happy with the way Equal Vision handled all of the marketing and publicity kind of stuff? Did being on the label open Hot Cross up to different kinds of opportunities, good and bad?
EVR did a good job and opened doors for the band but we were in a weird position. The DIY world thought we had become too "accessible," while we weren't quite accessible enough for the larger Warped Tour brand of "screamo" bands we were getting booked with. We were always falling short somewhere — too "clean" for basement shows, but not clean enough for other audiences.
We got called "sell outs" by the basement scene, but at bigger shows, kids were surprised that we drove ourselves and booked ourselves and didn't have any sorts of sponsorships. We didn't really care about pleasing either side, which we were proud of, but it also made our lives complicated.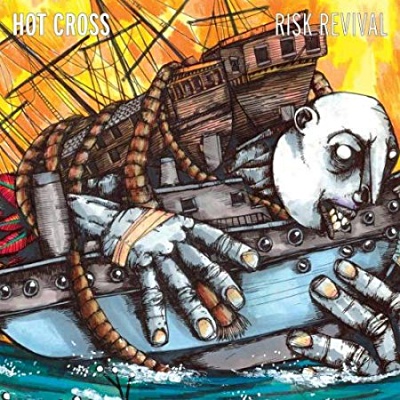 When and why did Hot Cross break up, and were you at peace with the way it did end?

Personally, we were starting families and starting to do new things in our personal lives which cut into band time. When you're trying to stay on the road and write new material, it boxes out most of the other things you have going on in your life and we were never in a position to just do the band full time. We also felt sort of jackknifed into whatever shows and opportunities came our way whether we were really a good fit or not and we couldn't figure out where we really did 'fit'. It's funny, you get into punk and start bands in that space because there's nowhere else to go and then your time in a punk band ends because you also feel like there's nowhere else to go. We were all very much at peace with our decision to end it.
Did you try and start a new band after Hot Cross broke up, or were you burnt by that point?
I haven't tried to start a new band. Not so much because I feel burned out, but mostly because there is the question of "when." I have a toddler and my wife and I both have demanding careers. There's just not enough time for all of the things I would like to do.
An aspect of your musical life I'm not knowledgeable about is all of the different DJ/producer projects you've done. Michael De Lorenzo recently interviewed another fellow '90s hardcore dude, Ron Morelli, and I know you've done stuff together on his label.
I started DJing in '98-'99. Playing soul records weekly at a bar called The Raven that was at 12th and A. This overlapped with Saetia for a couple months, but I loved it. I also had a minor interest in dance music during high school — rave culture was ascending and overlapping with my peer group in skating and hardcore. For example, during one fateful trip to Coconuts in '93 I purchased Fugazi's Repeater, Sick of It All's Blood, Sweat and No Tears, and one of those cheesy '90s techno comps. Most of the kids that hung out with our crew in high school also went to NASA [a NYC club famously featured in the movie Kids] parties regularly. I never made it to any of those, but I got a serious bug for jungle/drum n bass around '98 or so thanks to a classmate at NYU who was a dedicated head.
When I moved to London, I started going to parties regularly and it literally changed my life and opened up all kinds of musical possibilities in my mind. From there, I got deep into NYC dance music, finding house, disco, techno, all that stuff. It was an education. I started making my own tunes in 2010, releasing records on labels like Nordic Trax, Hamilton Dance Records, and Kinsfolk as "Billy W." I started making darker, more experimental music around 2012 under the moniker M//R, releasing music on a Philly label called Great Circles, Ron Morelli's L.I.E.S. label and some others. I just released an album this summer on Great Circles called Among the Methods. I am sure I will work with Ron for L.I.E.S. again some time in the near future. The overlap between DIY music worlds is real.. I have had younger folks come up to me at 4:15AM at warehouse parties asking me about Hot Cross or Saetia. It can be disorienting. Ron and I go way back to the mid-'90s, so it's been a real pleasure watching his label get huge and releasing music through him. He continues to be one of the realest people I've ever known and it was punk that got us talking in the first place.
Outside of music, what have you been up to in the years since Hot Cross? How is family life treating you?
I married, divorced, got married again and now have an 18-month-old son. Being a dad is the greatest and I watch this little guy focus on whatever music we play around him. He loves to dance and will ask for "more" when songs end. Hopefully, he carries that passion for sound as he continues to grow and develop into the person he is going to be.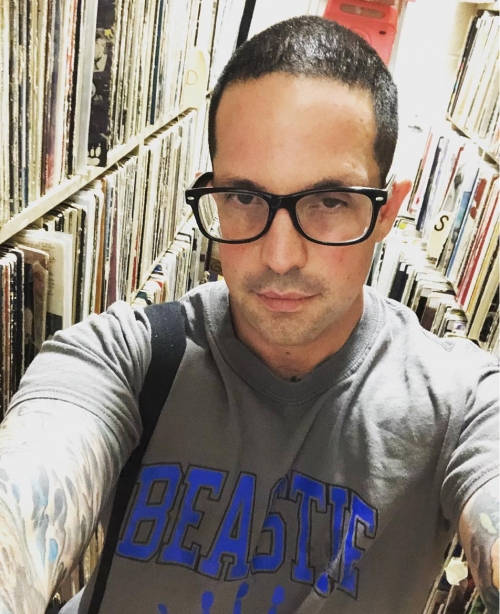 What's your favorite Saetia song and why?
"Notres Langues Nous Trompent" because I think it's our most cohesive song and for a first song on an album it's a shot in the gut. Probably our most relentlessly heavy tune as well. That's probably the only one I could see myself performing at my old age.
What's your favorite Hot Cross song and why?
Honestly, I think the entire first EP is my favorite. I love everything we did afterwards, but the circumstances that brought me to the band, the time in my life when those lyrics were written and the experience of that first show make the earliest material the most special for me.
What's the best band to ever come out of Queens?
Damn son! This is tough. The copout answer is the Ramones, but I think in reality it was probably Mobb Deep.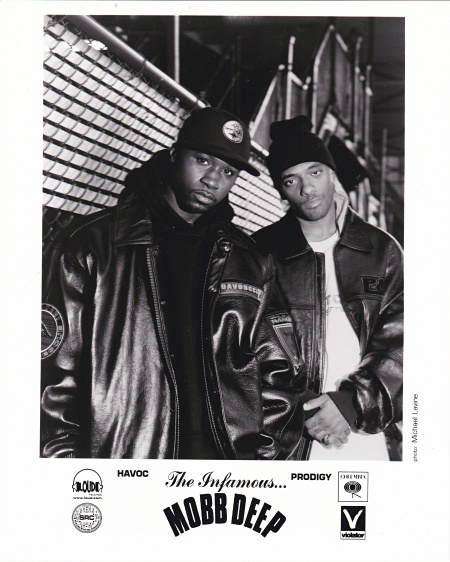 ***
Check out more music from Billy's M//R project on Bandcamp.