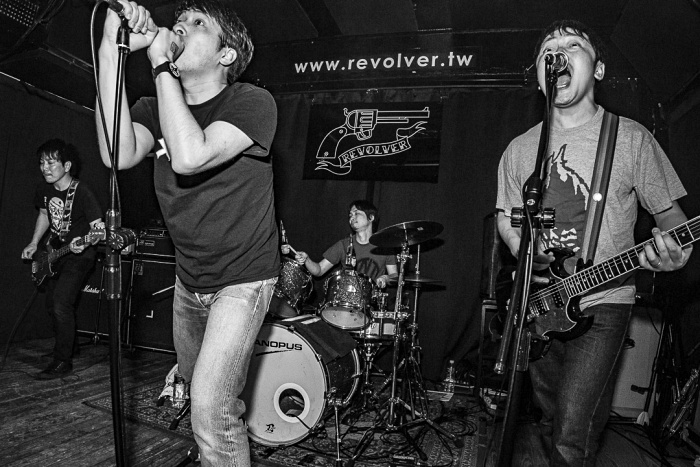 In April 2018, while preparing for my band's upcoming Japanese tour, I perused our show listings. Not a single band name stood out. Were we about to travel across the world to play two weeks of underwhelming shows?
Once in Japan, playing shows, the anxiety quickly dissipated. Each show of the tour included at least one astounding band. The pool of great Japanese bands that are unknown in the US is apparently quite deep.
The second to last show of the tour, in Akihabara, was when the true magic happened. Daiei Spray stepped onto the shin high stage and ripped through the best set of the tour. Every member radiated energy. It was as if Can I Say had just come out and I was watching Dave Smalley lead Dag Nasty through a ferocious set of melodic hardcore. After the show I approached the band to compliment them as well as offer my services if they ever chose to make the trip to the US.
Fast forward to February of this year. With Daiei Spray's new album, Behind the Wall, weeks from release, I was in the process of booking their US tour. Of course, we all know how this story goes. Pandemic breaks out. Tour postponed indefinitely.
Behind the Wall was released in March. It shows a band that's expanded their palette since their last record, Isn't Brazing, without betraying their sound. The songs still carry a heavy dose of driving melodic hardcore, but they're built on flexibility, with an undercurrent of poppiness. Think Naked Raygun and the Chicago sound as much as DC's Revolution Summer.
Guitarist Kyo and bassist Onodera graciously fielded my questions for No Echo's International Hardcore Bands You Need to Know About series.
With the pandemic in full swing, what is the status of the band? Are you able to practice?
Kyo: In Japan, live performances and practice are so difficult.
Onodera: In order to avoid a closed room, it is difficult for the members to gather at live venues and music studios.
How is the pandemic being handled in Japan?
Kyo: Due to the government's request for self-restraint, many stores were closed. After that, business resumed in June. But still, everyday doesn't come back.
Onodera: Injustice is occurring depending on the occupation. Occupations with a high risk of infection cannot operate as usual. Everyone has a hard time because the guarantee from the country is not enough. In live venues, music studios, restaurants and commercial facilities.
Where do you practice? Is it possible to practice in your home or do you have to rent studio space?
Kyo: We book a rental studio and practice. It is Japan's most standard method. Because it is very difficult to practice a band with a loud sound at home in the city. So many bands don't have their own amp. All rentals in the studio.
Where is the band from? How long have you been together?
Kyo: The band was formed in 2004 in Hirosaki City, Aomori Prefecture. In 2008, due to work reasons, only vocalist Yagi and moved to Tokyo and continued activities. It means that we have been active for 16 years
How did you get into punk?
Kyo: I bought a punk CD for the first time when I was 15. It was "White Riot" from the Clash. I remember listening to the Clash for the first time, I felt that it was pop in a light rhythm. I bought a Nirvana CD at about the same time. It was a live album. When I was 17, I first listened to Minor Threat.
As a teenager, I couldn't go to a punk band gig because I lived in the country. So I bought a Snuffy Smile record when I was 19 years old. I was excited about Snuffy Smile's activities. For example, Snuffy invited many overseas bands by DIY. CDs and records released from Snuffy are very cheap price. All the concepts of punk up until now have been destroyed. I thought this is a real punk.
Onodera: When I was a teenager, it was the end of the '90s, and the mainstream was the trendy loud rock. But it didn't suit me, I was listening to thrash metal from the '80s. Such bands cover Discharge, Minor Threat, Verbal Abuse, and Raw Power. So I listened to the original band's song. I was completely into that side (hardcore punk)!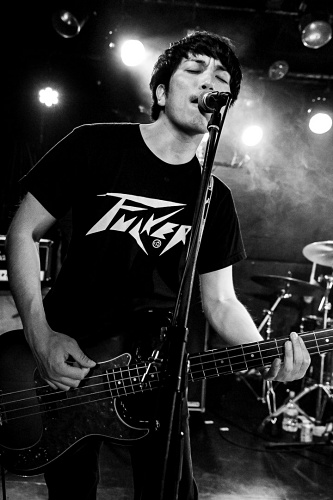 Have you toured outside Japan? Have you toured or visited the US before?
Kyo: Daiei Spray had shows in Taiwan in 2019 and Korea in 2020. It was so much fun. On a personal trip, I went to New York, DC and LA! I haven't been to the US to tour in a band.
What made you decide to tour the US?
Kyo: Our music is influenced by many bands. Especially American punk hardcore is really special. Hüsker Dü, Replacements, Lemonheads, Naked Raygun, Bhopal Stiffs. American hardcore punk really has a big influence on our music. It's been my dream since I was a teenager to play in a band in the US once in my life.
Onodera: I definitely want to do a tour of the United States. It was something we always talked about. There are too many bands I admire, so I want to make the tour happen soon!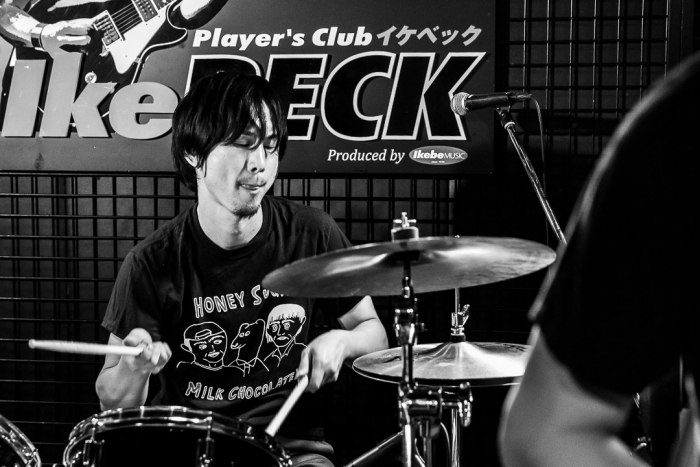 How did the new LP come about? How do you think it compares to your previous records?
Kyo: It's released from Debauchmood and the band's Sakanade Records label. In order to grow up to the next stage from the 1st album, we implemented a pretty hard practice. The songs were also made for the album, and have variations.I think that we got a good evaluation. By the way, we don't have LPs anymore. Available sale in Sorry State Records in US. We are looking for an international release.
Onodera: Because there are so many songs, we could play various types of songs! We spent a lot of time to write songs! I think we have created the best sound source we can do now!
What's going on in your local scene? Any bands that you would like to give some attention to?
Kyo: There were so many live shows before the Corona turmoil. It's a difficult situation right now, but everyone is trying to move forward little by little. For young bands, Prom, Wetnap and Sagosaid are cool. In our generation, I am interested in The Savages's new one.
Onodera: Wipes and Don Karnage (Hokkaido) are also young, powerful and cool!
***
Behind the Wall is available on vinyl in the US via Sorry State Records. You can also download it on Bandcamp directly from Daiei Spray.
Daiei Spray on social media: Facebook | Bandcamp
***
Donate a few bucks to help with No Echo's operating costs:
***
Tagged: daiei spray, international hardcore bands