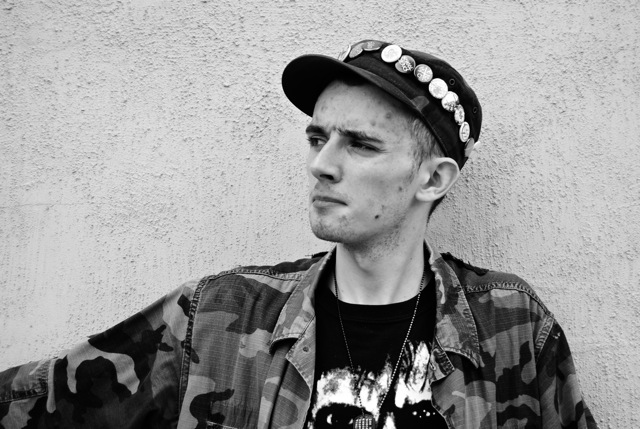 David Franklin is a music head who is a contributing member of the Detroit hardcore scene. A zinester (Criminal Behavior) and photographer, he also runs DetroitPunk.org, a calendar site where folks can check out upcoming gigs in the area.
Today, I'm focusing on David's camera work in a new Photographer Spotlight piece.
Where were you born and raised, and were your parents into the arts?
I was born and raised in the metro Detroit area, and I've lived in a town immediately north of Detroit called Ferndale for most of my life. It's a town that's heavily artsy and friendly towards music, so it definitely helped with my love of music and art in general. Both of my parents were and are into the arts. My mom loves that '70s-era classic rock and some forms of art that I'm not really able to describe, but it's pleasing to the eye, I'll say that much. My dad used to play in a metal band (nothing really notable, but a band nonetheless) in the '80s, and he still periodically writes his own music when he's not working. He showed me a lot of the first metal bands I would get into when I was about 14, and my interest grew from there. Now I usually try to show him bands more than have him show me bands, however.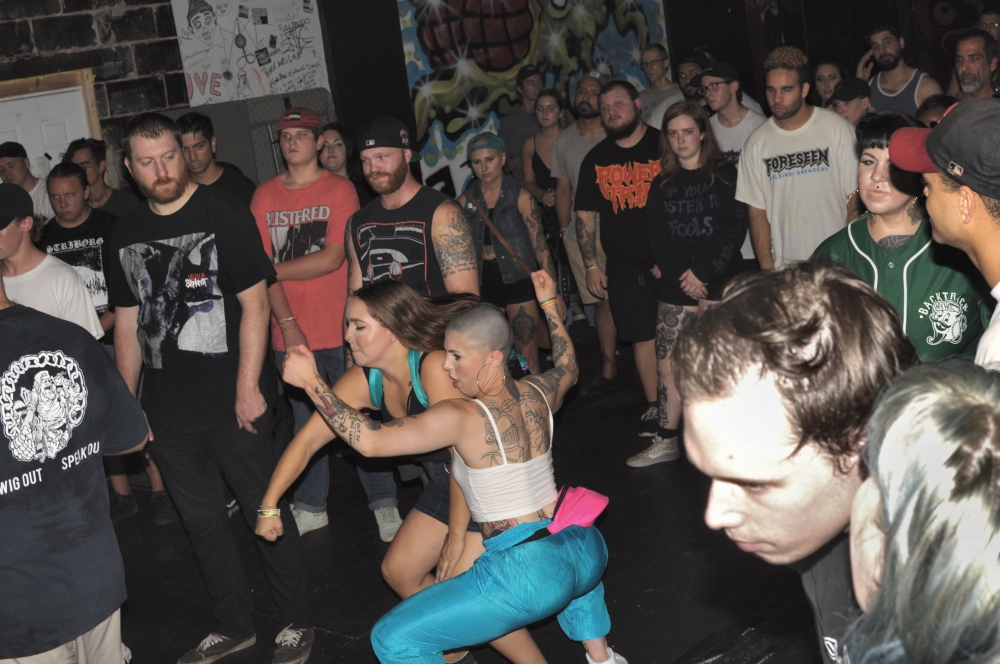 What came first, your love for music, or your love for photography?
My love of music came first, without a doubt. I have always enjoyed music in some form or another, but I didn't dive head first into it until I was about 14 or so. My love for photography came when I got involved in the local music scene when I was 19-20. I used to just shoot bands that I liked when I was at shows, but eventually I saw that there weren't too many people taking and posting pictures of bands at the shows that I went to, so I decided to buy a camera and do it myself. Something's better than nothing, right?
What was your first musical love?
My first musical love was probably Metallica. There were always bands playing in the background when I was growing up (my mom told me that apparently the first song I ever sang was "Come Sail Away" by Styx, when I was 2 or 3), but the first one that really grabbed my attention that I had to know more about was Metallica. Metallica is the seminal Bay Area metal band from the '80s, and I learned about them from my dad. If memory serves right, I was eating dinner with him one night and he put on the Black Album, and the riff to "Enter Sandman" came on, and it was just so heavy and catchy that I started asking him about it, and he was only too happy to tell me.
Other bands that really got me deeper into music were Black Flag and Dead Kennedys, both hardcore punk bands from California. I found out about those from buying CDs at an FYE for my 16th birthday. I'd heard the band names before, but I had never heard the music. Along with an Anthrax album, I decided to take a chance on them, the First Four Years and Bedtime for Democracy, respectively. And since then, I have never looked back.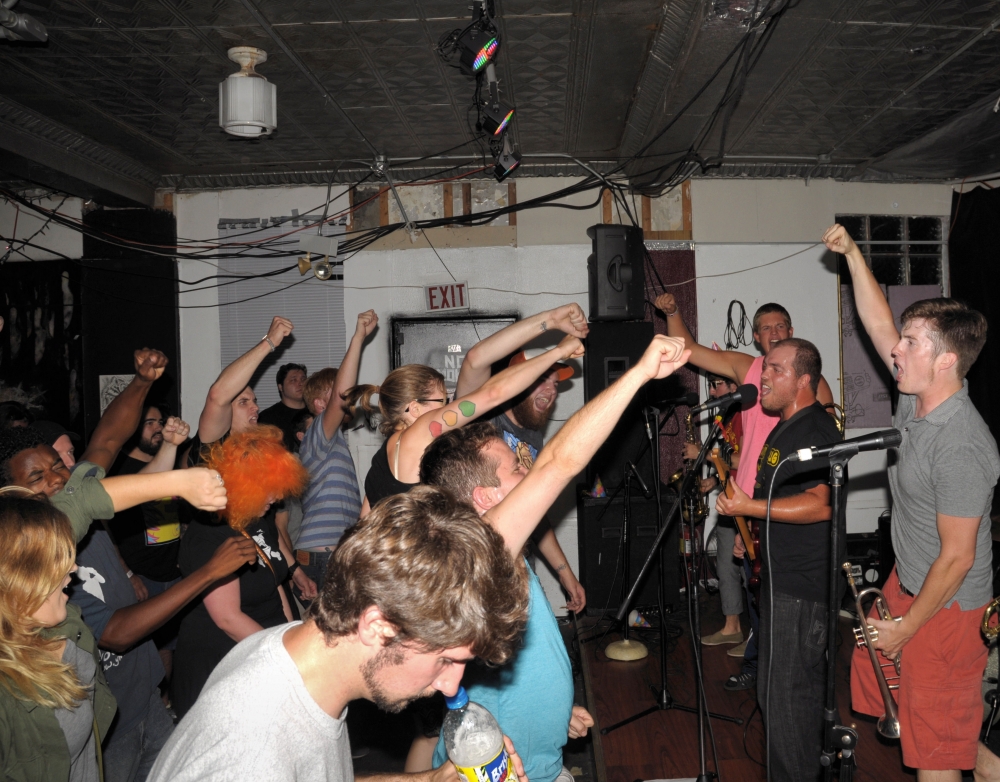 Who were some of the photographers you looked up to during your formative years?
Hmm... interestingly enough, I started doing photography largely due to a boredom with the lack of area photographers. However, after I started doing photography, there were a number of other ones that I discovered or met whose work I enjoy. Primary among them is Chris Boarts Larson, who was based out of New York City and now Richmond. She also did her own newsprint zine [Slug & Lettuce], which is another influence I had. Glen E. Friedman and Ken Salerno too... those early '80s hardcore/skateboard photographers' work is exemplary.
What is your camera and post set up?
My camera at the moment is a used Nikon D5000. I usually prefer to shoot with a 35mm lens, but sometimes I switch it up if I can't get close enough to the band or the audience. I don't have much of a post set up besides a SB300 external flash and a basic tripod, mostly because almost all of the shooting I do is during concerts, so I don't have much time or room to set up.
Who are some of your favorite bands to shoot?
Freedom from Detroit. GLUE from Texas. Harms Way from Chicago. Bane from Massachusetts. Power Trip from Texas. Hellmouth from Detroit. The Suicide Machines from Detroit. All energetic shows, accomodating and nice people, just excellent all around.
If you could go back in time, who are some bands that you would have loved to shoot?
The 1980s hardcore punk scene. Negative Approach, SS Decontrol, Minor Threat, The Germs, Black Flag, Bad Brains, those kinds of bands. Oh, and the Dead Boys. Definitely the Dead Boys. I've had the privilege to fulfill some of my fantasies fulfilled in the last couple of years, getting to shoot Judge, MDC, Negative Approach, and a couple others. Even in their old age, they still know how to rip.
What are the toughest aspects to shooting live shows?
The toughest part is avoiding stage dives. Given that almost all of the shows I shoot are metal, hardcore, or punk shows, there's a lot of energy flowing, and sometimes that energy gets to be a whole lot of handle. I find myself ducking and moving a lot, but with that danger comes the liveliness that you absolutely need for a great live show. Indie rock shows are great to experience in a different way, but for a live show photographer, it seems like it isn't much of a challenge just to take pictures of people playing music standing still. There's an innate challenge in getting a great shot with all that wildness going on around you, however. That's what I live to shoot.
Tell me about some newer bands that we should all be on the lookout for.
Pure Hiss from Detroit. Iron Cages from Washington DC. Mercy Blow from Philly/DE. Motor City Madness from Detroit. Small Stresses from Detroit. Gatecreeper from Arizona. Tarantula from Chicago. All are some great bands, composed of great people.
Who are some modern-day photographers that you admire?
Angela Owens, from NYC (used to be Boston and NC). Farrah Skeiky from Washington DC. Kenny Karpov, who is somewhere in Europe at the moment but is originally from Detroit. Todd Pollock from Boston. They all do great work.
If you had to pick one of your photos that best encapsulates why you love shooting bands/artists, which one would it by and why?
It would be this one that I have of the Suicide Machines in 2014, at an annual event we have here in Detroit called "Black Christmas," and there's just this guy mid-stage dive, captured right in the middle of the photo as the band plays to the left of him, and it is precisely that energy that I aim to catch when I shoot live shows. It's that release of energy that makes us come to these shows and gives some of us a reason for existence every day.
***
Follow Dave on Instagram to see more his work.
Tagged: photographer spotlight