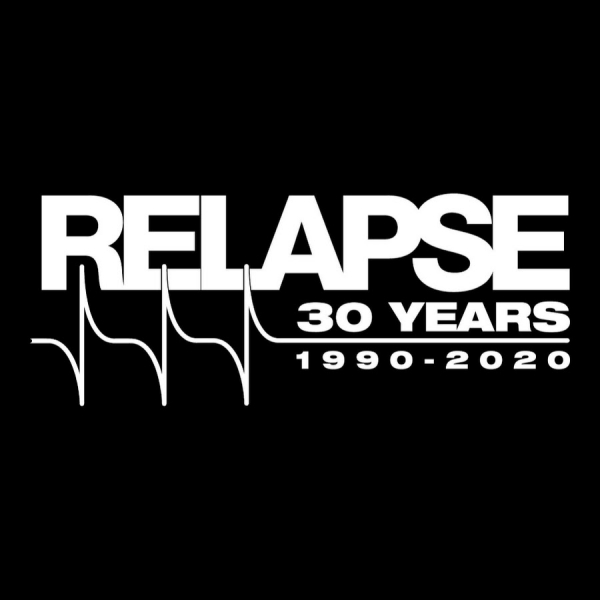 Reading through the roster of Relapse Records is like reciting a metallic Hall of Fame ballot: Incantation, Neurosis, Brutal Truth, Amorphis, Burnt by the Sun, Dillinger Escape Plan, Dying Fetus, Pig Destroyer, Nile, Mastodon, Disfear, Nasum, High on Fire, Baroness, Today Is the Day.
Last year marked three decades of the label's stranglehold on forward-thinking extremity. Much has been made of this veritable assembly line of classics. The Pennsylvania-based company has released enough watershed records to hang their hats on, but instead push on into another new era of uncharted territory.
Aside from gifting us another absolutely incredible year of releases in 2020, even their reissues are slabs of perfection. Look no further than the recent repress of Retestation by Japanese legends GISM.
The minimal and austere electrocardiogram that adorns their logo is as much a seal of approval as it is an identifier. Few labels can boast a track record solid enough to make a blind record store purchase feel less like a gamble than it does an inevitability of awesome.
I'm here to dust off some records that deserve another look, if not the golden shine of some heralded classics.
Author, musician, and friend Jason Netherton (Misery Index, Dying Fetus, Asphalt Graves) was kind enough to put words to one of my favorite albums. As they say, "Let's fucking go!"
Agenda of Swine, Waves of Human Suffering (2008)
It's fitting for this feature that track 5 is called "Amongst the Forgotten." Unfortunately, this album never really made waves back then, and even less today.
Waves of Human Suffering is a riff-driven attack grounded primarily in metal but drenched with heavy doses of spastic thrashcore, spearheaded by the inimitable voice of Pete Pontikoff (formerly of Benümb).
It's Pete's unhinged and ferocious vocals that really bring this to life; saying he is "off the rails" would be an understatement; from the painful bellowing of "Decimation of World Trade Through Organization" to the rapid fire verses of "End of All Ends," Pontikoff unleashes a powerful and sincere plea for some measure of humanity and justice amid the slow choke of Bush-era neoliberal politics.
On top of this, the Zach Ohren production is monstrous, channelling a warm/analog, old Morrisound vibe that holds up well over time.
Nothing ever sounds dated; the music and politics of this album are just as essential for 2021 as they were in 2008.
*By Jason Netherton
Blockheads, This World Is Dead (2013)
By the time this dropped in 2013, the French speedfreaks known as Blockheads had already been peddling their frenzied grindcore for twenty plus years. Their sole Relapse release is an endurance test for the uninitiated... 25 tracks scattered across the better part of an hour is no easy ask.
Though few grind-oriented bands can manage to corral your attention across a 40-plus minute runtime, these wild ones aren't your average band.
Fucking with tempo and, at times, drenching the twenty five track collection with nihilistic sludge and apocalyptic power violence; the violent yet resigned nihilism of Blockheads is eerily prescient when seen through a modern lens.
It also features one of my favorite drumming performances ever. The post-Nasum attention lent to grindcore raised a lot of ships but, sadly, this manic masterpiece never got its due.
For me, they'll sit alongside oft-ignored but God-tier bands like Antigama and Maruta. FFO: grindcore, the devil, and more.
Benümb, By Means of Upheaval (2003)
It didn't take long for Pete Ponitkoff to appear again, huh? There's a reason he's one of my favorite all-time vocalists. At times, it feels like he's attempting a land speed record for cramming lyrics into the songs. His hurried and urgent vibes are all the more impressive when you realize they're mostly decipherable.
By Means of Upheaval is top tier, crusty, and pummeling grindy hardcore made all the more ferocious with his unhinged approach. While they're revered by those that imbibe their chaotic brew, I've long thought they deserve a renaissance.
This is yet another LP that, thematically speaking, is sadly timeless. It's an anti-fascist blitz meant to overwhelm the senses, dropping 22 tracks in less time than it takes to watch a shitty sitcom.
Benümb trade in suffocating, breakneck tempos, throwing panned call and response barks against a wall of treble and cracking snare.
The whole thing is a triumph of socially aware and scabrous devastation.
Publicist UK, Forgive Yourself (2015)
Relapse's wildly varied roster doesn't get enough recognition from some corners. As wide ranging as the label may be, the career arc of one Dave Witte is all the more unbelievable. Publicist UK's dynamic killer post-punk brings to mind Killing Joke, Joy Division, and most of all, SWANS.
The vocals disarm and waver in a manner similar to Michael Gira, but the band trades in a far more propulsive sound.
There are bits that remind me of contemporaries Beastmilk, mostly in that their unique variant on an older sound is updated with metallic teeth sprinkled throughout.
At times, it hits a sweet spot that preempted the emergence of "big room" post-punk a la Protomartyr, Fontaines DC, and IDLES.
The riffing here, even when upping the urgency and intensity, is dense and layered.
Publicist UK embraces some of the elements that allowed for a full-blown shoegaze revival. Keep your eyes peeled for more Witte. That dude is only on albums that rule.
Liberteer, Better to Die on Your Feet Than Live on Your Knees (2012)
If you take any of my recommendations, make it this one. Matt Widener of Exhumed, Cretin, and County Medical Examiners crafted a one-man grindcore masterwork. It feels as much an anarchist manifesto as it does an album and plays like a carnival of liberation.
Every corner of this thing brings something unexpected, be it banjos, mandolin, Civil War era drumming, synthetic horns, or classical music. It seamlessly weaves these disparate threads into its tapestry of extreme metallic grindcore.
Tagged as a passion project perhaps sold this one short, as it's the sort of confrontational triumph that embraces every bell and whistle yet still gives itself to song service.
Better to Die on Your Feet Than Live on Your Knees is a superb collection of songs that just happens to come with instructions on how to make good trouble.
Free yourself from the expectations of a genre exercise and Liberteer will stun you.
Royal Thunder, CVI (2012)
The early 'oughts had an absolute glut of '70s stoner, doom, and occult bands paying tribute to the Sabbathian strain of metal. The cream always rises as it's wont to do, but Royal Thunder is truly the one that got away.
Mlny Parsonz has the sort of generational voice that should be somehow bronzed and worshipped. Her bluesy roar is equal parts Janis Joplin, Ozzy Osbourne, and the world-haunting howl of a banshee.
Musically, the Atlanta crüe tie together bits of Zeppelin, proto doom, and retro riffs otherwise unclaimed by Graveyard or Witchcraft.
Royal Thunder knew how to weave longer yet focused jam sessions that never failed to captivate for the runtime.
The group dropped a few full-length records and were varied enough to be welcomed at both Hellfest and opening for Wilco. Essential listening for fans of Lucifer, Devil's Blood, and rock 'n' roll. Get on it.
Bodychoke, Cold River Songs (2009)
There are a gaggle of groups that manage to mangle noise music in gloriously abusive ways. Bodychoke's singular sound is done to the goldest of standards. As experimental or intentionally trying as it is, they still show up armed with great "songs."
Just so happens that said songs are ambient, punishing, calm, and atonal. This is fucked up and inherently ugly music.
Featuring members of the also essential Sutcliffe Jugend, this should serve fans of Merzbow, Killing Joke, Cop Shoot Cop, and Zeni Geva. Rad stuff. Bring earplugs.
Nux Vomica, Nux Vomica (2014)
Baltimore knew what we had when this band was peddling their long form crust punk. Fittingly, the Nux punks relocated to Portland and, at long last, dropped their Relapse debut. Always a bit long in the tooth, no one expected a three track cycle clocking in at 44 minutes.
Nux Vomica''s metallic D-beat attack took their earthy and more adventurous elements to their furthest corners with this one.
The atmosphere is suffocating and almost world-building here. They married the apocalypse-baiting sounds of His Hero Is Gone to post-rock patient payoff.
Even when they slow it down and incorporate acoustic moments of serenity, it's only to disarm and unsettle. The twin guitar work is easily a high point in a genre often known for muting its flashier inclinations, resulting in some of the best the genre has ever seen.
They wedge bits of melodeath in there, too, and should appeal to fans of Fall of Efrafa, Remains of the Day, Sacrilege, and Downfall of Gaia.
Unless you're Neil Young, Neurosis, or Nux Vomica, I probably don't want to hear your 11-minute song. Good company.
Brain Tentacles, Brain Tentacles (2016)
Dave Witte but now for something completely different. Anchored though it might be to extreme music, it's likely only down to the players involved. At its core, Brain Tentacles is absolutely bonkers.
Going as far afield as they please, it's true weirdo music and, to be honest, it's perhaps the oddest thing the well traveled drummer has ever played on (if you can believe it!).
If you're looking for down the line brutality, it's best to look elsewhere. Brain Tentacles is likely to garner comparisons to Naked City but that's likely down to Bruce Lamont's saxophone skronk.
The band relishes the strange and experimental, incorporating everything from polyrhythms, acid jazz, sludge, and anything else your expanding mind can conjur.
***
No Echo has launched a Patreon with 3 tiers offering all kinds of hardcore-related goodies to help support the site:
***
Tagged: agenda of swine, benumb, slept-on records from classic labels