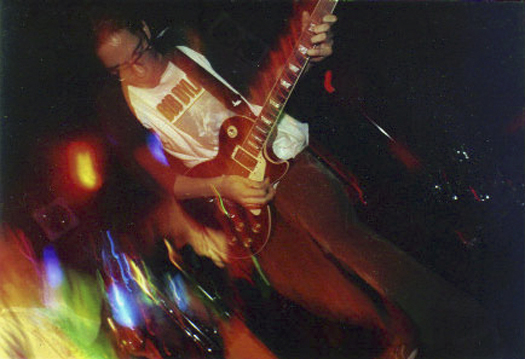 For reasons that have always escaped me, Stillsuit never achieved the respect they deserved during their run in the '90s. Cooking up an intense, bold, and forward-thinking stew of post-hardcore, the Queens, NY-based quartet's discography only released an EP and one studio album before breaking up, but the stuff is unquestionably essential. If you love such like-minded outfits as Burn and Threadbare, you should have some Stillsuit in your life.
Stillsuit might have broken up prematurely in the late-'90s, but its members have gone on to play in bands like Glassjaw, Crown of Thornz, and Saves the Day. I recently spoke with guitarist Orlando Arce to talk about his time in Stillsuit and his current projects, on and off stage.
When and where were you born?
I was born on the first of February 1976 at Elmhurst Hospital in Queens. I grew up in Long Island City with my parents and brother.
That's nuts. I literally grew up across the street from that hospital, on Baxter Ave. What's your parents' nationality?
My father is of Puerto Rican descent, and my mom is of Ecuadorian descent. We lived in Long Island City until 1983. We then moved to Woodside projects, or shall I say Woodside Houses now, where everyone was blasting Run-D.M.C. and other rap music from their boomboxes in the courtyards. While living there I soaked up graffiti, breakdancing, and rap music.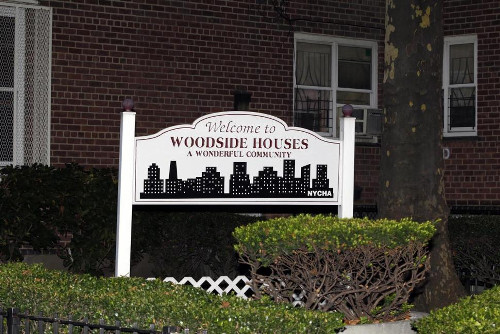 My parents are from Colombia and Ecuador and could not relate to the music I gravitated towards as a kid. How did your parents react to your love for heavy music?
My parents did not mind at all, they were always encouraging when it came down to music or anything they saw that would get my attention for more than five minutes that was positive. At a very early age, my father would play salsa, The Beatles, or tune into radio stations like WBLS or 98.7 KISS FM. When I was a kid, I would say music was always in the forefront or background in my household.
So by 1987, when I would lock myself in my room to figure out Zeppelin, Guns N' Roses, and Metallica after school, they were cool with it. They already had a feeling I was going to be in this for the long haul. Looking at it now, I guess my parents were glad that I wasn't running around in the streets getting into trouble, which was very easy to do back then.
SEE ALSO: Queens, New York: A Look at NYHC Ground Zero
At what point did you get into more underground music?
While roaming the halls of Art and Design High School I was handed a bluish tape with a skinhead sitting, head down, and that pretty much changed everything from that point on. The timing couldn't have been more perfect. I had met [future Stillsuit bassist] Manuel Carrero, who was very immersed in many types of music and very generous in sharing his excitement for it. I also met my good friends from Stuyvesant High School who were into metal and hardcore, and had already begun to go to hardcore shows. I feel like I was lucky enough to be surrounded by musical people all my life. By the time I was in high school, I had met the people I would play in a band with, go to shows with, and have strong lasting friendships that endure to this day.
Who were your guitar influences growing up?
I'll never forget watching Van Halen's Live Without a Net over and over on a VHS tape I recorded off the TV. Watching Eddie's solo spot and thinking to myself, "I have to figure that out, or at least try to." That led me to research others that had a similar style, like Racer X's Paul Gilbert, Steve Vai, Joe Satriani, and White Lion's Vito Bratta, who I think is such an overlooked guitarist. Guitar and Guitar World magazines helped me out tons, but it didn't take me long to find out that playing in that fashion took a specific kind of dedication that centered only around the art of soloing. By then, I was becoming interested in riffs, chords, and composition—which I found in players like Jimmy Page and his work with Led Zeppelin—and then '90s metal and hard rock bands; and, of course, hardcore and punk music.
Was Stillsuit the first serious band you played in? If not, what other bands did you play in?
Stillsuit was the first serious band I wanted to do and only do at the time, though I had the privilege and honor of playing in other bands during the '90s and after, some of which lasted a show or two, or a short tour which was with Shift and Yuppicide. Then, in 2001, with Burn at CBGB's for the last Cro-Mags reunion with Harley Flanagan and John Joseph. I still can't believe I was even considered to play with Burn, they were the Bad Brains of my time. Gavin Van Vlack raised the bar on what you can do with the genre, and it made me realize there was so much more to explore with hardcore and punk music. Such great musicianship and showmanship that would fill the room with the craziest energy. I just saw them play at Santo's Party House, and they did not let down. They have always been very impactful to not only myself, but I'm sure to many people of my era.
How did Stillsuit form, and how long had you known the guys in the band before you started?
Stillsuit was originally called Standoff, and it started with Manny and I. We put up a flyer for a drummer, singer, and second guitarist at [classic NYC record store] Bleecker Bob's and got a call back from Harry [Minas] and Frank [Smarra], who would later form 25 ta Life. We had a couple of rehearsals, and two shows with Harry. Though they wanted to pursue a different musical direction, so did we, but fortunately from that meeting we were lucky enough to be introduced to [drummer] Dimi [Douvas] at a joint rehearsal one afternoon with his band at that time, Origins, in his basement/rehearsal space. [Vocalist] Julian [Vasquez] was hard to miss as he was at all the shows back then, and fully immersed in the scene. He was a crazy pit dancer as I remember. He was really enthusiastic and a ball of energy that was utterly unpredictable. When he showed up at a recreation center we used to rehearse at to see if it would go over well in front of an audience, we got the kids there jumping around and applauding. Let's just say we knew we had found our singer.
What I appreciated from the first time I heard you guys was the thoughtful, melodic kind of direction you wrote in. Did you guys have a clear outlook of what style you wanted to write in during the early period of the band?
Well, we had many similar musical tastes by the time we had formed, and we always shared anything new we discovered, whether it was something new musically, or even playing-wise, which was good because all we had to do was practice and see if it hit or missed. This led to a discovery of many new avenues of style and composition. Did we know what we were doing? I can't say for sure, but we were striving to do something different while retaining that feeling we got from listening to heavy music or anything else we were digging at that time. I think little by little it became more focused and clearer, but that came from a lot rehearsing and trial and error, at least from my playing end. Manny was great at recording all of our practices, which sped up the process of actually hearing what was good and worth pursuing or discarding.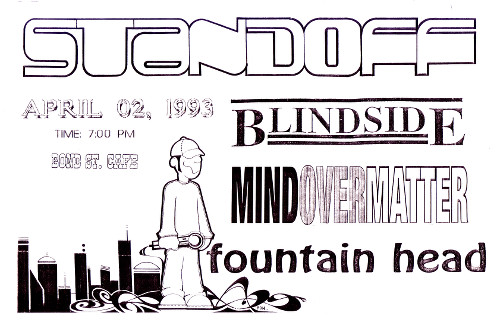 Stillsuit and Shift were part of a new wave of post-hardcore bands in the early- to mid-'90s. What other bands from the time did you feel were also part of that?
They were so many awesome bands at that time, some played a few show and others fought hard to be heard and have some staying power. I would say Shift is the first of this wave of '90s bands. They were the first local band I saw book their own shows, making it clear that it could be done. I give them full marks on that. Our home base for shows, in the beginning, was a place called Bond Street Café. It was a great place to test the grounds and fine-tune your band. There were bands from Queens, such as Blindside NYC, and a lot of Long Island bands like Mind Over Matter, Clockwise, Neglect, Garden Variety, Loyal to None, and Wheelchair, who were really dope.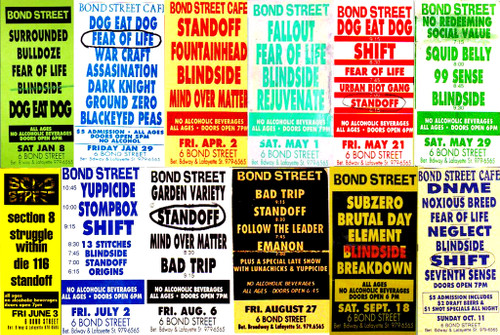 After your demo, you signed on with Wreck-Age, a NYC label co-owned by Pavlos Ioanidis and Amber Green that was vital to the underground scene there during that time.
Julian had a job offer outside New York. He went, but decided to come back to NYC, which solidified the fact that we needed to do this for real, so the first thing in order was to record a demo, which we did at Eddie Sperry's studio located in the financial district of Manhattan. The demo was a very important thing to do back then to get many goals accomplished—whether it be getting shows, listeners, or possible label interest.
It got into the hands of [producer] Don Fury and he totally dug it. We recorded a live 2-track of everything, and then properly recorded six songs for an EP. He was going to shop that around to different hardcore labels and see if anyone was interested. We approached different labels at the time, Wreck-Age was the one willing to work with our specific situation. Working with them was a learning experience. We had never signed with anyone before, so everything was new. I feel that they did a great job releasing it and promoting it. The Green Spock Ears EP is also my favorite cover of the two releases, which was done by the talented Margaret Danek. There's a video called Unliked which features bands from the label that captures the spirit of that time in the mid '90s.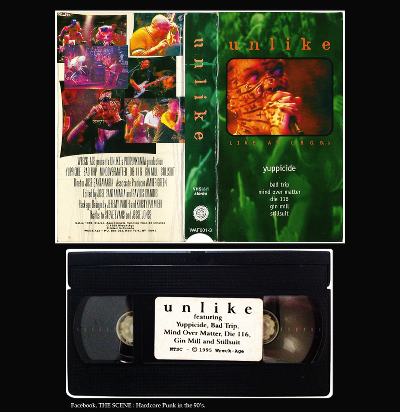 Dude, Green Spock Ears is such a killer EP! I clearly remember getting the CD at Generation Records when it first came out and listening to it on the way back home. It didn't leave my car stereo for weeks. Do you remember what the reviews were like?
Thanks, man, for digging it, for sure. Overall, the reviews were all awesome and positive, which was a sigh of relief for me because I really believed in what we were doing. We put in a lot of hard work for that EP before and during. I don't think it shook the foundation, but I was glad we made some hair cracks on the pavement, so to speak. You've gotta think, we were still somewhat young [ages 17 - 21] and trying to make some noise in a scene filled with a lot of talent.
The rhythm section of Manuel Carrero and Dimi Douvas was ridiculous. There was so much fluidity in the arrangements. From a guitarist standpoint, what was it like working with them?
I have to say I had it good for someone who just wanted to play avant/blues noise most of the time. They allowed me to paint the picture as I chose, either with fine strokes or Jackson Pollock-esque splashes of notes and sounds, because I knew they were going to be on point. When we were just about to record the EP, my friend Joe Velour [guitarist in Blindside NYC and Hello Phones] lent me a 4-track and a drum machine, which really allowed me to write quickly any ideas and songs that came to mind. I would then hand over the tapes to the band. They would learn it, or get the feel of it, and do it their way. We would also write together, record it, take it home, and write other parts, but as a guitarist in a band I couldn't have asked for more than Dimi and Manny. They're a tight unit and brought a fresh new perspective to many of the songs and sounds that we created.
SEE ALSO: 2015 interview with Tom Sheehan (Indecision, Most Precious Blood)
As you mentioned earlier, Don Fury recorded the Green Spock Ears sessions. Whenever I've had the chance to interview a musician who has worked with him, I always ask them what it was like to be in the studio with him.
It was a work and work more environment. Don wants to get the vibe going as soon as you get downstairs, so he has his equipment turned on to warm the place up. The mics were always set up, ready to record. I remember we would play a song until we got some proper takes, listen to them, and then pick the best drum takes of a particular set of songs we were doing, which took a couple of days. Then the bass would be tracked. Guitar was third to be tackled, which took a couple of days because sometimes we would try different approaches and sounds, which I didn't mind because I love the recording process. Vocals were done last. I couldn't tell you much about that because that was between Julian and Don. I would be upstairs watching TV and pop in once in a while, but left them to their own process. To add to that, Don had done so many of my favorite hardcore recordings, and I always felt we were in the right place with the right person to record those songs.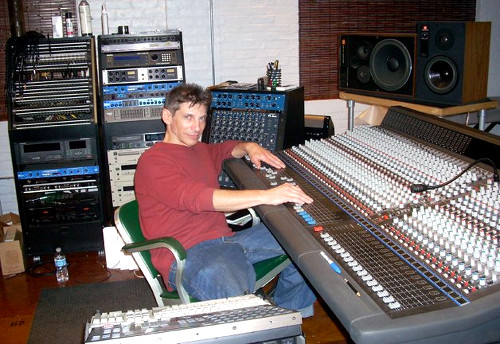 Did Stillsuit do any touring in support of the EP?
We played some shows in the city with Into Another, Shift, and Quicksand in places like Burlington, Vermont; and some more out-of-state shows with Cast Iron Hike, a band from Massachusetts who were kick-ass. The shows were fun and unpredictable, sometimes many people would be there, and sometimes only a few, but it didn't matter to us because we just wanted to get out there and play as much as we could.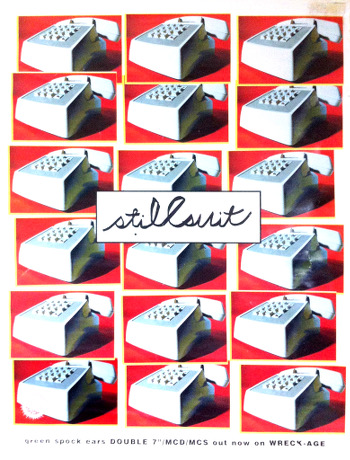 After the EP, the band ended up staying with Don Fury when he landed a label imprint under the TVT Records umbrella. Did you guys talk to any other labels?
We talked to Equal Vision and Blackout. Just talked, but we stayed with Don Fury because at that point we had a chemistry going with him that worked. When the TVT/Building Records talks came about, both parties knew it would be in their interest to pursue it. Sean Roberts, who was A&R at TVT, really dug what we were doing and understood where we were coming from and really went the extra mile to get it done. I can't thank him enough for believing in what we were doing.
Stillsuit's sole album, At the Speed of Light, came out in 1996. Was there any tension between the band and Don Fury during the sessions since the album was going to be hugely important for both parties?

I didn't find any tension between us and Don. The pressure was more on ourselves to create something we could be proud of, but that pressure should be there whether you're signed or not. When you get the chance to do something that many wish they could do, you do everything possible to do your best. Signing to Building/TVT Records was a big deal for the type of band we were. Playing this type of music that has intense vocals, odd time signatures, and no guarantees of number one hits on Billboard was a gamble for the label. Now the range and palette of this style of music has been explored by many bands and has been refined, which is really great.
Did anyone from TVT offer input during the album sessions? Did you guys write anything you thought could possibly find radio support?
There was no input from the label. We always wrote for ourselves with the intention to capture the moment. Radio single suggestions, if that happened, came only after everything was finished, and from the standpoint of which song had the potential to be played on the radio after the fact. I remember Don would suggest to try something once or twice, but I don't think it was to make the track specific for radio play.
A third of the album was already written before we even started the recording process. I wrote some on the 4-track before recording, and a couple were written in the studio as a band, such as "...And the Winner Is," which was a Jimmy Page-like dissonant riff I had been messing with that had no chorus or other parts. I brought it to Julian, Dimi, and Manny and they brought it to life. It was like that with most of the songs that made it onto the album and EP. They were dead until I brought them to the band. Radio play was not swimming in my head, but that's me, I can't speak for anyone else.
Once At the Speed of Light hit stores, do you think TVT's marketing and publicity departments did a good job of working the album?
It was in national chains like Tower Records, as well as local downtown NYC stores like Generation Records. TVT/Building had great distribution and connections in the industry. Interviews where done and a TVT sampler was done where other artist on the label were also showcased. I can't complain at all. We had ads in Sound Views, The Village Voice, CMJ, Metal Edge, and Maximumrocknroll, to name a few. Now that I remember, were were even on MTV's Week in Rock in the segment where Kurt Loder would let you know of the current artists and releases of the week. I wish we had done more underground hardcore zines in retrospect, but the label did push the album well.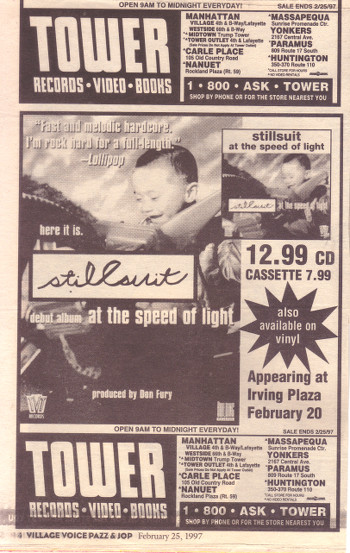 What kind of touring did you do for the album campaign?
Let's see, the album was released on February 18, 1997, and we then went to play a succession of shows in April and May of that year with Downset, Earth Crisis, and V.O.D. throughout the east and west coasts. We played Foundations, which was the CMJ of California; and we were also billed with Orange 9mm, H2O, Handsome, Unsane, and many others. Shows continued on and off well into 1998 because we were already writing new material for another album.
I was at Stillsuit's last show in 1998 at Coney Island High and the band sounded so good. It felt like you guys were just beginning to fire on all cylinders. I was bummed that you decided to pull the plug on the entire thing.

That 1998 show was the last time we played live. At that moment in time, as best my memory can recall, there were some differences, and shall I say outside forces, that weren't conducive to making music. On my behalf, all I can say is that when you're young it's easy to make questionable decisions that don't benefit you, but you try to learn from them and you try to grow as an individual. I would tell 1998 me not to be so hard on yourself, it's gonna be okay.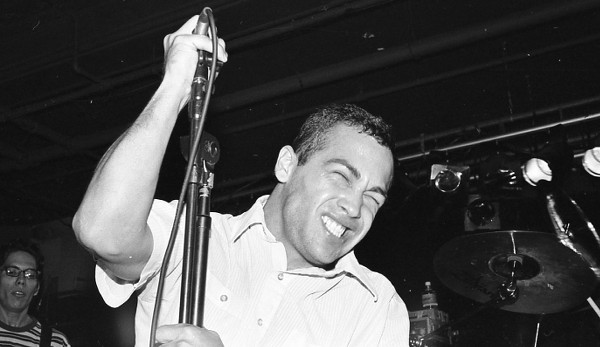 Dimi also played in Crown of Thornz, and Manuel went on to Glassjaw and a lot of other stuff, but I always wondered why you didn't play in another higher profile band after Stillsuit broke up.
I was in several relationships after Stillsuit and was focusing on that solely, which comes with the territory [laughs]. Also, I don't think I put it out there that I wanted to do another band that was like Stillsuit or play loud heavy music at the time. I wanted to explore different types of music like blues, folk, and country. My girlfriend at the time gave me Harry Smith's Anthology of American Folk Music as a present and it blew me away. I couldn't believe that early American music had such a wide scope of style and content that was both magical and ghostly at the same time. It reinvigorated my imagination again, similar to when I first heard hardcore music. All I wanted to do was play music like that, which I did with my brother in a group called the Wheel Brothers. It explored a lot of those early Americana styles with a good dose of Bob Dylan.
These days, you and Dimi are playing together again in a band called Hello Phones. It's such a different sound from Stillsuit.
Hello Phones formed in 2011. My good friend, Joe, who had lent me the 4-track back in the Stillsuit days, and who played in Blindside NYC from the Bond Stret Café days, is someone who I always admired as a musician. We had often talked about playing in a band together because of our mutual interests in art and music, so when he approached me to play bass for Hello Phones I was onboard without hesitation. Both of us grew up on a steady diet of punk, hardcore, new wave, freestyle, and electro, just to name a few musical genres. We thought this could be a perfect vehicle to showcase that. [Vocalist, keyboardist] DonnaFran's musical background and influences range from freestyle music to Beethoveen. She is a well-studied and accomplished piano player/vocalist. Some of the songs we have explore the loud side, and others explore a dance side, but there's also softer sides that have many layers and textures. What's great is we don't feel boxed in to write in a specific style or genre, all the while retaining this New York-ism to it. I always loved how Blondie had many sides to them and different styles from album to album. It always sounded so good and timeless, but current in a weird way. It was very inspiring.
Something else you've been working on is No Echo contributor Freddy Alva's New Breed Documentary 1989.
Freddy is great, and he's someone I have always heard of because of his influence in the NYHC scene with the New Breed tape compilation. With the zines he's produced, such as the New Breed zine and FTW, as well as the Wardance Records label, he's kept busy and gets it done. I've always enjoyed collaborations with people who are creative and equally driven to see projects reach the finish line. I bumped into him in the city in July of last year on my way to FAO Shwartz to take pics and somehow got into a conversation about video, and he introduced the idea of me editing the New Breed documentary, along with John Woods, who would be directing it.
I thought it was a great idea, being a fan of the compilation for many years, and at the same time hungry to edit a new project and challenge myself, so I agreed. Those NYHC years of 1985 to 1989, specifically, are some of the most creative periods for the genre. You had some important cultures mixing together that made it special in its own unique way. One of them being hip-hop culture, which I always thought was the other artistic statement New York was making at that time that had power and weight to what was being expressed by the youth. It's been great helping explore that and many other topics in the documentary, without giving too much away. It'll premiere March 30th at Nitehawk Cinema, and I couldn't be more amped for it.
What else are you doing outside of music and video production?
When I'm not keeping busy with projects or creating at home, I'm being a good son to my folks or a useful friend whenever I can be. I feel very blessed to have the circle of family and friends in my life, and new people that I meet, and I try very much to be a part of their lives.
Thinking back to Stillsuit, would you have done anything differently?
If I had the DeLorean, let's see, it's easy to answer that after the fact, but I would say I would've liked to have done another album or EP at that stage in the game. We were entering another phase musically that would have been interesting to have developed some more and capture. But, you know, having said that, I don't regret anything that's made me into the person I am today.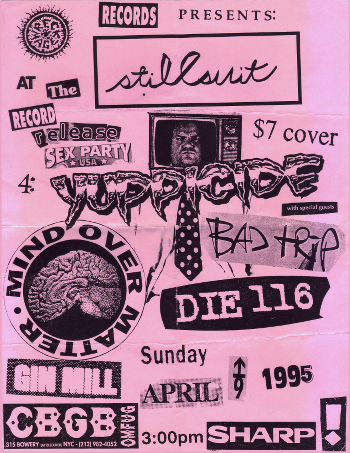 What's your favorite Stillsuit song and why?
I would say "Heartburn," because it has a little of everything from us. We wrote it together in Dimi's basement very quickly and spontaneously, but it was chipped here a little and chipped there a little as it developed. I don't think it ever stopped, as I noticed when I recently saw that last show. We would always have fun with it live and it had good power to it that represented the energy and creativity of Stillsuit.
Would you be open to a Stillsuit reunion?
I wouldn't be opposed to a reunion, as long as the spirit is there to do something special no matter what it is. Having said that, I'm proud of what we did in that span of time together as a band, and as friends. We created art together and formed friendships that'll live on forever. When all is said and done, I love those guys. They will always be my brothers, no matter what, and I'm good with that.
Tagged: stillsuit