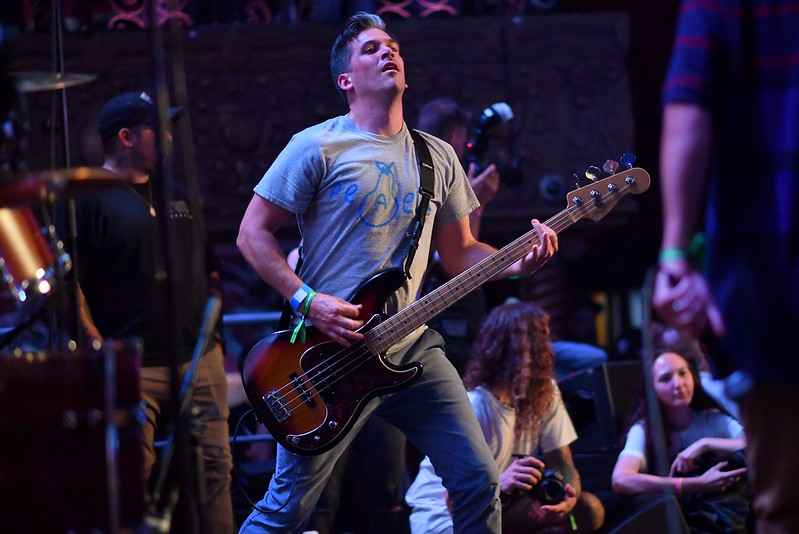 The verdant Hudson Valley has long inspired great art, be it the legions of painters that flocked to capture its lush landscapes or the scribblings of "Man of Letters" Washington Irving. Sadly, said scribe isn't around to capture the New York region's finest and most storied, to our readers at least, export… hardcore, obviously.
Among others, no band embodies that spirit more than Mindforce. Their unfuckwithable catalog has already ensured they'll forever be inextricably linked to the region's rich legacy and, at present, they happen to be my favorite hardcore band on the planet. As if that endlessly industrious band hadn't already launched a grip of killer side projects, the riches keep coming. Just dropped courtesy of the Windy City masters New Morality Zine comes the debut S/T EP by Cape Fade.
The newly minted four-song set was penned and performed damned near its entirety by Nick Haines, bassist of the aforementioned Excalibur-penners. Enlisting bandmate Jay Peta to reclaim his throne behind the drums, the resulting collection is all-too-brief but endlessly enthralling.
At once calling to mind the impossibly diverse first wave of post-hardcore and the innate groove of NYHC, it also stands alone in its unique power and singular sound. I'm honored to have had the chance to catch up with songwriter Nick Haines. Let's get it…
Hudson Valley has always seemed to embody its own unique vibe but has absolutely slayed the last few years. Between Mindforce, Age of Apocalypse, Soul Blind, and others, it feels like it's never been more vibrant. Tell us a bit about the scene, past and present, and what makes it so special.
Damn, the HV is feeling good right now, isn't it? Just this week both End of One and a new band Means of Survival put out some great music. That End of One EP destroys. That shit is a treasure. Shows are picking up, too.
In terms of the past, the hardcore music happening at shows in the Hudson Valley in the late '90s suited me exactly, as it probably did a number of kids who found metal first in their search for hardcore. Because I grew up on Metallica's first few albums and some Roadrunner stuff, everything All Out War did was recognizable to me.

Most of my favorite local bands leaned into hard mosh and metallic shit. It matters so much that the bands are all around you, live in your neighborhoods, attend and participate.
I used to buy tickets to hardcore shows at my local Subway because the singer of my favorite band would sell them during his shift. The Hudson Valley's been good at maintaining few barriers between older heads and kids. No one looks down their noses. And as it turns out right now there's just a wave of people making the area flourish beautifully.
The Mindforce family tree has borne fruit in incredible fashion. From Pillars of Ivory, Sentinel, No Souls Saved, Colossus, Don't Trust A Soul, to your latest. These albums, to me, almost feel like the first wave solo albums from Wu-Tang or their modern analog Griselda. What keeps the relentless creation going? Does doing things like this keep things fresh?
It keeps it fresh, but it's also just what we do. Cooking, always. To continue your analogy, part of the reason those groups are able to produce so much is that people within them begin to influence each other. Scenes are like that, too. Early to mid-'80s DC, late '80s New York, whatever thriving thing: it's people influencing people.
My friends keep me always inspired. And it ends up like—we're looking out for each other. We all wanna make cool shit, and so we come together. It's an oasis from everyday bullshit. It's really special to me.
What was the impetus for this particular project? Like most of us, I'm guessing you had some unplanned free time the last couple years?
I had a bunch of songs, and instead of leaving them to die and moving on, I decided that it would be fun to work on a few of them. These songs are partly from when I was playing around with riffs for a little project Jay and I did a couple years back.
Some of it didn't work for that thing, but I kept thinking about it. Back pocket stuff you kind of find and brush off and polish up.
Aside from getting Jay back behind the kit, what was the process like writing by yourself?
Some people might perceive it as straight-up lonely, but the way it happens is simple: I wait for everyone around me to disappear, and then I write shit. And I try to do that every night.
This sounds dumb, but making riffs for me is partly meditation: one part of me makes and solves these riff puzzles while another part considers other aspects of living: my family, my friends, certain situations, thoughts, ideas. That feels productive, so I try to do it all the time. Writing riffs is honest work.
And then in terms of building it out, it's a part. Then a song, and at some point you do a dummy drum demo. There was a stretch when a made a number of those, maybe twenty or thirty. Mostly garbage, but these were from those, and there's a few more I'd like to use.
And then lucky for me, one of my best friends is also one of my favorite drummers, so it was a no-brainer to ask him. He learned and tracked all the songs in less than two hours. Jay not only is expert at this genre, he plays it with exceptional style.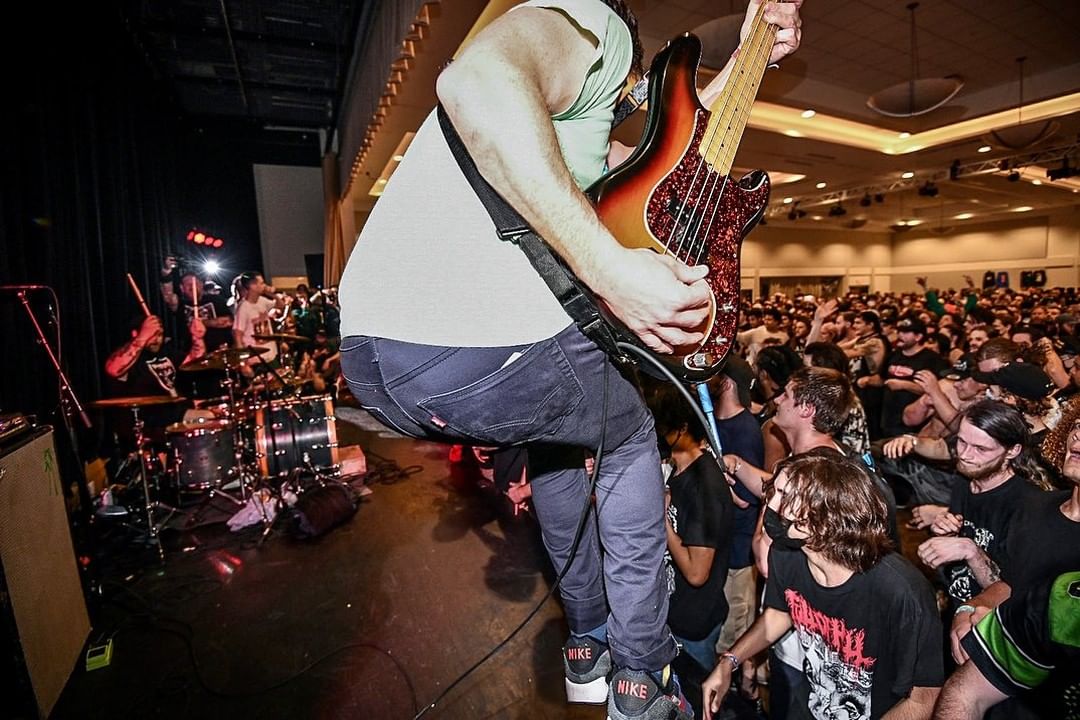 The sample from Woody Allen's Play It Again, Sam that kicks off the record is bleak, but there's a philosophical bent to your lyrics that, while minimal, never feels nihilistic or resigned. What was your inspiration?
In the film, the punchline hits right after the sample ends. It ties in with some lyrics, and I find it funny how easily an interpretation of a performance like that can be changed by altering context. I understand someone whose honest response to life is nihilism, but then there you are, living. You can find a level on which the lives you live and live with are not nothing.
On the other hand, most people overestimate their importance. They think that what they do matters more than it does. I've been thinking about the arrogance in both views. So the sample kind of kicks it off with the nihilism side in the foreground with the other side just in the background.
Obviously, listeners will likely hear a ton of post hardcore influence on this one. I've seen nods to Burn and Stillsuit and that's certainly apt. I also hear a bit of Endpoint, Cast Iron Hike, Sparkmarker, and even a touch of '90s alternative. There are as many moments that absolutely soar as there are crush groove and breakdowns. Walk me through your influences and your relationship with that era.
I mean, some of those bands are DNA-level. When I first tried to find my way to the mythical oasis known as the hardcore show, the bands I considered hardcore, as opposed to metal or whatever, were Orange 9mm, Quicksand, Helmet, maybe Biohazard. All bands that had CDs you could purchase at the Galleria Mall.
I got my first hardcore flyer at a Type O Negative show. Even as I was getting into more of the local metallic hardcore, I still loved all that stuff. So when I started exploring Victory and Rev and Dischord, I loved a lot of bands that blurred some borders between hardcore and that '120 Minutes' world. It's a vast area with a long history and a ton of unbelievable bands.
My favorite track is without a doubt "Your Call." It has an absolutely incredible cadence and that unmistakable groove. There's a bit of a prophetic vibe and somehow gives me Inside Out vibes. Could you dish a bit about that particular song?
Yo, thank you. I tried to make that song that spoke on how your choice on how you see the world matters. It's one place amid the vast impotence of human life where we might have some positive influence. My guess is as good as yours, though. I feel good about a lyric if I've set out to say one thing and when it's done I feel like it expresses just a little more than that.
I love Inside Out, but never thought of them as an influence. That's really cool. I'm sure they're in there.
How'd you get hooked up with New Morality Zine? They're such a great label and logical landing spot for this project.
My friends are everything to me and influence everything I do. I shared some of these songs with a close friend with the plan to drop them on the internet and forget about it, but he encouraged me to try some labels first. I'd been following NMZ, loving the stuff they put out with Rule Them All, Fake Eyes, and Soul Blind.
The fact that they do hardcore stuff but also those other styles obviously drew me in. NMZ was my first choice of label. I'm so grateful to work with them. It's been a dream.
What've you been listening to lately? Anything you want to big up?
In terms of newer hardcore, it's that End of One EP. An unbelievable comeback. I haven't stopped with the Almighty Watching 7-inch since it came out. Age of Apocalypse, Soul Blind, Spaced, Combust, Method of Doubt, that new Terror, Ekulu, Vomit Forth, and SPEED.
Outside of hardcore, I've been listening to YL & Zoomo, Deicide, The Smile, Marvin Gaye, Smif-N-Wessun, Pete Seeger, Smog, Cheap Trick, Killarmy, and Mahavishnu Orchestra.
Also, in terms of big-uping stuff, Will [Hirst] and Gate 4 made this demo actually sound decent. I'm sure everyone's familiar with his incredible bands Restraining Order and Maniac. Kyle [Niland] from Almighty Watching did a knock-out job on the logo and layout. Shout out to him and his label/great newsletter, Scheme. Alex and Nicole at Streets of Hate are HV icons and also incredibly supportive of our bands and are truly the heartbeat of the Hudson Valley.
How can people best keep up with you and your myriad projects? Will these songs ever find the stage? Can we expect any more from Cape Fade?
Cape Fade has no socials yet except Bandcamp. If the right show comes along and it's good timing, I'd be eager to go in on these songs live. Schedules are tough, but I think we'd have fun with it. I'm planning for at least one more recording.
If you want to support me, then you should support Mindforce, support POI, support Sentinel, support War Crimez, support Age of Apocalypse, and really all these bands cooking up in the Hudson Valley and the Northeast.
This sounds really cliche, but when you support your own scene, you support us, too. You never know who your harvest will end up feeding, feel me?
***
The Cape Fade EP is available on all streaming outlets and cassette via New Morality Zine.
***
Help Support What No Echo Does via Patreon:
***