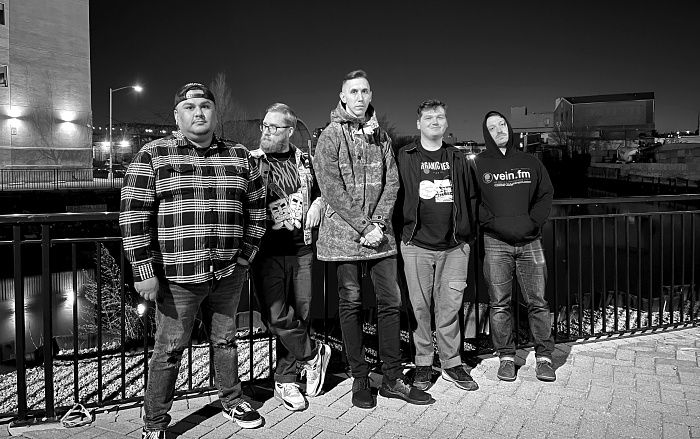 The Deadline is a newer hardcore band hailing from Brooklyn, NY making their debut on No Echo today.
"We decided we wanted to go for a sound that would have blended what we thought were the best elements from early '00s B9, Deathwish, Lockin' Out, etc. without being a carbon copy and still sort of doing our own thing," vocalist Justin deMartine told me about his group's sonic headspace. "Ultimately, we wanted to be a band that you could see playing alongside those bands at Posi Numbers."
The Deadline guitarist Ray Rashid joins the conversation with his 2 cents: "I live for the late '90s, early '00s New York hardcore, Bridge Nine, Deathwish, Lockin' Out, and Trustkill bands. They legit had the best bands like American Nightmare, Carry On, The Hope Conspiracy, Striking Distance, and Bane.
"When it comes to writing guitar parts, I'll jam on a riff and record it. Eventually, I'll bring it to practice where [drummer] Martin [Allen] and I can start piecing it together."
Their self-titled 4-song demo introduced the world to The Deadline back in May:
"Lyrics have always been very important to me," says Ray. "If I don't like a band's lyrics, generally I can't get down with them. That's what made me gravitate towards bands like American Nightmare, Panic, and Unbroken. I am usually influenced in my writing by what's going on around me.
"The songs on our demo range from being about people who never take accountability for their actions, racism, a connection that I felt to a film to, lastly, questioning people's actual motives for being into hardcore. It's hard to talk about without coming off as a pretentious asshole, but I often will look around a room and see people singing along but missing the whole point and not practicing what they are saying. There seems to be a disconnect, a lack of comprehension.
"Too many people miss out on what is being said and would rather pose tough in front of the cameras. To me, hardcore is 'more than music,' that's what drew me to it as a young teen first hearing bands like Earth Crisis and One King Down. The message is what separated them from being just another metal band."
So, what are some other bands from The Deadline's region that we should all be looking for right now? "Off the top of my head, I'd say High Cost," Ray opines. "They are heavy, pissed-off hardcore! Also our friends in Locked Inside!"
Justin gives props to the following groups: "They aren't from New York, but Philadelphia's Action News are phenomenal. That has been the only recent hardcore demo that has really floored me. Our buddies in Perfect World just dropped an LP on LDB. As far as other bands, I think Struck Nerve, Fixation, and Chemical Fix from Philly are all great too."
The Deadline on social media: Facebook | Instagram | Twitter | Bandcamp
***
Help Support What No Echo Does via Patreon:
***
Tagged: the deadline