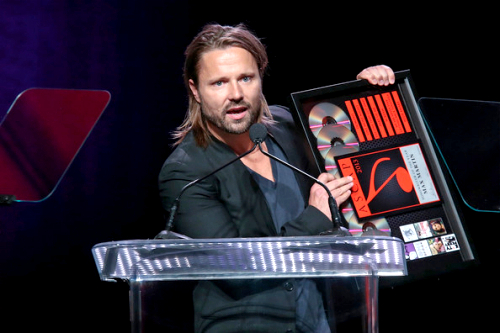 Max Martin is a pop music genius.
Born and raised in Sweden, the 43-year-old has helped redefine modern pop, dance and R&B music through his songwriting and producing work for artists like Britney Spears, Maroon 5, P!nk, and Katy Perry.
The reason I think I've connected so well with his work is that like me, Martin also grew up loving hard rock and heavy metal, alongside pop music.
As a teen, Martin formed It's Alive, a glam-styled, funky hard rock band he fronted that would end up releasing two albums (one on BMG) before he quit in 1995. By then, Martin was already working as a producer on albums by Ace of Base and Rednex, among other artists.
It was Martin's work with Backstreet Boys and 'N Sync during the teen pop explosion of the late '90s where he first started to get noticed by music geeks like me. Ever since then, I've kept a close eye on Martin's credits. It's not hard to do since he's cranking out a hit every other month.
Being the Martin fanboy I am, I wanted to share a list of my favorite songs by the one-man Swedish hit machine. After you're done checking out my picks, click on this link to listen to a Spotify playlist I made with ALL of my favorite Martin tracks.
"Pretend I'm Alive," It's Alive (1994)
I'm not loving this It's Alive song at all, but I wanted to include it since it was written and sung by Martin before he struck out on his own.
"Cloud Number Nine," Bryan Adams (1998)
In 1998, around the time he started becoming synonymous with the boy band sound through his work with Backstreet Boys and 5ive, Martin co-wrote "Cloud Number Nine," a track on Bryan Adams' On a Day Like Today album. Produced by Bob Rock (Metallica, Bon Jovi), "Cloud Number Nine" is one of Adams' most underrated singles. Just take a listen to its chorus and tell me I'm wrong.
"Tearin' Up My Heart," 'N Sync (1998)
What can I say about this track? Its driving rhythm, sticky sweet chorus and lovelorn lyrics are the kind of stuff pop dreams are made of. Simply put, "Tearin' Up My Heart" is a perfect single.
"...Baby One More Time," Britney Spears (1998)
How great a song is "...Baby One More Time"? Just ask Travis, Bowling for Soup, Tori Amos, Panic! at the Disco, and The Dresden Dolls—just a few of the music artists that have covered the song throughout the years.
"I Want It That Way," Backstreet Boys (1999)
Of all the songs Martin has either written or co-written, "I Want It That Way" is his finest. Nominated for three Grammy Awards, including Song and Record of the Year, "I Want It That Way" hit the #1 spot in more than 25 countries. The primary acoustic guitar riff in the song was inspired by, of all things, "Nothing Else Matters" by Metallica. That's further proof of Martin and his Swedish cohorts' love for all things heavy metal.
"It's My Life," Bon Jovi (2000)
As a huge hard rock fan, it must have been a treat for Martin to co-write "It's My Life" with Jon Bon Jovi and Richie Sambora. Featuring the same talk box vocal effect that was used in Bon Jovi's 1986 smash, "Livin' on a Prayer," "It's My Life" includes the now classic line: "Like Frankie said / I did it 'My Way'." Jon took credit for that lyric, but the song still has Martin's golden touch on it. It's no wonder the song helped introduce Bon Jovi to a new generation of music fans through its constant radio and MTV airplay.
"Since U Been Gone," Kelly Clarkson (2004)
Co-written with Lukasz Sebastian "Luke" Gottwald, a.k.a. Dr. Luke, an American songwriter/producer behind hits by Katy Perry, Miley Cyrus and many other current pop stars, "Since U Been Gone" is one of Martin's most critically acclaimed hits. Originally written for and ultimately rejected by P!nk, the song was also offered to Hilary Duff. After Duff couldn't reach the song's higher notes, "Since You Been Gone" fell into the hands of Clive Davis, who convinced Martin and Gottwald to give the song to Kelly Clarkson. After it topped the US Pop 100 for six consecutive weeks, the song spawned a wave of imitations—some good, most bad.
"Who Knew," P!nk (2006)
I'm a big fan of P!nk's vocal style, and for my money, "Who Knew" is her most exquisite performance. Martin and Gottwald teamed up again for this one, this time utilizing the soft verse/loud chorus guitar dynamic that first came to prominence in the '90s. When P!nk closes out the song with the higher register of her raspy voice, it brings to mind Johnette Napolitano (Concrete Blonde) and Stevie Nicks. All in all, "Who Knew" is a pop-rock stunner delivered by a singer at the peak of her powers.
"I'm Gone, I'm Going" Lesley Roy (2008)
An Irish singer-songwriter, Lesley Roy's sole album to date, 2008's Unbeautiful, didn't do much commercially, but with co-writes from the likes of Katy Perry, Desmond Child (Kiss, Aerosmith) and Greg Wells (Adele, Mayer Hawthorne), it did boast a few songs that could have been hit singles. The opening track on the album, "I'm Gone, I'm Going," was co-written by Martin and is in the same vein of "Since U Been Gone" and "Who Knew" in the sense that they all have anthemic, hard-driving choruses with distorted guitars. I remember first hearing "I'm Gone, I'm Going" when I was working at a digital marketing company and thinking that it was going to be massive. I was wrong, but I still think the song is one of Martin's best.
"Criminal," Britney Spears (2011)
"Criminal" was reportedly inspired by Abba and Madonna, which makes sense since the song has both the classic Europop flair of the former and the ballsy attitude of the latter. Spears talks about being in love with a thug on "Criminal," something the singer knows a thing or two about.