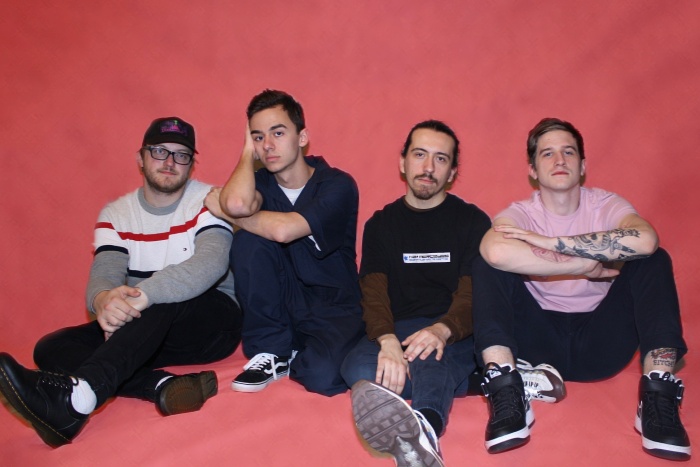 The following piece is the official introduction of Adrenaline, a new hardcore band based out of Baltimore, MD featuring three members of Queensway. "So [guitarist] Joseph [Scott] and I met years ago and always said we wanted to start a band together, something we could do to blend the sound of punk and hardcore," Adrenaline vocalist Jack Compton told me via email about the combo's origins. "It took a while at first to get moving because Queensway had just released Swift Minds of the Darkside [Jan. 2017]. But in between tours, and sometimes even on the tour, I would be in the van hashing out demos with [guitarist] Alex [Fuller] and [drummer] Phil [Hanley] trying to piece this all together.
"It really came into its shape once we all were home after the two years of writing on/off from touring and created the Adrenaline that you're seeing today."
Later this month, Adrenaline will release their debut EP, a self-titled collection comprised of six tracks. Recorded by Len Carmichael at Landmine Studios in New Jersey, Jack told me that the engineer/producer "had a huge part in helping curate this project" when I asked him about the sessions. So, let's dive right into it with "Masked Out," a song from the forthcoming EP:
I don't know about you, but when I listen to "Masked Out," I hear a certain '90s vibe to it. Perhaps stuff like Orange 9mm and Fahrenheit 451? "Definitely Orange 9mm and even bands like Helmet, Bad Brains, Crown of Thornz, Shelter, and Madball," Jack said in his email reply to me when I shared my assessment with him. "I mean I could really sit here forever naming all the bands we share a common influence from. We all grew up listening to the alternative forms of metal and rock and even discovered hardcore around the same times. So, we all have a very similar taste, but I think if anything, our goal with Adrenaline was to nail that alternative sound to what's contemporary in hardcore now while still being that Baltimore hardcore band. It all just made sense."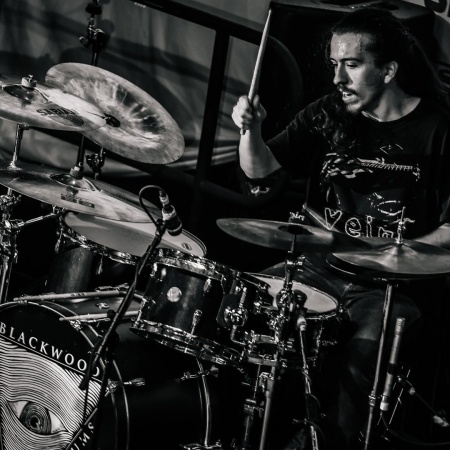 "I don't think there really was any initially," responded Jack when I asked him if he and the rest of the Adrenaline dudes felt a ton of pressure while making their EP since it was their first release together. "Our plan was to just record, release and go from there. We're lucky to have so many supportive friends in our lives that everyone who is apart of this in some way knows it and has been helping the process along the way. Honestly, there is a lot of passion behind what was written so pressure couldn't have existed in our minds."
Adrenaline will be released through Flatspot Records, a label that has also worked with Take Offense, Higher Power, and most recently, Section H8 and Hands of God. "I can't remember exactly when, but I know I met [Flatspot Records'] Che [Figueroa] at Sidebar a couple years ago. Flatspot has always been a label I've known and respected. They've been a cornerstone for a lot of great hardcore releases. But when Queensway was on tour with Trapped Under Ice, Patric had told Che to check out Adrenaline and it was pretty much a no-brainer for us."
What's the plan for Adrenaline in terms of touring and workload? I mean in the sense that there are other bands you guys play in and I know how tough it can be to juggle that with family and work responsibilities on top of everything, but Jack isn't fazed: "The only other band we're doing that's active right now is Queensway. All of us are in a very lucky place and have the resources to hit the ground running when shows and tours align."
Hardcore heads in the Baltimore area will have a chance to see Adrenaline live debut on May 12 when they share the stage with Vein, Queensway, and Wolvesblood at The Depot: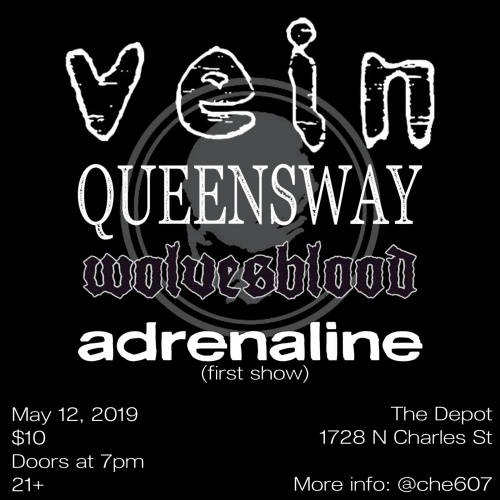 The Adrenaline EP will see release on cassette and digital platforms through Flatspot Records on May 24. Watch for pre-orders in the coming days.
Adrenaline just set up their social media pages, so make sure you say hello: Facebook | Twitter | Instagram
Tagged: adrenaline, queensway