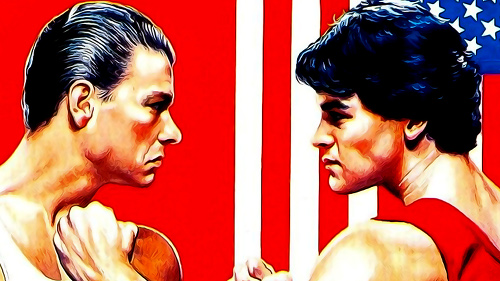 Last year, I put together a playlist on Spotify called '80s Action Film Montage. I did it as a tribute to all of those rock songs that appeared during the fight and training montages in the '80s films of my youth. As of today (June 15, 2014) my Spotify playlist has close to 2,000 subscribers.
Clearly, I'm not alone in my love for these over-the-top, David vs. Goliath-style songs.
Being the music geek that I am, I thought it would be fun to put together a piece highlighting some of my favorite tracks of this '80s phenomenon.
If you guys enjoy this post, I'll gladly work on a sequel (how '80s is that?!), so let me know what you think in the comments section below. If you have any favorites that I left out, I'd love to hear them as well!
Robert Tepper, "No Easy Way Out," from Rocky IV (1985)
Before Robert Tepper found success in 1986 with "No Easy Way Out," a song featured on the Rocky IV soundtrack, the New Jersey native was best known for his songwriting efforts. In 1980, Tepper and singer Benny Mardones co-wrote "Into the Night," a radio staple that had two successful runs (1980, 1989) on the Billboard Hot 100. "No Easy Way Out" found its way onto the soundtrack to Rocky IV after someone at Scotti Bros. Records, the label overseeing the project, played the song for Sylvester Stallone and he fell in love with it. The song eventually became the title track to Tepper's 1986 debut album.
Trivia Tidbit:
No Easy Way Out (the song and album) was produced by Joe Chiccarelli, a name you might recognize from his work with artists like Minus the Bear, The Strokes and Morrissey.
King Kobra, "Iron Eagle (Never Day Die)," from Iron Eagle (1986)
Lead by drummer Carmine Appice (Vanilla Fudge, Blue Murder), King Kobra also featured future BulletBoys guitarist Mick Sweda, former Keel guitarist David Michael-Philips, future W.A.S.P. bassist Johnny Rod, and future Signal and Unruly Child vocalist Mark Free, during their original run in the '80s. Their biggest hit, "Iron Eagle (Never Say Die)," was the theme song to the 1986 Top Gun rip off, Iron Eagle. The song was co-written by Jake Hooker, the former guitarist of Arrows, a '70s glam rock act. Hooker also co-wrote "I Love Rock 'n' Roll," an Arrows song from 1975 that became a smash single for Joan Jett & The Blackhearts seven years later.
Trivia Tidbit:
In 1993, after years of suffering from gender dysphoria, Mark Free came out to the world as Marcie Free. She's currently fronting Unruly Child, who just released a new album called Down the Rabbit Hole.
Frank Stallone, "Far From Over," from Staying Alive (1983)
Peaking at #10 on the Billboard Hot 100 in September of 1983, "Far From Over" was co-written and performed by Frank Stallone for Staying Alive (directed by his brother, Sylvester), the 1983 sequel to Saturday Night Fever. Stallone stepped up to the plate in a big way with "Far from Over." Featuring a driving rhythmic pattern, crunchy electric guitars, anthemic chorus, and, most importantly, a "never give up" message in its lyrics, "Far from Over" became a blueprint for some of the other songs featured in this piece. Nominated for a Golden Globe Award for Best Original Song, "Far From Over" also appears on Stallone's 1984 eponymous debut album.
Trivia Tidbit:
Early in his music career, Frank fronted a band called Valentine that at one time featured guitarist John Oates, of Hall & Oates fame.
John Farnham, "Break the Ice," from Rad (1986)
A star in Australia since his teens, John Farnham's contribution to the action film montage music canon is "Break the Ice," a song that could have only been written and produced in the '80s. Appearing on the soundtrack to Rad, a 1986 film about a BMX racer, "Break the Ice" was written by Bob Marlette, a musician who's discography includes production work for Ozzy Osbourne, Strife and Filter, among others.
Trivia Tidbit:
From 1982 - 1986, Farnham was the singer of soft rock renegades, Little River Band ("Reminiscing," "Cool Change"). He also contributed "Justice for One," a solo track from the 1984 exploitation cult classic, Savage Streets, that could have easily made it onto this list.
Kevin Chalfant, "Hold on to the Vision," from No Retreat, No Surrender (1986)
Featuring guitar work from a pre-fame Joe Satriani, "Hold On to the Vision" is one of the best fight training scene tracks to ever grace the big screen. Recorded for the so bad it's good martial arts flick, No Retreat, No Surrender, the song's cheesetastic lyrics and powerhouse vocal performance from Kevin Chalfant (707, Steel Breeze) will have you running to the benchpress in your garage in no time. Whether you're getting ready to face off with a bully in your junior high school or preparing a quarterly report for your annoying office job, "Hold On to the Vision" will get your adrenaline flowing.
Trivia Tidbit:
In 1990, Chalfant and guitarist Josh Ramos formed The Storm with three former members of Journey: Steve Smith (drums), Ross Valory (bass) and Gregg Rollie (keyboards). Chalfant would go on to front a revamped version of Journey in 1993, but was pushed out of the group when Steve Perry came back into the fold in 1995.
Paul Engemann, "Scarface (Push It to the Limit)," from Scarface (1983)
Co-written by legendary producer Giorgio Moroder (Donna Summer, Blondie) for Brian DePalma's Scarface, 1983's "Scarface (Push It to the Limit)" is one of two solo hits singer Paul Engemann had during his music career. The other one, "Reach Out," also produced by Moroder, became the official song to the 33rd Olympic Games in 1984 in Los Angeles. Engemann then joined the group Device, a No Echo favorite that also featured songwriter Holly Knight ("Love Is a Battlefield," "The Warrior") in its ranks. After a stint with synth-poppers Animotion, Engemann retired from the music business in the '90s and is now a successful business man in the private sector.
Trivia Tidbit:
Engemann's sister, Shawn, is married to television icon Larry King. In the '70s, Paul and his sister had a semi-hit with a song called "For Your Love" under the group name, Christopher, Paul & Shawn.
Moving Pictures, "Never," from Footloose (1984)
If you grew up in the '80s like I did, you'll remember "What About Me," the biggest American hit for Aussie rockers, Moving Pictures. But that song isn't action montage material. For this feature, it's "Never," a song from the Footloose soundtrack. The only track on this list that includes a screaming saxophone solo, "Never" would go on to also be featured in the 2007 Andy Samberg comedy, Hot Rod, a film whose soundtrack is packed with other tracks that could have easily been included in this piece.
Trivia Tidbit:
"Never" was co-written by Michael Gore and Dean Pitchford, a team also behind the title track to the 1980 musical, Fame. Pitchford also wrote the screenplay to Footloose.
Stan Bush, "The Touch," from The Transformers: The Movie (1986)
American singer Stan Bush has made a career out of writing and performing rousing AOR songs like "The Touch," a track that was first heard on the 1986 soundtrack for The Transformers: The Movie. "The Touch" also made a memorable appearance in Boogie Nights in a scene where porn actors Dirk Diggler (Mark Wahlberg) and John C. Reilly (Reed Rothchild) record a horrible version of the song with a producer played by singer-songwriter, Michael Penn.
Trivia Tidbit:
Bush originally wrote "The Touch" for Cobra, a 1986 action movie starring and written by Sylvester Stallone (the guy's name pops up a lot on this list), but it didn't make the cut.
Joe "Bean" Esposito, "You're the Best," from The Karate Kid (1984)
The placement of "You're the Best" during the closing fight scene of The Karate Kid is probably looked at by many film critics as a corny and predictable move, but it's a marriage made in '80s teen flick heaven. Sung by former Brooklyn Dreams member Joe "Bean" Esposito, "You're the Best" has had quite a history since appearing in The Karate Kid. The song has been featured in more than 15 television programs and feature films, and has also had a life in the sports world, including being used as the entrance music for boxing champion Manny Pacquiao.
Trivia Tidbit:
Esposito wrote "You're the Best" for Rocky III, but the producers went with Survivor's "The Eye of the Tiger" instead. It was then considered for Flashdance, but lost out to Michael Sembello's "Maniac," a song inspired by the 1980 slasher flick of the same name.
Survivor, "Burning Heart," from Rocky IV (1985)
Most people would have gone with the aforementioned "Eye of the Tiger" for this feature, but, for me, "Burning Heart" is the better of the two Survivor/Rocky songs. Playing up the USA vs. Russia angle of Rocky IV, "Burning Heart" captures the musical and lyrical spirit of the action film montage perfectly. Jimi Jamison's stadium-ready vocal performance is the icing on the cake, an AOR master class if there ever was one.
Trivia Tidbit:
"The Glory of Love," a Peter Cetera hit single from The Karate Kid, Part II soundtrack, was originally written for Rocky IV, but Stallone passed on it.
SEE ALSO: '80s Movie Soundtrack Songs: Action/Adventure Edition