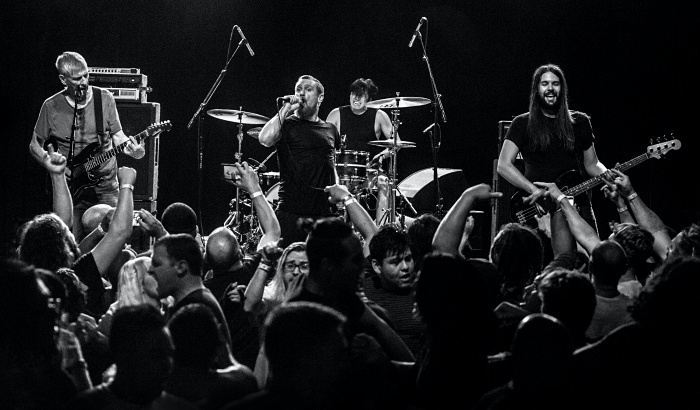 Born in Mexico and raised in Texas, Isaias Gil is a fellow Latino obsessed with music. The big difference is one of us is currently playing in Black Flag, while the other is writing about it! But all laughs aside, Isaias is a gifted drummer who has also worked with a wide-ranging spectrum of musical artists. In addition to playing with Greg Ginn and company, the young drummer has also held the rhythm down for Macy Gray and David Lee Roth, among many other musicians.
Isaias is out on tour at the moment with Black Flag, but the drummer took time out to chat with me about his musical journey.
Tell me a bit about your upbringing. Do you come from a musical family?
Music in all sorts of styles was always playing in the house while I was growing up. I vividly remember my grandma always whistling. My uncle played guitar and sang in his church choir, but I wasn't around him doing that often. I fell in love with music at an early age. I remember watching Beverly Hills Cop and running to a Casio keyboard to play the theme song. I always loved how music made me feel.
Why do you think you gravitated towards the drums? Did you have any mentors early on, or did you learn how to play and develop your playing style on your own?
Drums just looked fun. The flailing of the arms and how physical it looked was appealing to me. I think most kids gravitate to drums because of how it looks. I started out on my own, listening to albums and trying to play along, and had several mentors in the following seasons of life. It was pretty cool how it all worked out at the right time. I copied a lot of my favorite drummers (and still do), but now I try to find my voice within those influences.
How did you go from playing locally to performing with the bigger names you've had the pleasure of collaborating with through the years?
It all happened pretty organically. From what I've seen, the music scene in most cities is pretty tight. Playing with local guys and being an easy dude to get along with goes a long way. I just try to play with respect to the gig I get to be a part of. It took me a while to learn not to burn bridges, because you never know who's connected to whom.
You're currently out on tour playing drums for Black Flag? How did you become part of that family?
I worked with Mike Vallely prior to Black Flag. When the drum chair opened up, my name got thrown in the hat thanks to him. I auditioned, got called back to jam a few more times, and then I was offered the spot, which was all thanks to Mike mentioning me.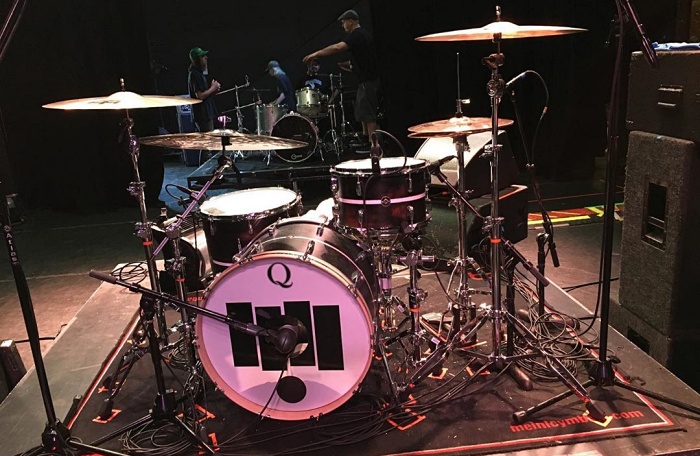 What's the biggest challenge you've had playing the Black Flag material?
Stamina for the shows has been a big one. We run straight through the songs until about the second- or third-to-last song. We don't take breaks and it's all at full energy.
Of all the Black Flag songs you're performing on this run, which one would be your favorite and why?
I have different favorites for different reasons. The part I enjoy most is that there's no click and it's up to me to be consistent on the tempos of tunes, despite any tiredness or emotional stuff that may be happening.
What else do you have cooking for 2020?
Man, we are still going on this Black Flag tour, including some international dates, and we're not stopping soon. I'm also recording different projects when I'm at home. I recently got to record at Sonic Ranch with Sam Carlson, and I'm looking forward to that being released.
***
Black Flag tour dates:
Jan. 22 - Gainesville, FL @ High Dive
Jan. 23 - Lake Worth, FL @ Propaganda
Jan. 24 - St. Petersburg, FL @ Ferg's Sports Bar & Grill
Jan. 25 - Orlando, FL @ Ace Cafe Orlando
Jan. 26 - Jacksonville, FL @ 1904 Music Hall
Jan. 27 - Greensboro, NC @ The Blind Tiger
Jan. 28 - Atlanta, GA @ Masquerade (Hell)
Jan. 29 - Birmingham, AL @ Iron City
Jan. 30 - Nashville, TN @ Cannery Ballroom
Jan. 31 - Charlotte, NC @ Amos' Southend
Jan. 1 - Newport, KY @ Thompson House
Jan. 3 - Mobile, AL @ Alabama Music Box
Feb. 5 - Corpus Christi, TX @ Rich's Billiards
Feb. 6 - Eagle Pass, TX @ Cooters Bar & Grill
Feb. 7 - Amarillo, TX @ Hoot's Pub
Feb. 8 - Denton, TX @ Rubber Gloves Rehearsal Studio
Feb. 27 - Reno, NV @ Virginia Street Brewhouse
Feb. 28 - Morro Bay, CA @ The Siren
Feb. 29 - Garden Grove, CA @ Garden Grove Amphitheater
March 5 - Bogotá, Colombia @ Ace of Spades
March 6 - Lo Prado, Chile @ Casa de la Cultura Lo Prado, ex-Teatro Mundo Mágico
March 7 - Comuna 1, Argentina @ EL TEATRITO
March 8 - São Paulo, Brazil @ Carioca Club
March 11 - Montevideo, Uruguay @ Montevideo Music Box
March 15 - Mexico City, Mexico @ Hell and Heaven Festival
March 26 - Yau Tong, Hong Kong @This Town Needs
March 28 - Jakarta, Indonesia @ Hammersonic Festival
May 21 - Lawton, OK @ The Railhead Saloon
Tagged: black flag