Since forming in the early '90s, 16 has delivered sludge metal of the highest caliber. The band's lethal combination of funereal lyrics and depressive guitar riffs has influenced the likes of Black Tusk and Zoroaster along the way. To date, the California combo has released six studio albums, along with a slew of singles, EPs, and compilation appearances. 16's discography has been issued by such influential indie labels as Bacteria Sour, Pessimiser, and Relapse Records.
Even though he's also spent time in the bands Halo Epidemic and Maxmillion, Bobby Ferry is best known for his guitar work in 16. A founding member of 16, Ferry is responsible for their skull-penetrating guitar riffs.
A fan of the band for over two decades now, I reached out to Ferry to talk about his time in and out of 16.
I know 16 is based out of Southern California, but were you born and raised there?
I was born in Anaheim and raised in Tustin and the City of Orange in Orange County. I spent a lot of time in Huntington and Long Beach as a teenager as well.
What kind of music were you listening to in junior high school?
I listened to both punk and metal. I was always a skater, so whatever was advertised in Thrasher or was playing at skate contests generally had my money. 7 Seconds, Black Flag, Metallica, Samhain, and Bad Brains were all big deals for me at that age.
SEE ALSO: 2014 interview with Keith Huckins (Rorschach, Deadguy, Kiss it Goodbye).
Who did you associate with more, the metalhead or punk kids?
There was a distinct line drawn between punk and metal, but like I said, my frame of reference was skate culture, so I was not vested in either side. Master of Puppets definitely changed my view and opened me up to metal. Slayer was an early obsession, as well as stuff like The Vandals and D.R.I.
How did 16 form, and how old were you at the time?
I was hanging around [16 singer] Cris Jerue all the time skateboarding. We would drive everywhere to skate random shit. Seriously, we'd drive 200 miles to skate a good ditch or pool. I was probably 18 or 19 when the band began in earnest. A lot of time was spent listening to tapes and going to shows as well. I had a fake ID, so 21 and up shows were not an issue. The wave of AmRep [Amphetamine Reptile Records] bands were touring by then, so we saw Helmet, Jesus Lizard, Unsane, Tar, and everything else that was going on in the Jabberjaw [an influential club in the early '90s] scene in Los Angeles. It was the old "we can do this too" impetus to start a band.
What's the significance of the number 16?
We were called Fifteen at first. We made the first Doorprize 7" and took them into Vinyl Solution in Huntington Beach to sell, and were told that a band was named Fifteen from Berkeley on Lookout Records already. We went home and re-xeroxed the covers with the name "16." We really should have thought that through more, but here we are decades later.
Did you guys have a clear musical direction you wanted to head in from the start?
Not really. We knew it had to be heavy. It was let's start a heavy band and basically see where it goes. As time goes on we've evolved and built on our initial template of "heavy band." We were just sponges at that time, so anything we liked might turn up in a song.
Doorprize came out in 1992, your first year as a band. The story I've read is that Pushead got a hold of it somehow and went apeshit for it. Is that how you guys first came in contact with him?
Yep. He wrote asking us if we'd be interested in doing a record with his Bacteria Sour label. We sent our 7" to Maximum Rock'n'Roll and Flipside and got pretty good reviews. Lo and behold, one letter was illustrated really awesome and was from Pushead.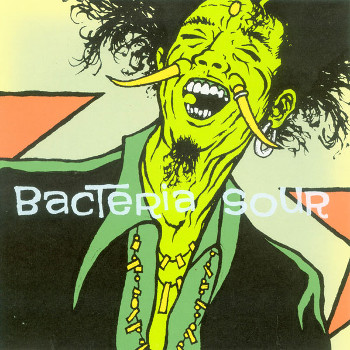 Having Pushead design your album cover or t-shirt is a coveted type of thing in the heavy metal and punk communities, but 16's working relationship went much deeper than that. What was it like working with him?
Pushead was one of our first advocates and in retrospect offered a lot of really good advice. We stayed at his house one time and rummaged through his archives and watched Metallica videos of the band hanging out and playing Tokyo on the ...And Justice for All tour. It was crazy. He is, and was, a busy guy, and running a label was probably down on his priorities, so at a point we needed a bit more for what we felt we were putting into it. Having his art and his nod was huge that early for us. We were a band for maybe six months and attracted the support of Pushead. I absolutely think he's a genius. He established an aesthetic that is still super relevant today. Look at the influence he's had. So many artists, especially in metal, are downright derivative or clearly influenced by Pushead. It's amazing and a total blessing to have that association so early for us. He designed our logo that we still use today, and that a bunch of people around the world have tattooed on themselves. It was a total stroke of luck early on for us.
1993 saw the release of Curves That Kick, 16's first full-length, on Bacteria Sour. The album was issued in Japan by Toy's Factory, a legendary label over there. Did you get to play any dates in Japan for the album? If so, what was that first experience like? I've never been to Japan, but you always read interviews with musicians where they say the crowds there are so quiet and polite at gigs.
We went to Japan for a full tour in 1994, with Pushead setting the whole thing up for us. We got quite a push from Toy's Factory and the shows were crazy. 200 - 400 people per night. We were playing in Los Angeles to maybe 30 people, then go to Japan and pack them in. It was totally mind-blowing.
SEE ALSO: Best Thrash Ballads
16's relationship with Japan has always been a strong one. 1994's Preoccupied CD was a Japan-only release.
I guess we had a bit of presence there, but it was a faraway place. We just happened to gain a little traction there in the beginning. That release was basically a compilation from a few different recording sessions and had mostly appeared on other singles.
It seemed like a lot more people became aware of 16 when your second album, Drop Out, came out in 1996.
It was almost two years after we recorded it that Drop Out was released. We were pretty bummed. Pushead sat on the record for one-and-a-half years telling us it was coming out, but nothing was really happening. At the time we felt like we were totally being shelved. We then pulled it from him and put it out with Pessimiser. We added Phil Vera as a guitarist and seriously dove into writing what would become Blaze of Incompetence. We did play live a bunch and had some great shows, but did not tour in earnest like we should have for Drop Out. If that album came out when it should have in 1994, we could have kept a better momentum, and I think it would have given us a bit more credit style-wise because we were early to the party with the whole sludge thing. That was our first big lesson that you basically have to do it all on your own. Sitting back and waiting for anyone else to help you is the fast track to failure. You really have to be driving the creative bus to keep it moving effectively.
I don't remember the exact year, but I was lucky enough to see 16 play a warehouse show in Oakland around 1996/1997. I'd be hard-pressed to think of seeing a more intense-looking band live before. Everyone in the band looked like they meant it. Your vocalist, Cris Jerue, looked like a possessed man.
Thanks. I remember that show. It was a Sunday night with Dystopia in Oakland. We always have had that "try really hard playing live" ethic. Every band that ever made a huge impression on us always had a live set that had total sincerity and the feeling that it could all fall apart at any minute regardless if there is three or 300 people. I think being skateboarders and hucking yourself down stairs and that sort of bravado influenced us early on as well.
The next year you released Blaze of Incompetence, your third studio record. That was the second album 16 released on Pessimiser Records, a label owned by Chris Elder of the band Despise You. Did you first meet Chris after 16 played with Despise You, or do you guys go back further than that?
Chris wrote to us for an interview in Pessimiser zine. We read it and felt immediately that he is one of us. His humor and whole vibe spoke to us. We had some mutual friends from skateboarding like Ray Barbee as well. Chris Elder lined up Alex Newport of Fudge Tunnel, one of our favorite bands, to produce the album. We did start partying a little harder at this point as well. Lots of listening to Grief and getting wasted frequently. The beginning of the slide downward is always good, but we all know where it eventually ends up. We were still holding it all down fairly well.
In 1998 16 released Scott Case, an album featuring out of print material from various recording sessions. I always wondered who Scott Case was.
Scott Case was the world record holder for the most smoked cigarettes at one time. It was Chris Elder's idea. It fit in with our whole "fuck it" attitude at the time.
16 recorded and released a bunch of splits after Blaze of Incompetence, but you didn't issue Zoloft Smile, your fourth full-length album, 'til 2002.
We really wanted to move to a bigger label, but no one wanted us, so we continually played live and got jerked around by various music business people. Got told to add a DJ or have a more "industrial image" a few times. Pretty funny times. I'm so glad we never listened to any of those people. In retrospect, we should have put it out and toured sooner. Hindsight being what it is, of course.
You toured quite a bit in support of Zoloft Smile. What were the shows like? Were people coming out to support you? I'm just curious to see how the financial side of being in the band was at that point.
The shows were pretty good. We were getting really good local shows. Cave In, Isis, Neurosis, and Eyehategod were all good shows from that time. Financially it was okay. Survivable. We all still put a lot into it personally and made nothing, but it did not matter. Total rock 'n' roll suicide mission style. I left the band and moved to San Diego for a new job. Cris went to rehab and left soon after. Phil Vera (now of Despise You), Rafa (from Black Cobra), and a drummer named Mark Sanger toured the East Coast and Japan for the record. I saw them live and thought, "Holy crap, that band is good." Pretty funny string of events.
16 went on hiatus in 2003. What spurred that on?
Phil Vera put it to bed like a sane person.
What did you do after that?
I did an album called Maxmillion with 16's original drummer, Jason Corley, and a friend from skateboarding named Chris Jones. It's pretty good. It came out on a label called Retribute Records, who were putting out records for Rwake at the time. Our first show was with Coalesce at the Troubadour, which was great, too. We played live a few more times, then Jason disappeared like people on drugs do.
16 got back together in 2007, and the folks at Relapse Records approached the band about adding you to their roster. Did you know the Relapse guys before that? Did any other labels want to sign you at that point?
Our friend Larry from the band Wormwood had the idea for us to play live with his band at a place in Los Angeles called the Relax bar. While rehearsing for that show we wrote and recorded four new songs, which would become what is Bridges to Burn. Relapse heard those songs and signed us. That was it as far as a label approaching us. That being said, we were huge fans of Relapse. At that point I'd bet half of the records I owned were Relapse, so it was a cool thing. We did not know, but supposedly, we were a serious consideration back in the late '90s, and if I remember correctly, I was talking with Carl, but we never had any serious offers.
Relapse Records released your fifth album, Bridges to Burn, in 2008. I love the guitar and bass tones on that record.
We recorded it in four different sessions. We've made every record except for Blaze of Incompetence with Jeff. He's a great engineer and has amazing ears. He'll let you know if you are out of tune or off time in five seconds or less. We are always self-produced as far as the sound of the band. The guitar and bass tones where just what we were sounding like live, with the exception of the overdubs, of course. Bass was an Ampeg with a SansAmp DI box. My guitar tone has always been a 5150 with various other amps on there for texture, but the real meat of the tone is the 5150.
I know I'm in the minority here, but I prefer the really early Clutch stuff over the rest of their discography. To me, the kind of stuff you're doing on Bridges to Burn is what I wish Clutch would have evolved into.
I'm happy with the progression. I honestly think each album is getting better. It's the main reason why we still do this. Never fully accepting your creative output as your best and always driving forward is the real truth of the process. The fact that you have to start from scratch in a creative sense is what propels the band in the first place. It's all about constantly reaching for some kind of elevation in what is coming out of the speakers. There is a weird hunger to it all.
Cris went on record saying that he's bored by Bridges to Burn. How do you feel about the material?
It's the drumming on that record that is lacking. It was too basic and not enough fills. We play a bunch of those songs live still and they are great with Dion Thurman playing them. It's really the drumming that Cris does not like about the album. We listen to it and it's just too rudimentary and doesn't have any complexity to it. Don't get me wrong, it has its moments, but I think it would be a much better album with more sophisticated drumming.
Your most recent album, 2012's Deep Cuts from Dark Clouds, is a beast. Do you think it's your best album?
I like individual songs from each of those records that we still play live, but as whole I usually think whatever is the latest is our best effort. So, yeah, best album is always the latest one to me.
What's the status of 16 today? Do you guys have new material, and are you still signed to Relapse in the States?
We have about six songs written for a new album and will be recording in hopefully April. We've talked about a new record with Relapse and they are receptive. As per usual we are really compelled to make something better than what we've done, so we continue. We had a great year in 2014. We played Roadburn, toured Europe, played the Day of the Shred and Southwest Terror festivals in the U.S. We shared the stage with a bunch of amazing bands like Bl'ast, Nails, Indian, The Shrine, Inter Arma, Noothgrush, Grime, Graves at Sea, ASG, and a crapload of bands I'm forgetting.
With all of the different drug references Cris has made in 16's material throughout your time together, it's hard not to think of the band without thinking of pills and weed. Are you comfortable with that perception people might have of the band?
It's not so much an image as it was the reality for a period of time. One of us worked as a pharmacy tech in the early '90s, so we had a connection. I still view marijuana as innocuous, but pills are just as deadly as the hard street drugs, and the same was true back then. I think we just noticed the market potential earlier than the populous. As far as being comfortable with the image, I honestly haven't given it a thought other than it was true once, but the reality is if you keep using you'll die or just destroy your health, so you can live close to death. You can't really hold a day job or have the energy for a creative endeavor like music. Some of us have been sober for more than 10 years, and have basically just lived to tell the tale. It's all fun and party times until you start going to funerals for your peers and realize how stupid you are. I view the association in the music as a cautionary tale, not an image. It's not like we are wearing Pfizer outfits or cultivating an image. We just provided a dose of reality from being really dumb guys at one or more points during our lives.
SEE ALSO: Backpatches of the 2014 Maryland Deathfest, by Adel Souto
Are you working on anything else we should look out for?
New album. Some more shows. We continue.
If you had to pick one 16 song that best captures the sound and spirit of the band, what would it be?
I would go with "Born to Lose." Musically it's one of our best moments and some of the best riffs I've written personally. Lyrically speaking, it sums up the nihilistic freedom that was going on at the time.
***
Head over to 16's official Facebook page for more information on the group.