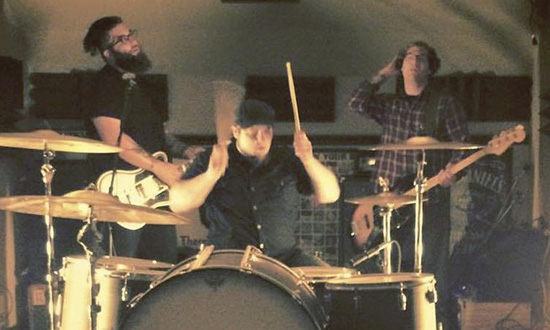 Featuring former members of Midiron Blast Shaft and Günna Vahm, Faking is a power trio hailing from Philly. The band delivers noise rock that would appeal to fans of Unsane, Melvins, and Whores. Signed to Reptilian Records, Faking are about to drop Goddamn Cowards, their debut full-length. No Echo is excited to bring you the premiere of the album's opening track, "We Are Goddamn Cowards."
"The prevailing lyrical theme in our songs is shitty people doing shitty things," says Faking guitarist/vocalist Jeff Bowne. "I don't really like writing 'I this' or 'I that' type of lyrics. I'd rather create characters and a small chunk of plot and try to express it in as little words as possible."
The CD and digital release date for Goddamn Cowards is May 27, and the album can be pre-ordered here. The LP is due late-summer.