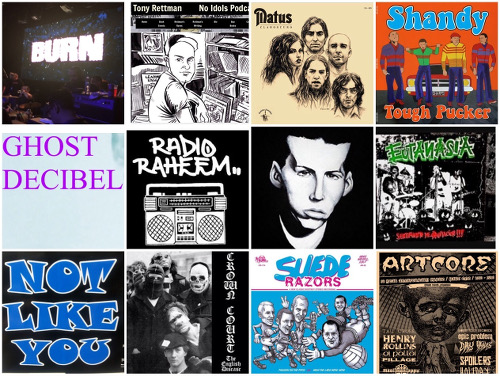 An extremely subjective and highly biased list of my favorite demos, 7"s, LPs, books, fanzines, podcasts, record labels, and concerts of 2015.
Crown Court, The English Disease (Rebellion Records)
These London bootboys have somehow encapsulated all the best of the past 40 years of Oi!-based rock 'n' roll music and come up with a sound that pays homage to the past while being firmly rooted in the now—following on the heels of their stunning Ruck and Roll debut 7" at the beginning of the year, and their brilliant Trouble From London demo from 2014. This 7" ups the ante in the aggro department while maintaining that anthemic, stomping vibe with some of their strongest material to date. I always say 7"s are better suited for this type of music, but will correct myself this time and ask the Crown Court lads to put out that one great LP that I know they have in them. Looking forward to that in 2016!
Tony Rettman's No Idols Podcast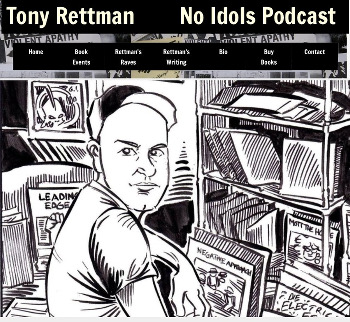 Tony Rettman has become a one man multimedia empire. What with his published works (NYHC: New York Hardcore 1980 - 1990, Why be Something That You're Not: Detroit Hardcore 1979 - 1985), ongoing articles in various online sites/publications, and leading roundtable discussions with hardcore luminaries, the man does it all. This new project (No Idols) is an ongoing podcast that lets him play whatever he damn feels like. One moment it could be a righteous current band that's a throwback to hardcore's golden age, the next it could be a proggy space rock '70s jam followed by some oddball outfit that defies easy categorization. The newest (fourth) episode incorporates the interview format, and first up is Rorschach's Charles Maggio. You won't find two funnier, more self-deprecating individuals with a deeper love and knowledge of all good music as these two. Here's to more quality podcasts next year, and hopefully a Chain to Thread reunion, huh, Tony?
SEE ALSO: 2014 interview with Tony Rettman.
Artcore Fanzine, 30th Anniversary Issue
This long-running hardcore fanzine out of the UK put out its 30th (!) anniversary issue, and to say how incredible that is can be a bit of an understatement. Inside you'll find coverage of both old and new punk and hardcore bands, record and zine reviews, historically-minded essays on punk's past (I wrote one), plus a split 7" by Oi Polloi and Grand Collapse—all presented in the editor's (Welly) incomparable graphic design and insightful writings. Please pick it up and help support the glorious art of D.I.Y. fanzines, one of the cornerstones of our subculture, helping keep at bay the never-ending tides of mediocrity.
Burn @ Black N' Blue Bowl, 5/17/2015
I remember in late 1989 my friend, Chaka Malik, told me Gavin Van Vlack had gotten a bassist and drummer for the project Chaka wanted to start, and invited me to come hang out at their first rehearsal. The raw energy in the room that day was off the charts! That sound aptly translated into a live setting and the classic EPs they went on to record. I hadn't seen them on stage since 1991, and this return to form at Black N' Blue was an intense experience—the crowd going berserk at the first note. Gavin somehow blended melody and noise into feedback-drenched riffs backed by a pulverizing rhythm section. Not too many bands can return after 25-some years and be as relevant. Glad to see these old friends back and working on a full-length for 2016.
SEE ALSO: 2015 interview with Mike Gitter (A&R Executive, xXx Zine).
Radio Raheem Records
Radio Raheem Records is hands down the best reissue label for hardcore, punk, and Oi! classics. This labor of love by a Brooklyn and Boston duo pours insane amounts of attention to detail—like the incredible booklet that accompanies the Agnostic Front No One Rules LP, which came out at the beginning of the year. Said full-size booklet is filled with unseen photos and memorabilia from the band's earliest days. They did the same thing for the obscure '80s Welsh thug Oi! band The Venom, releasing not only an LP but an accompanying 7" with songs by pre-The Venom band The Noise. They also just reissued the legendary 1982 Oi Oi Oi 12" by New Zealand's No Tag. Past releases have included platters by The Abused, NYC Mayhem, Sacrilege NY, and Charred Remains' 2xLP compilation. I'm sure they're hard at work plotting some righteous reissues for the coming year.
Matus, Claroscuro (Espiritus Inmundos Records)
This Peruvian psychedelic rock band has been in existence for the past 10 years and this, their fifth LP, may just be their tour de force. Combining heavy Black Sabbath-y riffs with oddball instrumentation like theremin, pastoral acoustic passages, and—at times—heartful bluesy vocals. They embody a decades-long tradition of South American rock styles, blending Anglo influences with a mystical native sensibility that sounds familiar and exotic at the same time. There's word that this might be their final opus, I hope more people outside of a specialized niche get a chance to discover one of Peru's greatest natural resources.
SEE ALSO: '70s Peruvian Psychedelic Rock Primer
Shandy, Tough Pucker (Contra Records/Longshot Music)
The bossest bootboy boogie beat straight out of Brisbane! Shandy are an Aussie outfit that blends glam/punk/Oi! into a high-energy mix of raucous rock 'n' roll meant for dancing in sweaty beer-soaked pubs. I love their infectious videos, showing a sense of contagious humor amidst the hard rocking riffs and attitude. Here's to those tough puckers and their righteous debut LP.
Ghost Decibels, 5-Song E.P. (Self-Released)
Chaka Malik's current solo project is amazing, and not just because of our long-standing friendship, but it's intensely unique on its own musical merits. The sound is electro-goth filtered with touches of soul and glam, with poetic lyrics sung in vocals that range from baritone to falsetto. I am really impressed with this EP, and I hope a wider audience is receptive—not just people coming from the hardcore scene that may have heard of it because of Chaka's connection to Burn. This is my favorite track off the five-song demo. Stellar material, old friend!
SEE ALSO: 2015 interview with Chaka Malik (Burn, Orange 9mm).
Rock Svb Discos
Rock Svb has been quietly busy reissuing classic material from Peru's fabled "Rock Subterraneo" movement from the '80s, as well as putting out current outfits from Latin America. Run by a Lima, Peru scene veteran based in NYC, Rock Svb does not have a webstore or a Facebook page, just an email contact. This mentality is akin to those days of old when you really wanted something, you had to put in the time and search for it, like all good things. Case in point is his latest release: Peru's Eutanasia's Sentimiento de Agitación LP that compiles their '88 - '92 material. Other noteworthy releases on Rock Svb this year: Fz-10's (Mexico) 7" and Las Tripas' (Venezuela) demo.
Suede Razors, "Passion on the Pitch"/
"Wish the Lads Were Here" (Contra Records)
Bootboy glam at its finest! Take crunchy glam/Oi! riffs, add football terrace choruses, rock 'n' swagger, and wrap it up with a skinhead mentality. The result is one of the finest bands currently playing this sound, and in my opinion, they re-energize a sometimes stale Oi! scene, giving it an added sonic dimension that's exciting to hear and see. This is their fourth 7" in a couple years—the high-quality output remaining as constant as ever. I'm sure they're ready to do a full-length that will blow everyone away, keep it coming lads!
Heart of Brass, by Tiger Moody (Kicks Books)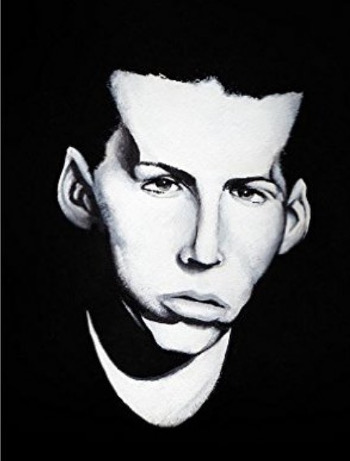 With Heart of Brass, Tiger Moody has written the definitive novel chronicling the late '80s NYC/suburbia CBGB's skinhead scene and all that it implies. There was a recent movie—whose name I won't mention—that tried to cover this along similar lines, but failed miserably. A lack of authenticity was one of its major downfalls. The writer whose novel the movie was based on wasn't old enough to be around for that era. Tiger was certainly there back then, and paints with surgical precision a nuanced account of those times, with some thinly-disguised NYHC band members as key characters. If this sparks any kind of interest, please get this marvelous book and pick up his earlier novel while you're at it, a haunting pulp tale set in post-WWII America called Induction of the Syncophant.
Not Like You Records
Starting out as a print fanzine, branching out to distribution, and now a full-fledged record label, Not Like You has quickly established itself as a powerhouse—from doing righteous reissues like skate rock greats The Faction's Pegged for Live 1985 LP and McRad's collected works, to current bands like Point Blank NYHC and Modern Problems, as well as putting out a couple of issues of the fanzine, all within the span of one year. This is one productive label that's on point with all their releases. I'm looking forward to more goodies next year. Here's one of my favorite songs off the McRad 2xLP reissue.