Next month, the 2019 installment of Sweat Fest will be going down at the Rusty Spoke in Muskegon, MI with such hardcore bands as Wild Side, Mil-Spec, Miracle Drug, and Decline appearing on the bill. "The first Sweat Fest was actually started by my friend Luke Forton in 2004 in order to start bringing some good bands to the area," says the festival's booker, Brett Dierolf, in a recent conversation with No Echo. "West Michigan has always had its ups and downs as far as punk/hardcore/metal shows, and around that time there was a bit of a lull.
"The fest sort of had a part in turning that around. I wasn't personally involved in booking the original version of Sweat Fest, though some of my old bands did perform. Some of the highlights that Luke booked back then were bands like Seeyounexttuesday, For the Fallen Dreams, Fight it Out, xLooking Forwardx, Seventh Star, etc.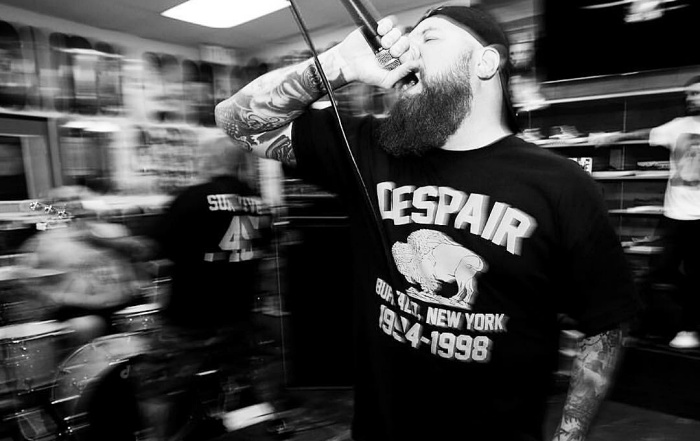 The original run for Sweat Fest lasted from 2004-2008 before the original promoter decided to pulled the plug on the yearly event. "Luke moved to a different city right around the time he stopped doing Sweat Fest. I think logistically it probably just wouldn't have worked. Luckily, shows in West Michigan had gotten a lot better and more frequent around that time. We had two great all ages venues in Grand Rapids (Skelletones and the DAAC). Both spots were doing shows pretty much every weekend. I think it just made sense for him to call it quits."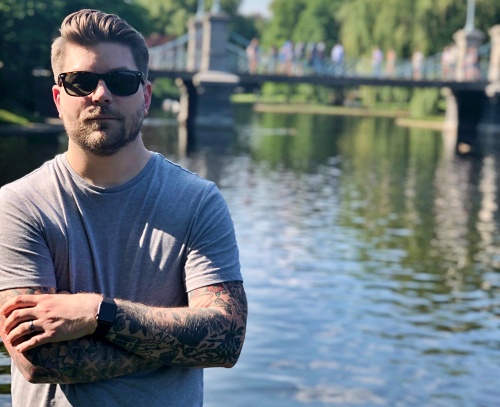 Though he's been booking shows, on and off, for years, I asked Brett why he decided to take the reigns and resurrect Sweat Fest this year. "Just like in 2004, there's been a need for something like this in West Michigan. We're finally starting to come out of that lull again. People seem genuinely excited for shows. I've been thinking about doing a fest for quite a while. Right now just seemed like the moment. I was reminded of Sweat Fest while trying to come up with a name.
"It felt sort of perfect to resurrect something that meant a lot to people in the area. The timing felt right. I asked Luke for his permission to use the name and he gave me his blessing, so to speak."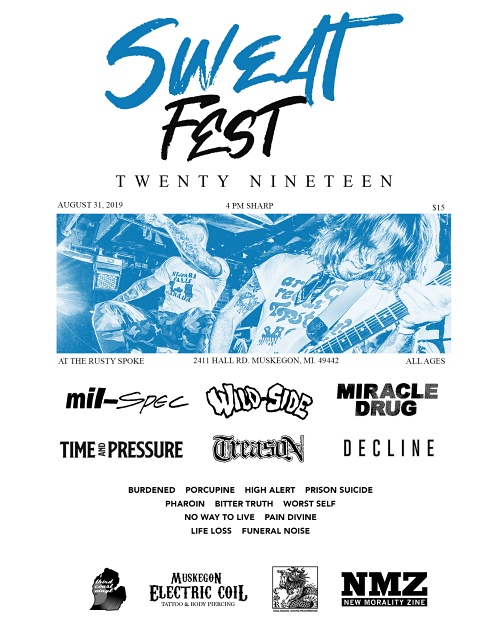 Lastly, I was curious to find out if putting Sweat Fest together was a pain in the ass or not. "Luke told me that he used to book the show solely through his contacts. People he had met through shows, friends of friends, etc. Lots of phone calls and emails. It sounds cliché to say, but it was fairly easy to book this year because of the internet (duh). I booked almost every band through Instagram messenger. There was still obviously a lot of back and forth, but gathering the lineup was not as much of a chore as it used to be."
Sweat Fest goes down on Aug. 31 at the Rusty Spoke in Muskegon, MI. Get tickets at this link.
***
If you dig No Echo, you can donate a few bucks to help with the site's operating costs:
Tagged: mil-spec, miracle drug, sweat fest, wild side