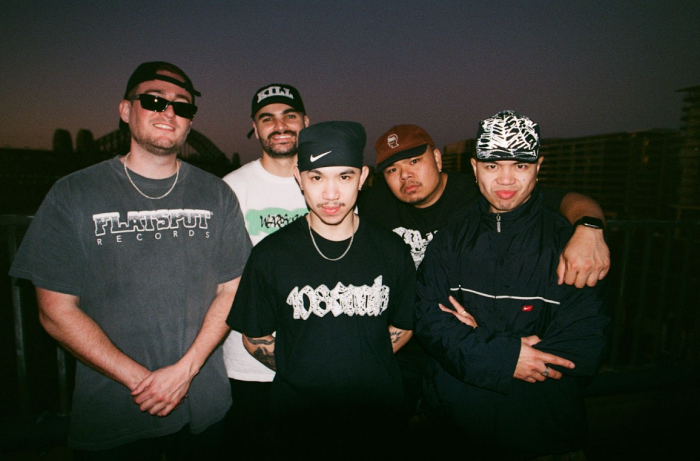 If one thing has been made abundantly clear in 2022, it's that this has been the year of SPEED, and we're just living in it.
For months now, the Sydney all-stars have been reaping the benefits of their whirlwind rise to hardcore dominance. After a skull-crushing set at this year's Sound and Fury festival in July, the quintet dropped their most recent six-track EP, Gang Called Speed. In his review, Adam Yoe describes how:
"The world-beating heaviness of Sydney's SPEED dispatches any who dare get in the way. Already a considerable proposition on their 2019 demo and the smattering of dope singles that followed that opening gambit, the band's latest batch is a considerable level up in every conceivable way."
After selling out their inaugural national Australian tour, SPEED then went on to release a 20-minute documentary titled HARDCORE WORLD, directed by Pablo Barnes in collaboration with Vans. You can watch the entire short film on YouTube here.
With their hype and momentum now firmly in overdrive, the band have announced the release of a new hard-hitting single, "One Blood We Bleed." On their latest track, the gang crawl through the concrete jungle of L.A., moving from posse cuts to hard styles with plenty of smiles and swagger.
Watch the video for "One Blood We Bleed" below:
On the track's theme of unity and solidarity, SPEED vocalist Jem states:
"'One Blood We Bleed' is about recognising the humility of man, that we are all equals on this earth. Amidst the helplessness of the world, we choose to focus our energy into what we feel we can tangibly impact; the people in front of us. Our friends, family and our scene. Living with compassion for your fellow man, despite our differences – that's Sydney, that's SPEED."
The track will feature on the fourth volume of Flatpsot Records' The Extermination showcase, set for release on January 27th. The compilation pulls together a wide range of hardcore acts, with from End It, Buggin, Jivebomb, Section H8, Raw Brigade, The Chisel, Spy, and more.
Beginning in 2012, The Extermination series has previously featured early tracks from notable artists such as Turnstile, Terror, Power Trip, Cruel Hand, and King Nine across its first three volumes.
Speaking on the compilation's message and history, Flatspot Records owners Che Figueroa and Ricky Singh expand:
"This compilation was started to provide a snapshot of the current state of hardcore. Every song is exclusive to the series, and we love to see bands take pride in giving us some of their best songs for this compilation. With 'Volume 4,' we present the next wave of hardcore from our perspective. For this volume, every single band gave 110% raw power and pure energy. This is a true representation of hardcore in its purest form."
The Extermination Vol. IV is available for vinyl pre-order now and you can find the full tracklist below.
The Extermination Vol. IV tracklist:
1. SPEED - "One Blood We Bleed"
2. The Chisel - "Punisher"
3. Buggin - "Attitude"
4. Section H8 - "Unhinged"
5. Raw Brigade - "Keep On Running (Crux Cover)"
6. Jivebomb - "American Rule"
7. End It - "Familia Finito"
8. Spy - "Mob"
9. Law of Power - "Nothing To Show"
10. Mutually Assured Destruction - "The Axeman's Letter"
11. Choice to Make - "Tryin'"
SPEED on social media: Instagram | Twitter
***
Help Support What No Echo Does via Patreon:
***
Tagged: speed